Review: Trijicon RCR
While Trijicon wasn't the first (nor second) to offer an enclosed-emitter sight, the company used its time wisely. Paying close attention to the market—and also to the market reaction—it carefully engineered the new RCR to address issues brought up by other enclosed-emitter sights. Footprint? It uses, obviously, the RMR footprint, one of the most common footprints for pistol-slide-mounted red-dot optics. Battery life? How does six years on setting five sound? Oh, and that's with a top-mounted, easy-to-find CR2032 battery, mind you.
Lastly, Trijicon's neatest party trick yet for an enclosed-emitter sight: the attachment method. Standard RMR-footprint cuts can accept the RCR with literally nothing more than a 3/16-inch-diameter tool (we used a drill bit at the product launch). The capstan screws fit into the standard RMR footprint and capture the RCR using precision-engineered inlays that allow the screws to be tightened down with nothing more than the aforementioned 3/16-inch tool. It's positively ingenious. Screws will come with a dab of blue Loctite, although if you're going to make this a permanent optic, using the harder stuff might not be a bad idea.
In operation, the RCR itself is, like the RMR, a study in simplicity. Two large buttons on either side increase (+) or decrease (-) the brightness, while two small dials allow for windage and elevation adjustment. Once installed on your pistol's slide, zero the optic based on your protocol of choice and then change the batteries as needed. That's it. Obviously, where this is a brand-new optic, we haven't tested the claimed battery life owing to the lack of a time-machine to help us jump forward six years, but even if you decide to change the battery once a year, you're not out a ton of money—and it's super easy to do.

On the range, though, is where the RCR really shines. At the product launch, Trijicon brought red-dot guru Scott Jedlinski from Modern Samurai Project to help us put the RCR through its paces. We started off with a 10-yard zero, firing two to three rounds into a 1-inch square to determine point-of-impact (POI). Should the POI be significantly off, Jedlinski would verify for anything significantly out of the square to ensure it wasn't just poor gunwriter aim. Once the dot was verified at 10 yards, we moved back to 25 yards and fired a three-round group into a 5-inch circle. Should further adjustment be needed based on the 25-yard POI, we could fine-tune the dot then.
Once sufficiently zeroed, we ran through a series of drills with the express purpose of dispelling myths about red-dot sights. Think the dots are slower than iron sights? Successful Bill Drills would seem to indicate otherwise (six rounds at 7 yards into the A-zone in 3 seconds or less). We all passed with tenths of a second to spare, and the better shooters in the group were even faster. Yes, some of it has to do with technique—Jedlinski ran us through a number of different training scenarios designed to help us get on target faster.
Really, though, isn't that something we should all be doing if we're going to complain that [new technology X] is [insert pejorative here] than [existing technology Y]? If you're making the claim that iron sights are faster than red-dot sights, and you're basing that on how you feel you got on target one time with no formal instruction, are you really giving red dots a fair shake?
Another myth that was busted at this event was that of durability. Now, speaking as someone who has had numerous rear sights walk their way out of the dovetail in addition to seeing more than a few screw-mounted front sights take flight into the wild blue yonder under recoil, I dispute the assumption/assertion that iron sights are infallible. What about fixed sights, you rebut? Well, I had the barrel of a revolver torque itself slightly clockwise, and since the front sight is pinned to the barrel, that was problematic. I don't cotton to the idea that irons are inherently better.
However, for the RCR, we did test its durability. Guns were dropped. Thrown. Smashed lens-first into tables. Pounded on workbenches. Dropped into the dirt and then had more dirt kicked on them. Trijicon encouraged us to run the RCRs hard and abuse them, and we obliged. Not a single optic stopped working. In fact, on the "pound the optic on the workbench" test, I lamented that my fellow gunwriters were being a little too gentle. I think my exact words were "Haven't you guys ever gotten mad at something?" I don't want to brag, but I managed to chip a little of the finish off the workbench with my test—and the optic not only worked, but still dropped two rounds into that 1-inch square.
Simple, rugged and easy to mount; there is a lot to like about Trijicon's new RCR enclosed-emitter sight. While the jury's still out on battery life, the top-mounted battery compartment renders that all but moot. You'll still have a world-class, dependable optic that'll hold zero despite an impressive amount of abuse. And, that's pretty much priceless.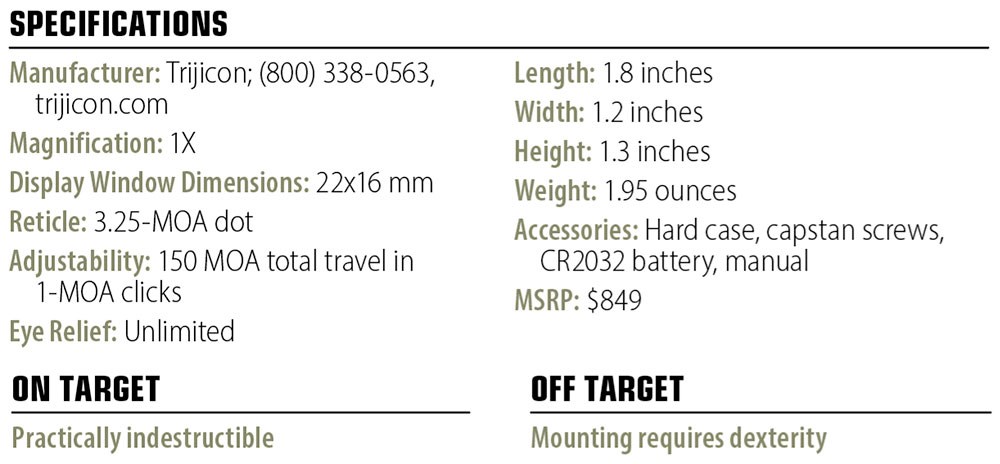 Article by JAY GRAZIO
Don't forget to like us on Facebook and follow us on Twitter.