Building A G19-Pattern Pistol With AIM Surplus
Over the last few years, I've enjoyed reviewing interesting retired military and law enforcement handguns from AIM Surplus, including the Beretta Model 81 Cheetah, SIG Sauer P226 and the Norinco Type 54. But with the pandemic-driven demand for defensive pistols, and the shrinking supply of surplus guns in general, the pickings have been slim to none recently.
Luckily, AIM Surplus has not limited its inventory to relics and collectibles. The company also offers a variety of long gun and handgun components to keep hobbyists busy. A perusal of the online catalog revealed a one-stop-shopping set of Glock-compatible aftermarket components, many of which are in-house offerings. There was everything needed to build an optics-ready defensive pistol, including the optic! So, I checked in with the company to organize an at-home build. I've covered the optics-ready Glock pistol build process and building a pistol from third party components in other posts, so let's get right to the features of the components and finished pistol.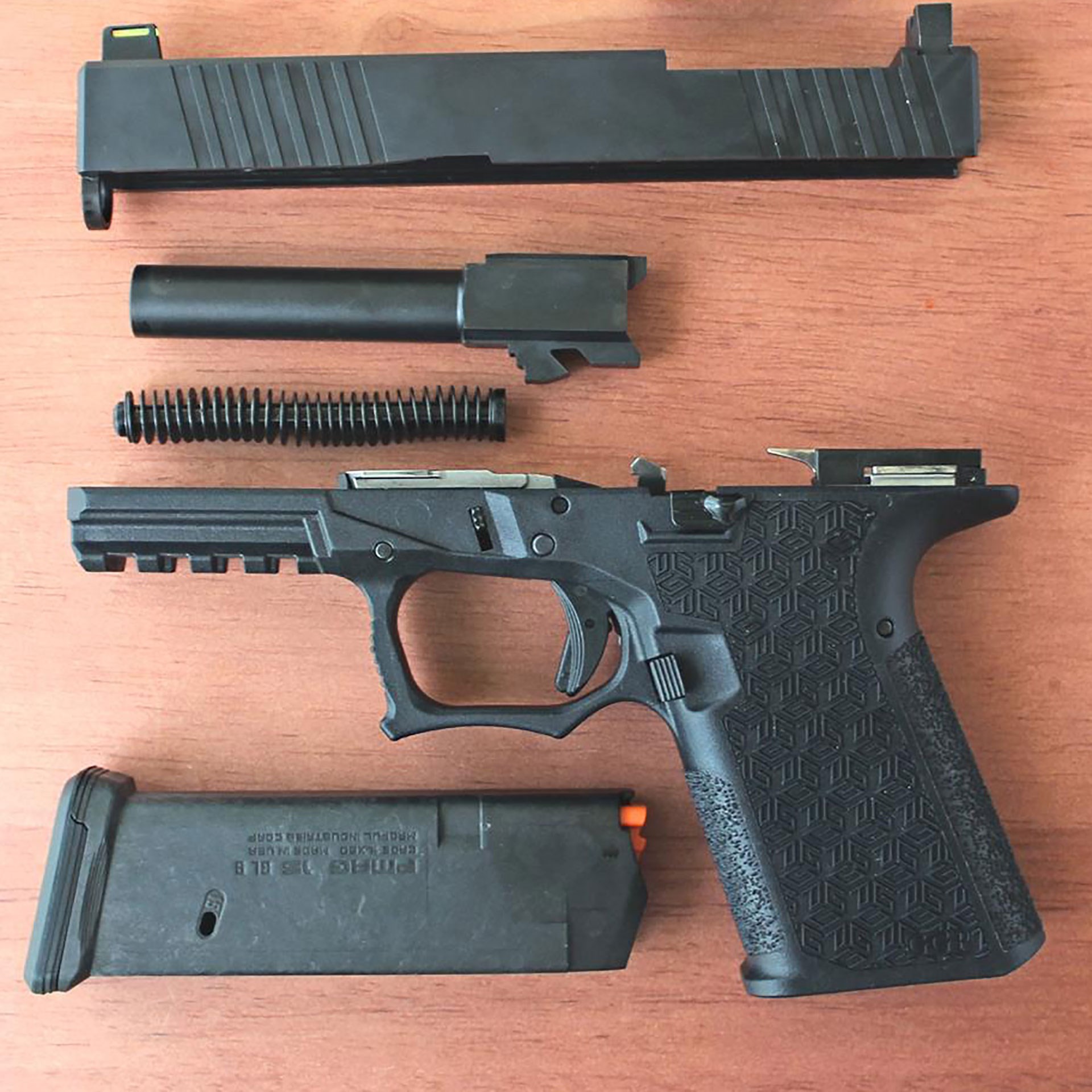 The majority of the components incorporated into this build are AIM Surplus in-house options.
This do-it-yourself concealed carry, or home defense, compact 9 mm pistol incorporates Gen3 G19-compatible components. This makes the completed pistol a striker-fired semi-automatic that incorporates the Safe-Action type ignition system developed by Glock. This system includes an integral trigger blade safety, a firing pin safety and a drop safety.
The AIM 2S RMR slide is a no-nonsense, square-profile slide. It's made from 416 stainless steel and treated with a durable, matte-black, diamond-like-carbon finish. It features front and rear canted cocking serrations, a RMR-size optics cut out, a removable filler plate for that cutout, and it accepts Glock-type sights.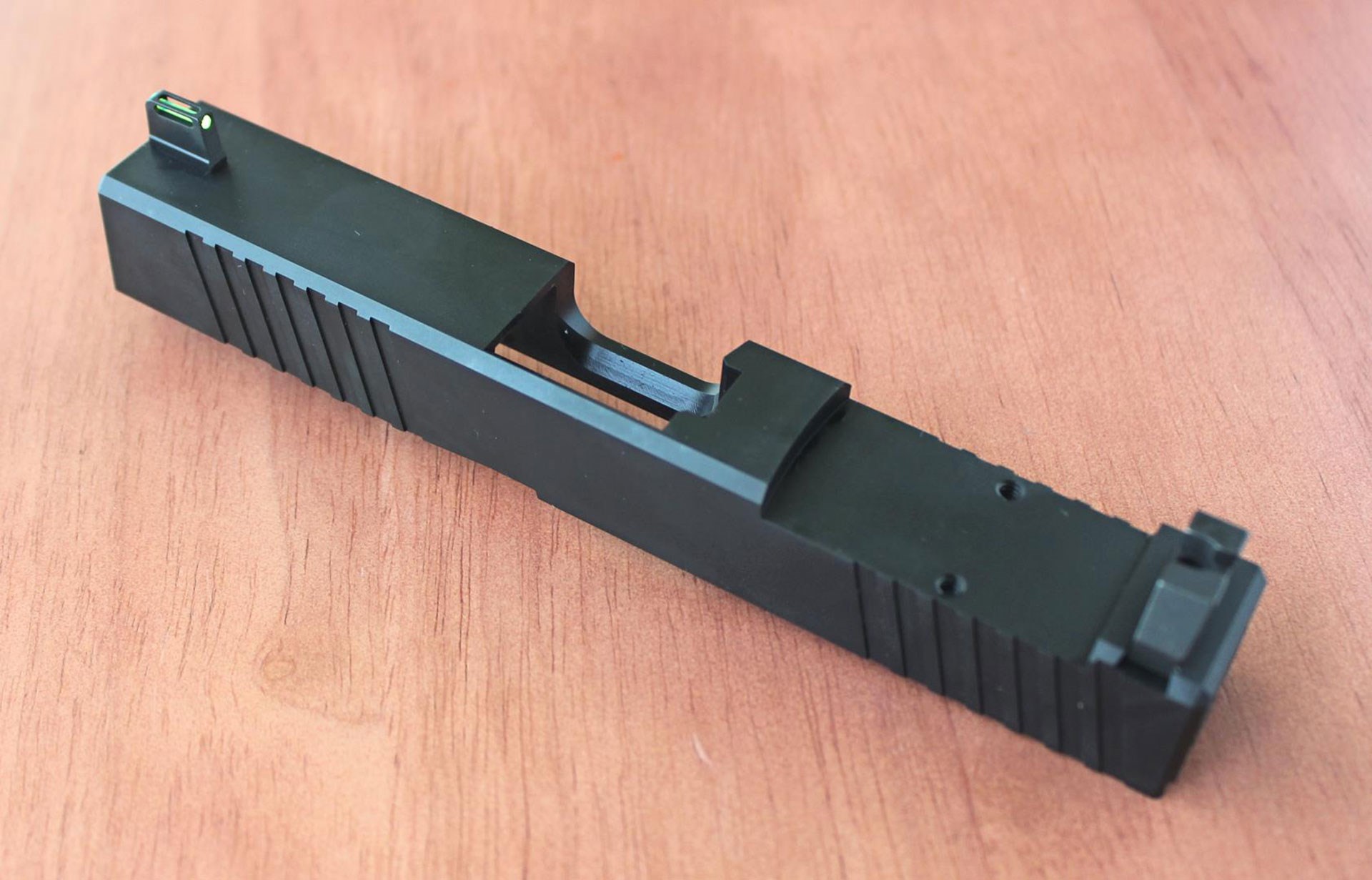 This stainless-steel slide features front and rear cocking serrations along with an RMR-size optics cutout.
The edges and nose of this slide are beveled, and the external dimensions are compatible with most G19-type holsters. It omits the weight reduction or decorative slide cutouts found on some custom and competition slides in favor of the solid slab-sides that help to keep dust and dirt out of the action. AIM does offer other in-house slides with cutouts for customers who prefer them. This slide ships stripped, so it was outfitted with an AIM Surplus Gen3 Glock 19/23 slide completion parts kit.
The pistol is topped with an AIM Surplus Glock Suppressor Height Fiber Optic sight set. The metallic front sight is serrated and houses one of the green, yellow or red fiber optics that ship with the sight. The metallic serrated rear sight features a square notch. The reason for installing taller, suppressor-compatible sights on a pistol that does not have a threaded barrel is so that they can be co-witnessed with an RMR-size red-dot optic. For the smaller defensive 9 mm pistols in the 'micro nine' size category, the smaller, Shield-size micro red-dots are a better fit.  For duty-size and compact pistols like this one, the taller and wider RMR optics can be a plus.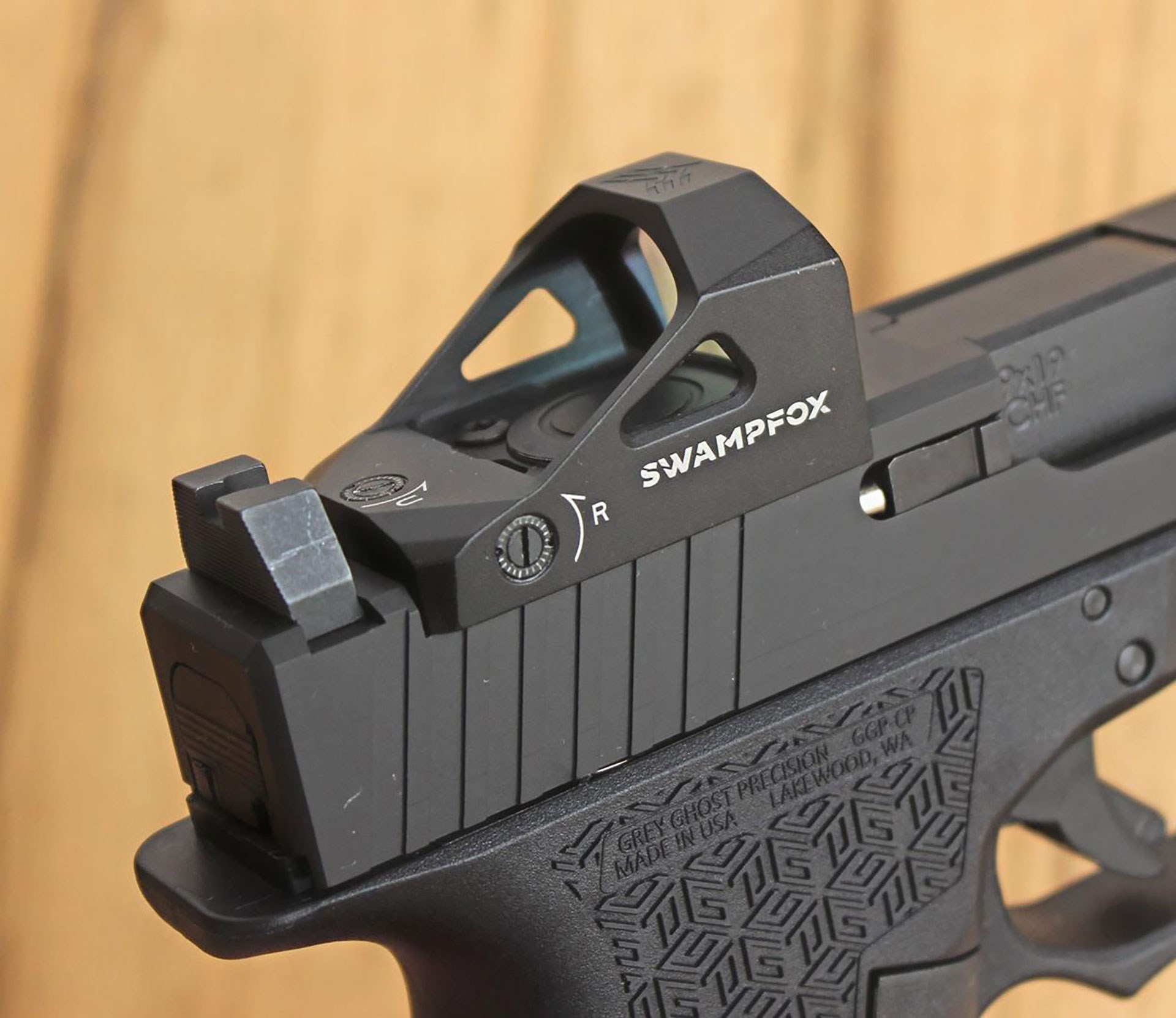 The suppressor-height fiber optic front sight can be co-witnessed with the red-dot optic.
The optic evaluated along with this pistol was the Swampfox Tactical Justice RMR 1×27 mm sight. Designed for use with rifles, shotguns and daily-carry pistols, the Justice features a hard-coat anodized 7075-T6 aluminum housing, a 3-m.o.a. red or green dot (red tested) and Shake 'N Wake motion sensing illumination. It is powered by a single CR1632 battery secured to the top of the housing by a twist-out aluminum cap. The wider 27 mm lens opens up the sight picture without making the optic too bulky for comfortable carry. This was my first time working with a Swampfox Tactical red dot. It was a positive experience I look forward to repeating in the future.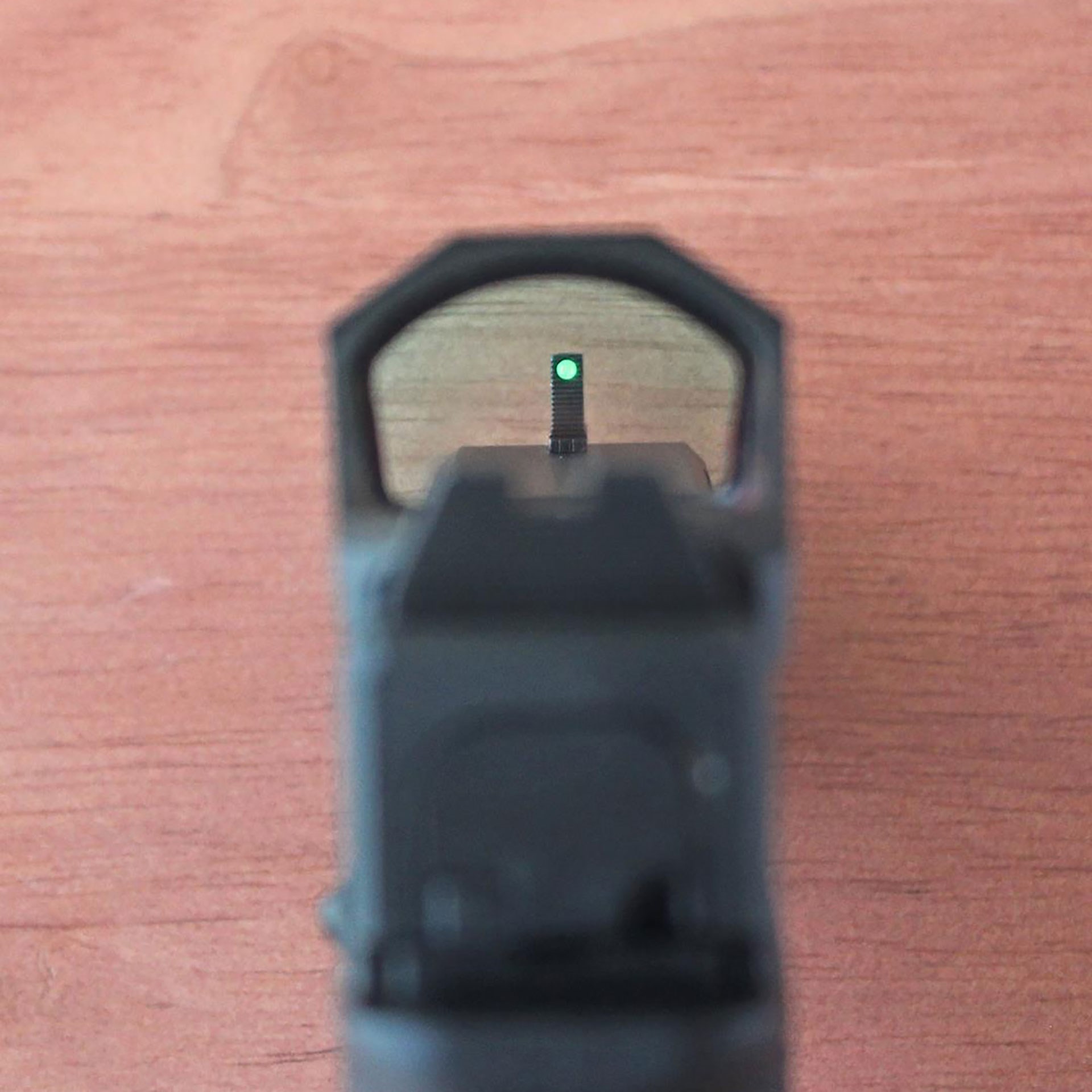 The Justice optic is relatively wide for a pistol but still a good fit for concealed carry.
The AIM Surplus 4.01″ barrel is cold-hammer-forged from stainless steel and treated with a black nitride finish. It features traditional land-and-groove rifling with a 1:10″ right-handed twist, which is suitable for shooting unjacketed lead bullets. The Gen3 pattern recoil assembly consists of a single flat wire spring captured on a polymer guide rod.
The black polymer frame is made by Grey Ghost Precision. This compact frame takes its design cues from the company's GGP Combat Pistol frame, which includes more aggressive grip texturing and improved ergonomics. This is a factory-complete, serial-numbered, stripped frame. This means it arrives ready for parts to be installed, but it must be shipped to an FFL dealer just like a complete firearm.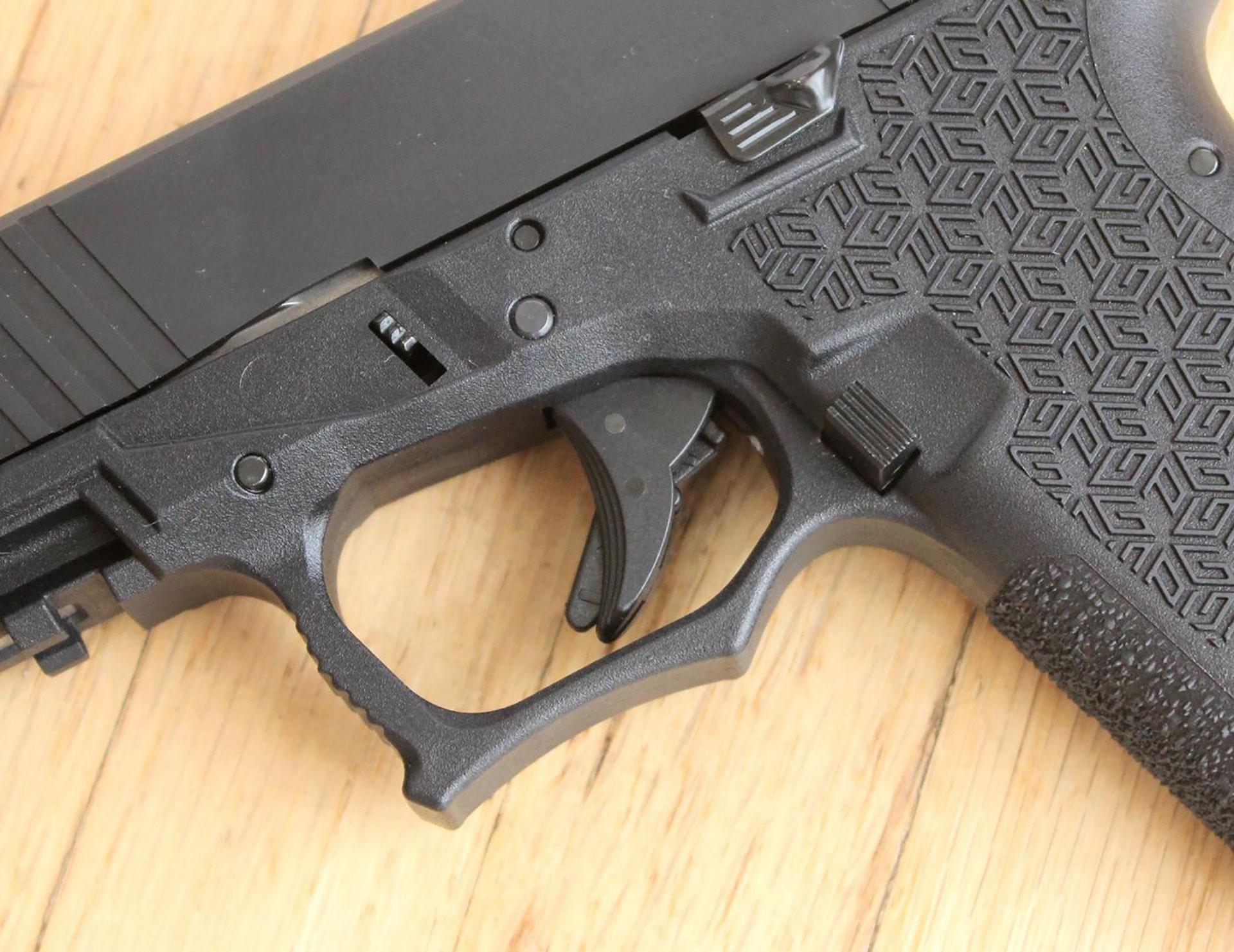 The texturing and shape of the Grey Ghost frame provide plenty of purchase.
Grey Ghost opted to maintain about the same grip dimensions as the G19, front-to-back and thickness, but they straightened out the fixed back strap and added a short beavertail extension to protect against slide bite. The generous trigger guard has a distinctive finger rest, and it's undercut at the grip frame for improved comfort. The magazine well is beveled for easier reloads, and there's also a lip at the base of the front strap to guard against the little finger getting pinched during magazine swaps. The dust cover sports a molded-in, 1.75″ long, four-slot Picatinny accessory rail.
The frame was filled out using the AIM Surplus Lower Parts Kit for Glock 19/17 Gen1-4 (XAIMGG3LPK). This kit includes a standard takedown lever, an extended slide stop and taller magazine release button, like those found on the competition-style model G34. This release is definitely easier to reach and more comfortable to work with. But it should be noted that it can dig into the backing of some holster designs, and it's a bit more likely to get bump-activated. Whether or not it's a good fit for your needs will depend on personal preferences.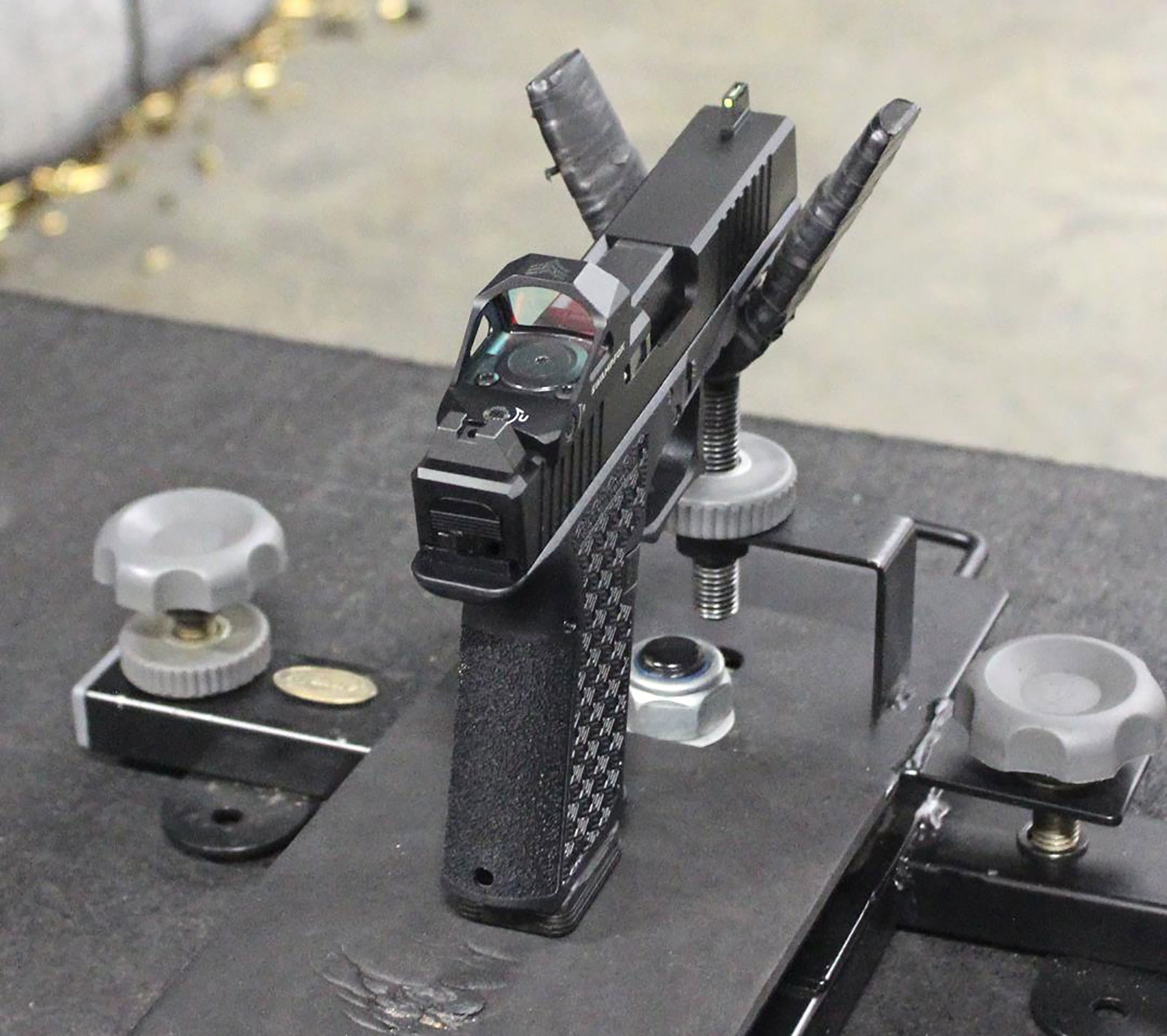 This build proved to be utterly reliable with all 9 mm Luger ammunition tested.
The kit's trigger group is typical Glock OEM fare. The grooved polymer trigger has that striker pistol-type, slightly mushy take-up with a distinctive trigger reset. But according to a Lyman Products digital trigger gauge, the trigger pull weighs in at 4 lbs., 8 ozs., which is a full pound lighter than the standard 5.5-lb. Glock trigger. The build included a single 15-round Magpul PMAG 15 GL magazine. These magazines cost and weigh less than factory G19 magazines because they do not have a metallic lining. I've been using them for some time now and have yet to run into any issues with them.
The completed pistol shows a top-notch level of fit and finish. The top half is not glitzy, but it's not meant to be. The slide and frame exhibited a tighter fit than one usually sees with pistols in this class. The Swampfox optic and tall sights proved to be easy to co-witness with a clear, useful sight picture. The Grey Ghost frame looks sharp and feels good to hold. The grip shape and texturing provide a solid sense of purchase without being abrasive to the shooting hand. It's a grip-frame configuration that can comfortably traverse the roles of home defense, concealed carry or competition.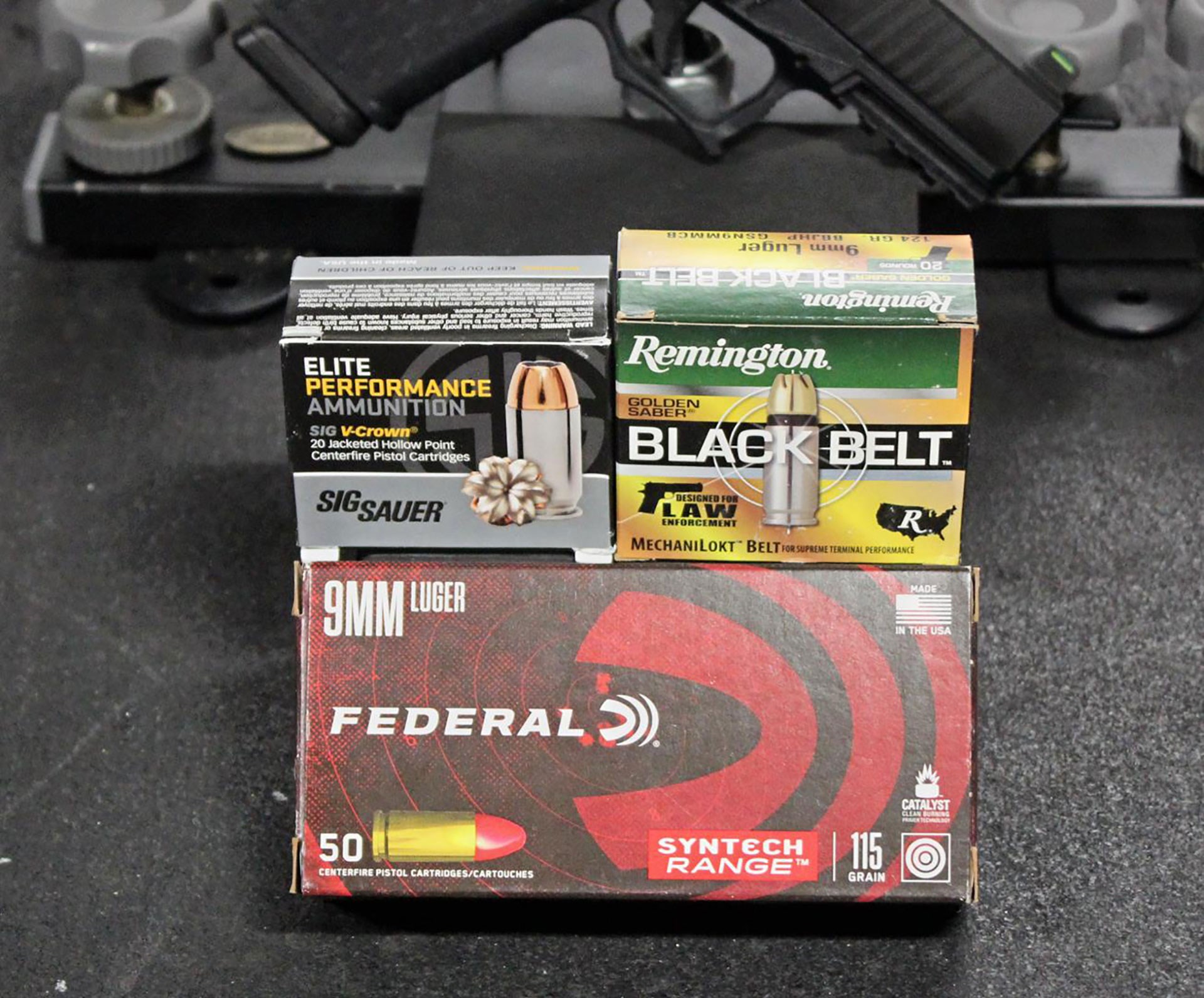 This pistol shot well enough with practice ammunition but really shined when loaded with defensive-grade hollow points.
At the shooting range, this pistol ticked along like a metronome with typical Glock-like regularity using both PMag and Glock factory G19 magazines. It fed, fired and ejected as expected with ammunition ranging from bulk-box plinking fodder to premium jacketed hollow points. Formal benchrest accuracy testing was conducted at 25 yards using Federal Premium's Syntech practice-grade load, along with Remington's Black Belt and SIG Sauer's Elite Performance V-Crown jacketed hollow points. The following table shows the performance results.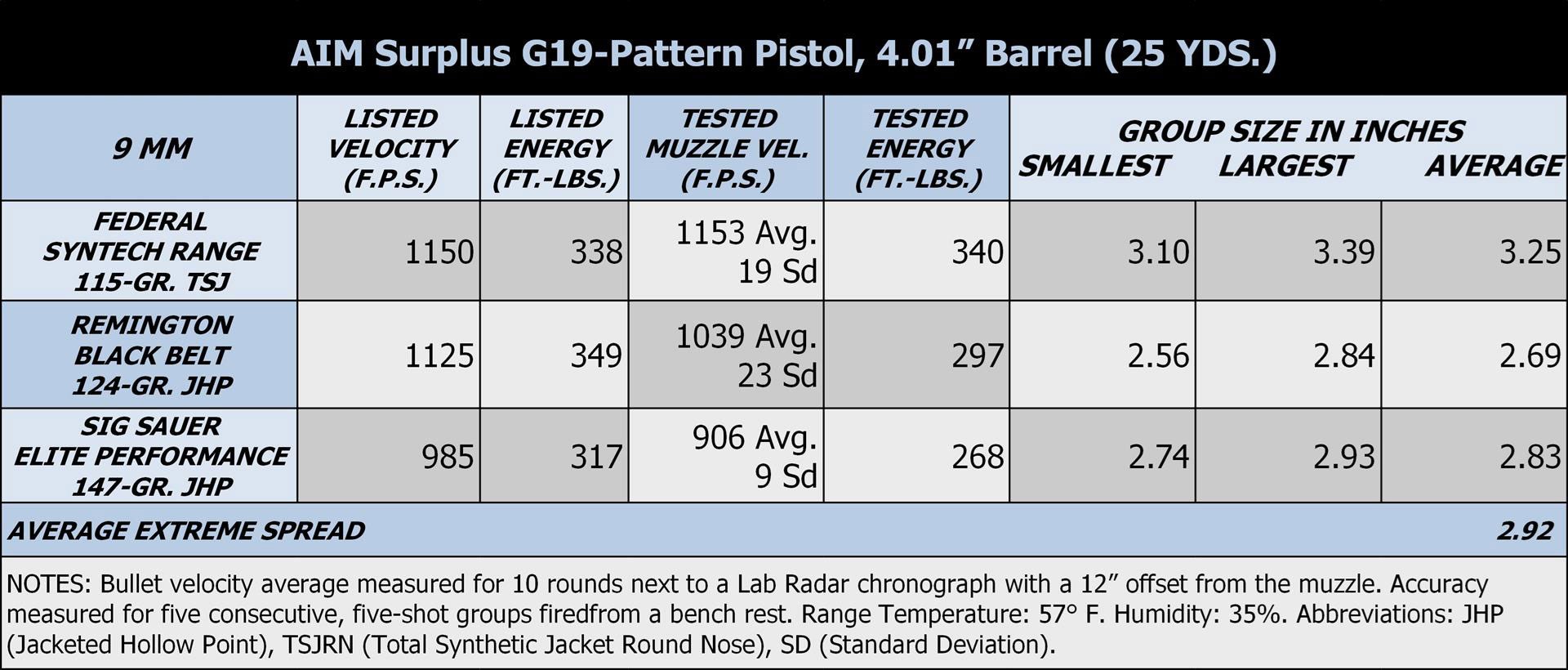 The Glock Gen3 G19 pistol is one of the most popular pistols yet devised. Thanks to this popularity, and the modularity of the Glock design, aftermarket parts abound. AIM Surplus is not the largest supplier of G19 components, but what the company offers works well and looks good, to boot. You'll also find components for AR-15s, AK-47s and a variety of handgun models in addition to the company's surplus gun catalog.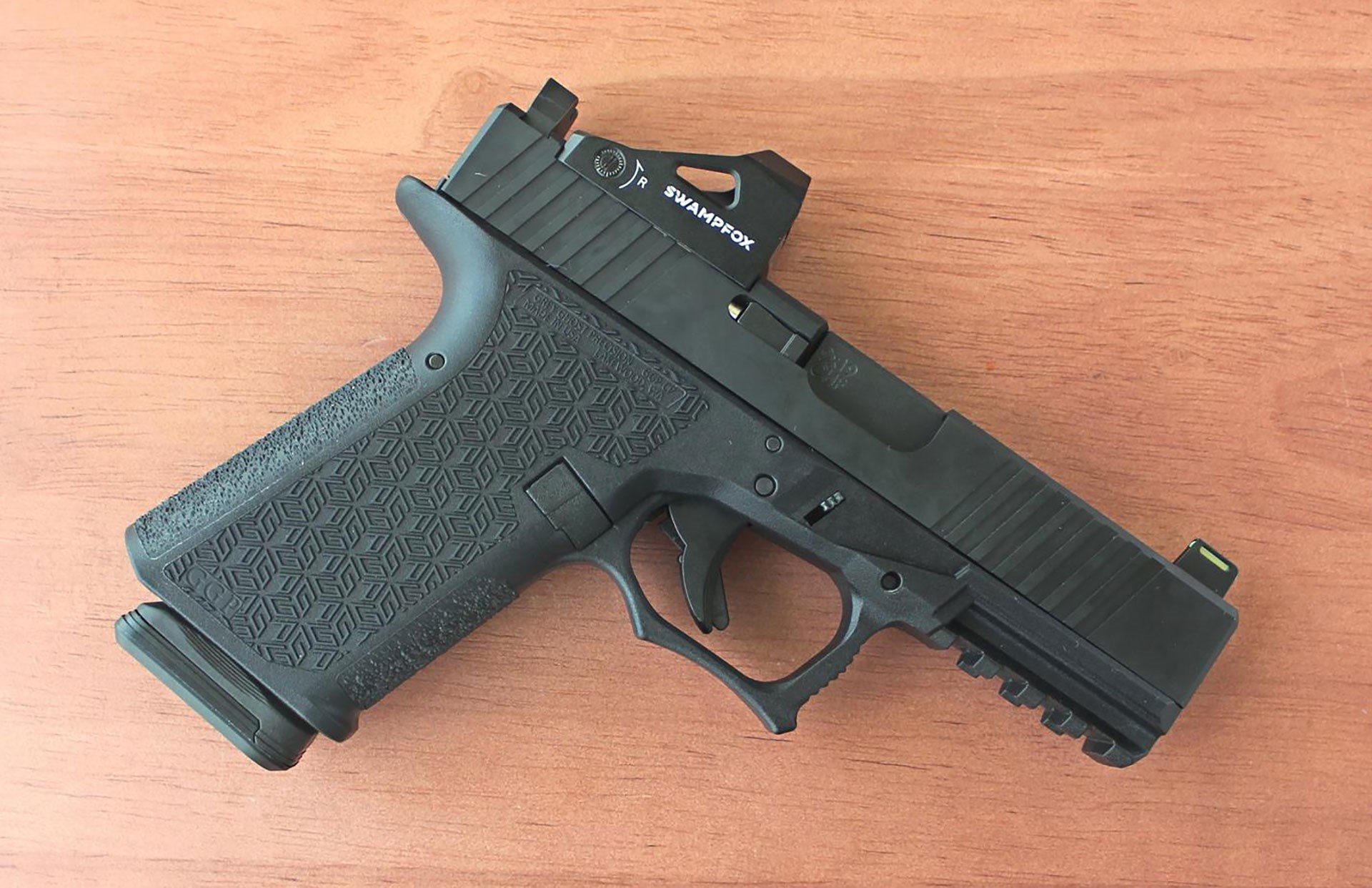 Pistol Components:
Component Provider: AIM Surplus
Model: Custom G19 Pattern Pistol Build
Action: Glock-Style Safe Action Semi-Automatic
Caliber: 9 mm Luger
Slide: AIM Surplus 2S RMR Cut Slide (XAIMGS19G3DLCRMR) $139.95
Slide Part Kit: AIM Surplus Gen 3 Glock 19/23 (XAIMGG3SPK19) $39.95
Sights: AIM Surplus Glock Suppressor Height Fiber Optic (XAIM0220000202) $39.95
Optic: Swampfox Tactical Justice RMR 1X27 Red Dot, 3 MOA (XSFJTC001273) $219
Barrel: Glock 19 CHF 9 mm SS, Nitride (XAIMTK3004BLK) $99.95
Frame: Grey Ghost Precision Compact Frame, Black (F1GGPCPBLK) $162.79
Frame Completion Kit: AIM Surplus LPK for Glock 19/17 Gen 1-4 (XAIMGG3LPK) $39.95
Magazine: Magpul GL9 PMAG 15 (MMAG550) $14.20
Total Component Cost: $755.74 (Not Including Taxes or Shipping)
Finished Pistol Specifications:
Slide: 416 Stainless Steel, Front and Rear Cocking Serrations, Matte Black DLC Coating
Front Sight: Suppressor Height Glock Fiber Optic
Rear Sight: Suppressor Height Glock Serrated Square Notch
Optic Mount: RMR Size Slide Cut Out with Filler Plate
Barrel: 4.016″ Stainless Steel, Black Nitride Finish
Recoil Assembly: Polymer Rod with Captured Flat Wire Spring
Frame: Black Polymer, Mixed Texture Grip with Beaver Tail
Accessory Rail: 1.8″ 4-Slot Picatinny Compatible
Trigger: Polymer Bow with Integral Blade Safety
Trigger Pull: 4 lbs. 8 ozs. (As Tested)
Overall Length: 6.95″
Height: 5.3″
Slide Width: 1.01″
Grip Width: 1.15″
Optic Width: 1.24″
Weight:  23.2-oz. with Optic and Empty Magazine
Capacity: 15+1 Rounds
Twist: 1:10 RH
Rifle Grooves: 6
Article by B. GIL HORMAN
Don't forget to like us on Facebook and follow us on Twitter.