Hardware: Bergara Premier MgLite
The snow had faded at shooting light, but the overcast subdued any hint of a sunrise ahead. Stopping to glass, my heart rate skyrocketed: bulls! A small band of bulls fed at a laser-zapped range of 903 yards. Doing the quick math, my heart sunk as I doubted I could close the distance to get to a comfortable shooting range before they melted back into the timber refuge.

A glance to my right brought another near heart attack as more bulls began streaming from behind timber at manageable shot distances. I dropped to my knees and crawled through the snow, easily cradling the lightweight frame of the Bergara Premier MgLite. Reaching the intended stump, I slid my backpack up to the stump's top and snuggled the rifle into a crease of the bulging pack. A peek over the top revealed that two of the closer bulls were on alert, while the largest of the trio continued to feed in the dawn light. Would my cover be blown before I could flip off the safety and send a bullet downrange?
Living in Wyoming and hunting across the West, I certainly appreciate the shooting performance, ruggedness and lightweight features of modern hunting rifles. Despite those character wants, most of my hunting has been fulfilled with rifles of standard weight, while still providing accuracy with a tough character. Recently, my attitude about hunting with heavier rifles has altered. I blame it on one thing: age. Past the half-century mark, I am on a constant hunt for easier avenues during the hunt. Testing the Bergara Premier MgLite would determine if it provided a lightweight-rifle alternative while delivering accuracy and ruggedness as advertised.
One look at the firearm and I immediately thought of a Star Wars blaster rifle. This rifle takes a page from PRS-style shooting competitions that test speed and accuracy between competitors. Bergara offers a Premier Competition rifle that displays many of the elements found on the MgLite. One very noticeable difference, though, is weight.
Whereas the Premier Competition weighs in at 12.7 pounds, the MgLite dazzles at an incredible 6.7 to 6.8 pounds depending on the caliber. Outfitted with a sling, a SIG Sauer SIERRA6BDX 3-18x44mm riflescope and a full magazine of .300 Winchester Magnum cartridges, my rifle weighed 9.7 pounds. It was an absolute joy to carry into the mountains while routinely tackling 2,000-foot ascents at elevations of 10,000 feet. Check lightweight off the list.
Bergara launched the new MgLite for hunters in a targeted selection of calibers including the 6.5 Creedmoor, 6.5 PRC, .308 Winchester and .300 Winchester Magnum. The 6.5 Creedmoor and 6.5 PRC have a 1:8" right-hand twist while the .308 Winchester and .300 Winchester Magnum have a 1:10" right-hand twist.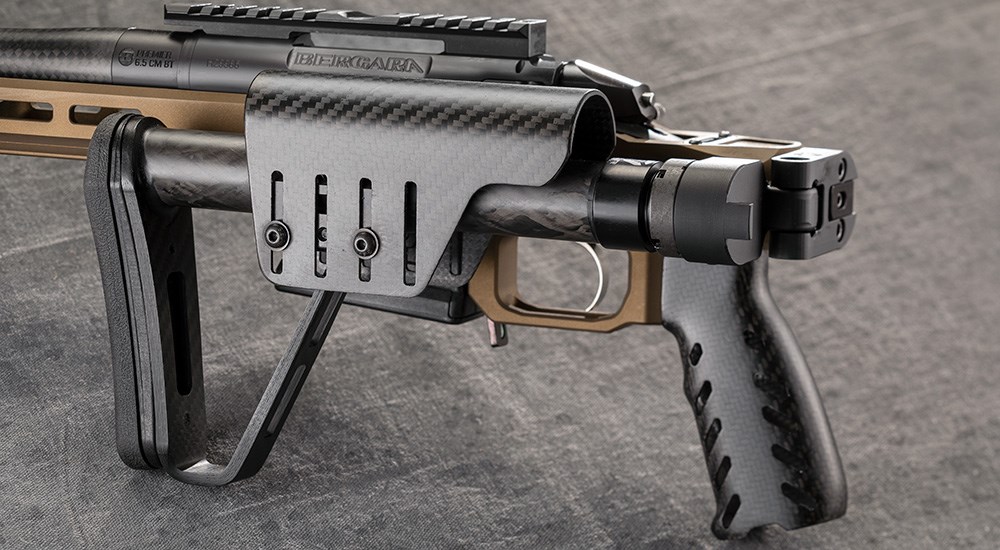 Firepower aside, the reason for the Weight Watchers feel and Star Wars look is in its skeletonized frame. Bergara went beyond to cradle its proprietary barrel and action with an XLR Element 4.0 magnesium chassis. Check off ruggedness. The bare-bones, but indestructible tan chassis supports the fully free-floated barrel. M-LOK slots are designed into the sides and bottom of the chassis. You grip the rifle firmly with an ultra-lightweight carbon-fiber pistol grip. A folding carbon-fiber buttstock with adjustable comb completes the rig and is ideal for minimizing size, especially in your backpack.
You may not realize how tall a rifle is slung on your shoulder, but attach one to your backpack and try snaking through trees. Fold the MgLite stock for instant profile reduction. A recoil-absorbing pad fits neatly at the rear of the space-age stock. Finally, a strategically placed bubble level above the pistol grip gives you instant updates on your horizontal hold. That tool is imperative for long-range accuracy and aids in mounting optics.
The new CURE Carbon Barrel deserves its own article but helps check accuracy off the list. Bergara shaved weight by an innovative process of teaming carbon with steel via a mechanical and thermodynamic process. Using Bergara's proprietary ColdBore technology, engineers weaved continuous strands of stainless steel into the carbon fiber to maintain straightness and stiffness. Just as importantly, this process transfers heat from the chamber via the barrel in a consistent and efficient manner. Barrel temperature drops, on average, by 50 degrees, according to Bergara. Just as importantly, bullets impact the same from a cold bore as a warm one. You can order an MgLite barrel in either a 22- or 24-inch configuration, giving the rifle a manageable overall length of 43 to 45 inches. All barrels arrive threaded ⅝-24-inch with an Omni muzzle brake attached.
Gun aficionados have embraced the Bergara Premier action, which aids in accuracy. It functions smoothly designed around a two-lug system, independent floating bolt head and a cone-shaped bolt nose that ensures cartridges advance without hiccups. The bolt is fluted for additional weight savings, is stainless steel and includes a tapered, threaded bolt handle for added weight reduction. For protection from the elements, Bergara has nitrided the bolt head, non-rotating gas shield and bolt shroud. The remainder of the action frame is finished in a black Cerakote graphite finish. Removing the bolt is simple by pushing a bolt release lever and a rearward tug.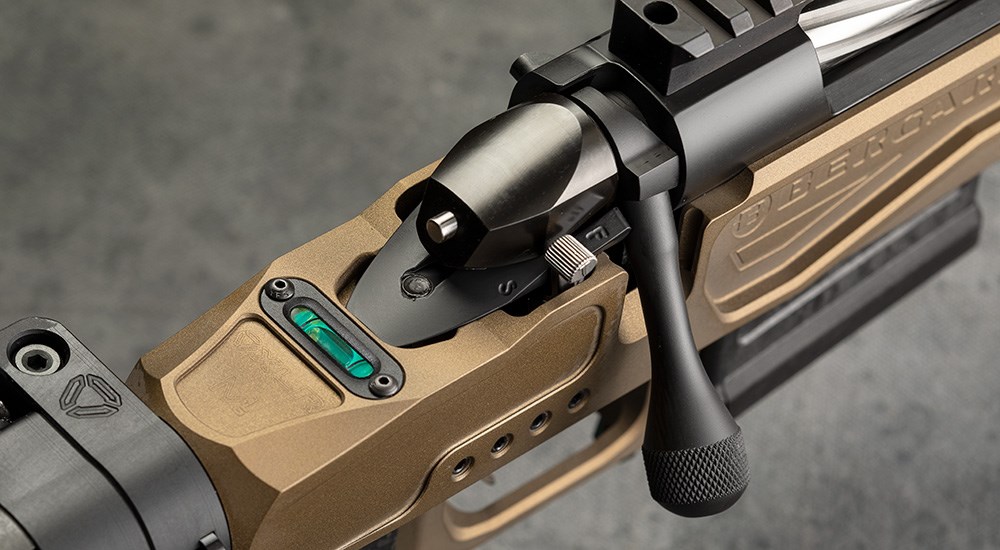 The Bergara Premier action is fed via Bergara proprietary polymer detachable AICS-style magazines. I am a huge fan of detachable magazines. It allows speedy emptying of cartridges for safe transportation, and with an extra magazine in your pocket, instantaneous reloading.
A two-position safety guards the TriggerTech Frictionless Release trigger technology. The trigger is factory set at 3 pounds and broke cleanly. There are no surprises, just clean sendoffs to your projectile of choice—and it is highly adjustable for personal preference. A unique element of this trigger is when on safe you can still unload a chambered round, unlike many models that lock the bolt while on safe.
If there is one negative on the overall rifle it would be the consideration you need to have handling the hollowed, magnesium chassis regarding noise. Tapping or hitting the frame can result in a noticeable "clinking" sound. It may or may not alert game, depending on the situation. After a couple of evident dings, I adjusted my attention and handled it with more purpose when unslinging or moving through thick cover.
Taking a moment to confirm I was on the largest of the bulls, I exhaled to time my shot for the steadiest sight picture. Autopilot engaged; I sent the 200-grain ELD-X bullet on its way. More than 2,700 ft.-lbs. of energy dropped the bull in his tracks and a follow-up insurance round ended my Wyoming elk season. As I packed out a load of deboned meat, I was doubly impressed with the MgLite. It was light and by folding the stock, the barrel was not catching on the rack of the 6-point bull cradled over my shoulders. Lightweight is the best weight in the backcountry.

Technical Specifications
• Type: bolt-action centerfire rifle
• Caliber: 6.5 Creedmoor, 6.5 PRC, .308 Win., .300 Win. Mag. (tested)
• Magazine: AICS-style detachable box; 5-rnd. capacity
• Barrel: 24″, CURE carbon; 1:10″ RH twist (.300 Win. Mag.); threaded ⅝-24″ w/Omni muzzle brake included
• Trigger: TriggerTech; single-stage; 1.5 lbs.-4 lbs. adjustable pull weight
• Sights: none; receiver drilled and tapped for Remington Model 700 bases; 6-48/T-15 screws
• Safety: two-position toggle
• Stock: XLR Element 4.0 magnesium chassis, 13.75″ LOP (std.)
• Metal Finish: Graphite Black Cerakote receiver, nitrided action components
• Overall Length: 45″
• Weight: 6.7-6.8 lbs.
• Accessories: none
• MSRP: $3,299 – $3,349; bergarausa.com
Article by MARK KAYSER
Don't forget to like us on Facebook and follow us on Twitter.