Holster Review: Blackpoint Tactical FO3 IWB Holster and Mag Pouch
If you're like me, you love to try products from a lot of lesser-known brands in the industry. Of course, we all know the heavy hitters, the companies that have been around forever, the big names. They've stuck around because they put out good products. But some of the up-and-comers are also cranking out great products and deserve a solid look.
One of those is Georgia-based Blackpoint Tactical, a company specializing in various IWB and OWB holsters for a plethora of pistols. Blackpoint offers rigs for nearly 30 manufacturers, plus 1911 models from just about anyone. They kindly sent me their FO3 model IWB for my Smith & Wesson Shield 9mm, which is my everyday carry gun.
Think of our body as a clock, with 12 o'clock straight ahead and 6 o'clock being your backside. Where your holster rides on your waistline would be at different positions on that clock. The "FO3" here stands for "Forward of 3 o'clock," designating this as an appendix rig. Pro-tip, however: it lives just as comfortably and functionally in the 4 o'clock position. If you've read my other reviews, you know I'm not an appendix guy – nothing wrong with it for most people, but it doesn't work for me, so I carry at 4 o'clock.
The FO3, designed by legendary AMTAC Shooting instructor Bill Rapier, is a classic molded kydex taco shell with a tall inside sweat guard. The kydex holds the gun very securely, with an audible click when the gun goes in. Drawing is easy, with the gun coming straight out quickly but with enough retention that the draw stroke must be firm, which is good.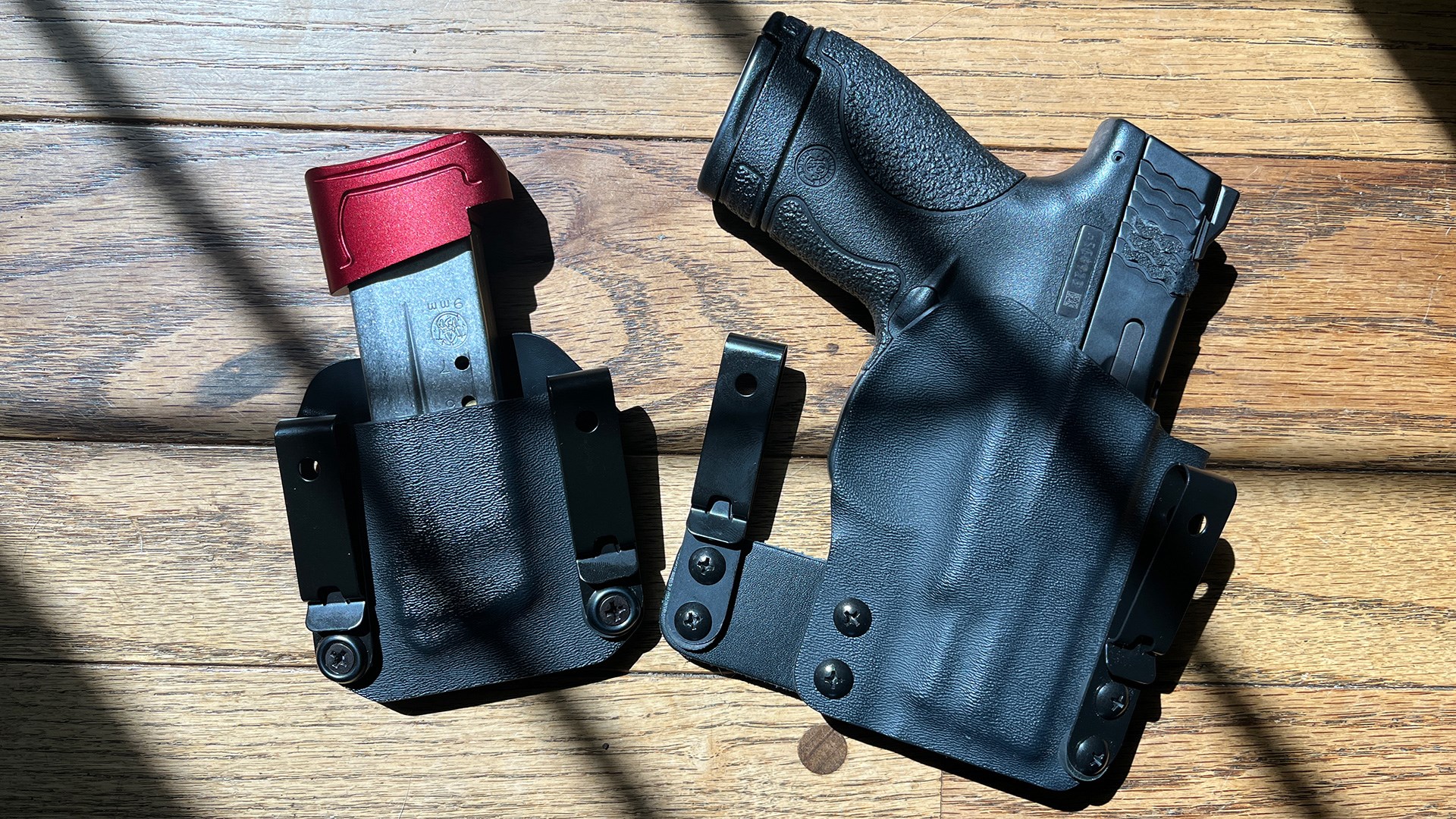 Two steel J-hook clips hold the holster securely to the belt. Through all-day use, my review holster didn't move an inch. The main hook is attached to the shell via two screws, and the second hook is affixed to a flexible leather strap about an inch off the back of the shell. I'm not sure I see how this design is better than just screwing it to the trigger-side of the shell, but maybe I'm just not seeing it.
One element that's missing is a claw. An appendix rig almost always benefits from the print-reducing claw to keep the grip tucked away. I'd suggest swapping the leather strap for a claw in future designs. The claw works wonders in either appendix or strongside hip carry.
Blackpoint included a molded kydex mag pouch in their test setup, which was great because I always carry a spare mag just in case. It was set up as an IWB carry, with the steel clips on the outside, so I tried it that way. It worked great. But I like the carry my spare mag OWB. Guess what? The clips are moveable. So I swapped them to the outside, and – presto, change-o – I had an OWB mag pouch. The pouch held my spare mag firmly, with just enough retention.
The quality of the Blackpoint Tactical FO3 holster and accompanying mag pouch is outstanding. Both are very comfortable and easy to take on and off. Overall, I was very impressed by the gear. And at $104.99 for the holster and $49.99 for the mag pouch, they won't break your budget.
Article by DAVID WORKMAN
Don't forget to like us on Facebook and follow us on Twitter.