Pistol Red Dot Sight Roundup: Top Models for Precision and Accuracy
Red dots are all the rage nowadays, and for good reason. Iron sights are fine, but a red dot can be a game-changer when it comes to improving your accuracy and speed in pistol shooting. Red dots offer a clear aiming point that's easy to acquire, especially in fast-paced or low-light situations. Rather than lining up your front and rear s, which can be slow, just align the red (or sometimes other colors) dot on your target and pull the trigger. Assuming your dot is zeroed correctly and you pull the trigger without moving the gun, the shot should land where the dot was resting.
In this roundup, we'll explore five popular pistol red dot models from industry-leading manufacturers: Leupold, Holosun, Trijicon, Bushnell, and Riton. We'll provide an overview of each model, highlighting their benefits and listing their Manufacturer's Suggested Retail Price (MSRP).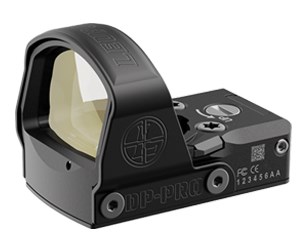 Leupold DeltaPoint Pro
Leupold's DeltaPoint Pro is a top-tier pistol red dot known for its ruggedness and high-quality construction. This sight features a 2.5 MOA red dot reticle, ensuring pinpoint accuracy at various distances. The DeltaPoint Pro is constructed from durable aluminum, making it both lightweight and able to withstand harsh conditions. Its Motion Sensor Technology automatically activates the illumination when motion is detected and rests between motion activations, preserving battery life.
Benefits:
Robust construction for durability and reliability.
Advanced motion-sensing technology conserves battery life.
Easy-to-use controls and a clear, bright 2.5 MOA red dot.
Waterproof and fogproof for all-weather performance.
MSRP: $449.99.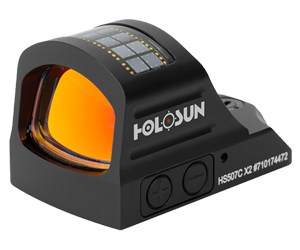 Holosun HS507C X2
Holosun's HS507C X2 is a versatile and budget-friendly pistol red dot. It offers both a 2 MOA dot and a 32 MOA circle reticle, providing options for quick target acquisition or precision shots. This model has a solar panel on top (thus the "sun" in Holosun) to supplement the battery, ensuring extended runtime. It also features Shake Awake technology, which activates when it senses motion and puts it to sleep when still.
Benefits:
Affordable yet feature-rich option.
Dual reticle options for versatile shooting.
Solar panel for extended battery life.
Shake Awake technology for quick activation.
MSRP: $364.99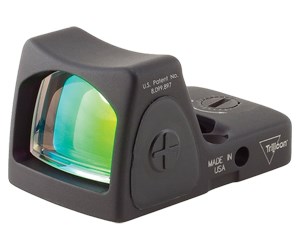 Trijicon RMR Type 2
Trijicon is renowned for its superior optics, and the RMR Type 2 is no exception. This red dot is available in various configurations, including 3.25- and 6.5-MOA sizes. The RMR Type 2 is incredibly durable and designed to withstand harsh recoil and environmental conditions. Its adjustable brightness settings and automatic adjustment to lighting conditions make it highly versatile.
Benefits:
Trijicon's reputation for exceptional quality and durability.
Multiple dot sizes for precise shooting.
Automatic brightness adjustment for various environments.
Highly resilient construction.
MSRP: $731.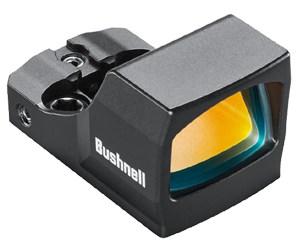 Bushnell RXC-200 Micro Reflex Compact
The Bushnell RXC-200 Micro Reflex Compact offers an affordable yet effective red dot sight solution for pistol shooters. With a 6-MOA dot reticle, it provides a balance between precision and quick target acquisition. The sight is compact, lightweight, and easy to mount, making it an ideal choice for shooters looking for a no-frills solution. It is also available in an ultracompact variant with a lower profile, smaller window, and the same MSRP.
Benefits:
Budget-friendly option.
Compact and lightweight design.
Clear and sharp 6-MOA red dot.
Easy installation and operation.
MSRP: $199.99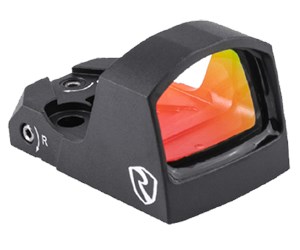 Riton X3 Tactix MPRD
Riton's X3 Tactix MPRD is a robust, feature-rich red dot sight designed for rugged use. It features a 3 MOA red dot, which is crisp and clear for precision shooting. The sight has a strong aluminum body and offers ten brightness settings, including two night-vision compatible options. The X3 Tactix MPRD also boasts a long battery life, lasting thousands of hours on a single CR2032 battery.
Benefits:
Rugged construction for demanding conditions.
10 brightness settings, including night-vision compatibility.
Long-lasting battery life.
Clear 3-MOA red dot for precision shooting.
MSRP: $299.99.
The choice of a pistol red dot sight depends on your specific needs, budget, and shooting preferences. Leupold's DeltaPoint Pro is an excellent choice for durability and precision. Holosun's HS507C X2 provides a budget-friendly option with versatile reticle choices. Trijicon's RMR Type 2 delivers unmatched quality and durability. Bushnell's RXC-200 Micro Reflex Compact is a cost-effective solution for shooters on a budget, and Riton's X3 Tactix MPRD combines ruggedness with versatile features. Consider your shooting style and requirements when selecting the right pistol red dot, and always practice safe shooting.
Article by DAVID WORKMAN
Don't forget to like us on Facebook and follow us on Twitter.