Review: BRG-USA BRG9 Elite
A few short years ago, the U.S. firearm market looked at Turkish pistols with a great deal of skepticism. Today, that stigma has largely faded, as many of these guns have proven themselves to be accurate, durable and, above all, reliable. After procuring a sample and putting it through its paces, we have found the economical BRG9 Elite to be a prime example of this.
Imported by the same folks behind the Buffalo Cartridge Co., the BRG9 Elite is a recoil-operated, striker-fired, semi-automatic, centerfire pistol that is chambered in the ever-popular 9 mm Luger cartridge. Upon firing, the barrel and slide recoil together for a brief period before they separate and complete their respective rearward motions. This is to allow chamber pressure to drop to a safe level before ejection of the fired case. As the slide returns to battery, a fresh round is chambered from the 16-round detachable box magazine. After locking up, the gun is then able to be fired again.
This pistol is built with a lightweight polymer frame that is coupled with a 4340 steel slide, the latter of which has a high nickel content that provides the benefits of increased wear resistance and durability. The same material is used in the BRG9's forged 4″ barrel, ensuring that this most critical part is matched in strength to the slide. Lastly, both components are Melonited for rust resistance.
High-quality materials alone don't make a reputable pistol, and the BRG9 also offers an array of additional features. The pistol includes interchangeable backstraps that allow for a tailored fit to the end user's hand. In today's pistol market, this is becoming the standard, as everybody deserves a well-fitting pistol. While this is the first consideration for managing recoil, control is further aided by slightly aggressive grip texture on both side panels, as well as the light studding and finger grooves located on the frontstrap. This same pattern is found on all three included backstraps, creating 360 degrees of grip support.

As for controls, the BRG9 Elite is built with an oversize, frame-mounted slide stop that is situated where the shooter's thumb would naturally fall. While this control is found only on the left side of the gun for right-handed use, an ambidextrous push-button magazine release is located on the grip and can be easily actuated from either side. Although the pistol is devoid of a thumb safety, it is built with both a grip safety and a trigger-shoe safety. Additionally, a striker block is built into the slide to provide an extra layer of drop protection.

Our range day consisted of accuracy and function testing with ammunition from Browning, Federal and SIG Sauer. From a distance of 7 yards, three testers of different dexterities and hand sizes fired the BRG9 Elite for function and reliability. Although categorized as a compact, everyone felt that it performed as if it were a full-size gun, citing the ease of recovery following each shot. Most were able to muster split times as fast as 0.20 seconds while keeping a pair of shots within the "A" zone of a standard IPSC silhouette target. This flat-shooting nature comes from the pistol's 30.2-oz. weight, coupled with its steel guide rod. Together, these components help to mitigate perceived recoil and keep the muzzle level during firing.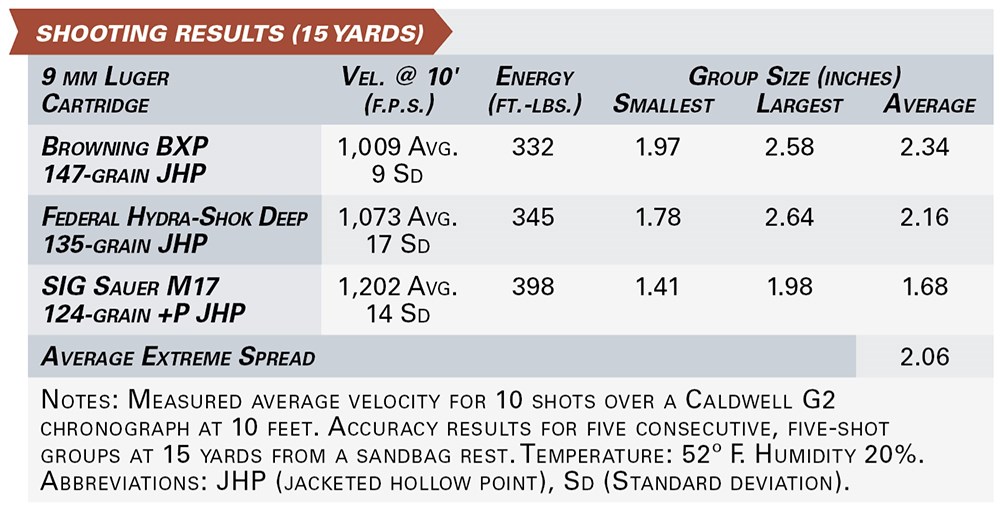 From the bench, we achieved terrific 15-yard accuracy, with five-shot groups measuring as small as 1.41" with the SIG Sauer M17 +P ammunition. We attributed this to the easy-to-align three-dot sights and the light, 4-lb., 8-oz., trigger that broke with relatively little creep. During the entire 180-round test, we didn't experience a single failure to feed, fire or eject or have any issues removing the magazine or racking the slide.
Disassembly of the BRG9 Elite is similar to that of many other striker-fired pistols. The process starts with ensuring that the gun is unloaded by removing the magazine and then locking the slide to the rear. At this point, rotate the forward-mounted takedown lever before letting the slide return to battery. From here, the trigger must be depressed to allow the slide assembly to be pushed forward off the frame. Once detached, the guide rod/spring assembly can be lifted out, followed by the barrel. At this point, the owner can perform routine maintenance using either his or her own supplies or the included cleaning kit. Re-assembly of the pistol is as simple as reversing the steps while ensuring that the slide aligns with both sets of guide rails.
The BRG9 Elite performed so well on the range that it was easy to forget that it carries an MSRP of only $399. Overall, we found it to be comfortable in the hand, controllable and just plain easy to shoot.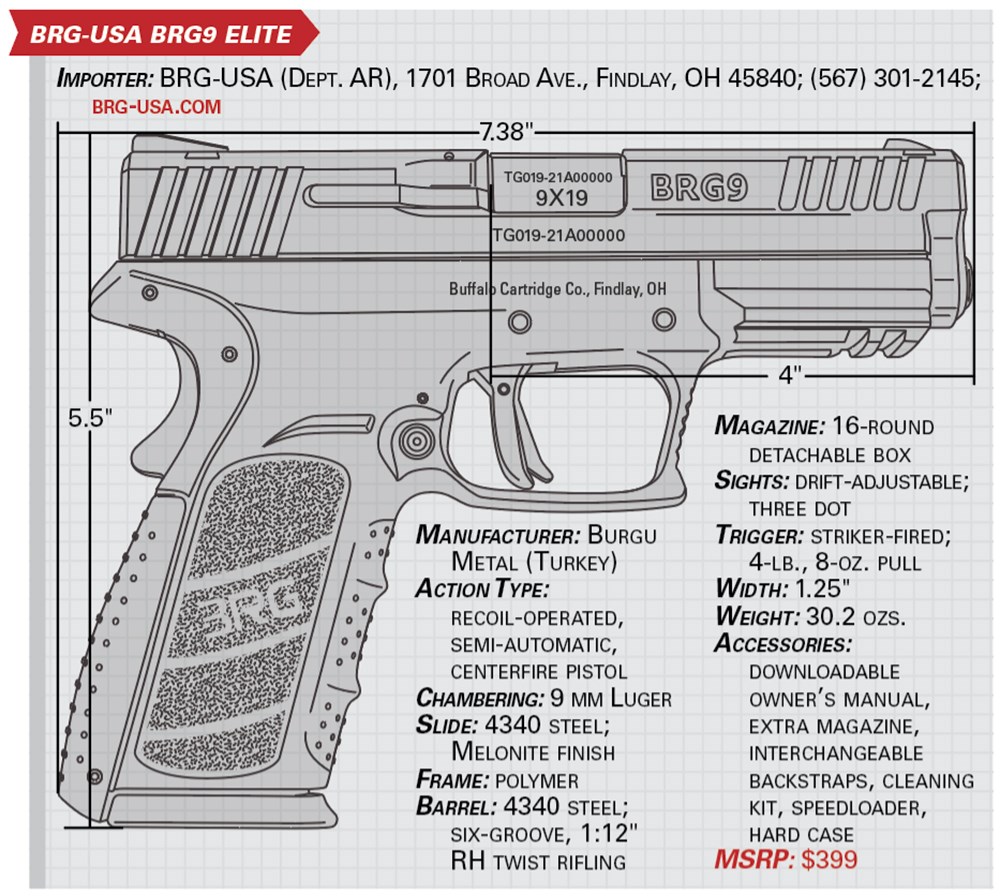 Article by AMERICAN RIFLEMAN STAFF
Don't forget to like us on Facebook and follow us on Twitter.