Review: Glock 22 Gen 5
The fifth-generation 9mm Glock pistols made their debut during 2017. Four years later, the fifth-generation Glock 22 pistol followed suit in 2021 with a bit less fanfare. This is the latest variant in Glock's line of 15-round capacity .40S&W duty pistols which has been around for nearly 30 years. In the past, .40-caliber Glocks were not necessarily the most loved guns out there, due to issues like the infamous "kabooms" from less-than-fully supported chambers or slide malfunctions with mounted tactical lights. Besides that, the snappier feeling recoil from .40S&W persuaded shooters to stick to 9mm Glocks. On the other hand, the latest Glock 22 is nothing like the originals. In fact, comparing it to its predecessors isn't fair due to improvements and upgrades. And it's not just fifth-generation upgrades, but also tweaks to better address the .40S&W chambering.
5th Gen Glock 22 Overview
The new pistol was born out of the Brazilian Military Police of São Paulo's request for an updated Glock 22. Glock then began to offer it in the United States as well. Like all other fifth-generation pistols, the frame is recontoured and lacks finger grooves, and the magazine well is subtly flared to facilitate reloading. Interestingly, the current Glock 22 also lacks the "extra" locking block pin like its fifth-generation 9mm siblings. Ironically, this pin was standardized on third and fourth generation Glocks to bolster frames from the .40S&W's brisker recoil. In the accuracy department, the fifth-generation Glock 22 also makes use of the Glock Marksman Barrel. Glock Marksman Barrels are exclusive to fifth-generation pistols and have enhanced polygonal rifling along with a recessed target style crown. Besides that, all fifth-generation Glocks possess tighter lockup between the slide and barrel. The new lockup considerably improves accuracy compared to older generations. The open sights that ship with the gun as standard are Glock's usual white-dot-and-rear-outlined-square pattern, but aftermarket sight options for Glock handguns are easily found. These sights are serviceable and with my sample, they were dead on at 25-yards with a center hold sight picture. Gen5 Glock 22 optics-ready MOS versions are also available. Glock's nDLC (nitride diamond like coating) finish on these slides is definitely an improvement over the fourth-generation finish which had a chalky surface, was more susceptible to scratching and more prone to rust spots.
Distinguishing Itself from Previous Generations
The fifth-generation Glock 22 was redesigned to use a wider, more robust and heavier slide. Older Glock 22 pistols were simply "9mm pistols stretched out" to work with the larger .40S&W cartridge. In spite of massive popularity with law-enforcement, earlier variants had their share of issues and notoriety. Evidently, the Glock engineering team took all past experiences and lessons to heart and worked this new redesign with full consideration of the .40S&W cartridge, not in spite of it. The new, beefier slides are 1.08-inches wide. These are nearly as wide as .45-caliber and 10mm Auto Glock slides (which are 1.12-inches total width). The thicker slide along with a stronger recoil spring assembly makes these perhaps the softest shooting and most controllable .40 caliber Glock pistols ever sold. Though the slide is heavier and more massive, the frame is identical to full-size fifth-generation 9mm Glocks like the G45, G17 or G34. One downside of the slide's redesign is that the fifth-generation Glock 22 pistols do not enjoy the same degree of holster compatibility with 9mm Glock pistols as older versions.
Shooting the New Glock 22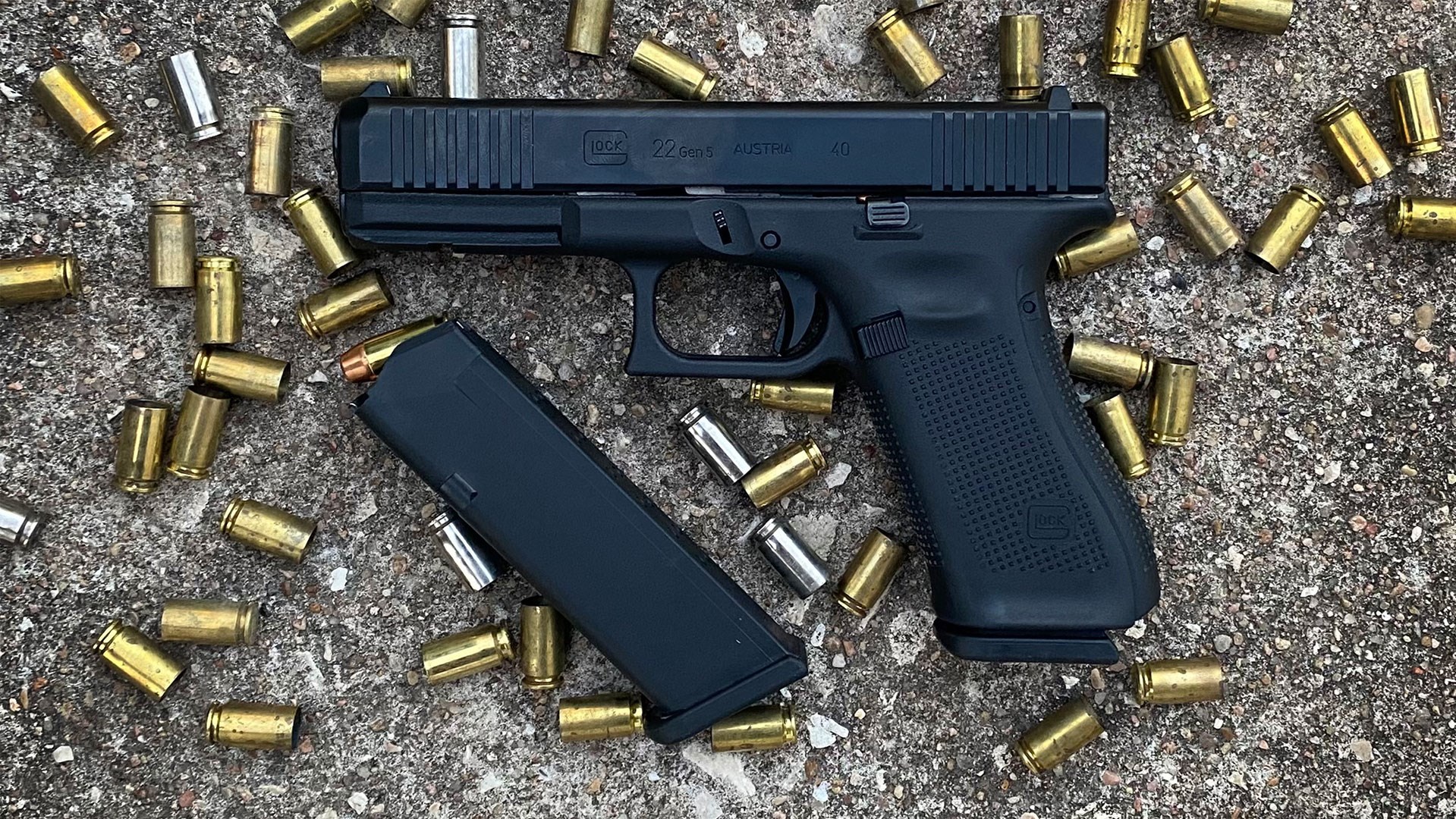 The shooting portion of my Glock 22 review was done with Speer Lawman 180-grain flat-point bullets and Federal Premium's duty/self-defense HST 180-grain JHPs. For every handgun I review, I shoot a 5-yard Dot Torture target. To my surprise, I ended up getting a near perfect score (down 2) using 180-grain Speer Lawman. I had assumed a poorer score expecting the gun to be snappier and harder to control, but that was not the case. Shooting the 5th-Gen Glock 22 for review challenged my biases and perceptions about .40S&W handguns. That heavier slide and improved recoil spring really tame felt recoil and make it considerably more manageable. Although felt recoil is subjective and difficult to articulate, I can describe it akin to the "push" of shooting a steel-frame .45 ACP 1911 compared to the snappiness that .40S&W is known for. Controlled pairs with the new Glock were a breeze with a proper two-handed grip.
The State of .40 S&W In 2023
The .40S&W round is derived from the 10mm cartridge designed by Jeff Cooper in conjunction with Swedish ammunition manufacturer Norma. While the bullet diameter is the same, the casing is shortened down. Despite the shooting public's logical preference for 9mm, the .40S&W is still an excellent performing caliber. Bullets typically weigh 165 or 180 grains and muzzle velocities linger around 1,000 fps. Downrange, these heavier bullets lead to better penetration and terminal performance than 9mm or .45 ACP. In fact, certain law enforcement groups still favor it, especially those that work around vehicles and [automotive glass]. No doubt, its popularity in law enforcement circles extended the cartridge's popularity to the shooting public during its heyday. Though 9mm has now supplanted the .40S&W in popularity, all major ammunition companies still load .40S&W. The reasons why 9mm has surpassed the .40S&W are plentiful and the topic deserves its own article. 9mm beats .40S&W in capacity and felt-recoil along with the fact that bullet technology has also improved the smaller cartridge's terminal performance. Moreover, the form factor of today's best-selling carry pistols revolve around the 9mm cartridge.
Yet, the .40S&W isn't without its advantages in 2023. Because it isn't as popular, deals can oftentimes be had on this proven caliber. In times of scarcity, it is also easier to source than 9mm or .45 ACP. Carrying a .40S&W pistol like the fifth-generation Glock 22 in the context of field use for either hunting or for defense against predators also has merit. Federal Premium even sells a 200-grain field load exactly for these types of applications. Likewise, other companies like Underwood or Buffalo Bore also sell boutique "magnum" .40S&W for the outdoors. .40-caliber pistols may never become as popular as 9mm pistols, but .40S&W is far from obsolete. The modern upgrades of the fifth-generation Glock 22 make it so.
5th Gen Glock 22 Specifications:
Action: Striker-fired semi-automatic
Caliber: .40S&W
Barrel Length: 4.4 inches
Height: 5.51 inches
Width: 1.34 inches
Length: 7.95 inches
Weight: 25.82 ounces
Frame: Polymer
Finish: nDLC (Black)
Capacity: 15+1 rounds
Trigger Pull: 5 pounds, 13 ounces
MSRP: $569
 25-yd Accuracy Evaluation:
Article by P. E. FITCH
Don't forget to like us on Facebook and follow us on Twitter.