Review: SAR USA K12 Sport
Among the most highly regarded pistols to come out of Europe, the 9 mm Luger CZ 75 has developed a loyal following both for use as a duty sidearm and as the starting point for highly customized competition guns. This semi-automatic pistol was launched in 1975 by  eská zbrojovka Uherský Brod of the Czech Republic. Its likeable features, along with a relatively lax set of patent protections, has led to this gun being widely copied and cloned overseas, much like the M1911 is commonly replicated here in the United States.
One company that understands how to make quality CZ 75-inspired pistols at fair prices is Sarsilmaz. Based in Istanbul, Turkey, Sarsilmaz has been making military- and sporting-grade firearms since 1880. In 2018, the company established the SAR USA division to import and distribute several of its semi-automatic handguns here in the United States. Along with compact polymer carry pistols and duty-size options, competitors will find just what they are looking for with the fully tricked out, all-steel, CZ-pattern K12 Sport.
The K12 is a short-recoil-operated, locked-breech, semi-automatic pistol. Both the frame and slide have been upgraded from a carbon-steel alloy to stainless steel with a natural, matte-silver finish. The metallic sights, controls and appointments have a matte-black finish, while the aluminum stock panels, magazine-well extension and magazine baseplates are hard-anodized in a gunmetal gray that is a shade or two darker than the stainless frame. This results in a handsome, three-tone finish that is eye-catching while remaining conservative.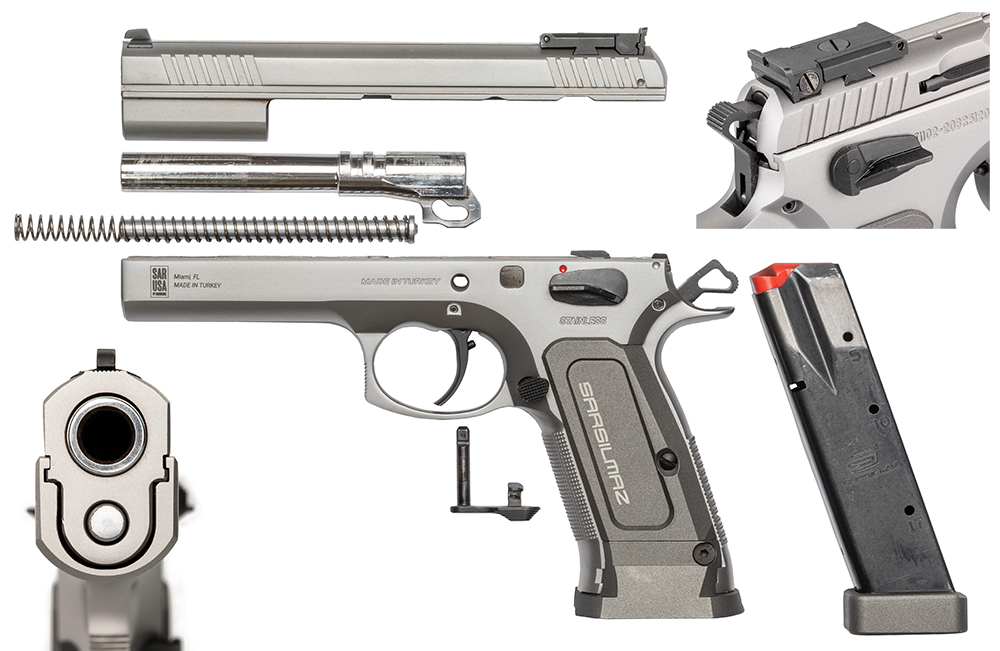 The slide rests within the frame rather than wrapping over it. Its rails are formed by cutting full-length grooves along both sides. The grooves align with rails in the frame. The K12 Sport's dustcover extends all the way to the muzzle of the barrel, which means the slide is fully supported by 7.4″-long rails from front to back.
The top of the slide is rounded, with anti-glare grooves along the top, and canted cocking serrations are found at the front and rear. A metallic sighting system consists of a serrated blade up front and a fully adjustable, square-notch target sight at the rear. The slide's ejection port is beveled and fitted with an oversize extractor claw.
Our test sample's 4.7″, crowned, target-grade barrel was brightly polished, and its bore is cut with traditional land-and-groove rifling that allows for the safe use of unjacketed lead bullets. The recoil assembly consists of a full-length, one-piece, steel guide rod and an uncaptured, round-wire spring.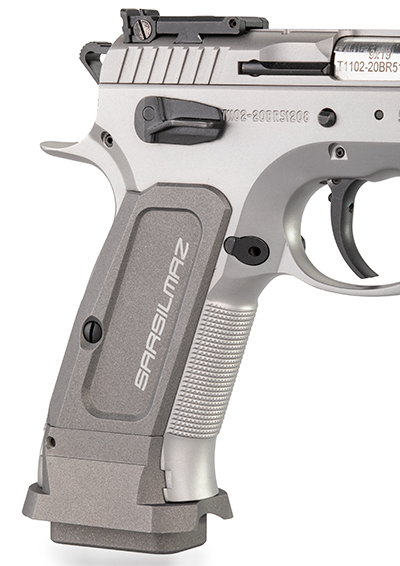 The front edge of the generously sized trigger guard is curved and grooved to act as a finger rest. It is recessed and radiused in two places—where it joins the frontstrap of the grip and the portion of the frame above and in front of the trigger face—in order to provide even more room for gloved fingers. The trigger is a smooth-faced steel bow with an adjustable overtravel screw. Although the majority of CZ 75-type pistols have double-action/single-action triggers, this pistol has been modified to employ a single-action-only competition trigger. It exhibited slight take-up before breaking cleanly, on average, at 5 lbs., 5 ozs., of pressure.
A takedown lever and an extended, checkered magazine-release button are located on the left side of the frame. Extended bilateral thumb safeties on the side of the frame swing downward into the Fire position. The exposed hammer is a skeletonized combat configuration set into an extended beavertail that protects the shooting hand from hammer bite.
The frontstrap and backstrap of the grip frame feature raised checkering for improved purchase. Typical wood or rubber stock panels have been replaced with indented, competition-style aluminum panels that sync up neatly with the flared and beveled magazine-well extension. The blued-steel, 17-round magazines have red polymer followers and extended aluminum baseplates finished to match the stock panels and magazine-well extension. As one might expect of a race gun geared for the American competition circuit, the magazines drop free of the grip frame when the magazine release is pressed.
At the shooting range, the K12 Sport was put through its paces using standard-pressure practice-grade and competition-style 9 mm Luger ammunition intended to be both accurate and affordable in platforms like this one. Some all-steel pistols require a break-in period to properly marry the slide to the frame, but the K12 did not; it ran reliably from the first shot fired.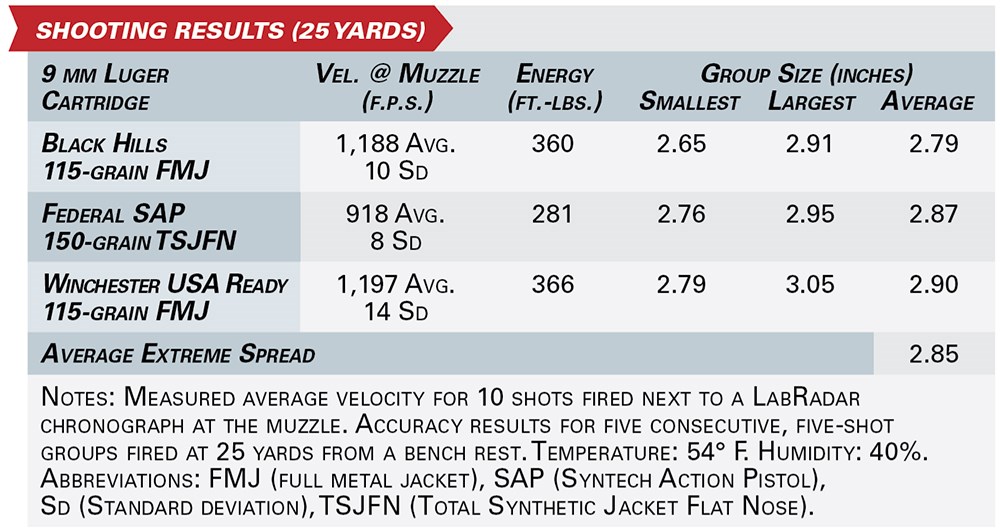 At 44 ozs., unloaded, the gun is heavy, but because it's properly balanced, it rests comfortably in the hand and points naturally. It is also positively tame to shoot when compared to the compact, polymer-frame pistols favored for self-defense these days. Five-shot groups fired at 25 yards nearly all stayed tighter than 3″, with an average extreme spread of 2.85″.
The K12 Sport is described by SAR USA as the crown jewel of its collection, and based on the results of this evaluation, that title is well-deserved. This pistol exhibits a top-grade level of fit and finish throughout. SAR USA's K12 Sport arrives ready for competition straight from the box—yet with a price tag far less than many comparable competing models—making it one of those rare opportunities for shooters to get more than they paid for.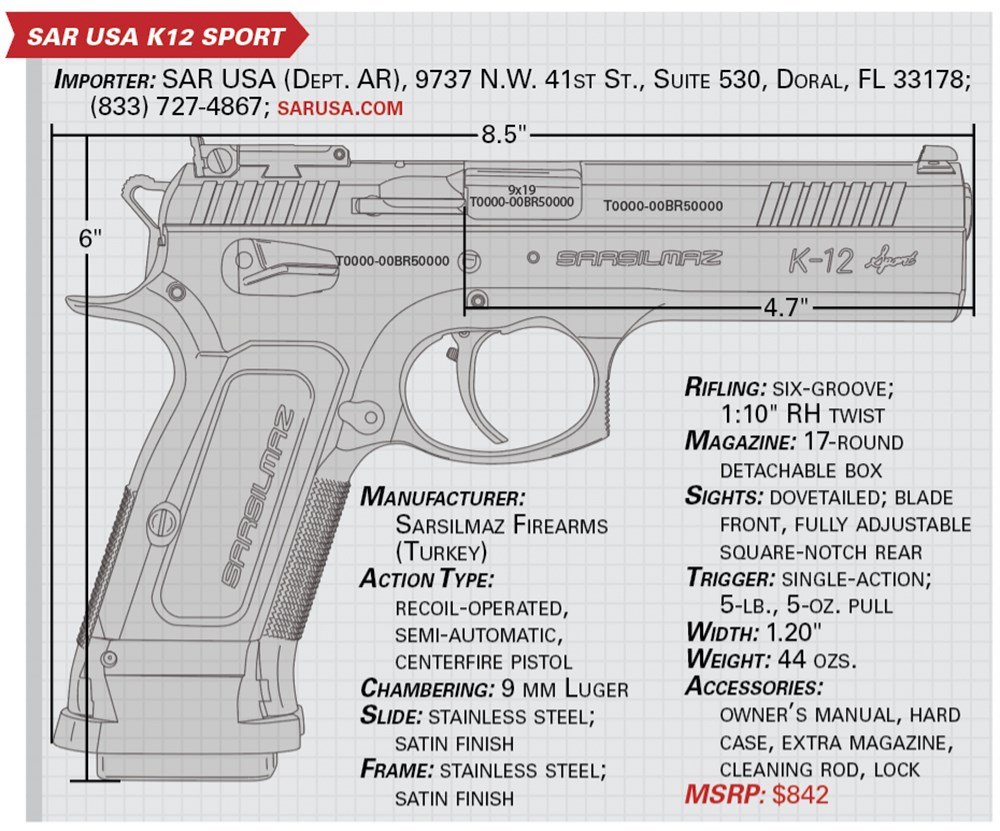 Article by AMERICAN RIFLEMAN STAFF
Don't forget to like us on Facebook and follow us on Twitter.