Review: SIG P322
Rimfire firearms don't immediately come to mind when one thinks of SIG Sauer, a company that prides itself on its tactical guns. But while .22 LR firearms aren't a major part of SIG's DNA, it hasn't ignored them, either. 
The SIG 522 rifle, for instance, followed the lines of the legendary Swiss-made SIG556. The 522 was reliable, well-featured and competitive with any of the .22 LR-chambered AR-15s on the market. Two models were offered and would likely sell well if brought back.
SIG's rimfire handguns have been much more varied, with .22 LR versions of the P226 and P938, conversion kits for these pistols and the P229 and a few imports from Swiss-based Hämmerli and Umarex of Germany.
The P226 and P938 .22s were made in two different versions, and because they shared the same frame as their centerfire counterparts, they could be "upsized" to 9 mm with kits sold by SIG. The P226 was configured as either a single action with a thumb-activated safety, or as a DA/SA with a hammer decocker. The P938 rimfires were sold with two different barrel lengths. These pistols were reliable and well-made, but they all suffered common problems: The slide did not lock rearward after the last round was fired, and they were expensive for a .22 LR pistol.
Starting in the 1990s until about 2017, SIG imported several .22 LR pistols. The first was the Trailside made by Hämmerli and, many years later, M1911s made by Umarex. The Trailside came in a few variants and was intended to compete with the Ruger MKII Competition pistol, while the M1911s were intended to capitalize on what was then an emerging market for rimfire versions of iconic centerfire pistols.
Though many of these models have been forgotten, perhaps SIG's most memorable—and problematic—.22 LR pistol was the Mosquito. The Mosquito was a scaled-down version of the P226. Made by Umarex, the Mosquito was also one of that company's earliest forays into copying a centerfire tactical pistol aimed at the U.S. market, where it is now one of the biggest players. The finicky Mosquito, which didn't run well with many brands of popular plinking ammo and came with two, different-weight recoil springs in an attempt to correct that problem, overshadowed SIG's successful releases and was undoubtedly on the minds of the pistol product manager and engineers when designing the P322. 

The P322 is a completely new pistol designed and made by SIG Sauer. Though some have opined that it is a .22 LR training gun for those who wish to step up to the P320 or P365, I don't see it that way, because the P322 shares neither the grip shape nor weight, trigger pull, sights or takedown procedure of those centerfires.
The P322 is single-action, hammer-fired, blowback-operated and feeds from a staggered-column, 20-round magazine. With a 4-inch barrel and a length and height of 7 and 5.5 inches, respectively, this pistol has a footprint close to the P320 compact and weighs only 17.1 ounces unloaded.
It is constructed with a stainless steel chassis secured into a polymer grip frame by two roll pins. The chassis is the serialized controlled component. It contains the trigger, hammer, disconnector, ejector, slide stop, thumb-activated safety levers, barrel mount and slide rails. This chassis is not modular in the same manner as the Fire Control Unit used in SIG's P320—which is intended to be swapped into different grip frames—but removal is not difficult should the company decide to go that route in the future. That's not something SIG is currently planning, but the benefit to consumers is a damaged grip frame from a home gunsmithing project (like stippling) gone awry is easily replaced.
The slide is anodized aluminum with a pinned steel breechblock. The recoil spring wraps around the barrel and is held captive, which is far superior to an untethered recoil spring and guide rod, which inevitably gets damaged and makes reassembling the pistol an annoyance, as with the Mosquito and a few other handguns. Two other quality indicators are the .47-inch-diameter, solid-steel barrel—not a thin steel liner inserted into a hollow aluminum tube—and a large, sturdy barrel mount.
This pistol has several enticing features for a .22 LR, starting with a 20-round, flush-fit magazine of which two are included. That payload puts it second only to the KelTec CP33, which holds 33 rounds. A 25-round extended mag is also available. The slide-stop and safety levers are bilateral for ambidextrous operation, which benefits left-handed shooters and encourages non-dominant-hand shooting, something most of us could use more practice with if you're training for self-defense. The P322 can also accommodate an optical sight and is suppressor-compatible using the supplied 1/2×28 tpi adapter that takes the place of the barrel's end cap.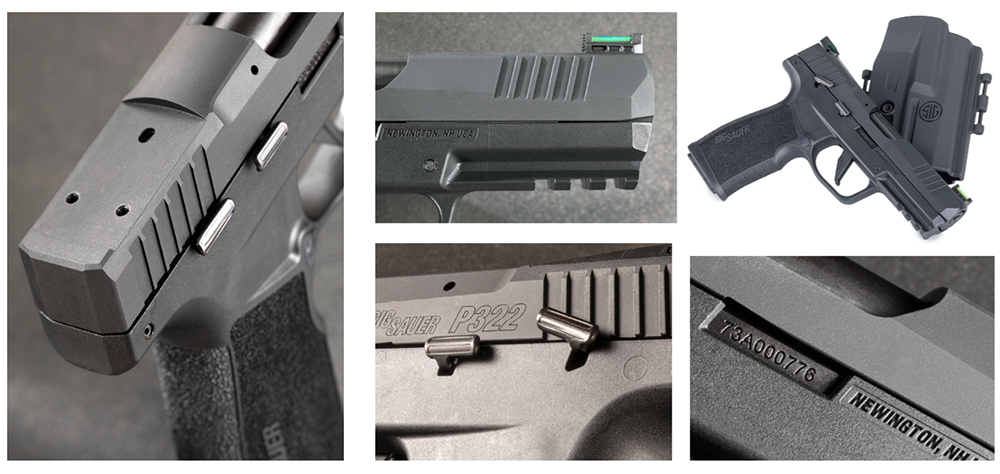 The P322 comes equipped with a straight-face trigger shoe, but an extra curved shoe is included. Straight-face triggers are not novel, having long been used on rimfire target rifles, but they have become fashionable on tactical and action-shooting competition pistols. Some shooters subjectively prefer the feel of a straight-face trigger compared to one that is curved, and a straight trigger provides a lighter trigger pull if your finger can press the lower portion of the trigger face to gain better mechanical leverage. Though you can use this technique with a curved trigger, it's easier with a straight trigger, and that small bump at the end helps index your finger at the bottom edge. The trigger on the sample pistol breaks at an angle just past 90 degrees to the bore after a fair amount of take-up and slight overtravel. Pull weight measured 4 pounds, 11 ounces when pressed at the mid-point, and 3 pounds, 1 ounce when pressed at the bottom according to my Lyman digital scale.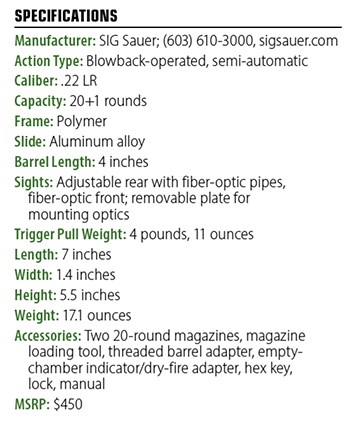 Safety-conscious engineering is present on the P322 in two notable ways. First, the thumb-activated safety does not lock the slide and can be engaged without the hammer needing to be cocked. This allows you to clear the chamber without disengaging the safety, as is required with the M1911. Second, the risk of an accidental discharge during disassembly is minimized because the takedown lever which starts the process won't rotate unless the magazine is removed, and rotating it blocks the trigger bar from releasing the hammer. This helps prevent a negligent discharge if the shooter forgets to clear the chamber and pulls the trigger while disassembling the pistol.
Adjustable, polymer sights have green fiber-optic inserts (one on each side of the square-notch rear sight and one up front), a 6-inch sight radius and are high enough to get an unobstructed sight picture using a 1-inch-diameter suppressor. The shooter-facing edges of the sights have horizontal serrations that do their job of reducing reflection from the sun. The rear sight adjusts for windage by loosening a setscrew and drifting the assembly, while elevation is changed by turning a hex-head screw using the supplied key. To save you ammo and time, the manual explains the change in bullet impact for each rotation of this screw, an explanation that is sadly lacking in many contemporary pistol manuals, including some for high-dollar models.
 In terms of MRDS optics, the P322 is compatible with SIG Sauer's Romeo 1 Pro, Trijicon's RMR and Leupold's DeltaPoint Pro, which can be installed after removing the rear-sight plate, but the optimal selection is the micro-size SIG Romeo Zero-Elite, according to the company. Other SIG-recommended accessories include a polymer, strong-side holster, 25-round magazine and SIG's Foxtrot 2 tactical light for those who wish to outfit the P322 similarly to a centerfire.
The P322 was tested for accuracy using three loads shot off a sandbag rest at 15 yards, and for reliability using three additional loads of varying velocity and bullet design. The average five-shot group across all three loads measured 1.44 inches. Aside from lubricating the slide rails and recoil spring prior to fire, the pistol was not cleaned during the 200-round test and experienced only one stoppage—a failure to feed the last round in the magazine seemingly caused by accumulated bullet lubricant on the magazine's feed lips. Reliability of the P322 was perfect even when challenged using standard-velocity ammo with a minor amount of additional weight from the Zero-Elite optical sight mounted to the slide.

Fire controls—safety, magazine release and slide stop—are ergonomically positioned for shooters with average-size hands, but several found the straight trigger provided only a theoretical benefit because the trigger guard is not deep enough to press it rearward at its lower edge. The wide-radius, undercut trigger guard is comfortable and the front and aft slide serrations have a decent amount of sharpness to work the slide without the need for a vise-grip-like grasp.
The sights are easy to acquire, thanks to the green fiber-optic inserts. Some testers preferred to see green out front and a plain rear sight, and "corrected" the matter with a black marker.
Pull-down buttons on both sides of the magazine follower make loading easy, even without any need to use the supplied tool, and a cutout on each side provides instant confirmation of load status.
If SIG Sauer intended to vanquish the tainted ghost of Mosquitos long gone, the P322 handily accomplishes that mission. This pistol is a reliable, handy plinker with superior magazine capacity, decent ergonomics and well-suited accessories that bring you closer to a centerfire gun experience without the detriments of higher ammunition cost and added recoil.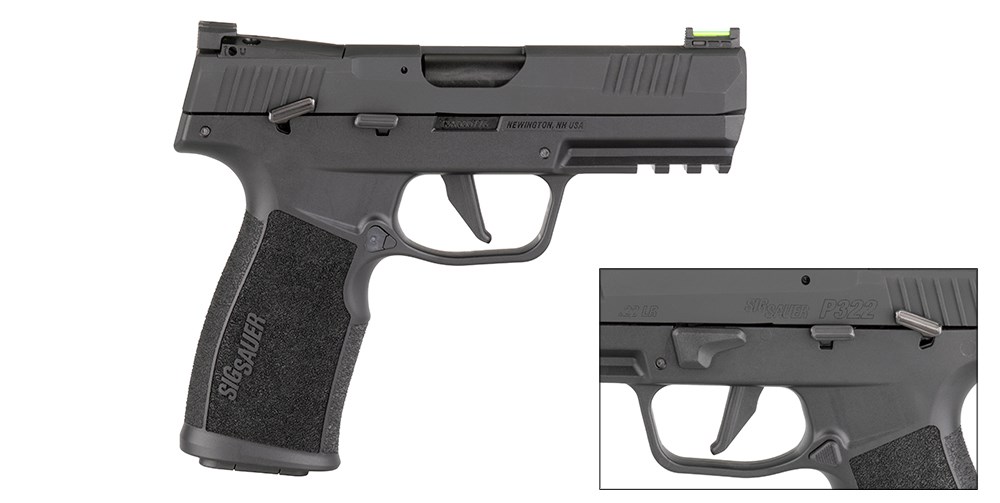 Article by ANDY MASSIMILIAN
Don't forget to like us on Facebook and follow us on Twitter.