Review: Smith & Wesson M&P M2.0 In 10 mm Auto
In 2005, Smith & Wesson (S&W) launched a new line of striker-fired, polymer-frame pistols dubbed the M&P series. Short for Military & Police, these semi-automatics are intended to carry on the service tradition of the company's venerable M&P double-action revolvers. They sold well over the following decade, with various models favored by those in uniform and civilians alike. In 2017, the M&P pistols received a makeover, leading to the launch of the M2.0 models, and by the end of 2021, S&W was ready to expand its catalog to include an M2.0 chambered in 10 mm Auto—a cartridge that had not been available chambered in S&W semi-automatic pistols since the mid-1990s.
This is a short-recoil-operated, semi-automatic pistol that employs a tilting-barrel locking system in which the barrel's hood locks into the ejection port, just like the rest of the M2.0 series. Because it is based on the full-size .45 ACP M&P M2.0, this pistol is compatible with existing support gear designed for the .45 ACP version. Available with either a 4″ or 4.6″ barrel, this evaluation takes a closer look at the 4.6″ version. It is 7.9″ long, the slide is 1.1″ wide and the pistol is 5.5″ tall, with an unloaded weight of 29.3 ozs.
The slide is constructed of stainless steel with a beveled nose and a rounded top edge. The front and rear cocking serrations are cut in S&W's signature scalloped pattern. The ejection port features a witness hole that serves as a loaded-chamber indicator and a generous extractor claw. The slide is treated with a matte-black Armornite finish, a hardened nitride treatment that increases lubricity, reduces surface roughness and provides added corrosion and wear resistance.
The steel, optics-height, white-dot sights installed on this pistol are dovetailed into the slide, so, when a micro red-dot sight is installed, it can be co-witnessed with the sights. TruGlo TFX night sights are also available as a factory-installed option. Due to the slide's full-size profile, there is enough space between the rear sight and the ejection port for an optics cutout long enough to accommodate a wide variety of red-dot models. The pistol ships with a polymer filler plate installed. The included accessory set provides seven optics-mounting baseplates and four sets of screws. For this evaluation's testing, the M&P was fitted with a Swampfox Justice, a 3-m.o.a. red-dot of the RMR footprint with adjustable brightness levels.
The M&P has a lower bore axis than some pistol designs, which reduces muzzle rise and makes the gun more comfortable to shoot with more potent 10 mm loads. The stainless-steel barrel is treated with the same Armornite finish as the slide. Its 1:10″-twist rifling is of the traditional land-and-groove variety. The recoil assembly consists of a full-length, all-steel guide rod with a single, captured, flat-wire spring.
The black polymer frame features an embedded stainless-steel chassis with an extended ridge to reduce its flex and torque when fired. The chassis is the serial-numbered portion of the gun, with the number visible through a port found on the right side of the frame near the muzzle. The dustcover features a molded-in, three-slot Picatinny rail useful for mounting light and laser modules.
On the left side of the frame, just above the trigger guard, is the takedown lever. The bilateral steel slide stops are textured for improved purchase. This pistol is available with or without bilateral, low-profile thumb safeties that swing up into the Safe position. The slide can be manually cycled for loading or unloading with the thumb safety engaged.

The metallic magazine-release button is relatively ovoid in shape, textured and reversible. A flat-faced trigger shoe and its skeletonized integral blade safety are molded from black polymer. The M&P M2.0 trigger group has a smoother and lighter trigger pull than many typical factory-installed striker-fired pistols. It exhibits a light take-up with a firm, discernible stop just before breaking cleanly at 4 lbs., 4 ozs. of pressure. The trigger stops against a small, rounded frame extension and has a short, audible and tactile reset.
The M&P M2.0 pistols feature an 18-degree grip angle designed to provide a natural feel. A consistent enhanced texturing is molded into the grip on all sides. This texturing is aggressive with a feel comparable to skateboard tape. It provides plenty of purchase—which is useful in cold, wet or stressful situations—however, it can be abrasive to bare hands during extended practice sessions or when shooting full-power 10 mm Auto hunting ammunition; a pair of shooting gloves can come in handy in these situations.
At the base of the grip, behind the magazine well, is a wedge-shaped extension with what appears to be a lanyard loop. Twisting this extension a quarter turn releases a frame tool that serves two functions. It secures the interchangeable palm-swell backstrap to the grip frame; the 10 mm arrived with a total of four backstraps, marked Small, Medium, Medium-Large and Large, to accommodate a variety of hand shapes. The frame tool is also used in conjunction with the M&P's patented sear-deactivation system that allows the pistol to be disassembled without pressing the trigger.
Although 10 mm Auto cartridges can produce authoritative levels of felt recoil, the features of the M&P M2.0 work well together to make the pistol enjoyable to shoot. The slide assembly balances nicely, the grip is properly shaped for comfort and the frame's texturing provides good control. Being able to co-witness the iron sights with a red-dot results in a quick, easy-to-acquire sight picture that's useful for both close-range or extended distances.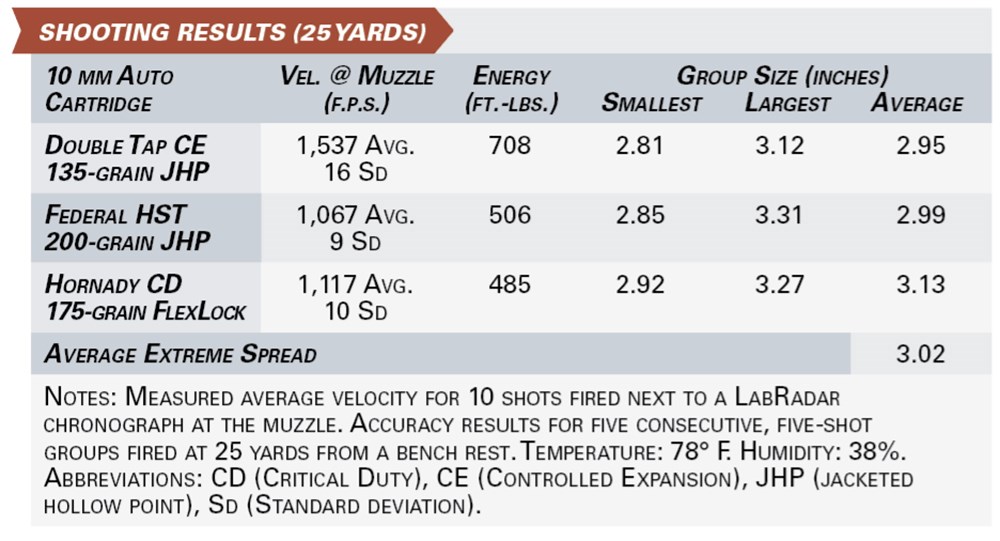 At the range, this pistol fed, fired and ejected a variety of 10 mm Auto loads with aplomb. Listed bullet velocities ranged from a relatively sedate 1,150 f.p.s. to a much hotter 1,600 f.p.s., but this difference in velocity and pressure level did not negatively affect reliability. The pistol arrives with two, flush-fit, 15-round, stainless-steel magazines. There were no failures throughout the testing process. The red-dot's mounting screws did need to be tightened along the way, but this is typical when breaking-in a new big-bore pistol and optic pairing.
The Smith & Wesson M&P M2.0 chambered in 10 mm Auto has been a long time coming, but it was definitely worth the wait. This full-size pistol offers a feature set well suited to handgun hunting or for use on the trail to defend against dangerous game. It can also comfortably straddle the roles of a more potent home-defense or concealed-carry pistol for those who don't mind packing a full-size semi-automatic.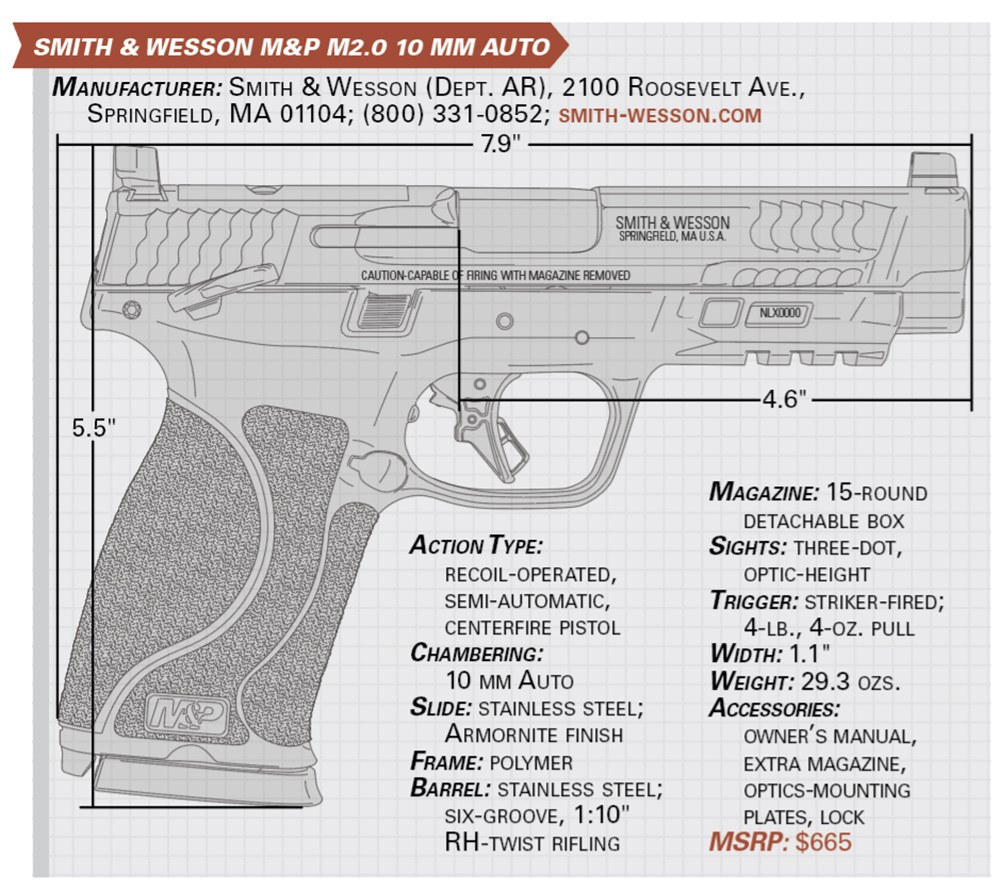 Article by AMERICAN RIFLEMAN STAFF
Don't forget to like us on Facebook and follow us on Twitter.