Rifleman Review: Colt Gold Cup National Match
Designed for competition use, the Colt Gold Cup National Match is one of the classic M1911 pistol configurations, but this particular Gold Cup has more of a story behind it than most guns. Watch our "American Rifleman Television" Rifleman Review segment above to learn about how Colt has made the latest rendition of the Gold Cup a gun worth having.
"When I first met Paul Spitale, who's the vice president at Colt, I knew there was a new sheriff in town," NRA Publications Editorial Director Mark Keefe said. "And Colt is one of the great names in American firearms, but he had a personal story about his own Colt Gold Cup National Match that was really disappointing. He bought the gun, thinking of the heyday of Colt, and he ended up having to send it to a gunsmith to get the gun absolutely right for competition. And it was his personal mission, frankly, to fix the Gold Cup. The result of his ambition is the gun I have in my hand today."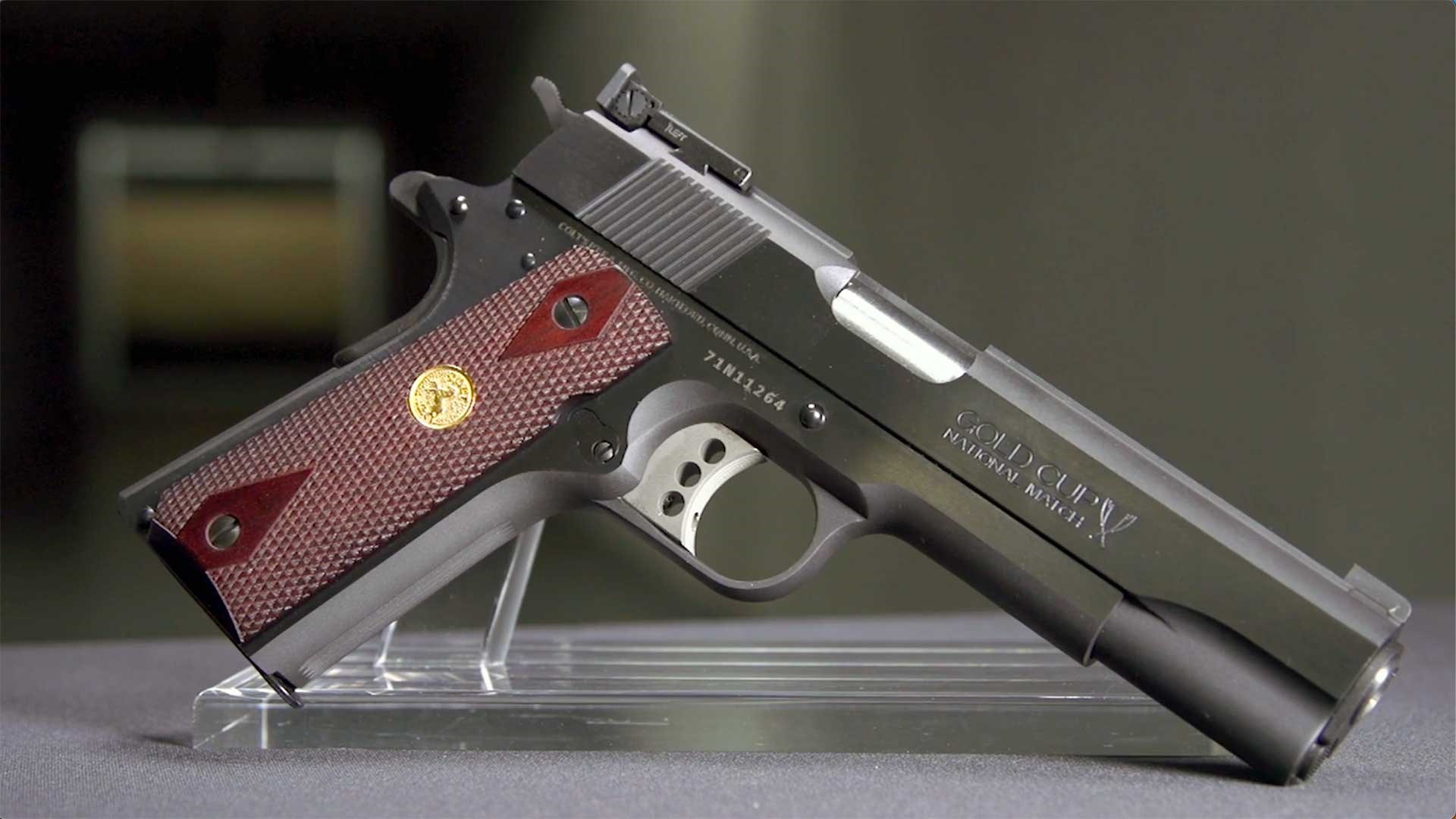 Colt's Gold Cup National Match is built on the company's Series 70 operating system, which ensures a clean, crisp trigger pull. Outfitted as a standard Government model gun, the pistol features a 5″ barrel sitting inside a blued slide that's matched to a blued, carbon steel frame. A set of checkered double-diamond stocks completes its classic look.
"This gun has what you're looking for in a high-end competition gun, in terms of finish," Keefe said. "This gun is a seven-shot .45 ACP. There are 9 mm versions of it because a lot of guys seem to think that's a good idea. But you have, of course, a target-style trigger. When you get back to the hammer, you've got grooves on the back of the hammer. You have, of course, a beavertail-style grip safety, again, a hallmark of the Colt."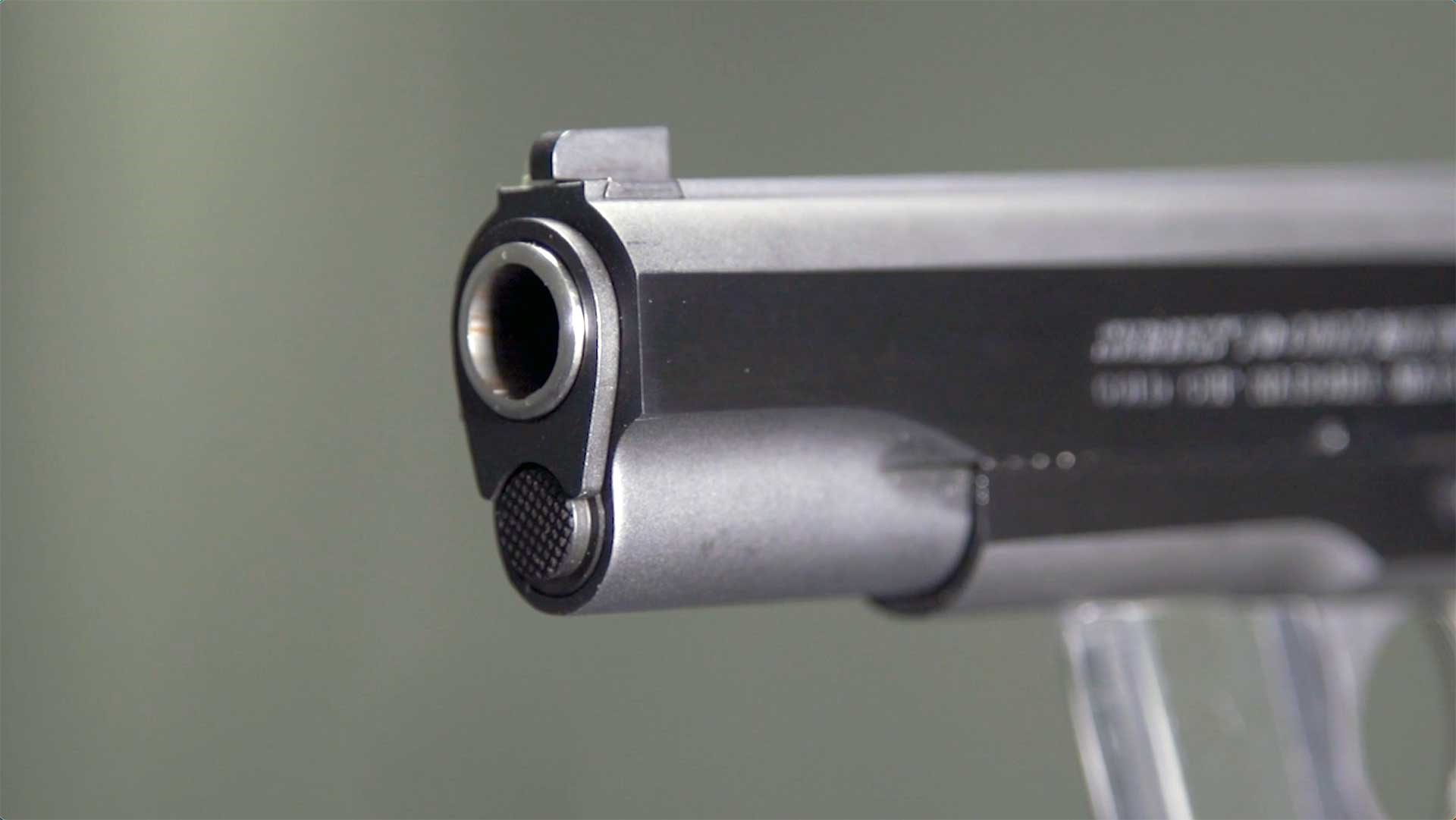 Other notable touches include vertical grooves on the backstrap, which help to anchor the gun in a shooter's hand. It being built like a classic Colt, controls are located in traditional locations. There is a slide-stop lever on the left side of the frame, just forward of the single-sided thumb safety. A round, checkered, push-button magazine release is located on the left side of the frame, just behind the trigger.
"So, of course, this gun does have a National Match barrel, and when you look at the lugs, of course, this is a top-locking gun, as all 1911s should be, but they've really held the tolerances on this barrel," Keefe said. "Frankly, a lot of the accuracy comes from the fit between the barrel and the slide, but it starts with this."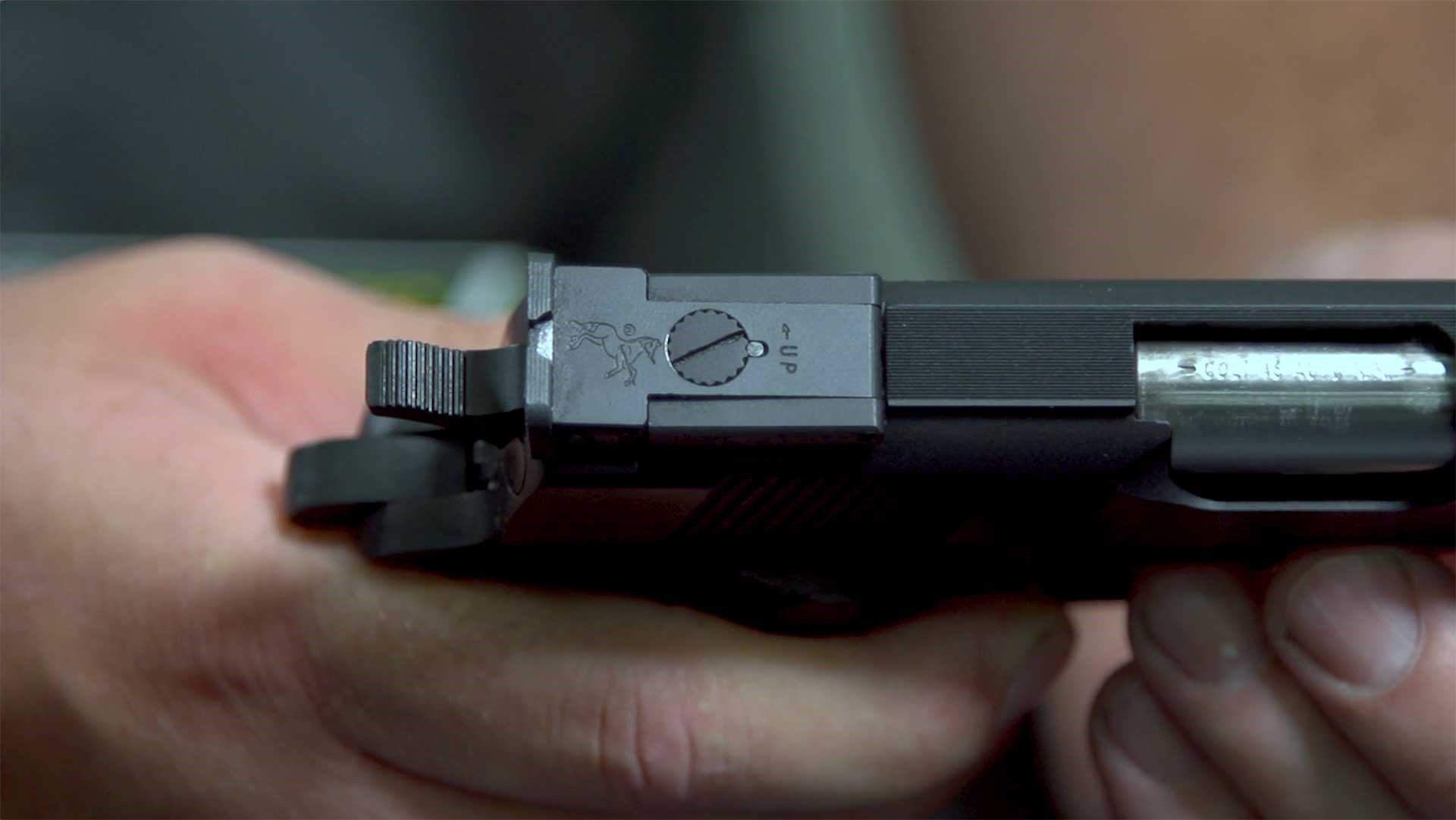 It being a competition gun, the slide is topped with a Bomar adjustable rear sight, matched to a Patridge-style front sight blade. The rear face of the Bomar sight is serrated to reduce glare, and the top of the slide is also serrated to reduce glare, ensuring a clean, clear sight picture.
"There's a lot of pride of ownership with a gun like this, and frankly, I am very impressed with what they've done with the Gold Cup," Keefe said.
Colt Gold Cup National Match Specifications
Manufacturer: Colt's Mfg. Co.; West Hartford, Conn.
Action type: recoil-operated, hammer-fired, semi-automatic, centerfire pistol
Chambering: .45 ACP
Frame: blued carbon steel
Barrel: 5″
Rifling: six-groove, 1:16″ LH twist
Overall length: 8.5″
Height: 5.5″
Width: 1.25″
Magazine: eight-round detachable box
Trigger: single-action; 3-lb., 14-oz. pull
Sights: target post front, fully adjustable target rear
Stocks: checkered walnut with gold-tone escutcheon
Weight: 37.5 ozs.
Accessories: owner's manual, carrying case, lock
MSRP: $1,299
---
To watch complete segments of past episodes of American Rifleman TV, go to americanrifleman.org/artv. For all-new episodes of ARTV, tune in Wednesday nights to Outdoor Channel 8:30 p.m. and 11:30 p.m. EST.
Article by AMERICAN RIFLEMAN STAFF
Don't forget to like us on Facebook and follow us on Twitter.