What Is the Striker Control Device?
As our Handguns Editor Tamara Keel is fond of saying, safety is not a binary condition. Often, we tend to view it like the selector on a firearm: Safe or [Not Safe], when in reality, there's a wide range in which one can be safe or, well, less safe. One device that slides the needle farther down the "Safe" side is the Striker Control Device (SCD), which is now being produced by Langdon Tactical.
What is it, you ask? It is, quite simply, a device that lets you know when the striker of your Glock is moving. That's it. It plays no role in the firing procedure whatsoever, a frequent concern voiced when the SCD first came out that was centered on the device malfunctioning. Rather, it exists solely to let the user know when the striker is moving. As for malfunctioning, well, the SCD is comprised of exactly three pieces: two plates on a hinge. Can it fail? I mean, I suppose so; it's a mechanical device and the possibility exists. However, the SCD is analogous to a door hinge—how often do you see those fail?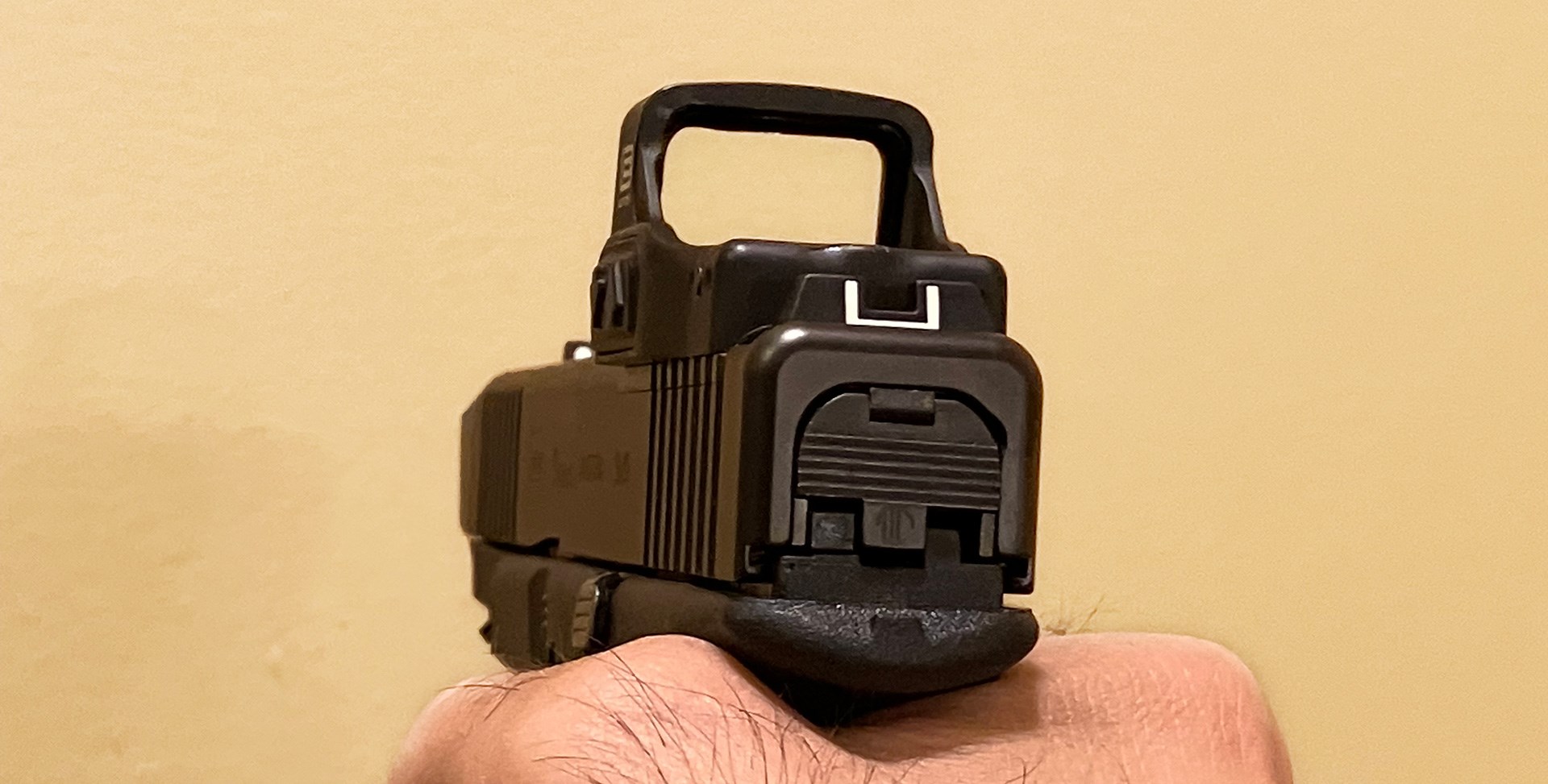 Why is this important? Well, ordinarily, it isn't—right up until it is. Should something find its way into the trigger guard when reholstering, this is when bad, loud unexpected things can happen. A shirttail, a sweatshirt pull string you forgot to cut off, a random piece of detritus, your finger …  Any number of items could conceivably find their way into the holster right around the time you're putting your firearm away. It's rare, yes, but it can happen. With the SCD, you holster with your strong-hand thumb on the back of the slide, over the SCD. If the trigger were to catch, initiating a pull, you'll feel the SCD moving (or, trying to move) under your thumb. Full stop, that's all the SCD does.
It's analogous to putting your thumb on the back of a hammer, either on a revolver with an exposed hammer or a DA/SA semi-auto like a Beretta 92 or SIG Sauer 226. Should the trigger catch on anything, your thumb will feel the hammer starting to move rearward. Ditto putting your thumb over the cocked hammer of a 1911 or Hi Power, for that matter (although, technically, that's to stop the hammer from falling). The SCD provides a mechanical means of detecting when the striker is in motion.
And, that's really all it is. When holstering your Glock pistol, you place your thumb over the SCD just like you would an exposed hammer. Should something manage to get in the trigger guard, at the very least you'd be alerted to movement of the striker before an unexpected loud noise. The SCD doesn't affect operation of the handgun in any way, and is really only a net positive. It was a good idea when Tau Development Group was producing it, it's still a good idea with Langdon Tactical.
MSRP on the Langdon Tactical Striker Control Device varies depending on the model of Glock handgun and ranges from $78.95 to $84.95. For more information or to order an SCD, visit langdontactical.com.
Article by JAY GRAZIO
Don't forget to like us on Facebook and follow us on Twitter.