Concealed Carry Options for Ladies on the Go
In the past, the firearm industry did not quite know what to do with women who shoot competitively or for self-defense. On top of that, there weren't nearly as many women carrying firearms. It is apparent the number of women who carry has increased rapidly and we need products that are durable, fit our bodies and if companies could throw in something pretty, that's fine as well. No matter what, it's plain to see that women are increasingly more serious about firearms.
With a growing market, manufacturers are embracing the needs of female firearm participants.  In just a few short years, women went from having virtually nothing for them to having a larger and growing piece of the firearm industry. The innovations and great products just keep getting better. Here are a few concealed carry items I have been impressed with recently.
Tactica Defense Fashion Concealed Carry Leggings-Athletic Style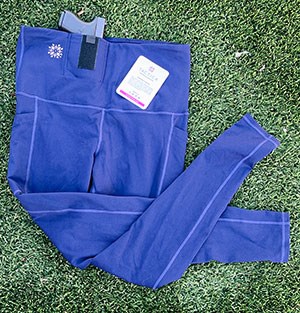 The Tactica-Athletic Style leggings shot straight up to the top of my workout gear. Outfitted in several great colors, they are super comfy and flattering. There are two handy thigh pockets for a phone or keys.
I'm a little heavier than I want to be right now, as I am sure some of you can relate, and there is enough stretch and a high enough waist to not only cinch me up in the right places, but to carry either my Glock G42 or Glock G19 comfortably and securely. There is plenty of retention in the waistband and I appreciate the fact that I can't feel any scratchy hook-and-loop parts against my skin. The fabric is thick and kept me warm this winter. I have also worn these leggings in warmer temperatures and have been quite comfortable. I have hiked miles and miles, done my grocery shopping, many walks around the neighborhood and the Tactica Athletic Leggings have worn well, washed beautifully and because of this, I am going to order another set.
Tactica Defense Fashion Belly Band
The Tactica Belly Band is soft and flexible, but sturdy enough to keep your firearm snug on your body. The band has a secure buckle and is crafted with padded neoprene, making it comfortable to wear, with no rough areas to ruin your shirt or cause irritation. There is enough hook-and-loop material along the belt to make it as tight or loose as you want, depending on how many tacos you have had.
A small pocket in the waistband handily holds a credit card, keys, or cash. I appreciated that Tactica included all the hardware necessary to customize the molded shell to my gun. My Glock G42 fit well, with minimal printing and the trigger was fully covered, and I felt the adjustable retention was snug but not so tight I couldn't get my gun out easily if needed.
Lady Conceal Reagan Tote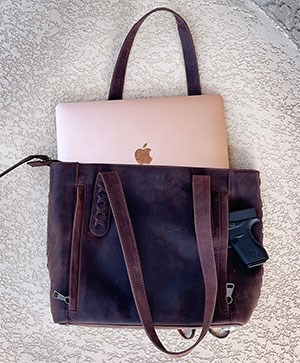 I was looking for the perfect tote to haul my work/writing supplies around and in walked the Reagan Tote from Lady Conceal. This tote is perfect for me because it is large enough to carry my laptop and my iPad, and anything else I need to take with me to work remotely, and it can carry my gun, too. Made of top-grain leather with just a little decorative braiding and fringe to keep it cute, this tote is very well made.
The inside of the Reagan tote features three large compartments (the center one zips) and multiple pockets to stash smaller items. The lining is made with a sturdy, complimenting fabric and there is even a clip for keys so they don't get lost.
I can reach my firearm through the double entry pocket (holster included), and it is secured with hook and loop fabric so I can set it in the compartment however I like.
This is indeed my favorite tote and will last for many years.
Vaultek Lifepod Personal Carry Safe with Backpack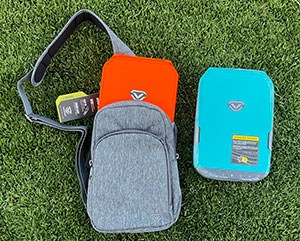 Ok, so now you have some ideas for concealment carry of your firearms, but here is one idea to secure and transport your firearm. For instance, if you are going camping, Vaultek has designed a personal safe, that also has an optional sling bag to carry it in.
The water resistant LifePod floats and has oodles of handy features, including a rugged protective shell that comes in several great colors, and secures a small to medium handgun up to 7.75 inches long. The touch-activated keypad illuminates for quick access in the dark and there is enough room for an additional magazine. If you want to secure your LifePod in your car or boat, Vaultek has provided a security cable to facilitate just that.
When you are shopping for your concealed carry needs, I think you may have success with these great products.
Article by ANNE CONRAD
Don't forget to like us on Facebook and follow us on Twitter.