F5 MFG Modular Stock System with CZ Scorpion Adapter
There was a time, not too long ago when gunwriters were hardly discussing customization with regard to a rack-grade MSR or OEM rifle. Words such as adaptability, fit and modularity were hardly ever seen in print. Similarly, consumers who were interested in something compact for ease of transport selected a variant of AK with a side- or under-folding stock, while fans of America's Rifle narrowed their focus on variants with carbine-length tubes and telescoping buttstocks that offered a few extra inches of length-of-pull, whereas owners of side- or under-folding AKs were generally out of luck. Owners of AR carbines with telescoping stocks ran into a similar dilemma concerning the poor comb height associated with the dimensions of the average carbine-buffer tube—especially when trying to attain a suitable cheekweld to co-witness with a variable-power optic containing a large objective or bell.
Fortunately, the world of aftermarket MSR accessories has evolved greatly over the last several years by offering consumers products such as stocks and related furniture for select rifles that allows the consumer the welcome ability to adjust the rifle to fit them and other family members—In other words, instant customization, on the fly as needed.
One company that exemplifies such a level of adaptability in its products is F5 MFG, especially with the company's line of Modular Stock Systems. F5 has a winner with the latest addition to this product lineup: A Modular Stock System for the CZ Scorpion.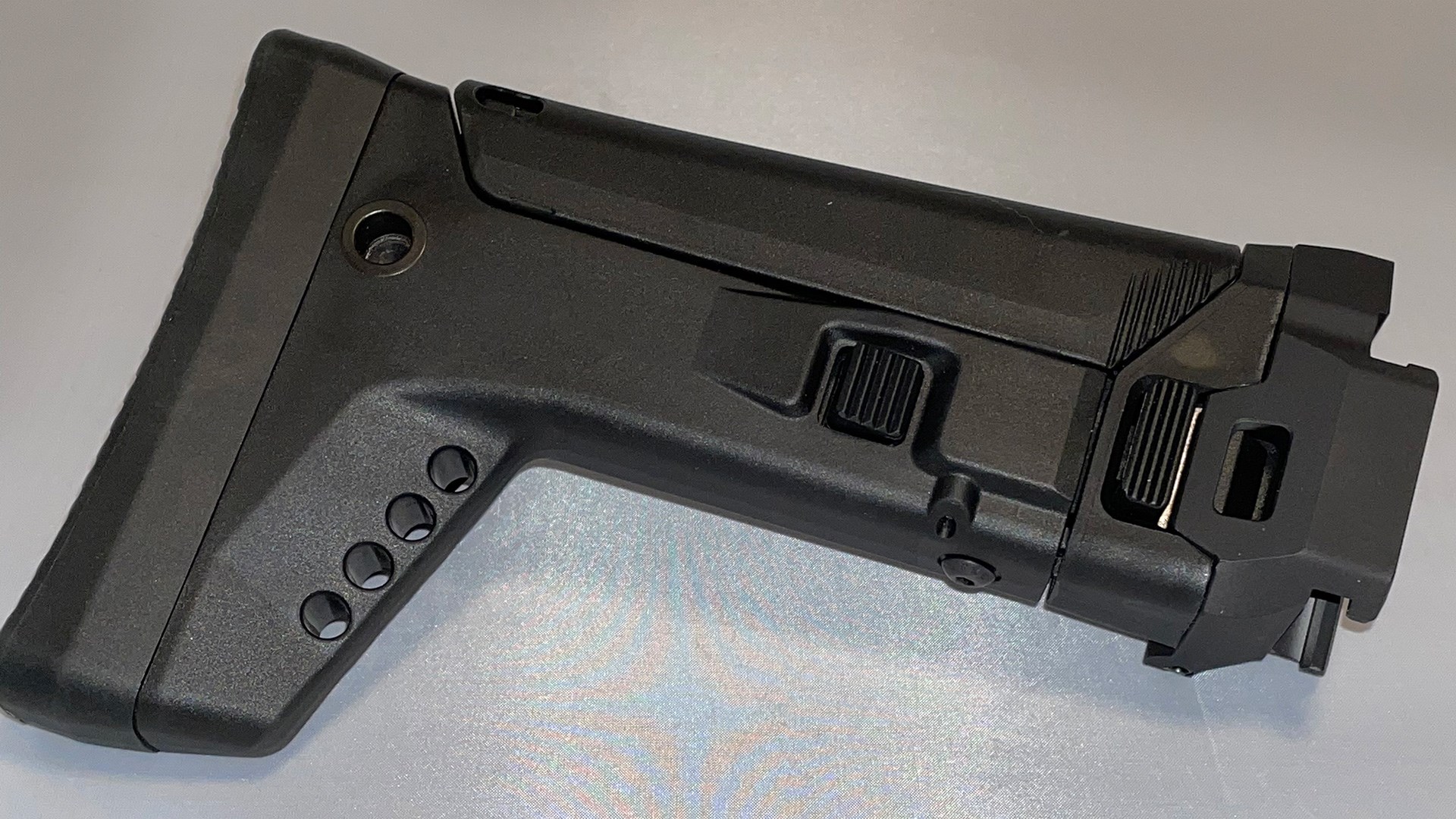 Completely manufactured in the U.S., this product differs from competitors' similar product in that F5's stock includes an adapter that is necessary to install the stock on your rifle. The latter of which, is machined from 6061 Billet aluminum and sports what appears to be a hard-coat anodized finish. Conversely, the stock's body is comprised of heavy-duty polymer and features two welcome forms of adjustment: length of pull and comb height. The first is controlled by two large spring-loaded buttons along each side of the stock's body. Their size makes them easy to actuate and the buttstock telescopes with little effort along the stock's body and offers a total of six position of adjustment. Length-of-pull measurement span from nearly 8 inches in the collapsed position (not including the adapter) to 10.5 inches fully extended. Each side of the stock also contains what appears to be QD sockets for sling swivels, though the four holes along the stock's inside hook portion could like be made to accommodate a sling's mash hook as opposed to being relegated to mere aesthetics.
Simply pinching a pair of serrations along the top of the system slightly raises the front of comb. While I doubt the slight difference would offer enough height for use with a variable-power optic, in its raised position the F5 Modular Stock System (and included adapter) for the CZ Scorpion should offer enough height to garner a sufficient cheekweld for use with most conventional micro red-dot sights (MRDS).
When not on use, depressing a button on the side of the stock allows the F5 Modular Stock System to fold along the left side of the Scorpion's receiver for compact storage or ease of transport.
For those looking for a new tinkering project or to make their CZ Scorpion truly their own, F5 MFG's Modular Stock System with CZ Scorpion Adapter is a 922r-compliant part, meaning it can be used to count toward the certain amount of U.S.-made parts when building a rifle. Similarly, if you're planning to install this product on a CZ Scorpion pistol all National Firearms Act (NFA) laws apply, so you must register the pistol as a short-barreled rifle, pay the $200 tax and received the approved Form 1 and tax stamp prior to attaching it to the firearm.
I'm sure there are those who wish to point out a pistol brace would accomplish the same thing while simultaneously being less costly. Well, as my co-worker's kids are reportedly fond of saying, "Yes, but actually no." Comparing this product with a pistol brace is like comparing apples to oranges, because this gimpy gunwriter will tell you that the key component of a pistol brace (the cuff or hook) is of vital importance because it provides essential leverage for disabled shooters or anyone who requires a bit more arm support to fire a large-format pistol with either limited arm strength or, in some cases, shooters who may only have the use of one arm.
As its name implies, F5 MFG's product was designed to serve a conventional stock for the CZ Scorpion, but with much more adaptability and modularity than similar offerings. So, it you're looking to take your CZ Scorpion to the next level and truly make it your own, the F5 MFG Modular Stock System with CZ Scorpion Adapter allows you to do just that and more.  MSRP for this product is $399, and for more information, please visit f5mfg.com.
Article by BOB BOYD
Don't forget to like us on Facebook and follow us on Twitter.