Gun Of The Week: Taurus USA 605 T.O.R.O.
In this week's video (above), watch American Rifleman staff on the range and learn about an optics-ready wheelgun from Taurus USA that's chambered for the heavy-hitting .357 Magnum cartridge.
Taurus has an extensive background in revolver manufacturing. Though the Brazilian company began producing revolvers in the 1940s, it wasn't until the mid-1950s that export models began showing up on American shores. In 1962, Smith & Wesson's parent company purchased a controlling interest in Taurus, and the Brazilian firm benefited from Smith's experience. Consequently, many Taurus revolvers, even today, share some similarities with Smith & Wesson designs. Today, though, Taurus USA is forging its own path in the firearm market, and one result of the company's focus on innovation is the 605 T.O.R.O. Watch the video above to see Taurus' optic-ready revolver in use on the range.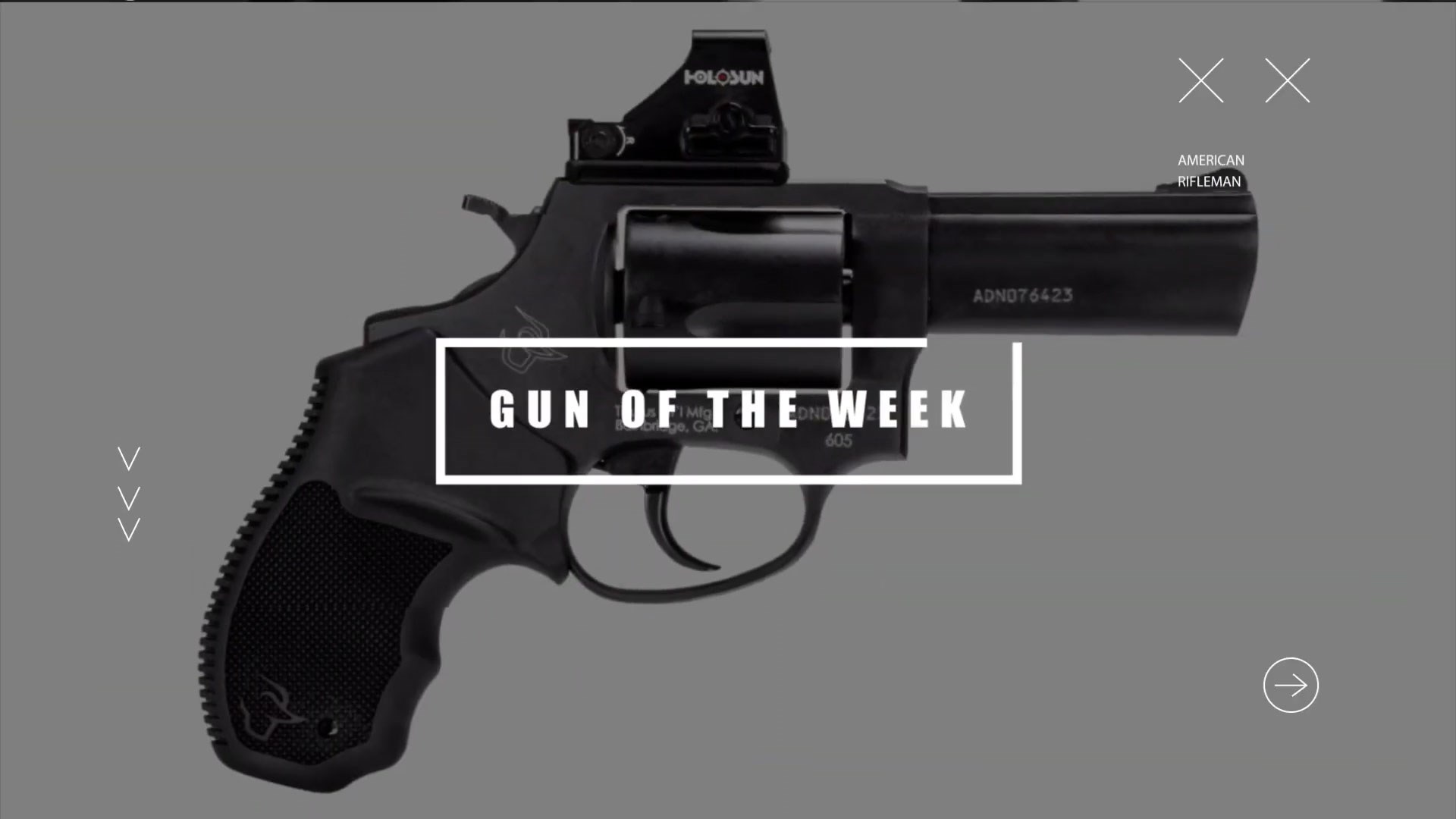 We've seen the Taurus 605 before in a few variations. After all, the gun's been available since 1995, but this 605 is a first not just for the company but for the firearm market in general. Sitting on the gun's top strap, above the sighting groove, is an optic mounting plate that accepts micro red-dots of the Holosun K footprint. The benefits of red-dot optics on handguns have been well covered before, but on this short-barreled defensive revolver, it's especially helpful. Since this 605 model is only equipped with a 3" barrel, the sight radius is short, meaning that your point of impact will vary more at longer distances with slight shifts at the muzzle. With a mounted dot, your aiming point exists in a single plane, so as long as the dot is over the target and the sight is zeroed, you'll hit what you're aiming at.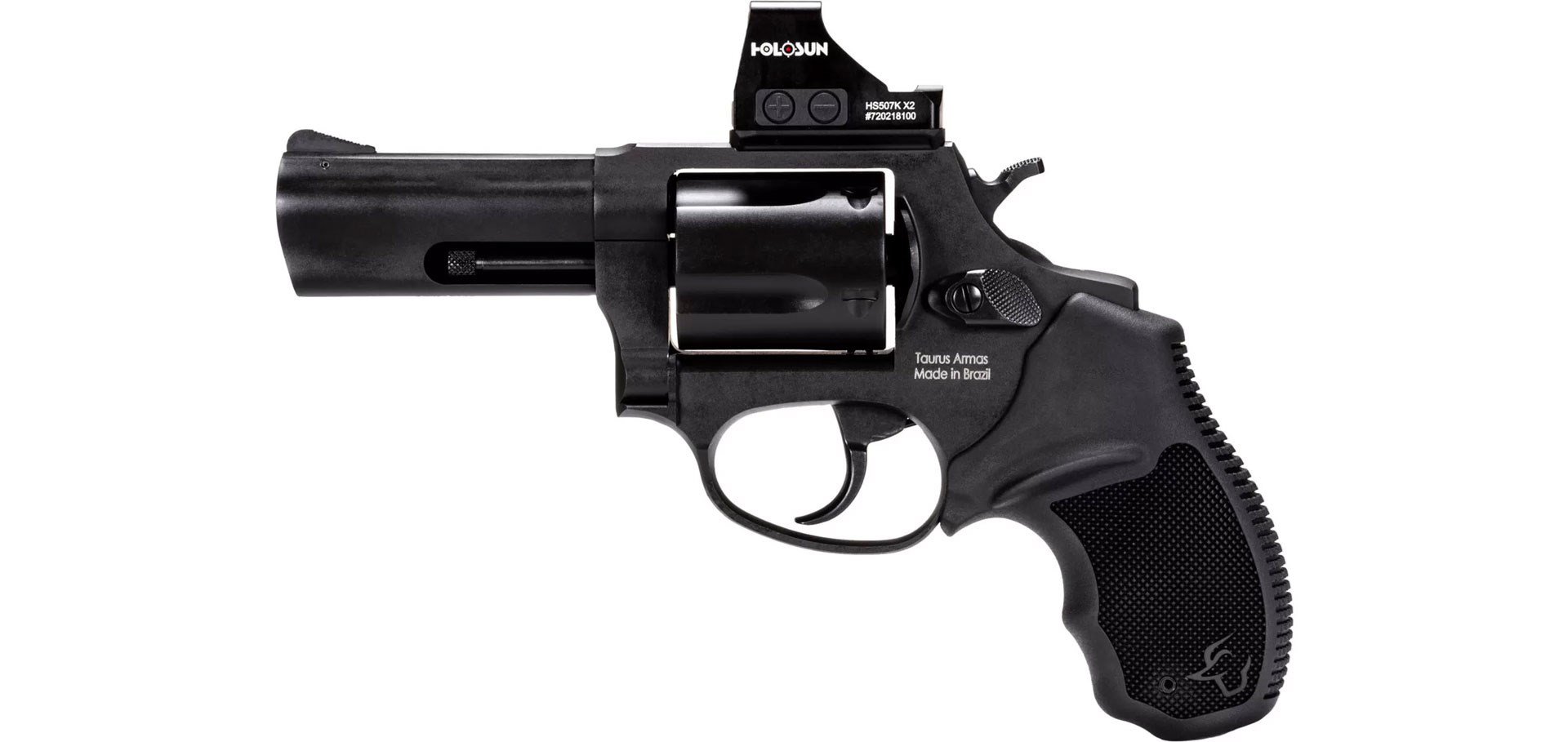 Outside the addition of the optics mounting plate, the 605 T.O.R.O includes all the features found in the Taurus 605 Defender model. The core components of the gun, frame, barrel and cylinder, are machined from stainless steel and treated with a matte-black finish. A compact rubber grip minimizes the profile of the gun for easier concealment, but finger grooves on the front strap, as well as texturing on the sides and rear of the grip, provide a comfortable, secure grasp for controlling the revolver under recoil. Due to its small frame size and magnum chambering, the 605 T.O.R.O. only has room for five rounds in its cylinder. One nice nod to usability is the inclusion of an extended ejector rod, which is shrouded by the barrel's full-length underlug. This enables users to get spent cases out of the gun quickly for a fast reload, certainly a benefit for a revolver with just five rounds on tap.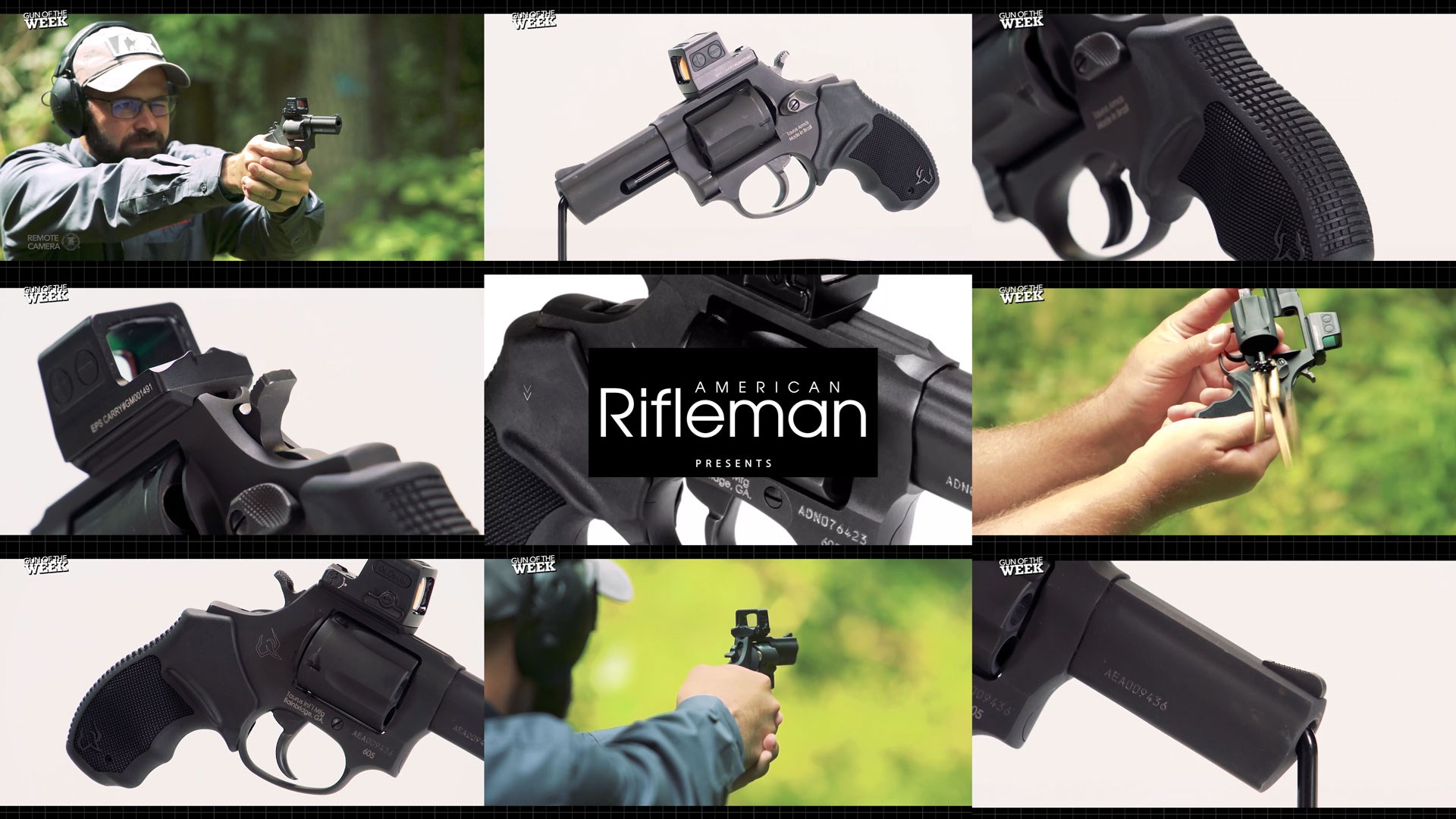 Despite its all-steel construction, this is a small handgun, so the 605 T.O.R.O. weighs in at just 23.5 ozs. Combine that with a narrow, low-profile grip, and this Taurus packs a punch at both ends. That said, though, the company's work on the grip meant it was still controllable, and the red-dot sight made it easy to get back on target for a fast follow-up shot. One drawback to note is that the mounted dot sits above the plane of the iron sights, meaning there's no easy back-up if the optic winks out. With a quality red-dot, though, there's little worry, and the benefits of this defensive package make it an attractive option for the cutting-edge revolver enthusiast.
Taurus USA Model 605 T.O.R.O. Specifications
Importer: Taurus Intl. Mfg., Inc.
Action Type: double-action centerfire revolver
Chambering: .357 Mag.
Frame: stainless steel; matte-black finish
Barrel: stainless steel; matte-black finish
Grip: textured rubber
Sights: Taurus Optic Ready Option; fix square-notch rear, removable post front
Trigger: double-action 13-lb., 6-oz. pull; single-action, 8-lb. pull
Overall Length: 7.5″
Height: 4.8″ (sans optic)
Width: 1.41″
Weight: 23.52 (unloaded)
MSRP: $450.99
Article by AMERICAN RIFLEMAN STAFF
Don't forget to like us on Facebook and follow us on Twitter.