Hardware: Smith & Wesson Model 350 X-Frame
Having hunted with rifles chambered in Winchester's 350 Legend, I knew the round was an effective short- to mid-range hunter for deer-sized game. So, I was very interested when Smith and Wesson introduced its newest hunting revolver in the X-Frame series, the Model 350 chambered in 350 Legend.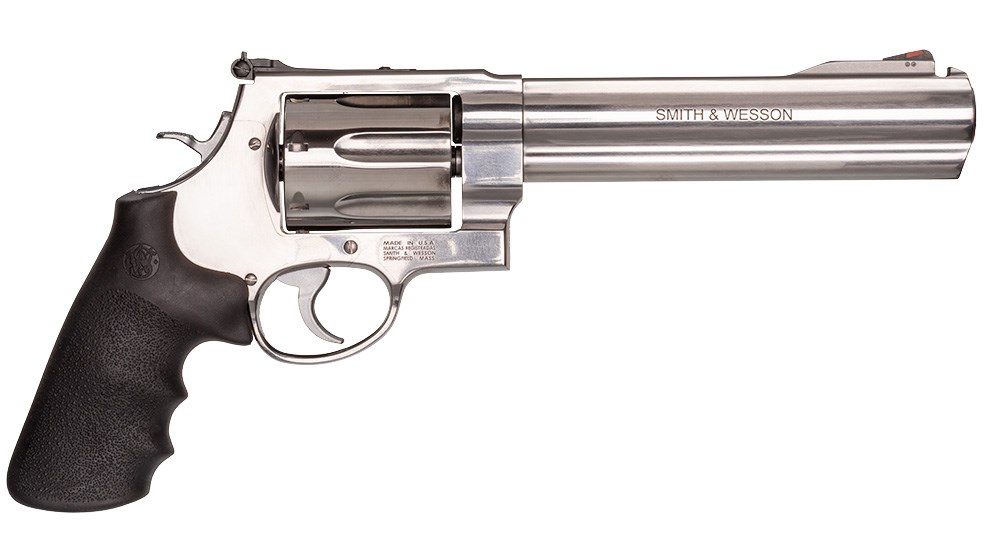 What could the round do in a big-framed revolver? And how would this revolver handle the straight-walled rifle round? I put over 200 rounds through a new Model 350 and the revolver was accurate, reliable and actually fun to shoot. I mention the "fun" part because other X-Frames I've tried in .460 S&W and .500 S&W Magnum, while darned effective for hunting, also had muzzle blast, muzzle flip and recoil that I can only describe as "off-putting."
Yes, I know—I need to man up, lift more weights, protein shakes, blah, blah, blah. But if I am going on a revolver hunt and want an X-Frame, I am taking the relatively light-recoiling and easier to handle Model 350 over its bigger, badder brethren.
Even with milder recoil, the Model 350 is still an X-Frame, and that means hefty. The revolver is essentially all stainless steel, including the frame, cylinder, yoke and integral lug, plus a 7.5-inch barrel and barrel sleeve. This heavy metal revolver hits the scales just shy of 4.5 pounds unloaded. Other features include a red ramp front sight, adjustable rear sight and Hogue rubber grips wrapped around a mid-sized grip frame.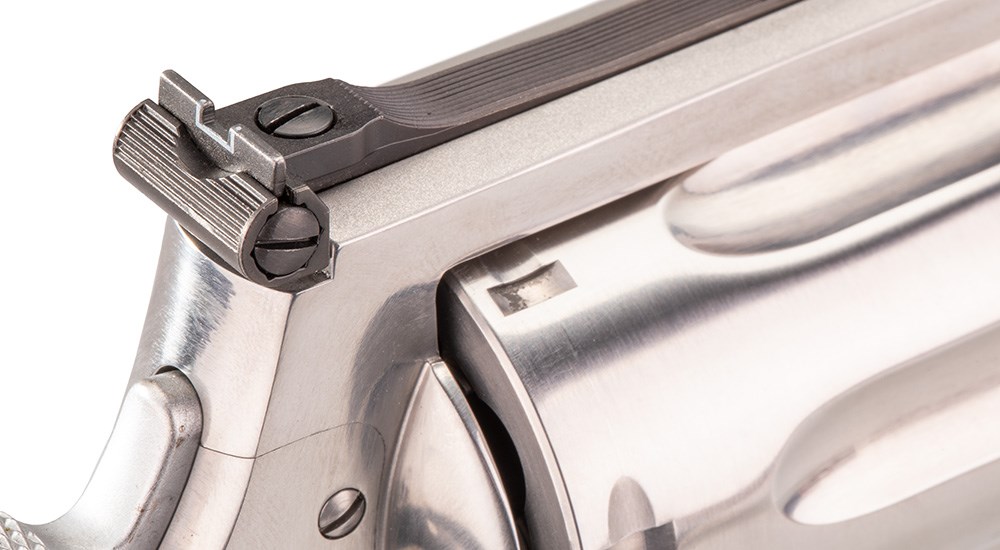 The revolver's cylinder holds seven rounds of 350 Legend, and those rounds can be loaded with or without moon clips (two are included). The cylinder release is located on the left side of the frame, and for the right-handed hunter, the release is easily engaged with the right thumb and forward pressure.
I shot the Model 350 offhand and with open sights first and was impressed with the close-range accuracy and the mid-range recoil, the latter of which I put at about .44 Magnum level. That lighter push back I credit to the less powerful 350 Legend loads (with roughly half the muzzle energy of a .500 S&W Magnum), the revolver's weight and the muzzle blast port cut into the top of the barrel and just ahead of the front sight.
At 20 yards, I easily placed three-shot groups at 1.5 inches, in single-action. I needed an optic for longer-range shooting, and that required a base. I received one from Weigand Machine and Design web, their Weig-A-Tinny base for X-Frames made from 6061-T6 aluminum. I removed the Model 350's rear sight (took out one screw and the sight slid back and off). I installed the Weig-A-Tinny and very closely followed the instructions for cleaning all screws and threaded holes, and then applied blue SAF-T-LOK thread lock. The Weigand base remained rock solid throughout my shooting.
Initially I mounted a ZeroTech red dot on the Model 350, and used three brands of 350 Legend ammunition in my shooting: Winchester Defender loaded with a 160-grain protected hollow-point—not exactly a hunting round, but the variation I had the most of and so used it as my "range" round; Federal Premium Power-Shok with a 180-grain jacketed hollow-point; and Hornady American Whitetail packed with a 170-grain InterLock soft-point.
At 25-yards and shooting from a rest, the Model 350 had no problem placing three-shot groups of 2 inches and under in single action. Double-action groups were about an inch larger on average. My absolute best group (shot in single action) was made with the Hornady at .7 inch; that ammunition averaged 1.4-inch groups for five groups. Both the Federal and Winchester made 1.1-inch groups, with averaged groups of 1.48 and 1.75 inches, respectively.
But the real test, for me, was what the revolver could do at 50 yards. To judge that, I removed the ZeroTech and installed a Leupold VX-3 2.5-8x32mm Handgun scope. The Leupold presented clear, sharp images and the controls moved my point of impact precisely.
At 50 yards and shooting in single action from a rest, the Federal won out with the best three-shot group at 1.5 inches and best average for five groups at 2.48 inches. But the Hornady and Winchester were more than accurate enough to punch the vital zone of a whitetail at half a football field away all day.
The Model 350 is sold standard with two moon clips. I used them initially but found them quite clumsy (likely a reflection of my general lack of moon clip use). The Model 350's cylinder, though, is actually cut so rounds can be loaded without the moon clips and I did most of my shooting with direct loading.
As long as the chambers were fairly clean, I had little problem removing spent brass with my fingernail. Occasionally, empty brass would need help to be removed and a short piece of wooden dowel rod neatly popped out used brass.
Trigger pull averaged right at 10 pounds in double-action, and a crisp 1 pound, 8 ounces in single action, according to my Lyman Electronic Digital Trigger Pull Gauge. In double action, I found it quite easy to squeeze the trigger until the hammer was approximately two-thirds of the way back, steady my sights with the trigger in this position, and then snap off the shot. I had no way to accurately measure this trigger pull, but at the two-thirds holding position the last third broke cleanly at a much-reduced pull weight vs. a full squeeze in double action.
The Hogue grips provided very firm holds during my shooting, and the cushion they provided, especially at the bottom rear of the butt, no doubt reduced the recoil somewhat.
Winchester, of course, developed and launched the 350 Legend round as an option for deer hunters in those states that require only straight-walled centerfire cartridges for deer hunting. Winchester also makes a 180-grain 350 Legend hunting option in its Super-X line. I only had one box of it, but at 25 yards it drilled 1-inch groups.
Many other ammo makers have jumped into the 350 Legend market, too, so deer and hog hunters should have little problem finding the right round for their hunting should they head afield with the new S&W Model 350.

Technical Specifications
• Type: single/double-action revolver
• Caliber: 350 Legend
• Capacity: 7 rnds.
• Barrel: 7.5″; stainless steel; 1:16″ RH twist; 5 grooves
• Frame: X-Frame, stainless steel
• Trigger Pull Weight: 10 lbs. (double action), 1 lb., 8 ozs. (single action)
• Sights: red ramp front, adjustable U-notch rear
• Grips: Hogue wraparound
• Metal Finish: silver stainless
• Overall Length: 13.75″
• Weight: 4 lbs., 7 ozs.
• Accessories: two moon clips, gun lock
• MSRP: $1,599; smith-wesson.com
Article by BRIAN MCCOMBIE
Don't forget to like us on Facebook and follow us on Twitter.