I Have This Old Gun: Colt "American Railway Express" Police Positive
By the late 19th century, Colt had entered the growing trend toward double-action revolvers with two guns that nonetheless mimicked the general configuration and sidegate-loading system of the company's Single Action Army—the Model 1877 Lightning and the larger-framed Model 1878. But the company more fully embraced the modern double-action-revolver concept with its swing-out cylinder designs of the 1889 New Model Navy and the 1892 New Army and Navy (which featured mechanical and nomenclature upgrades through 1903). Both of these latest guns—unlike previous Colts—had counterclockwise cylinder rotation; Colt quickly switched back to clockwise rotation in 1893 with its New Pocket Model. In fact, taking a swipe at Smith & Wesson, whose cylinders rotated counterclockwise, Colt's ads boasted, "Colt Cylinders All Turn Right—To make certain that the cylinder is in perfect alignment with the barrel … ."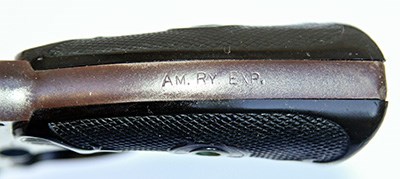 This spotlighting of its mechanical improvements continued with the introduction of the Colt Positive Lock in 1905. An early form of transfer-bar safety, it was patented by Colt engineer George H. Tansley in 1905 and effectively prevented a double-action Colt from accidentally firing, should the gun be dropped. The Positive Lock eventually gave rise to one of Colt's most prolific double-action revolvers: the Police Positive.
Introduced in 1907, it was available in nickel or blue finishes and priced at $14. Colt hard rubber stocks were standard until 1924, when checkered walnut took over. With initial barrel lengths of 4″, 5″ and 6″, it was chambered in .32 Long/Short Colt, .32 Colt New Police (the same as .32 S&W Long), .38 Colt New Police (the same as .38 S&W) and .22 rimfire. Interestingly, Colt refrained from using S&W nomenclatures for its .32 and .38 chamberings, not wishing to promote the name of a competitor. And, of course, Colt catalogs had a call-out that stated the guns were equipped with the Colt Positive Safety Lock "… a solid bar of steel, 1/10 inch in thickness, rests directly between the hammer and the frame…except when the trigger is pulled."
Being promoted as "light, compact … an ideal pocket or house arm," a 2½"-barreled version was later offered in .32 caliber. A slightly larger version, the Police Positive Special, priced at $15 and chambered in .32-20 and .38 Spl., was brought out in 1908. A Police Positive Target, featuring adjustable sights, was made from 1907 until 1941, and the Banker's Special, a Police Positive with a 2″ barrel and chambered in .22 LR or .38 Colt New Police, was produced from 1926 until 1940.
More than 750,000 Police Positives, in all versions (including the Police Positive Special), were produced until production halted in 1995. Needless to say, the little gun was adopted throughout its early existence by numerous law-enforcement agencies. In addition, a great many guns were procured by various express companies, including Wells Fargo and American Railway Express.
This well-carried First Issue blued example with a 4″ barrel was shipped on Nov. 28, 1922, as part of a two-gun shipment to H.C. Garner, who had recently been promoted as route agent at the American Railway Express Agency in Columbus, Ga. It is factory-rollmarked "Am. Ry. Exp." on the backstrap and no doubt guarded many a railroad shipment during the Roaring '20s. In its NRA Good condition, it is worth between $950 and $1,150. Without the express company provenance, as verified by Colt factory letter (coltarchives.com), it would be worth only $275 to $350.
Gun: Colt Police Positive (backstrap factory-rollmarked "Am. Ry. Exp.")
Chambering: .38 Colt New Police (.38 S&W)
Serial No.: 146XXX
Manufactured: 1922
Condition: NRA Good (Modern Gun Standards)
Value: $950 to $1,150 (with factory-verified express company provenance)
Article by RICK HACKER
Don't forget to like us on Facebook and follow us on Twitter.