New For 2023: Davidson's Exclusive HK MR762A1
Heckler & Koch's piston-driven, AR-15-type rifles have taken the military, law enforcement and civilian worlds by storm, with the 5.56 NATO-chambered HK416 becoming a favorite of military special operations units and an "Infantry Automatic Rifle" version adopted by the Marine Corps as the M27. Variants of the 7.62 NATO HK716 have been adopted as M110A1 Compact Semi-Automatic Sniper System and Squad Designated Marksman Rifle by the U.S. Army. HK USA offers civilian-legal, semi-automatic versions of both rifles (the MR556 and MR762). New for 2023, firearm distributor Davidson's, Inc. is partnering with HK USA to offer an exclusive version of the MR762.
Basic features of the Davidson's MR762 match the latest MR762A1 offered by HK USA. The rifle uses a medium-contour, cold-hammer-forged 16.50″ barrel with a 1:12″ right-hand twist. Operation is via HK's short-stroke gas-piston system, which works a multi-lug rotating bolt. The trigger is a two-stage unit. Furniture is in the form of HK's proprietary six-position telescoping buttstock design, and the pistol grip is a Magpul MOE K+. The handguard, which allows the barrel to free float, has a top section of M1913 Picatinny rail section, which mates up with the rail on the flattop receiver. M-Lok slots are present on the sides and bottom of the handguard.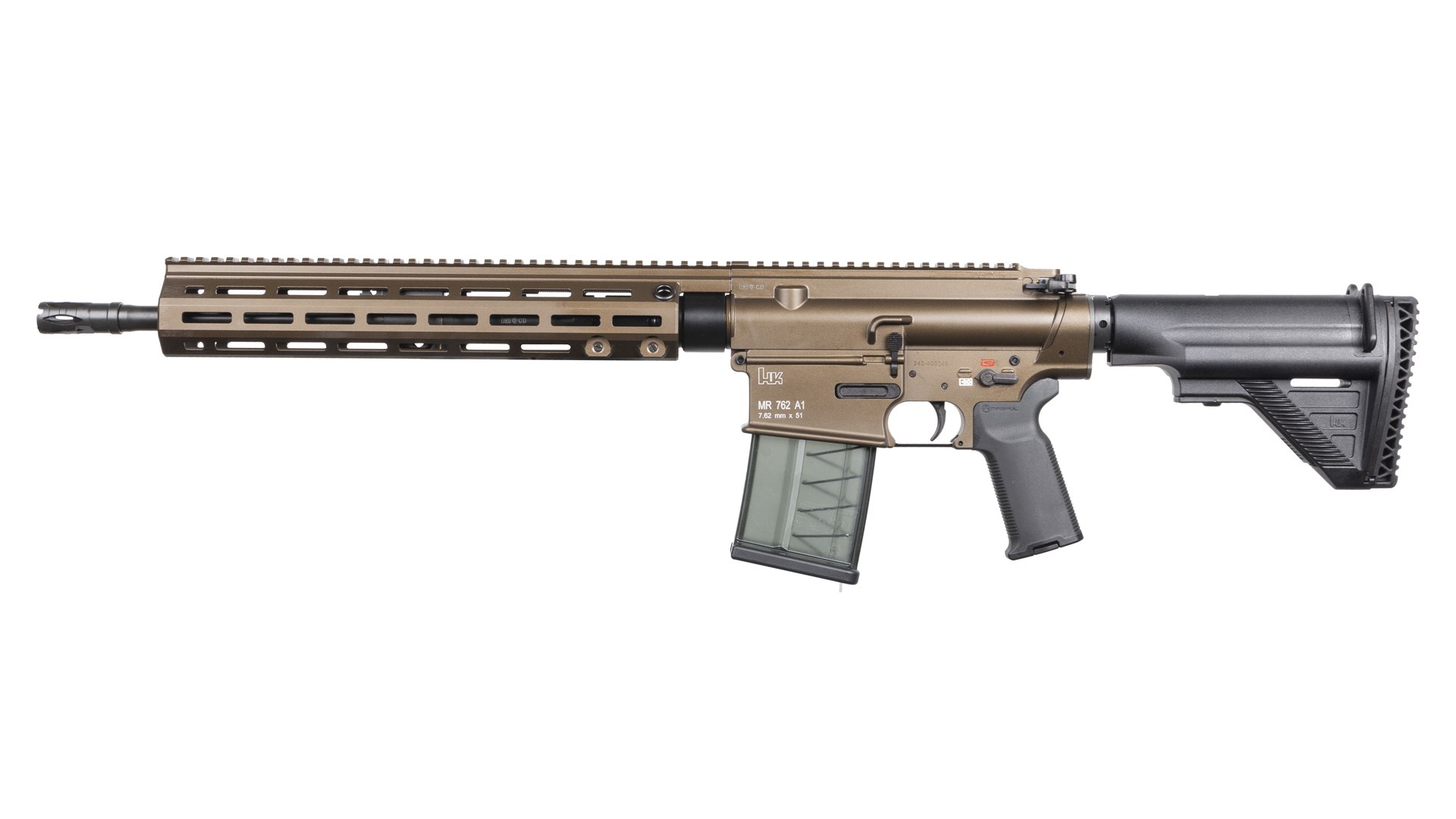 Davidson's takes the standard HK MR762A1 and gives it a unique burnt-bronze finish.
Where the Davidson's edition differs from the standard MR762 is in the finish, a Midnight Bronze Cerakote on the upper and lower receiver and the handguard. It has an overall length of 39.5″, with the stock fully extended, and weighs 9.94 lbs. The Davidson's exclusive edition HK MR762A1 has an MSRP of $4,450. For more information, visit galleryofguns.com.
Article by JEREMIAH KNUPP
Don't forget to like us on Facebook and follow us on Twitter.