Range Tested: Savage 110 PCS
My wife Barbara and I have an amazing spot in the Catskill mountains that never fails to produce whitetail deer every November. One of the reasons they are so plentiful there, is the spot is particularly tough to get to, involving some of the steepest climbing that we conduct in a typical year. Once we reach the plateau, we set up on one side of what is effectively a deer funnel and pick out our shooting lanes. The most common ones are straight across, which is no more than 60 yards, making this appear to be an ideal revolver hunt. However, if you get just eight feet off the ground you might have a shot up or down the mountain that can stretch upwards of 500 yards. Because of this shot, I lug a rifle up the hill every year, because if that is all a monster buck is going to give me, I'm going to take it. Getting that rifle up there is a significant task, as I don't appreciate the extra poundage and it's always the first appendage to snag a tree limb or a vine. Every year I think there has to be a better way, and for 2022, there is. Meet the Savage 110 PCS.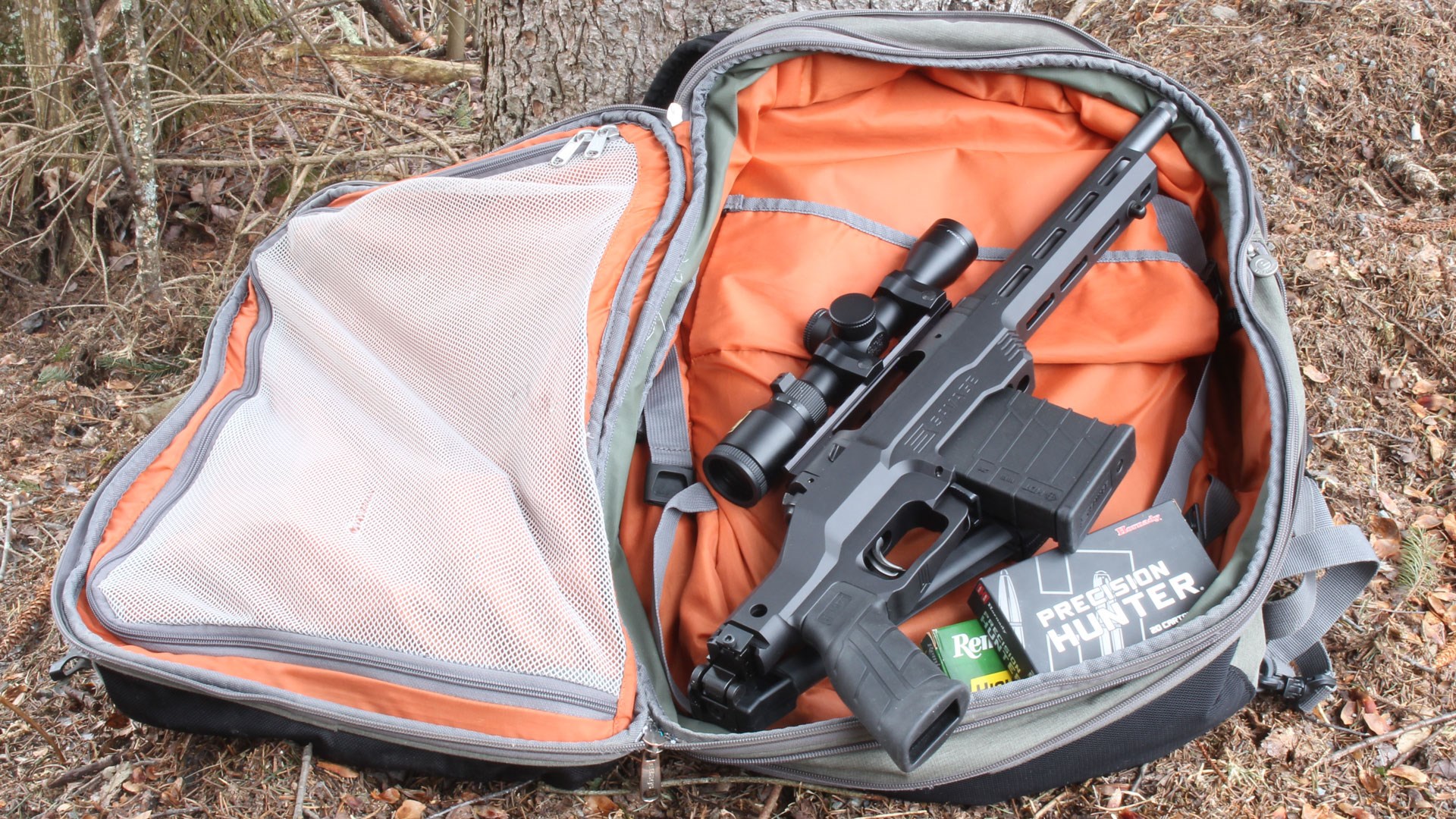 The Savage 110 PCS is the latest incarnation of its revered 110 Elite chassis line. Sticking with MDT, the two companies worked together to create a modified LSS aluminum chassis stock that would house the 10.5-inch barreled action and lend Picatinny connectivity to those seeking to add a pistol brace. The resultant firearm produces the precision that is associated with the Elite line of rifles in a compact pistol package that is perfect for enduring hunts. This precision is achieved through the factory blueprinting that has made this line famous, along with an extra-rigid hand-straightened barrel. Best of all, it's threaded so that one can easily add their favorite sound or flash suppressor, or even a muzzle brake to tame things a bit.
Closer inspection reveals that the new pistol has many of the features that we love about Savage firearms—the AccuTrigger being among the most noticeable. I've been partial to this user-adjustable system for more than a decade, and I consider it to be among the best factory-installed triggers on the market. While I would say my favorite aspects are how light and crisp the break is, in a hunting platform it's the user adjustability that is invaluable to me. On my test model, I was able to drop it down to a hair over three pounds, or crank it up to break at a weight north of nine pounds. This range of adjustability borders absurdity, and allows for both ends of the weight-preference argument to have their cake. Additional features like the pre-mounted Picatinny rail, a 7-inch Mlok forend, and sling points both fore and aft make this pistol ready to accept your favorite accessories, right out of the box.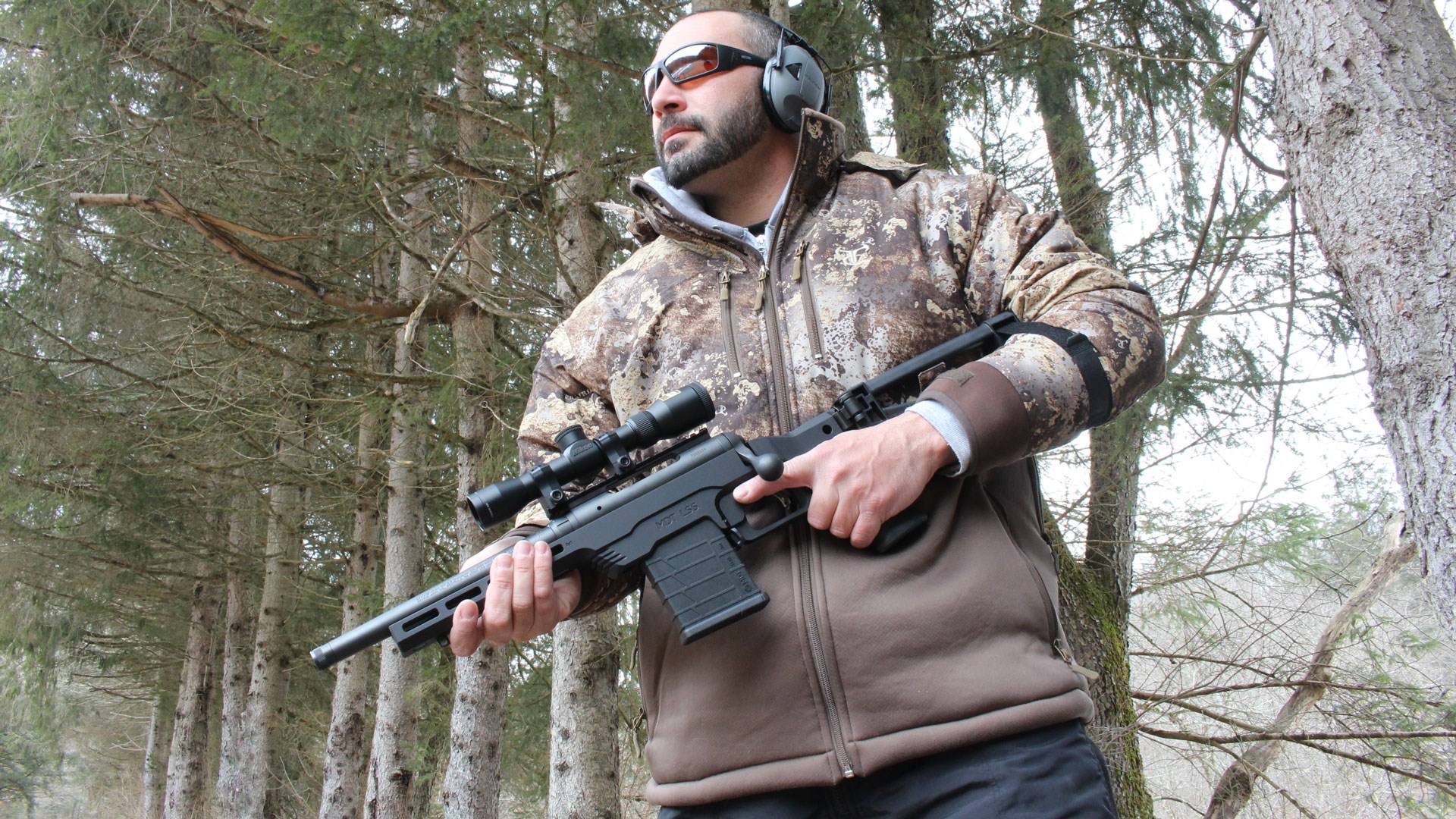 I prepared for my range day by mounting a Nikon 2.5x-8x-28mm pistol scope to the 110 PCS, as well as a TF 1913 pistol brace from SB Tactical. This brace would later prove to be instrumental in providing stability, and also ensures that the gun stays at hand when traversing treacherous terrain. This brace folds towards the bolt side of the firearm, allowing it to be packed down quite easily for the long haul. With the gun now ready to see its first rounds, I turned my attention to peripheral equipment and packed up a Caldwell Rock BR Rest, as well as a basic rear bag to place under the pistol grip to further steady the firearm.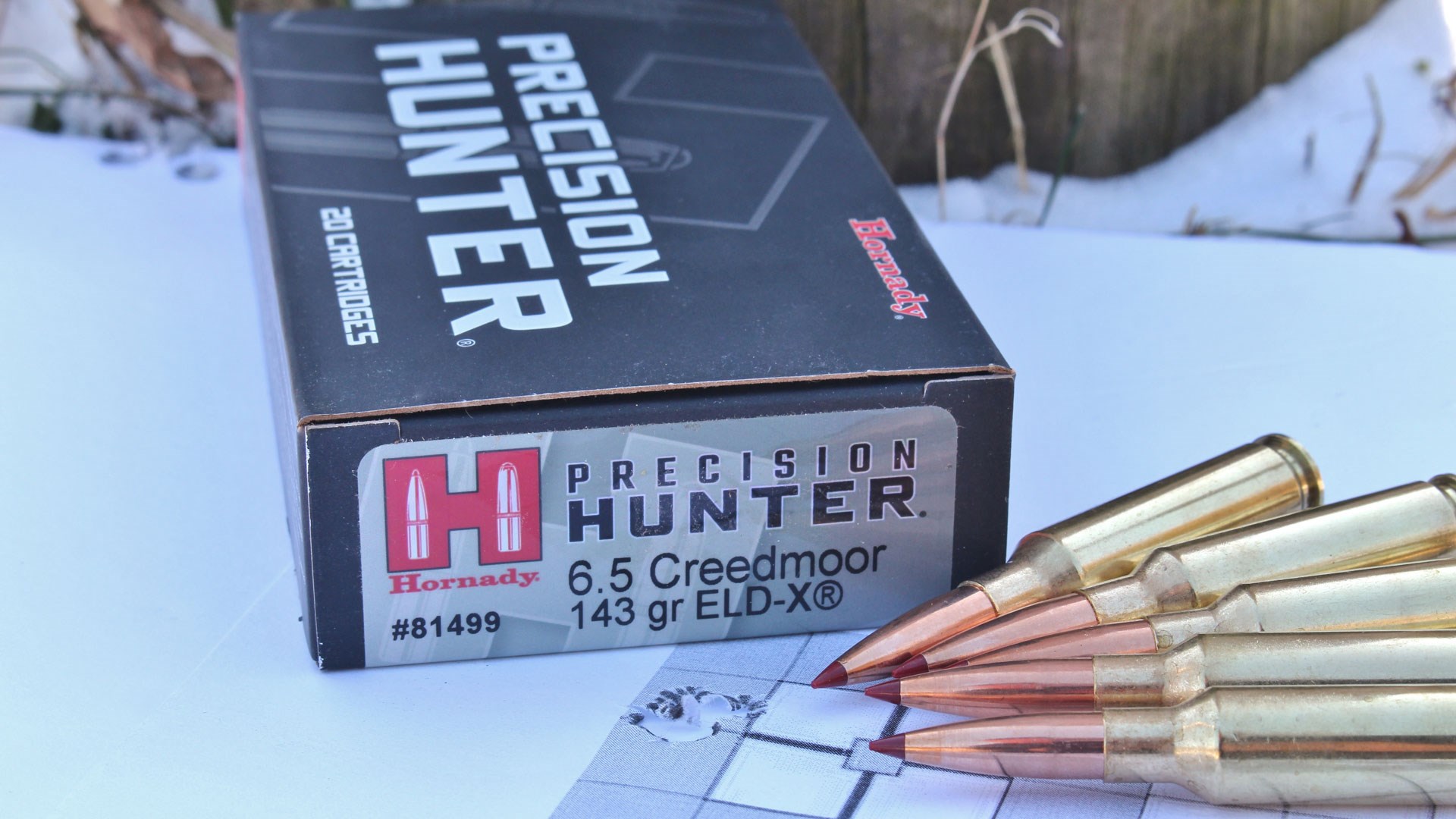 I set up at the 50-yard line to conduct testing, because I imagined this would be the most common shooting distance when afield. As my test sample was chambered in 6.5 Creedmoor, I picked Hornady's 143-grain Precision hunter and Remington's 140-grain High-Performance Rifle ammunition to work with. I started with the Remington loads to get a feel for the gun, and to get centered up on paper. I was pleasantly surprised with the limited amount of recoil with the gun, as I expected it to all but fly out of my hands. For reference, it was about what you would expect from a similarly sized .357 Magnum revolver. The groups with the Remington were dynamite, with the smallest five-shotter coming in at just .55 inches, yielding a five-group average of 1.17 inches. The average velocity on this round was 2033 fps, which is far more than I would expect from a cartridge designed to be fired from a barrel more than twice this long. Moving over to the Hornady ammunition, lightning struck twice except this time we broke the MOA mark with a five-shot group that measured just .32 inches, helping to achieve a five-group average of .89 inches. On top of superb accuracy, the Hornady loading flew more than 150 fps faster, with a ten-shot average coming in at 2187 fps. When you plug these numbers into a ballistic calculator, that is still more than 1000 ft.-lbs. of energy at 500 yards, with a group that will be about half the size of an average buck's vitals … not bad for a pistol!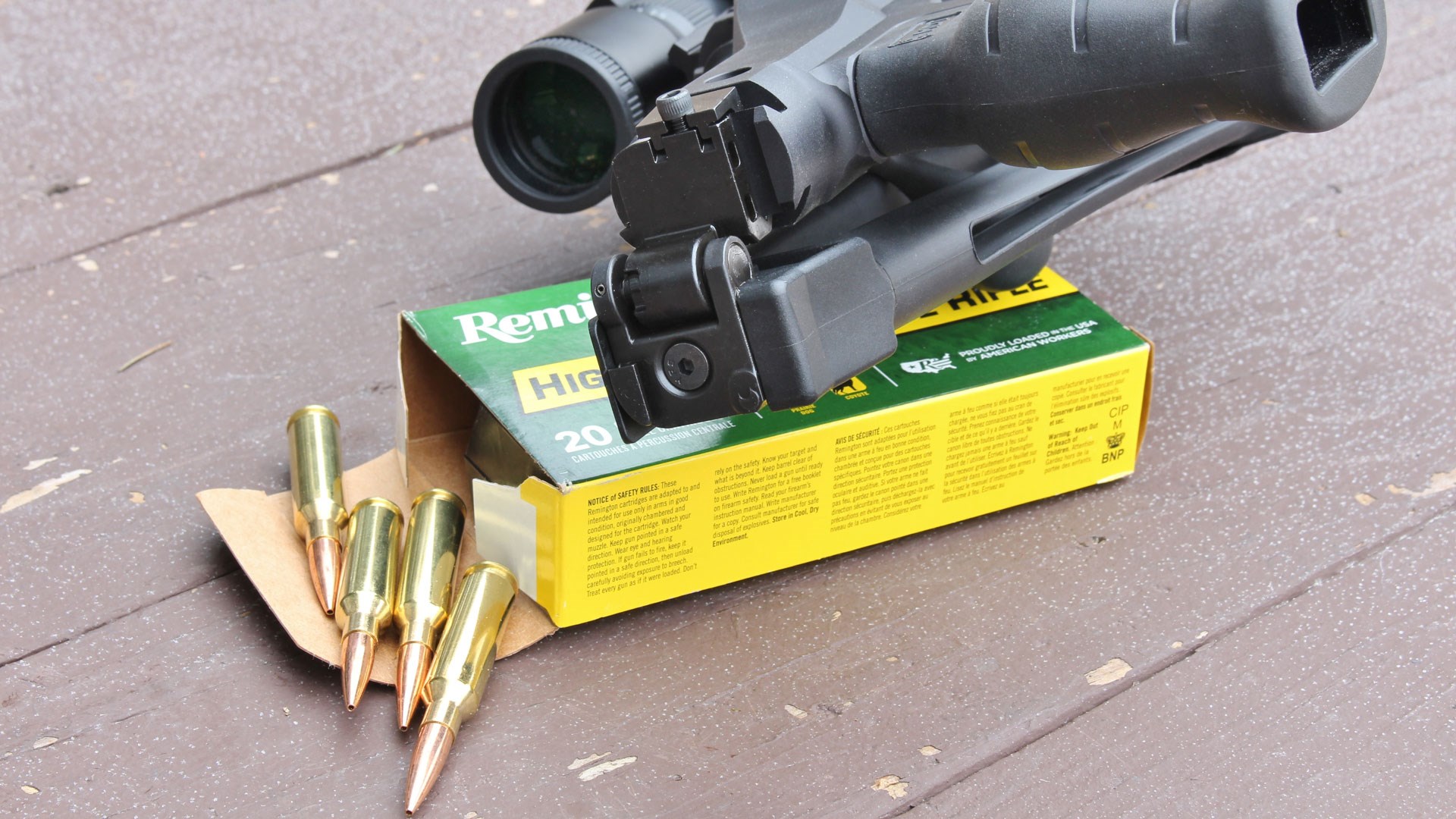 The Savage 110 PCS proved to be an outstanding performer and changed the way I think about hunting pistols. I found it remarkable that Savage was able to bring its legendary precision to a firearm that is this compact and easy to haul. The package makes for the perfect all-terrain firearm, and would be particularly useful when hunting from a tight ground blind, especially if you have some company in there. If you are looking to take a little weight and bulk off of your back be sure to check one of these out before next season.
For more information visit savagearms.com.
Technical Specifications:
Chambering: 6.5 Creedmoor
Action Type: Bolt-Action
Stock: MDT LSS Aluminum Chassis, Cerakote finish
Receiver: 4140 Carbon Steel, Black Oxide Finish
Barrel: 4140 Carbon Steel, Black Oxide Finish; Five-Groove, 1:8" RH Twist
Magazine: AICS-Style Detachable box, 10-round
Sights: None; Picatinny Rail Included
Trigger: Single-Stage AccuTrigger, Adjustable pull: 3 lbs., 2 ozs.-9 lbs., 5 ozs.
Width: 1.54"
Height: 7.12"
Weight: 6 lbs., 1 oz.
Overall Length: 21.75"
Barrel Length: 10.64"
MSRP: $999
Article by FRANK MELLONI
Don't forget to like us on Facebook and follow us on Twitter.