Review: Crucial Concealment IWB Ambidextrous Holster
I recently got my hands on the Crucial Concealment IWB (Inside the Waistband) holster and ran it through my usual paces for a review, which includes wearing it every day for several days (sometimes longer) and practicing draws and re-holstering with either live fire or dry fire. I'm picky about holsters and have failed several because they didn't stand up to even the most basic trials. I am pleased to say that the Crucial Concealment IWB Ambidextrous Holster not only blew through the review process but has now found its way into my everyday carry circulation. This holster boasts standout features that make it a must-have for anyone looking for a reliable and comfortable concealed carry solution.
The Crucial Concealment IWB holster is strong, thanks to its durable Kydex construction. This material is known for its toughness and resistance to wear and tear, ensuring that your holster will last for years. Whether you're a seasoned carrier or new to concealed carry, you can trust that this holster will withstand the rigors of everyday use.
Adjustable cant allows you to customize the angle where your firearm sits inside the holster, accommodating different body types, carry positions, and even just personal draw preferences. I like my holsters straight up and down, so I didn't move it, but it's nice to know I could. Finding the perfect angle for comfort and concealment can be challenging. But whether you prefer an appendix or a strongside carry, the Crucial Concealment IWB holster has you covered.
The high-strength 1.5-inch polymer clip securely attaches the holster to your belt or waistband, ensuring your firearm stays in place no matter what. The clip's robust design means you won't have to worry about your holster shifting or coming loose during your daily activities, yet it's easy to take it off when your day is done.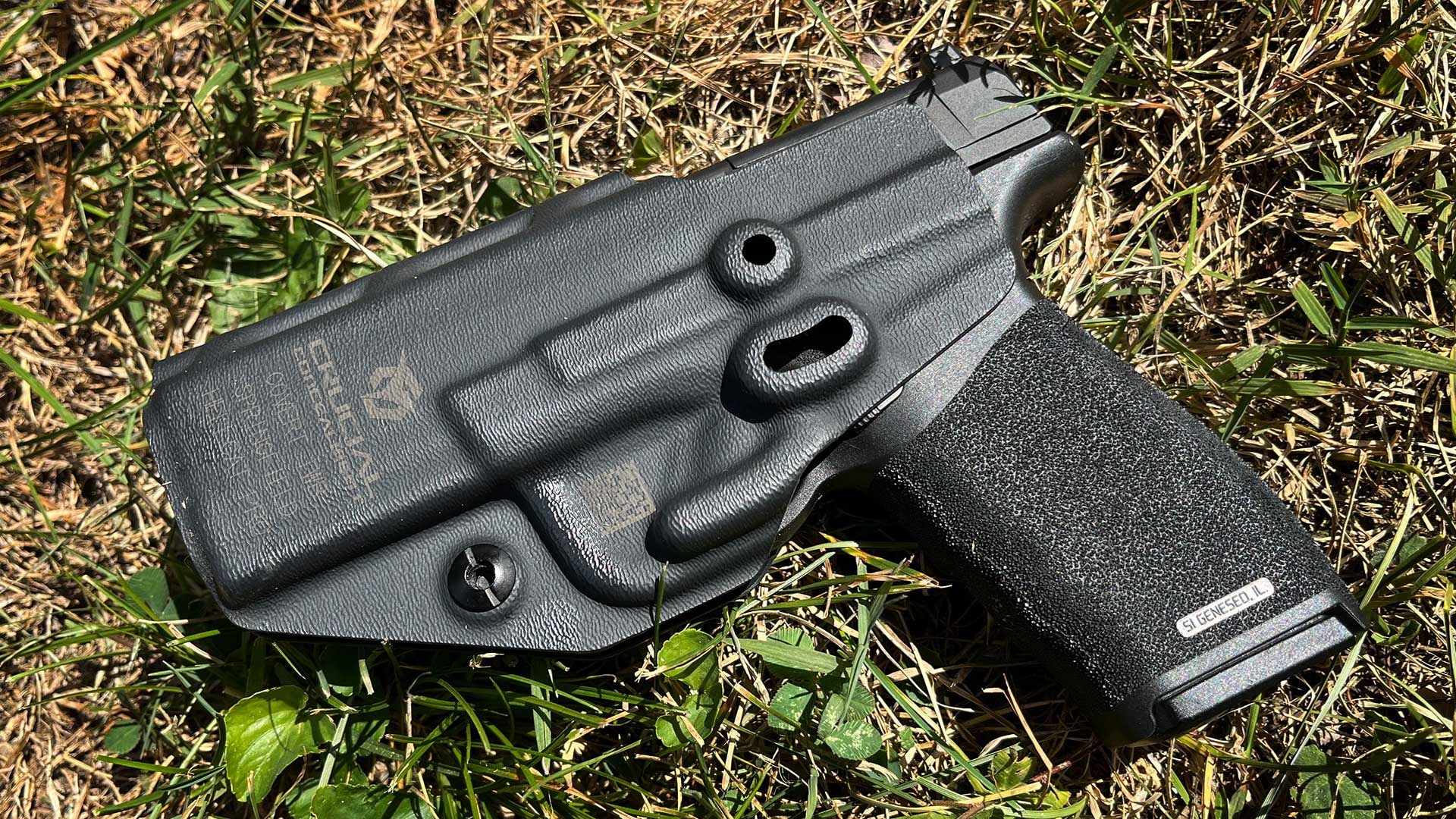 One aspect that sets this holster apart from many others on the market is its ambidextrous design. Left-handed or right-handed, you can use this holster with ease, making it a versatile choice for anyone. Just unscrew the clip and flip it to the other side.
One of the most ingenious features of this holster is its trigger bump, which angles the firearm's grip toward the wearer. This enhances comfort and facilitates a quicker and more natural draw while helping keep the gun concealed. It's a small detail, but it significantly affects your overall experience with the holster.
Adjustable retention is another key attribute of this holster. You can fine-tune the retention level to your liking, ensuring that your firearm stays securely in place while allowing for a smooth draw when needed. This customization option ensures that you're always in control of your firearm.
Additionally, the holster is compatible with most red dot sights, accommodating the growing trend of adding optics to handguns for enhanced accuracy. This feature reflects the holster's versatility and adaptability to meet the needs of modern concealed carry.
Have suppressor height sights or a threaded barrel on your pistol? This holster accommodates both with an open bottom design and a red dot cut with a taller sight channel.
The Crucial Concealment IWB holster is a standout option for those seeking a durable, versatile, and comfortable concealed carry solution. The $65.99 MSRP offers excellent value for the quality and features it provides. Whether you're a seasoned concealed carrier or just starting, this holster deserves serious consideration. Its Kydex construction, adjustable cant, ambidextrous design, and other standout features make it a solid choice for anyone who values comfort and reliability in their daily carry setup. If you're in the market for a dependable IWB holster, try this one. You won't be disappointed.
Article by DAVID WORKMAN
Don't forget to like us on Facebook and follow us on Twitter.