Rifleman Review: Colt Python 3″
When Colt launched its improved Python revolver in 2020, it initially launched the gun with two barrel lengths, 6″ and 4.25″. While these guns were popular and continue to sell well, many clamored for the return of the legendary 3″ barreled gun, which was rare in its initial production run. In 2022, Colt rolled out the 3″ Python. Watch our "American Rifleman Television" Rifleman Review segment above to see the details of this short-barreled revolver.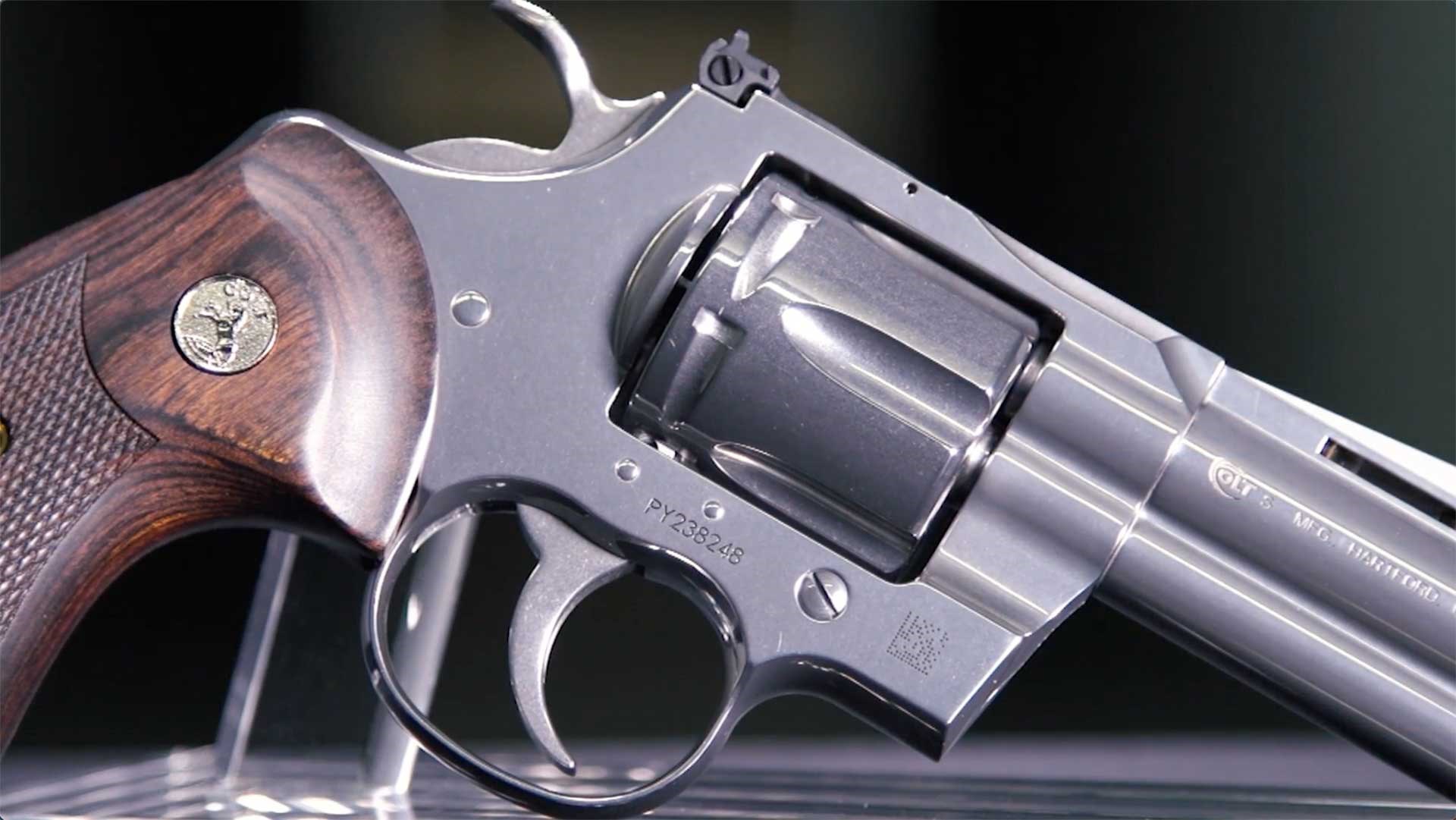 "When Colt reintroduced the Python in 2020, this actually is the 'Goldilocks' gun I wanted all along," NRA Publications Editorial Director Mark Keefe said. "Now, of course, they completely redesigned the gun. They went to a new V leaf-spring system, and they really improved on the original Python. I know that's blasphemy, but as a shooter, the trigger on this gun is way better than the original, because that was a trigger system that dated to 1899. The trigger on the new Python is very smooth. You don't get that stacking, that Colt wall that you used to get."
The Python is built on a stronger, larger frame than the original Pythons of the mid-20th century, making them 30 percent stronger and more able to handle hot .357 Mag. loads. Additionally, the guns are built with transfer-bar safeties. The cylinder provides space for six rounds, and like all Colt revolvers, the cylinder rotates to the right and is released by pulling back on the cylinder latch on the left side of the frame.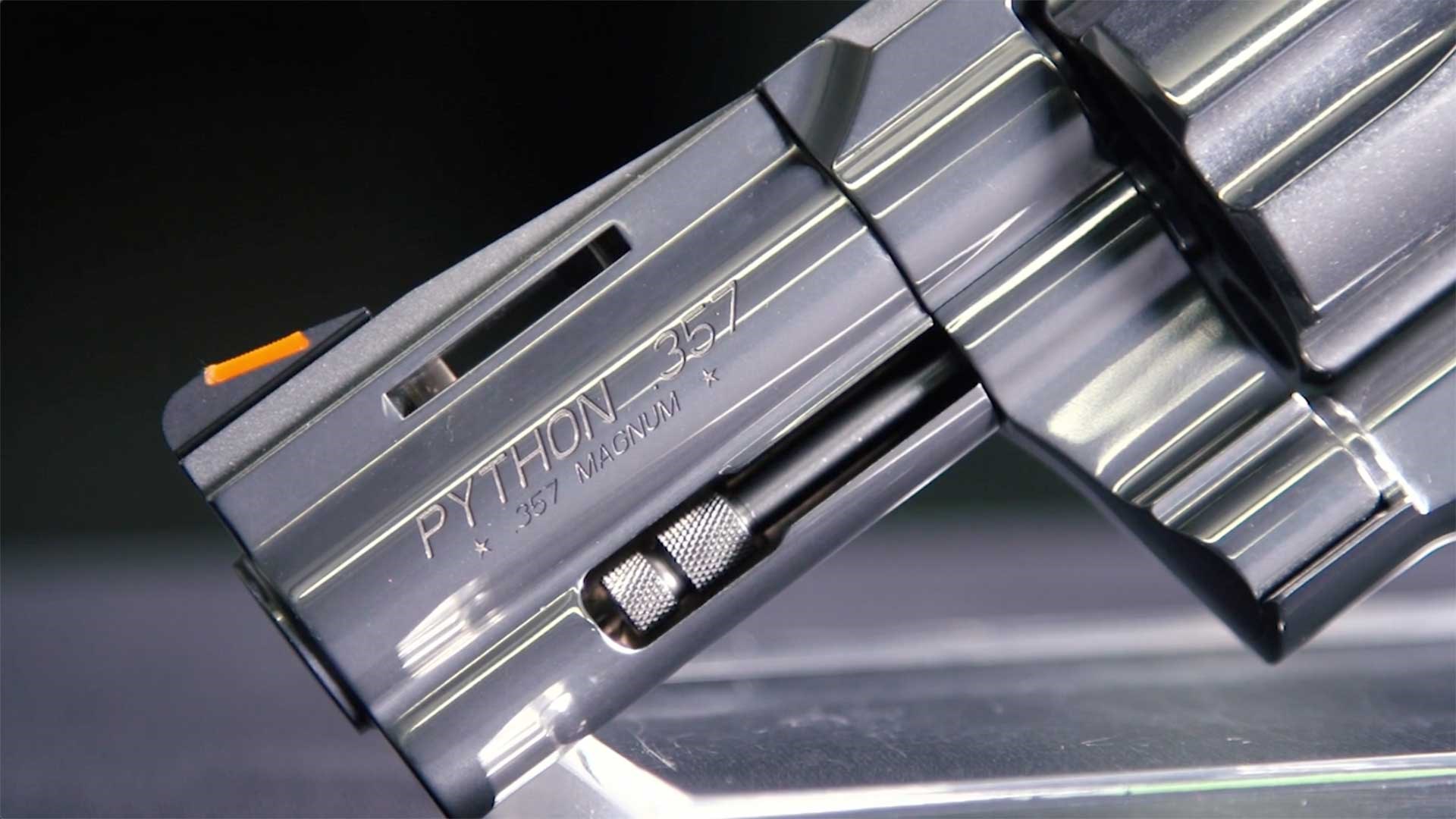 "So one of the things I love about the 3″ barreled gun is you can actually get the cases out of the gun," Keefe said. "The original short-barreled Python isn't quite a snubby, maybe some people would call it a snubby, but there just wasn't enough ejector rod. So when you try and kick the cases out, you'd really have to smack it because they wouldn't completely clear the cylinder."
Despite the short barrel, the Colt Python 3″ is outfitted with a full-size set of "Coke-bottle" stocks, which have a squared-off butt and fine checkering, along with an inset Colt escutcheon. At the top end of the gun, there's a ramped front sight with a bright-orange insert, and this can be replaced with aftermarket sights. At the rear is an adjustable target sight.
"I gotta tell ya, for a 3″-barreled gun, this thing actually shoots very well," Keefe said. "It could be a carry gun if you're a big guy and don't mind carrying a big gun that weighs 40 ozs. But as a trail gun, it's got just enough barrel, just enough sight radius, that it can fulfill a couple of different roles. And I must say that once I got a chance to take it to the range, this is everything that I'm looking for."
To watch complete segments of past episodes of American Rifleman TV, go to americanrifleman.org/artv. For all-new episodes of ARTV, tune in Wednesday nights to Outdoor Channel 8:30 p.m. and 11:30 p.m. EST.
Colt Python 3″ Specifications
Manufacturer: Colt's Mfg. Co., West Hartford, Conn.
Action Type: double-action, hammer-fired revolver
Chambering: .357 Mag./.38 Spl.
Frame: polished stainless steel
Barrel: fully lugged, 3″
Rifling: six-groove, 1:14″ LH twist
Overall Length: 8.5″
Height: 5.5″
Cylinder: six-round capacity
Trigger: single-action, 5-lb., 2-oz. pull; double-action, 10-lb., 8-oz. pull
Sights: replaceable ramp front with orange insert, fully adjustable rear
Stocks: checkered walnut with silver-tone escutcheon
Weight: 38 ozs.
Accessories: owner's manual, plastic carrying case, lock
MSRP: $1,499
Article by AMERICAN RIFLEMAN STAFF
Don't forget to like us on Facebook and follow us on Twitter.