The Resurgence Of Firearm Engraving
In my closet is a 20-ga. Lefever Nitro Special shotgun that belonged to my father. Dad was quite pleased with this little gun, with which he took a lot of rabbits. It has a little roll stamping on both sides, an image of a goose flying low over a marsh. Why a goose, I will never understand; this little 20 gauge would be no more use on goose, I suppose, than throwing bricks at them. But Dad liked that little roll stamp. It was the only firearm he ever owned that had any kind of non-functional embellishment on it, and he was very proud.
Taking a functional piece of equipment and embellishing it to make it more attractive or more enjoyable or more personal is a long tradition that crosses industry lines. Custom paint jobs for cars, bespoke knives and tattoos are all indications that we, as humans, love personalization. In the firearm industry, this has taken the form of custom engraving of traditional firearms but also customized products for modern firearms. I don't think I know anyone who has the factory fore-end on their AR-15.
The Golden Age
The late 19th century was considered by many the golden age of firearms embellishment. It was extremely common at the time to take a fine quality firearm and engrave it for personal use, for presentation to a family member or a military retiree. The major manufacturers would also always have a "best gun" that would be taken to exhibitions to show off their highest quality work.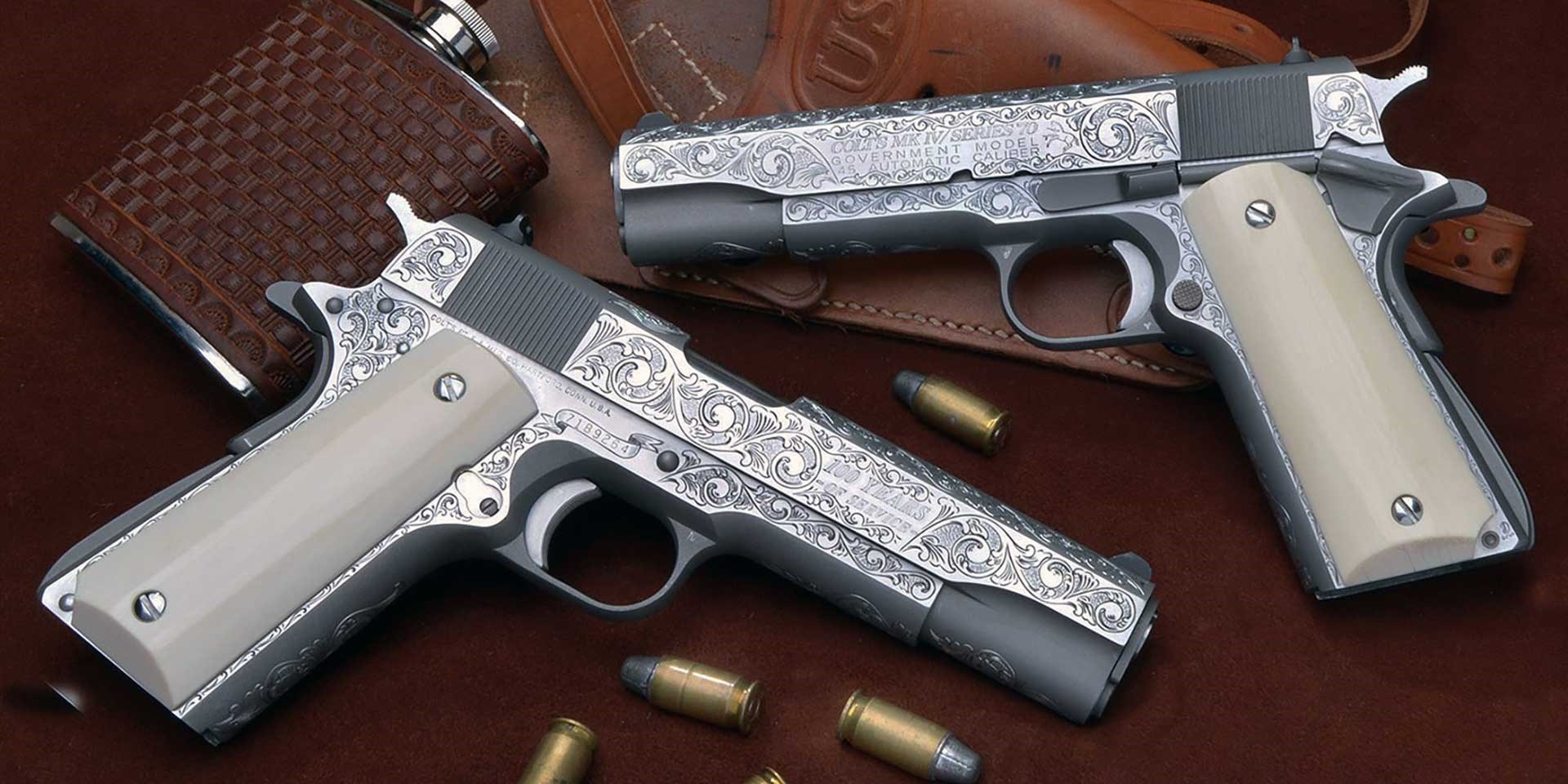 Image courtesy of The Gun Engraver.
Many manufacturers had their own internal engraving custom houses, so if you wanted a Smith & Wesson or a Colt with anything from a touch of engraving to a full coverage, you could order that from the factory. There were also any number of fine custom houses that would do beautiful work for you. At one time, there was an actual engraving department at Abercrombie & Fitch, in the days before they were famous for selling underwear to teenagers. Small manufacturers, now lost and forgotten like Merwin & Hulbert, had factory engravers because it was just done at the time. When I was in my teens, there was an engraver and a gunsmith on staff at two of my local gun stores.
Form And Function
It was also common to see embellished European rifles in Schuetzen matches, another tradition that has faded and, all but disappeared across the United States. Trap and skeet shooters at a certain level still do a good deal of one-upmanship in their firearms, trading in, and up, for prettier and prettier shotguns. Certainly, a plain and unadorned shotgun with a synthetic stock will break clays as well as a deeply engraved, well-stocked one. Tom Knapp famously used off-the-shelf shotguns and off-the-shelf ammo to do exhibition shooting that would put any of us to shame, and if your entire focus is to break those clays, then you can do that, too.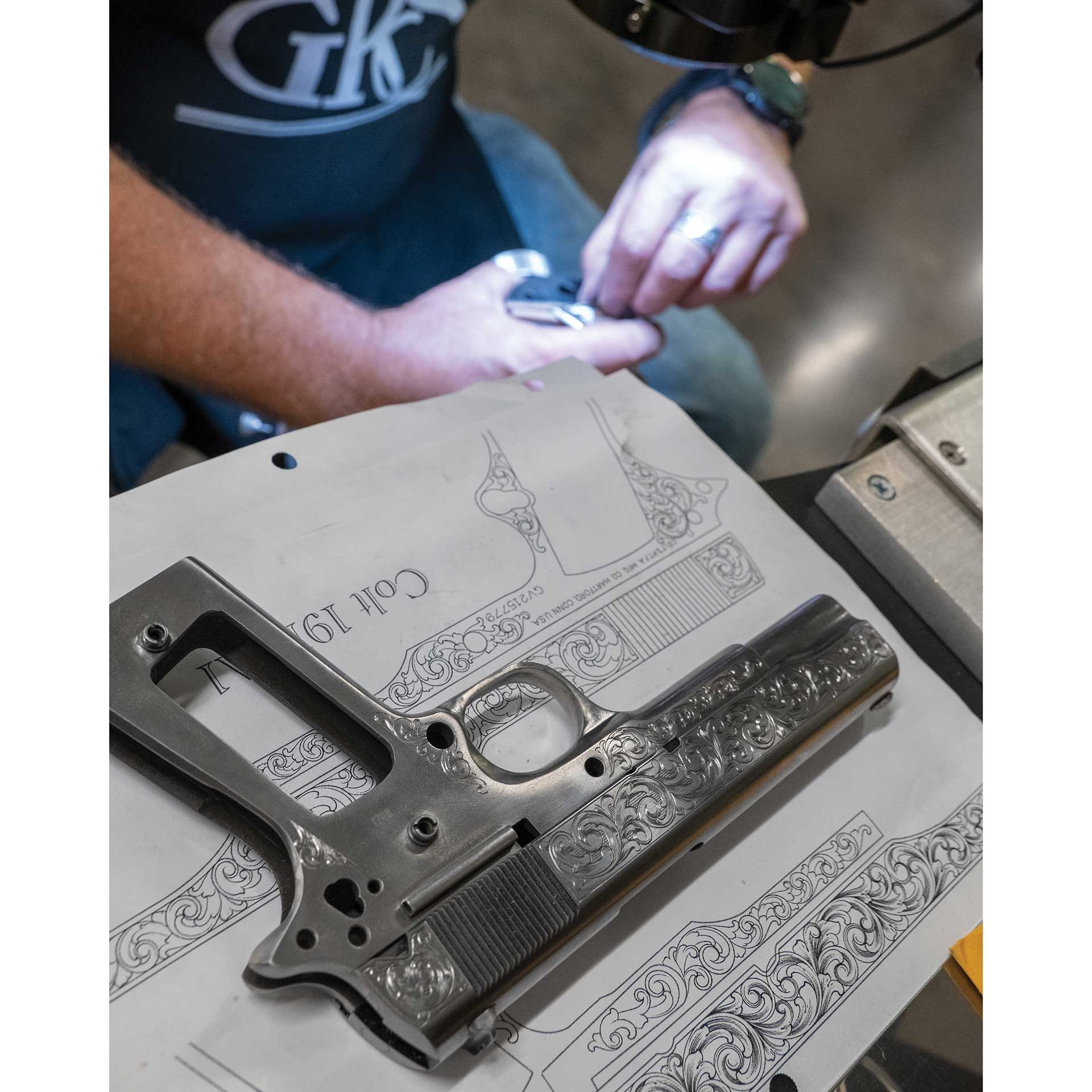 Image courtesy of GRS.
A lot of the fun of shooting sports, though, is showing off your firearms and gear. Rolling your cart up to the firing line and opening that canvas and leather case to reveal that wonderfully engraved double or purpose-built trap gun, is always good for envious gawking.
A Change Of Pace
Interest in shooting sports has changed its focus, and the customer shops that used to do all the beautiful work have changed with it. The custom shops for the big gun manufacturers, where they exist, are focused on making the firearms as wonderfully functional as it is humanly possible to get, and nobody can disapprove of that. There are still a few of them around who either do engraving in-house or offer it through contractors, and it might seem that they are the last refuge of hand-tooled firearms.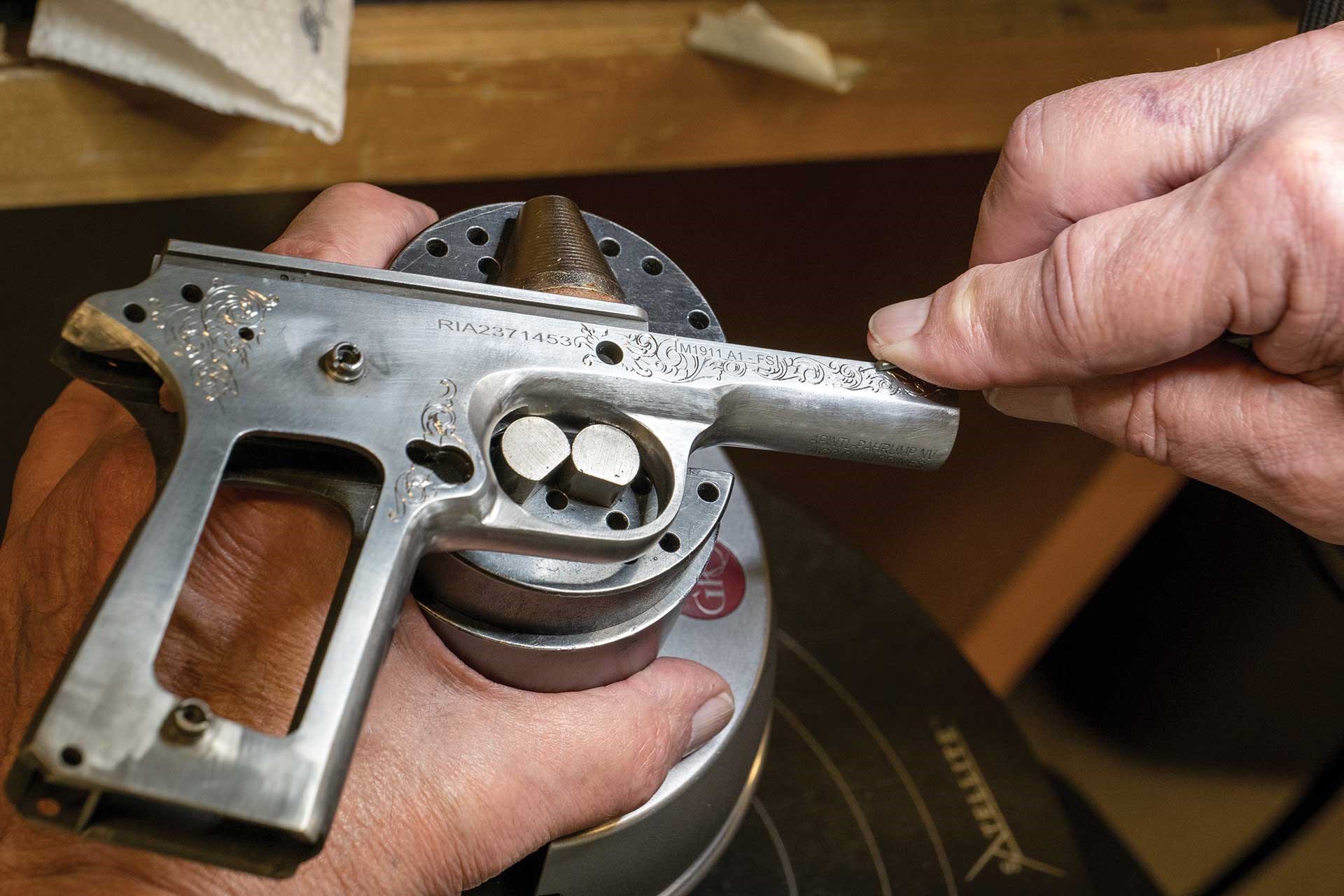 Image courtesy of GRS.
But there seems to be an awakening in the shooting sports community, and is being driven in part because of improvements in technology. There have traditionally been engravers who work either with hammer and chisel or various types of electric or air-powered tools. And with the commercial availability of small and relatively inexpensive CNC machines, there were a lot of people who tried to duplicate the hand-engraving process with machines; there has been some success there. There has also been a renaissance in laser-engraving, far advanced from the first laser-engraved products that were, frankly, quite boring and left a great deal to be desired.
The Resurgence
Jim Downing, known in Cowboy Action Shooting circles as "The Gun Engraver," tends to agree.  His business has grown over the past 44 years to the point where there is a waiting list to get into one of the few classes he teaches each year, and you can easily wait a year to get your gun to him to be engraved. "A small portion of my students move from engraving as a hobby to engraving as a profession, and there is enough workload for a lot more," said Downing who is an evangelist for Lindsay tooling, which he has been using almost since the beginning.
"I learned engraving from one of the old masters, Tilden Swenson," Downing said. "At that time, Gravermeisters were the new thing, and that's what I learned on. I went into his class scratching and came out of it engraving."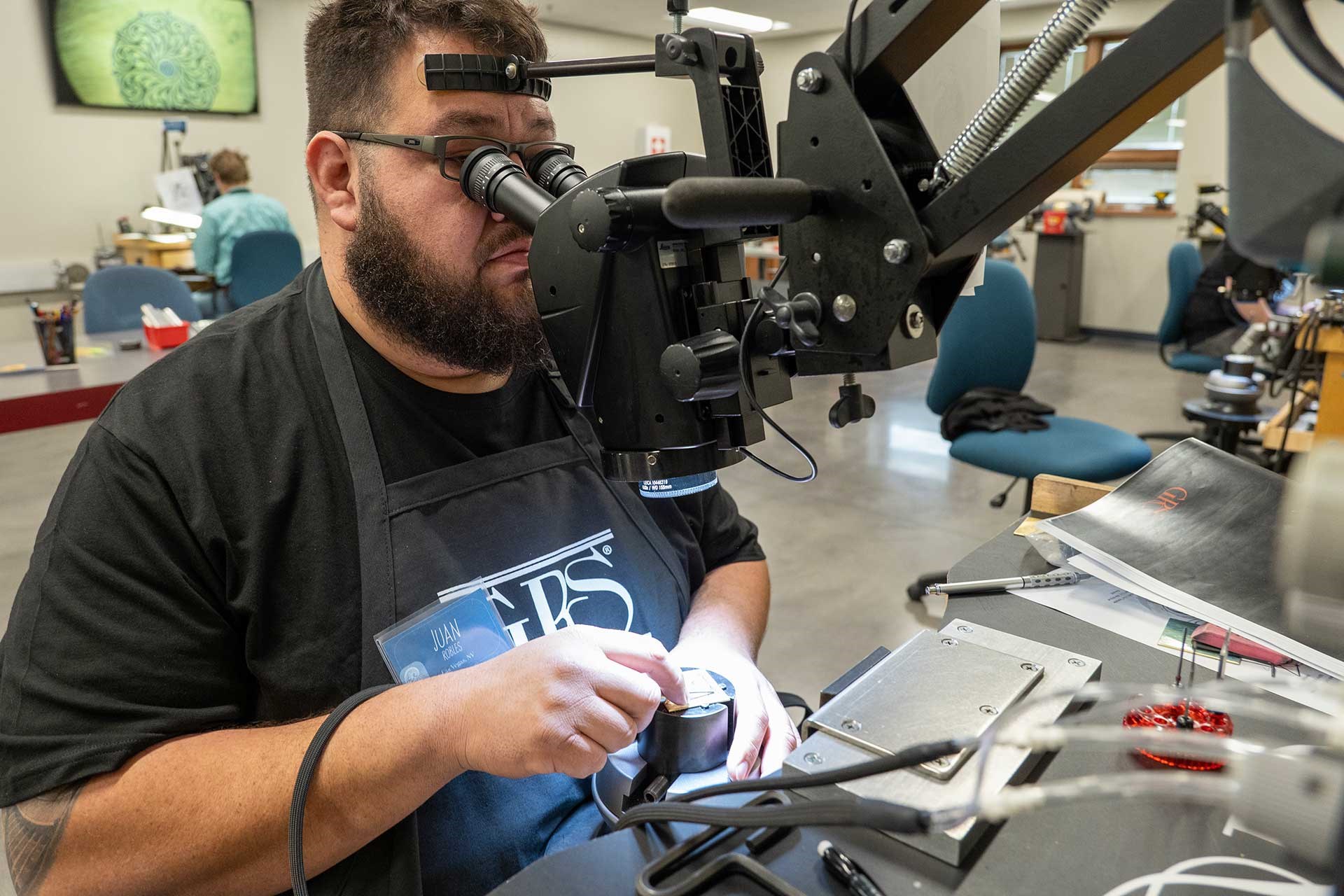 Image courtesy of GRS.
The world of engraving tooling was expanding, and eventually, Downing took a class at Lindsay Engraving. "The Lindsay tool fit me like an extension of my own arm," he noted. Today, in Downing's classes, many different types of tooling are available, but most of his students gravitate toward the Lindsay handpieces.
Downing's style is distinctive and has grown organically to suit his primary clientele, who are cowboy action shooters. Contact Downing to get in a class by phoning (417) 865-5953 or emailing [email protected]. Visit thegunengraver.com for samples of his work and information about having your own firearm custom engraved.
Other artisans such as Clint Eidman of GRS/Glendo LLC has also seen the uptick in interest in engraving. "During the pandemic, our business went crazy. A lot of people who had been on the fence about learning engraving suddenly had a lot of time on their hands, and the orders rolled in," Eidman said.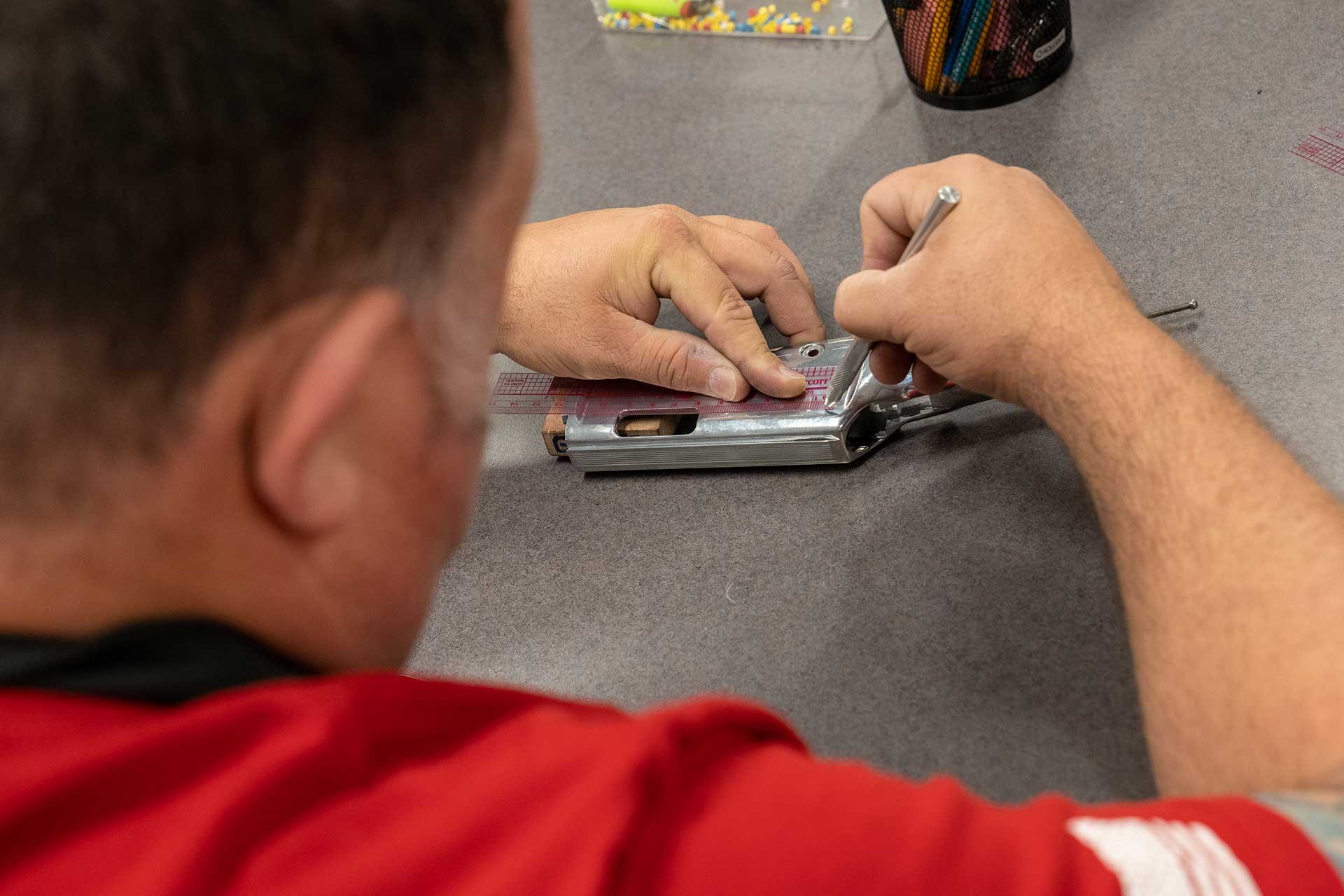 Image courtesy of GRS.
GRS, which offers classes taught by many of the old masters of the art, have a full line of engraving and jewelry making equipment and tooling, including simple "push" style gravers, powered handpieces, sharpening equipment and virtually silent air compressors.
"There are a lot of talented young people beginning to get involved," Eidman said. "The interesting thing is that they have no prejudices about techniques. While less than a generation ago, even pneumatic gravers were looked upon as 'cheating' and lasers were unheard of, the upcoming generation of engravers are mixing techniques, media and equipment to streamline the process of moving from idea to artwork to metal."
GRS, located in Emporia, Kansas, has a full complement of classes, equipment and support available for anyone from the beginner engraver to the old masters, many of whom teach there. Contact Clint directly at [email protected] or by calling (620) 343-1084. The GRS website, https://grs.com/, has a wealth of information, as well as videos demonstrating operation and techniques.
The engraving community is seeing a growth of acceptance of new equipment and methods; there is a ready market for "mass produced" engraving, (guns with engraving patterns done in quantities of a few hundred), as well as carefully designed and executed one-of-a-kind pieces.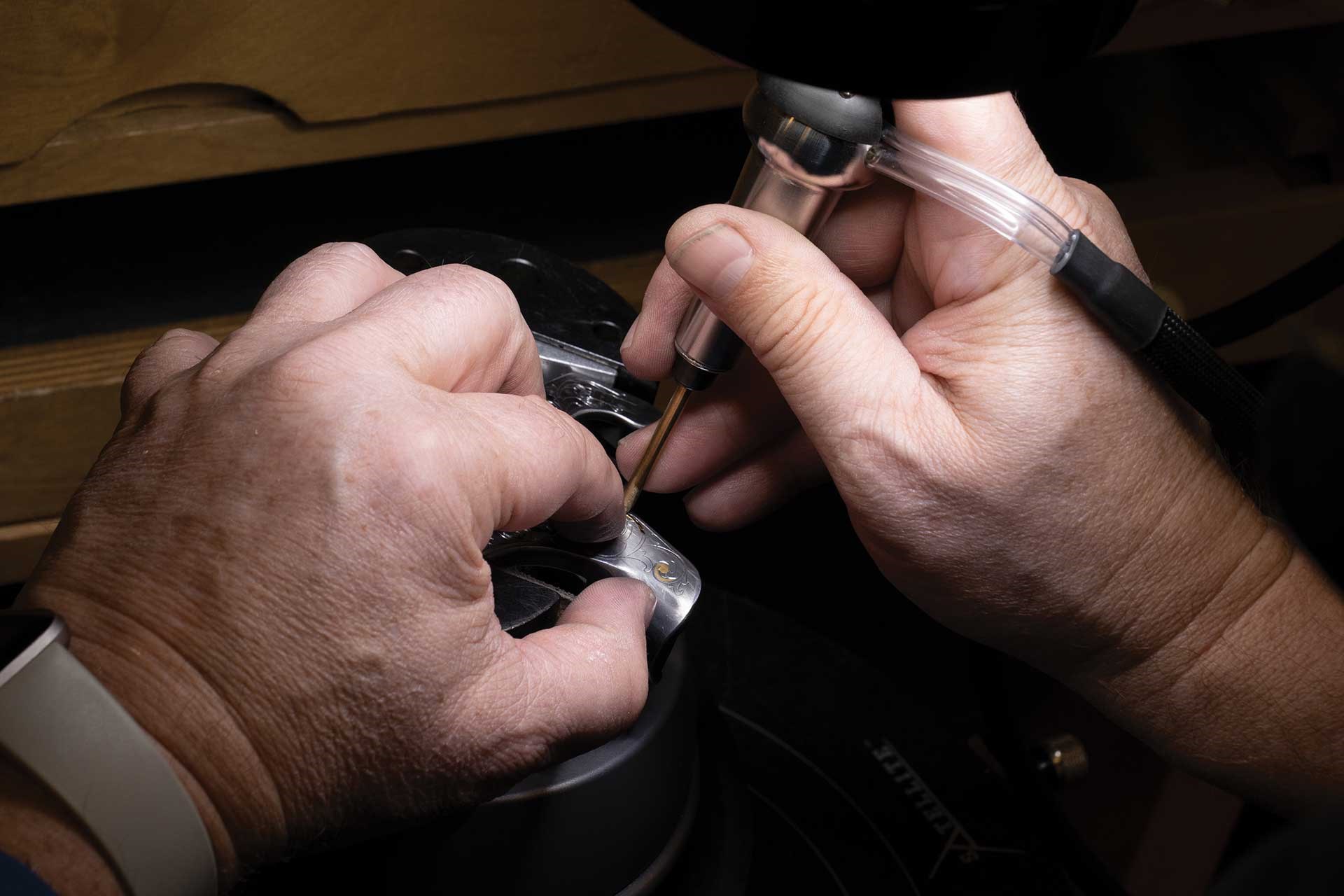 Image courtesy of GRS.
"People see the mass-produced guns, many of which are really beautiful, but they decide they want something uniquely their own," said Jim Downing. "In this way, the growth of all types of engraving and embellishment is directing more and more people to the hand engravers, and everyone benefits."
There are also companies focused on the mass production of engraved guns and one such firm is Altamont Company located in central Illinois. Altamont specializes in classic and modern designs on handguns, shotguns and soon, rifles.
"What we do is a hybrid of many techniques" says Merlin Enright, CEO of Altamont Company. "We have the ability to use machine tools and lasers and other specialized equipment to remove material to unprecedented depths and then add fine detail by hand. The same work can be done by hand, but it is tedious and very time-consuming. Laser engraving, early on, earned a bad reputation among the engraving community. Lately, we have seen a level of acceptance among the master engravers who look at our products as a commercial alternative to expensive hand engraving."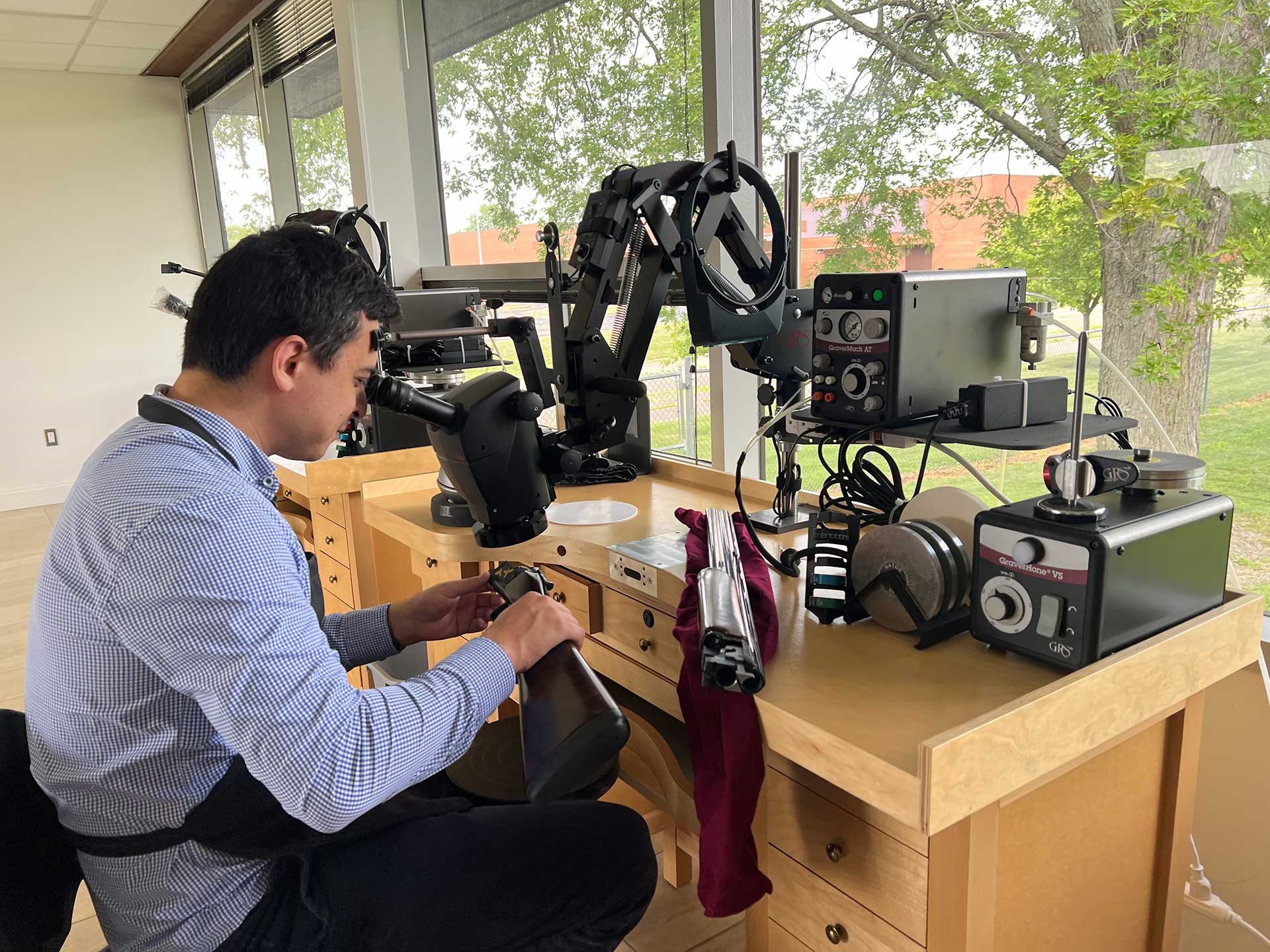 Image courtesy of Altamont Company.
The growing community of hand engravers and the excellent schools around the United States and Europe for engraving are testament to the fact that the art is not dead, and there will always be a market for one-of-a-kind, hand-engraved firearms.
"We feel that not only is there room enough for multiple types of engraving, but that the more people see adorned firearms, the more they want their own, and that is going to help increase the market for not only our limited-run production firearms but also for the one-of-a-kind hand engraving done by individuals around the world," Enright said.
Article by MARK HARDIG
Don't forget to like us on Facebook and follow us on Twitter.