When It Comes To Shotguns, Make Mine A Double
Before the advent of pump-action and semi-automatic smoothbores, if you wanted, or needed, a fast second shot, your only recourse was a double-barrel shotgun. Today, that same option still reigns supreme, especially among traditionalists and those who also appreciate the heft, grace and balance of twin tubes, either side-by-side or stacked one on top of the other.
Speaking from personal experience, I can't recall many shotgunners who finally connected on a fast-flying bird with a third or fourth or fifth shot, once they've missed with the first two volleys. It seems—to me, anyway—that a second barrel may save the day, as long as you maintain your follow-through. But after that, a form of panicked desperation sets in after two pulls of the trigger, and all subsequent shots often go wild. I'm sure there are some—trick shooters and professionals notwithstanding—who can powder three clays in the air with as many shots and with lightning speed. But that's not me.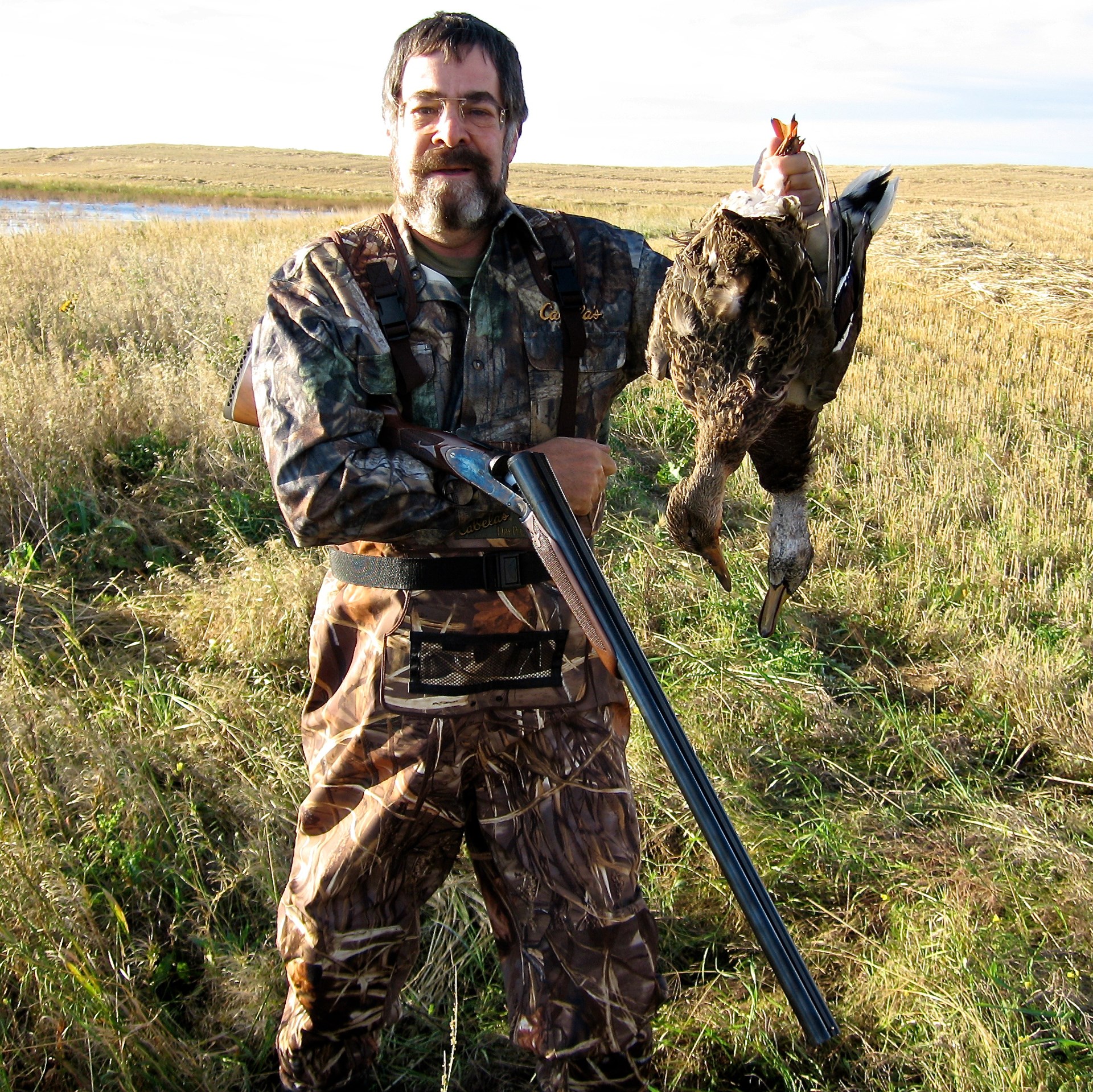 On an Alberta, Canada, duck hunt, Hacker used Marlin's Italian-made Fausti Stefano boxlock interpretation of an L.C. Smith with faux sidelock plates to make a double on ducks. The gun, no longer made, performed well and may still be available on the secondary market, but it doesn't have the collectability of the original L.C. Smith sidelocks.
All practicality aside, however, no doubt my attraction to double-barrel shotguns was fostered in my teenage years by reading all those outdoor lifestyle magazines with ads that depicted dapper gents in Stetson or Dobbs fedoras and wearing stylish sports jackets while carrying equally stylish double-barreled shotguns afield. However, my first shotgun was anything but stylish. It was a well-used C.S. Bonehill double that I think I paid the late Tom Moody $15 for at the old Stop N' Swap secondhand store (no longer extant) on Washington Avenue in Phoenix, Ariz.­­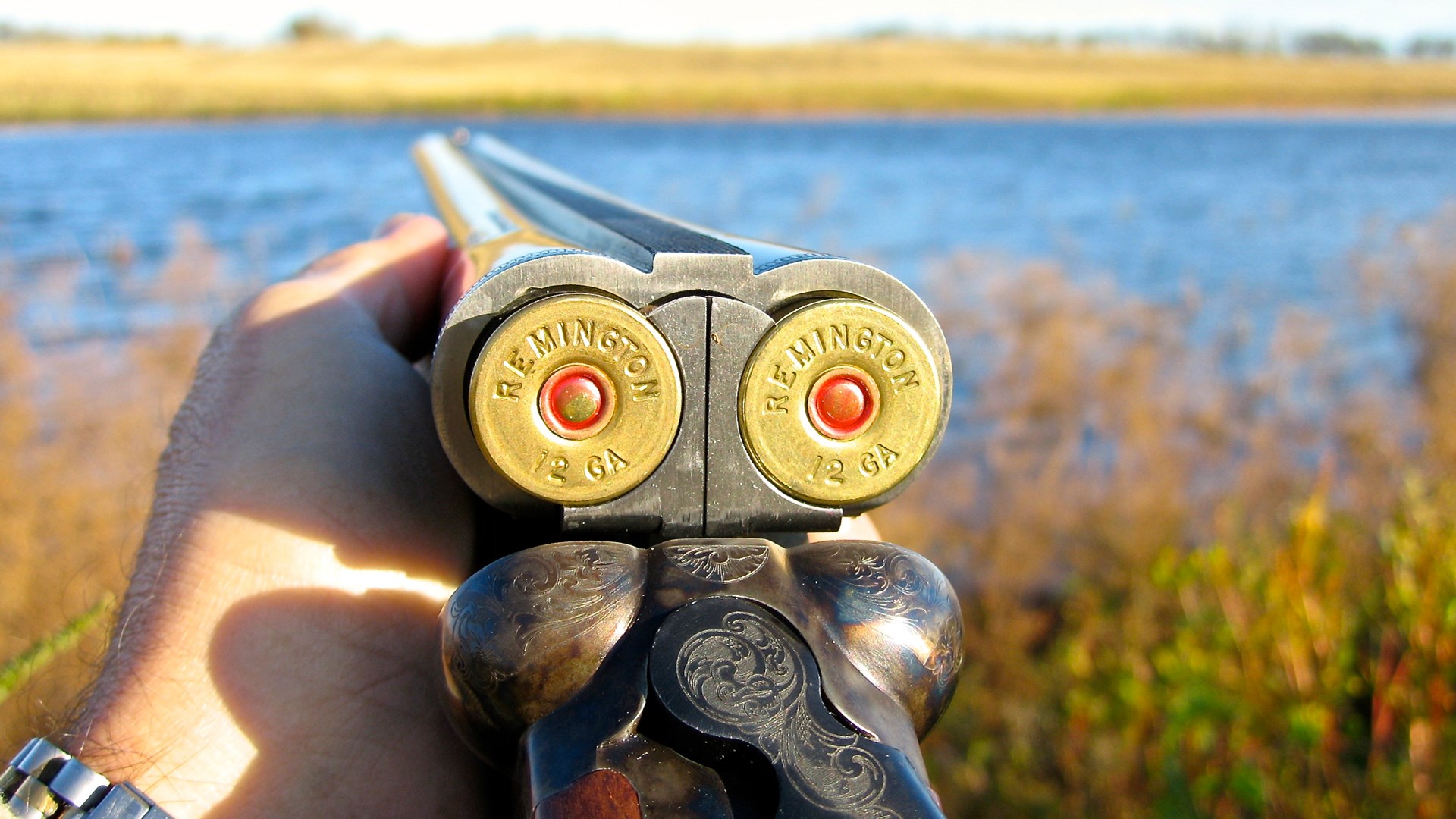 A side-by-side double provides the shooter with two instantaneous shots that can be quickly reloaded.
Christopher G. Bonehill was a 19th-century gunmaker in Birmingham, England, whose factory made a full gamut of shotguns, ranging in quality from mediocre to excellent, including some of the latter that were made for Winchester. But my gun wasn't one of them. In fact, it was decidedly in the "mediocre" range. By the time I took possession of it, the shogun had lost its finish, and years before, some previous owner had trimmed its Damascus barrels to 20". As a result, it no longer had any choke. No matter; I didn't plan on doing any sky-busting with it. Consequently, I obtained some reloadable 12-ga. brass shotgun hulls from Dixie Gun Works, and stoked them up with FFG blackpowder. As I didn't have, nor could I afford, lead shot, I used handfuls of pebbles from the desert's dry washes, and topped the shells off with cotton balls to hold everything in place. I don't recall ever hitting anything with my homemade loads in that old Bonehill, but it was a hoot to see those twin wads of flaming cotton go hurtling through the air and land a short distance away, still smoldering.

The author's Winchester Skeet Model 21, with 26" barrels and ventilated rib, was shipped from the factory on Dec. 12, 1946.
My next shotgun was a 12-ga. Stevens 311A. Made by the Savage Arms Company, this was the company's low-cost, no-frills workhorse boxlock—no checkering, extractors instead of ejectors and a utilitarian blued finish. But it had double barrels and double triggers and was affordable, and that was good enough for me. It proved deadly on desert jackrabbits and mildly effective on fast-moving doves, where I came to appreciate the value of a fast second shot.
I took a dramatic step up in quality some years later at the no-longer-existing Pony Express Sports Shop on Ventura Boulevard in Encino, Calif. The store had just acquired a vintage 12-ga. L.C .Smith No. 3E side-by-side in what looked like moderately neglected condition, with dark grey bores, although I noticed most of the original bluing and the case-hardened game-bird engraving on the lock's sideplates were still crisp. Until the introduction of Connecticut Shotgun Manufacturing Company's recent offerings, the no-longer-produced L.C. Smith shotguns had the distinction of being the only American-made sidelock. Hoping to avoid a potentially laborious gun-cleaning chore, the clerk asked if I would be interested in acquiring this grand old "Elsie," for an "as-is" price. Sensing a treasure underneath all that grime, I said "yes," as casually as I could. Upon getting the gun home, I found the bores were simply coated with dirty grease. After running a few Hoppe's No. 9-soaked patches through the twin tubes, they gleamed with a mirror-like newness. The rest of the gun cleaned up equally as well to a 95-percent condition. I had scored my first classic double.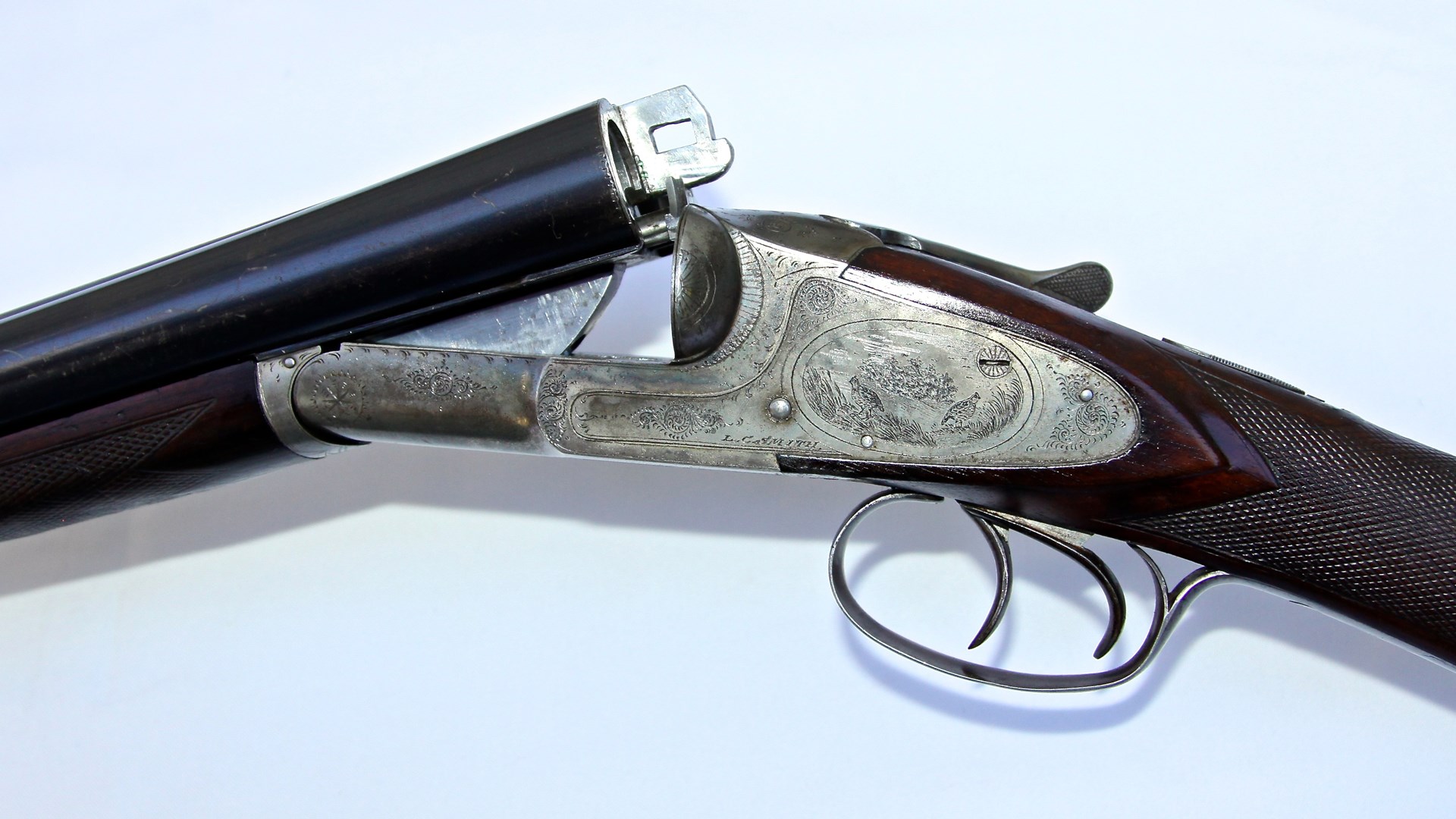 The L.C. Smith was America's only authentic sidelock. Hacker's No. 3E "Elsie" was made in 1902 and features hand-engraved game birds and precise wood-to-metal inletting
The L.C. Smith No.3E was catalogued from 1892 until 1912 and was priced at $100 when introduced—a substantial sum in those days. My particular gun was made in 1902. Stocked in English walnut with Nitro steel barrels and ejectors (hence the "E" in its No. 3 nomenclature), it was choked full and full, and each lockplate was hand-engraved with a pair of upland birds inside an oval panel. Every time I hunt with this grand old dame of a double-barrel smoothbore—always using low-pressure lead shot or Bismuth shotshells, as these guns are not made, nor safe, for steel shot—it has been an elegant visit into the past.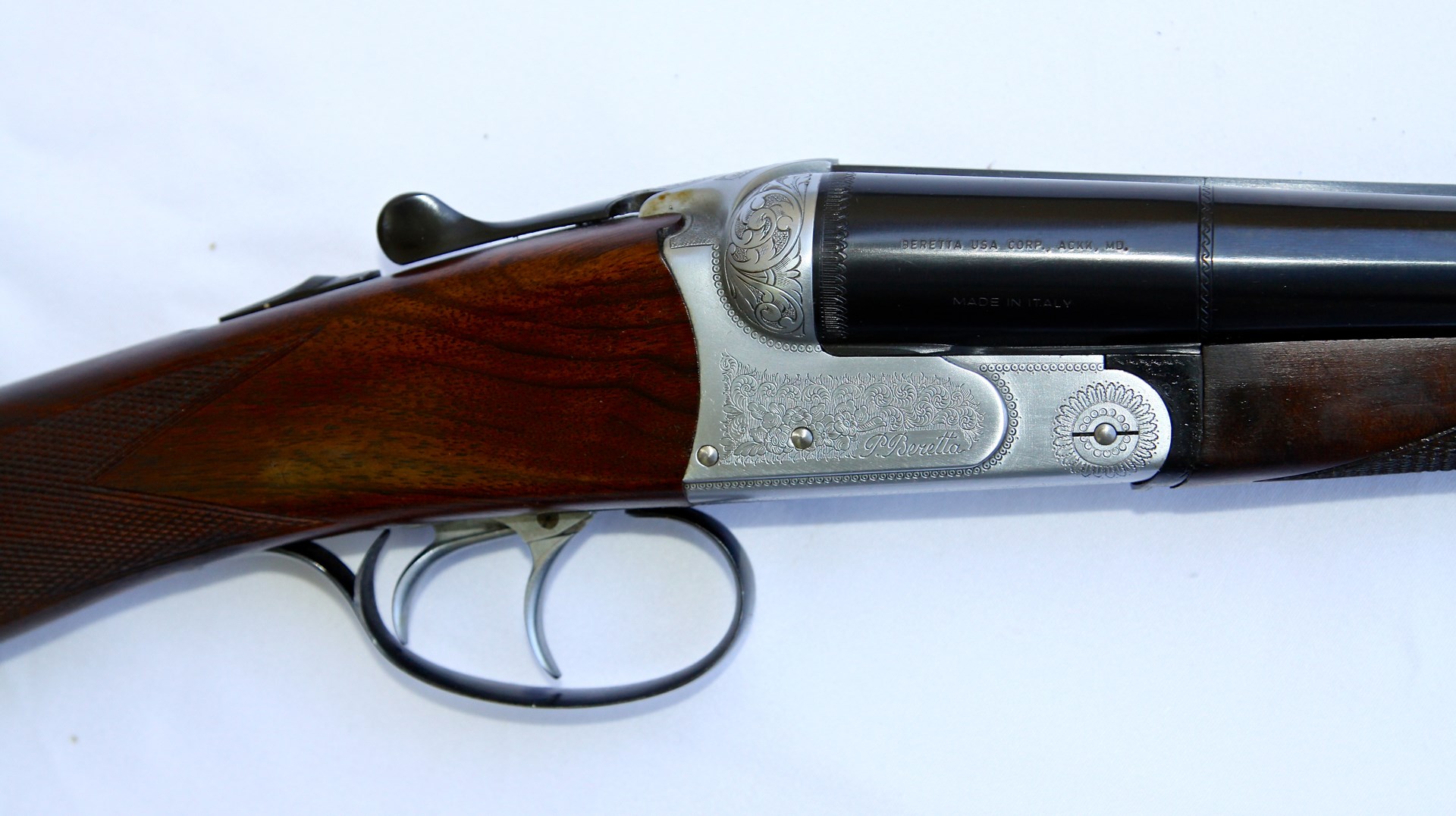 Double triggers, such as seen on this Beretta 626E, offer an instantaneous selection of which barrel to fire first.
While L.C. Smiths hold the premier position for American sidelocks, the Winchester Model 21 is the most revered American-made boxlock. Indeed, for many sportsmen and collectors, it is the ne plus ultra of doubles. With its classic lines, hand-built workmanship, and locking up as tightly as a Bradley tank, the Model 21 was the first double-barreled shotgun produced by Winchester (the company's previous side-by-sides had all been imported). Introduced in 1930, it raised the standard for every American smoothbore that came after it. For one thing, the action broke open at an unusually shallow angle to reduce ejecting and reloading time. Moreover, the Model 21 ignored traditional shotgun manufacturing techniques by foregoing the standard practice of brazing twin barrels together, a process that often weakened the steel. Instead, the right and left tubes were forged with an integral "chopper lump" lug, which was cut with a dovetail that locked into the corresponding dovetail of the matching barrel, and then soldered. To give extra strength to this already muscular design, the receiver and barrels were forged from Winchester's proprietary chrome-molybdenum Proof Steel, developed especially for the Model 21 but subsequently used on other Winchesters as well.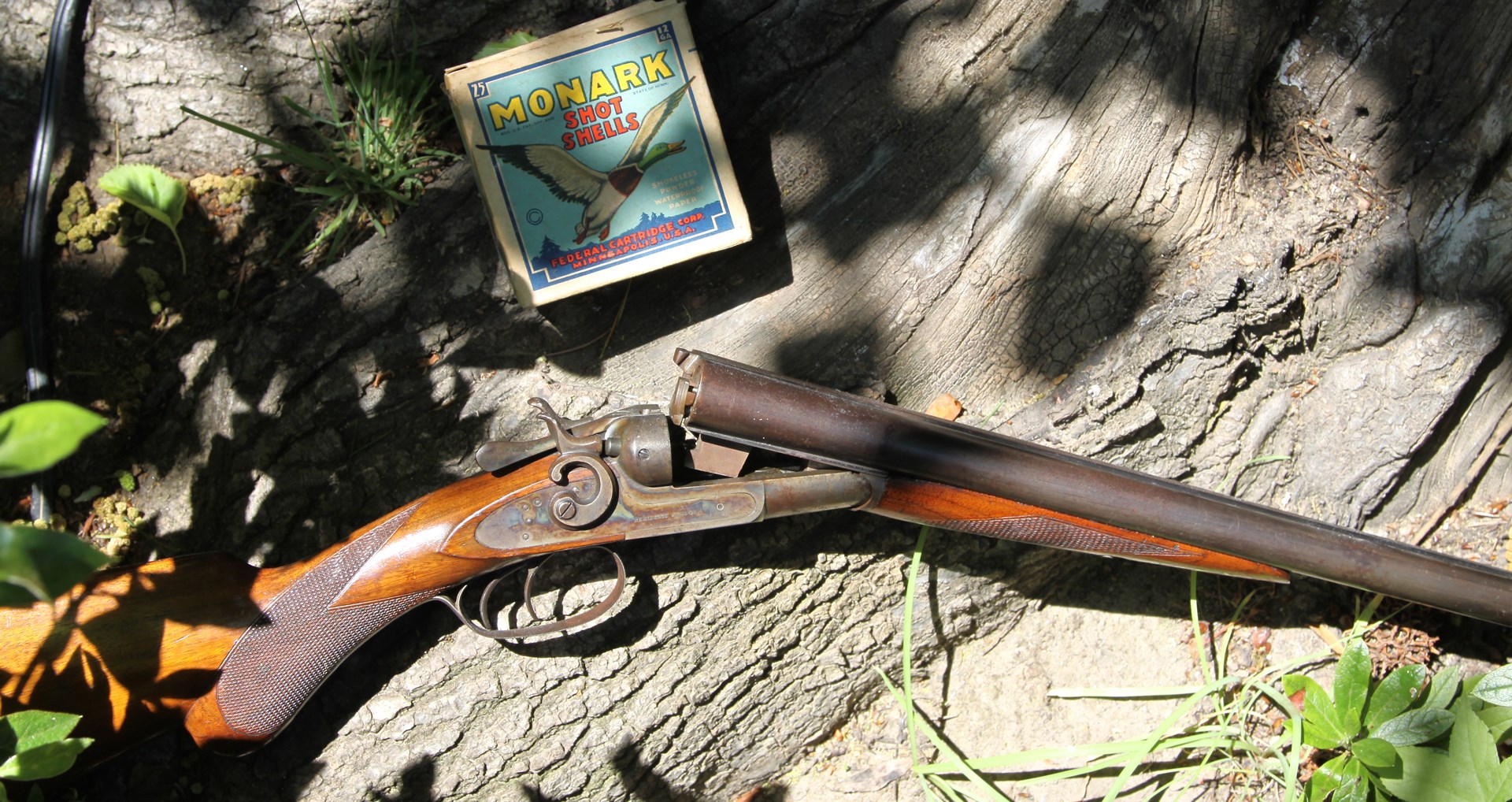 Older shotguns, such as author's Remington New Model 1889 (above), with its matted rib, rebounding hammers, case hardened sideplates, and hand-checkered pistol grip, should only be fired with low-pressure loads using Bismuth or lead shot; these guns were not made for steel or tungsten shot.
Unfortunately, all these innovations came at a price. Making its ill-timed appearance during The Great Depression, the Model 21 emerged as an extremely expensive shotgun. If it had not been for John Olin, whose Western Cartridge Company purchased Winchester Repeating Arms in 1931, the Model 21 would have been discontinued. But Olin, an avid wingshooter, appreciated the innovative Model 21 and kept the shotgun in the line. Consequently, Louis Stiennon, one of Winchester's research and development men, redesigned the gun's original twin triggers with a single selective inertia-driven trigger that prevented doubling and enabled shooters to choose which barrel fired first (it has since been copied by other shotgun companies). Numerous special-cost options through the years ended up with the Model 21 practically becoming a custom gun, and Winchester claimed to have lost money on every Model 21 it made. The company finally stopped taking orders for it in 1991, but Connecticut Shotgun Manufacturing Company now makes identical guns under its own name, using much of the original machinery.
As I learned more of the original Winchester 21's attributes, it only increased my desire to own one. But my acquisition of this shotgun was perpetually thwarted by its high price, even on the used gun market. Undaunted, I continued my search until, one day, I located a fair-priced 1946-vintage Skeet Model with 26" barrels, which I discovered while taking a break during a Midwestern pheasant hunt, in a Cabela's used gun rack in Sidney, Neb. Needless to say, after shouldering the gun numerous times and sighting down the barrel at imaginary birds, I bought that gun before leaving the store, as it fit me perfectly. Besides, as I soon found out, those twin tubes with Winchester's proprietary Skeet 1 and Skeet 2 chokes make it hard to miss any upland game that flushes within 35 yards.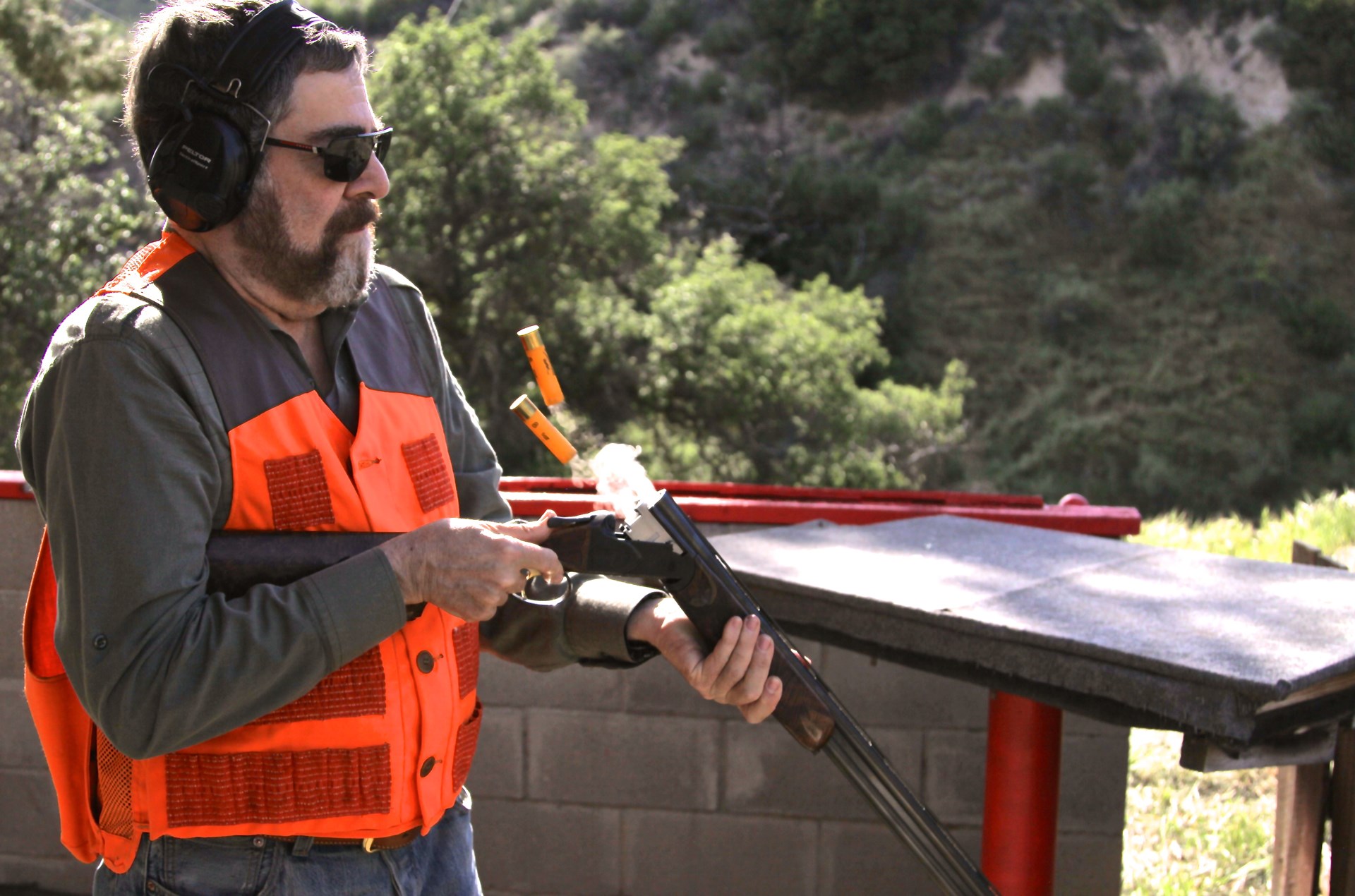 Ejection with the Connecticut Shotgun Mfg. Model 21 Over-Under is swift and powerful.
Another open choke double that has helped me bag enough upland birds to save me from embarrassment is a Winchester Model 101 over-under that used to belong to my friend, the late actor Chuck Connors, of TV's The Rifleman. Chuck loved to shoot but he hated to clean guns, so he would invite my wife and me up to his Medicine Hat Ranch in Tehachapi, Calif., where I would gladly clean and oil his rifles and shotguns and have an enjoyable weekend reminiscing with the actor. But I always wondered why Chuck's Winchester 101 only had the upper barrel fouled; the lower barrel was usually clean.
When Chuck passed away in 1992, I was fortunate enough to acquire his Model 101 and soon found out why only the top barrel was usually fouled; with that gun's open choke, Chuck always hit his bird with the first shot; he never needed that second barrel. I, of course, have almost always used both barrels, and once I even made a triple with that 101, hitting two grouse that flushed in line with my first shot and dropping a third bird with the second barrel (yes, I have witnesses). That over-under convinced me to purchase one of Connecticut Shotgun Mfg.'s Model 21 over-under Model 21s—a 20-ga. gun Winchester never made but one that duplicates the same workmanship and basic design.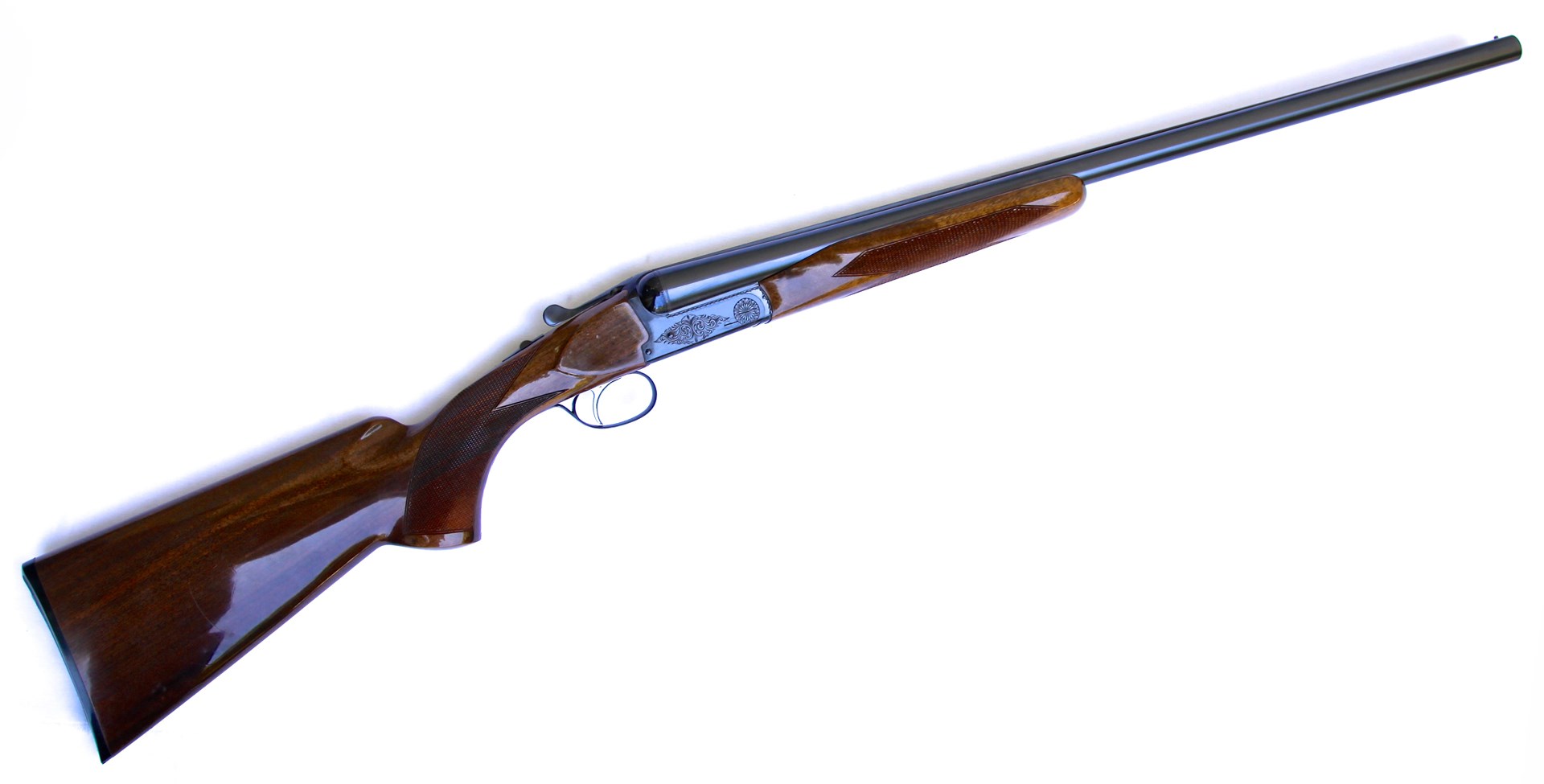 The Browning BSS side-by-side was an excellent shotgun that is no longer made. After writing a positive article about his test gun, the author returned it to the factory and later regretted his decision. He ended up buying this one, years later, on a Lock, Stock and Barrel online auction (lsbauctions.com).
There's a lot to be said for over-under shotguns—another type of "double." For one thing, you only have one barrel to sight down, which many shooters find easier to get on target with, although even with a side-by-side you are only sighting with the center rib, ignoring the barrels on either side of it. Still, many competitive shotgunners feel recoil is more controllable with an over-under, although for hunting, I have found no real advantage of one over the other.
And that is why, unless you're being attacked by a crazed covey of winged aggressors as in Alfred Hitchcock's horror movie, "The Birds," you rarely need more than two shots. Besides, after the Federal Migratory Bird Act of 1934 was passed, all repeating shotguns now come with a removable plug that limits magazine capacity to two shells. Which is really all you need for hunting and is why I say, when it comes to shotguns, make mine a double.
Article by RICK HACKER
Don't forget to like us on Facebook and follow us on Twitter.