2021 Holiday Gift Guide
Check out these gun-related products for that firearm-enthusiast friend or loved one. Whether he or she spends time at the range, tinkering with their guns in the shop, in their special space at home, whipping up food and drink in the kitchen, driving to or from work or in the outdoors, we've got you covered this holiday season, no matter your budget.
Man Cave/She Shed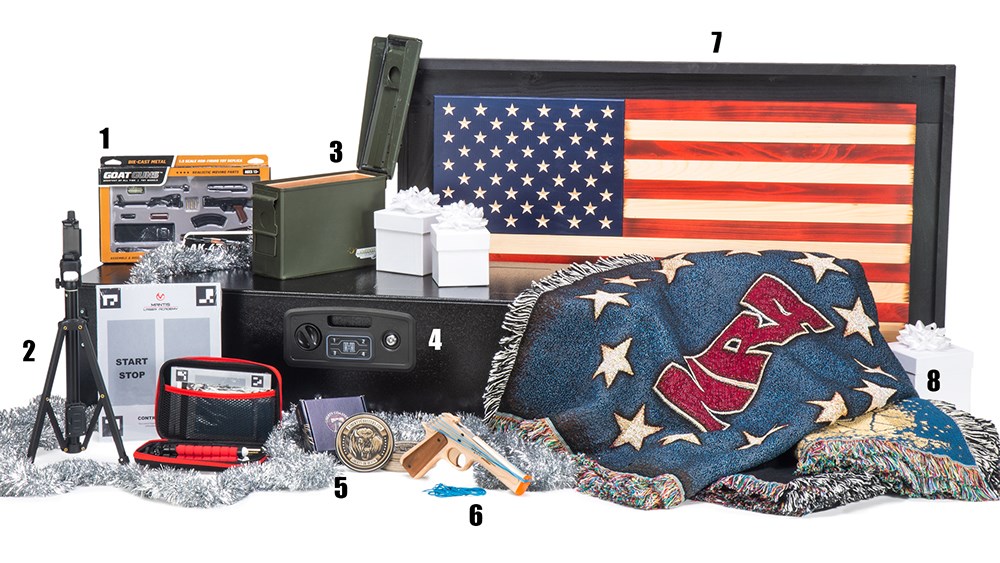 1 | GoatGuns Mini AK-47
At 11.5 inches, this non-firing, diecast-metal replica is the perfect 1:3-scale representation of history's most popular battle rifle, the AK-47. It snaps together and even comes with three dummy rounds that fit in the tiny magazine. $39.99; goatguns.com
2 | Mantis Laser Academy Training Kit
Available for both iOS and Android, this kit includes the full-access code to the Mantis Training Academy, Pink Rhino laser, two sets of targets, a mini and a large tripod with smartphone holders, laser cartridge-extraction stick and carrying case. It essentially creates a temporary training facility right in your home. $149; mantisx.com
3 | Ammodorm The 30 Ammo Can Cigar Humidor
Maintain your stogies in a constant state of readiness by storing them in an Ammodor, a repurposed military-surplus ammo can with Spanish Cedar lining and rubber gasket to keep them moist and fresh. Larger versions, travel models, powder-coated or hydro-dipped options and custom offerings are also available. $119; ammodor.com
4 | Hornady RAPiD AR Gunlocker XL
Offering touchless, RFID access via wristband, key fob or sticker or—alternately—keypad entry by security code, the RAPiD AR Gunlocker XL keeps your long guns secure, yet instantly available. It's large enough for two tactical-length rifles or shotguns and can be installed under a bed, in a closet or inside a vehicle. $593.99; hornady.com
5 | Liberty Coasters 18-Pack "Liberty or Death" Coaster Collection
Emblazoned with mottoes of freedom-loving patriots, American-made Liberty Coasters are eye-catching, collectible, cardboard coasters that let family and friends know where you stand even as they sit to enjoy a beverage. $17.76; libertycoasters.com
6 | Elastic Precision Model 1911 Rubber Band Gun
Loading faster than any other rubber-band gun on the market, the Model 1911 can then quickly and accurately fire six shots. It is fabricated from solid hardwood, available in maple, walnut or padauk and comes with 100 bands. $39.99; elasticprecision.com
7 | Flags of Valor Liberty Series Wooden American Flag
Founded with the intent of giving back and staffed largely by service-disabled veterans, Flags of Valor features hand-crafted, American-flag woodcuts as well as other patriot-themed products. Shown is the large, framed version of the Liberty Series flag. The company prides itself on contributing to veterans' and first-responders' charities. $499; flagsofvalor.com
8 | NRA Store NRA Homestead Throw Blanket
Available in three different, proud motifs, the oversize Homestead Throw Blanket is both decorative and practical. It's 100-percent cotton, machine-washable and made in the USA. Choose the Classic NRA Shield, Gadsden Flag or Betsy Ross Flag. $54.95; nrastore.com
---
Shop/Range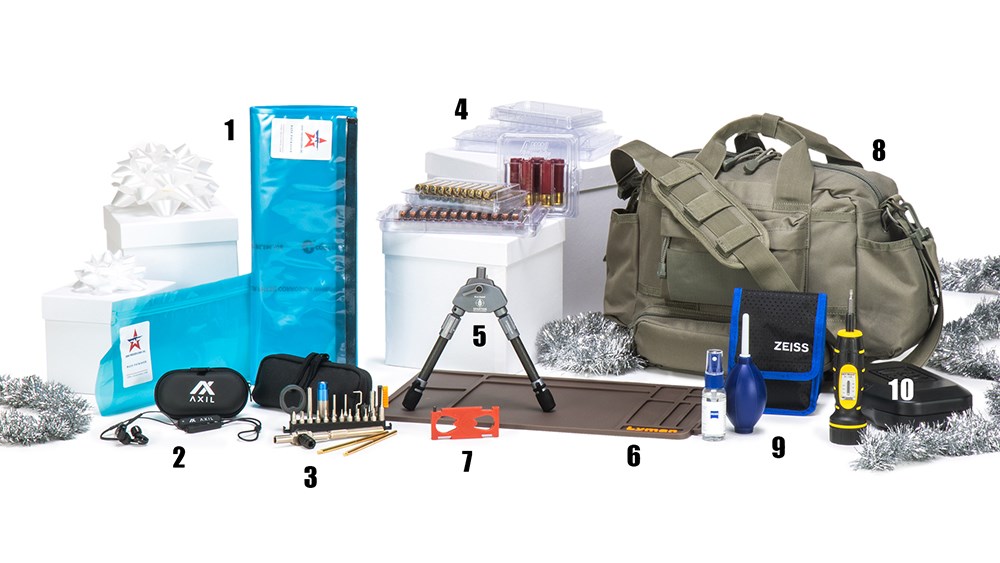 1 | Arms Preservation Inc. Pistol Storage Bag
Available for handguns or long guns, these bags meet short- or long-term storage needs for your guns, while keeping them clean and rust-free. The tear-resistant material is grease/oil-free, is safe for optics and leaves no residue behind. $9.59; apigunbag.com
2 | AXIL GS Extreme
AXIL GS Extreme offers the convenience of earbuds with Bluetooth compatibility and 29 dB of noise-reduction technology in a different type of electronic ear protection. Switch between 6X hearing enhancement and 5.0 Bluetooth audio or use both simultaneously for a unique range experience. $199; goaxil.com
3 | Fix It Sticks Compact Pistol Kit
This toolkit will keep your pistol running in peak condition while taking up minimal space in your range bag. Contents include a T-handle ratchet with specialty bits, a torque driver, two punches, a 1911 bushing wrench and a Glock sight tool, among others. $180; fixitsticks.com
4 | Clamtainer Ammo Buddy 9mm 50CT Ammo Box
Each Ammo Buddy features 50 individual cavities capable of orienting 9 mm (or .380 ACP) rounds primer up or primer down. Clear polymer construction allows easy verification of caliber and contents. Its patented Click-It Closure offers hassle-free, one-handed access. Ammo not included. $9.95 (five pack); clamtainer.com
5 | Spartan Precision Equipment Javelin Lite Bipod
Available in three lengths, this bipod weighs less than 5 ounces thanks to its aluminum construction and carbon-fiber legs. Interchangeable leg options and adjustable cant offer enhanced adaptability, while its magnetic attachment system makes swapping between rifles quick and easy. $145; javelinbipod.com
6 | Lyman Products The Essential Gun Maintenance Mat
The firm, synthetic-rubber surface of this mat allows you to safeguard your handgun's finish and workbench simultaneously. Molded-in storage compartments contain any spills while keeping small parts and tools organized and preventing them from rolling into oblivion during periodic cleaning/maintenance sessions. $16.98; lymanproducts.com
7 | Secure Firearm Products Firearm Pin Removal Tool
In addition to sporting cutouts for Commander- and Government-size 1911 bushings, this small, but versatile tool does more. Dovetails along two of its edges aid users in the installation/removal of a 1911's firing-pin stop. Subsequent dovetails are designed for use with different types of sights and are marked accordingly. $10.99; securefirearmproducts.com
8 | LA Police Gear Tactical Bail Out Gear Bag
Constructed from 600 Denier nylon, this bag features a main compartment large enough accommodate all variants of iPad, laptops and tablets of similar size. High-quality zippers are used throughout and there's even a hidden pocket for a full-size handgun. $29.99; lapolicegear.com
9 | Zeiss Optics Care Kit
Keep your scope's lenses clean with this convenient kit. The 2-ounce bottle of cleaning fluid cleans and removes dirt from lens surfaces without damaging anti-reflective, polarizing or other coatings. The included microfiber cloth is specifically designed for lenses and works wet or dry. $4.99; zeiss.com
10 | Wheeler Engineering Fat Wrench
Adjustable from 10- to 65-in.-lbs. of adjustment, this wrench ensures every screw on your rifle is properly torqued for maximum accuracy/performance. The included bits are constructed from S2 tool steel for added durability. $59.95; wheelertools.com
---
Kitchen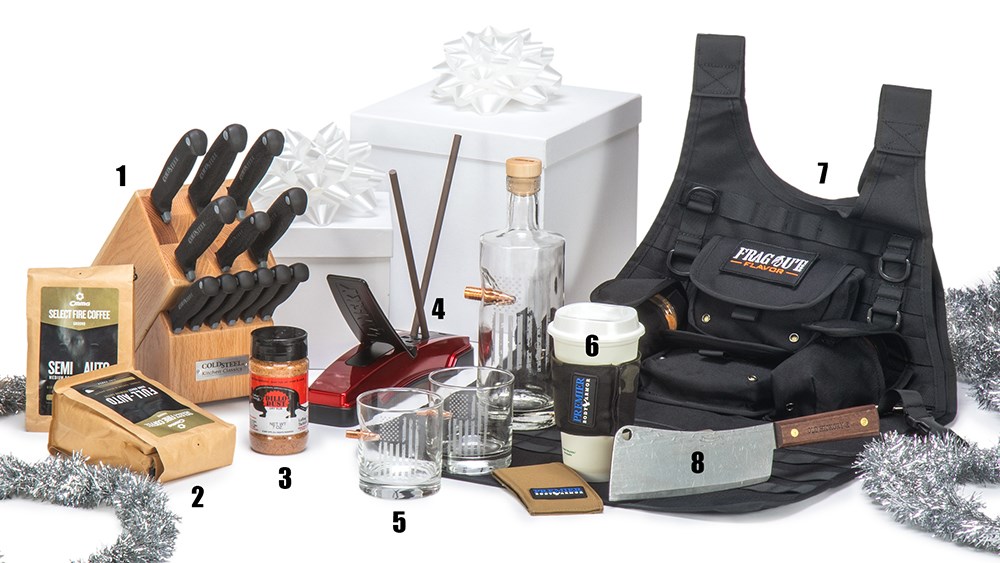 1 | Cold Steel Kitchen Set
This handsome 12-knife set from the legendary knifemaker includes six of the company's steak knives, a bread knife, a boning knife, the company's Chef's knife, a paring knife, a slicer knife and a utility knife, all in a lovely, wood presentation block. $269.99; coldsteel.com
2 | CMMG Select Fire Coffee
Add some Second Amendment-supporting pep to your step with coffee from one of the top AR-15 makers. Roasted in Missouri, Select Fire Coffee is available in Safe (light roast), Semi-Auto (medium) and Full-Auto (dark) and as whole beans or ground, both in 12-ounce packages. $12.95; cmmg.com
3 | LaRue Tactical Dillo Dust
Put some kick in your meats with this all-natural seasoning rub. It's gluten-free and has no MSG, no artificial colors and no added preservatives, so you can tell yourself that ribeye is health food. Dillo Dust is great for red meat, pork, chicken, shrimp and even vegetables, adding tons of flavor to any food. $19.99; dillodust.com
4 | Lansky Sharpeners Master's Edge Sharpener
Keep your kitchen and utility knives sharp with this versatile tool. It includes medium- and fine-grit rods, along with a ceramic rod for sharpening serrated blades. A non-slip base with three angle options makes keeping a blade finely honed a cinch, and the whole package folds away for storage. $59.99; lansky.com
5 | BenShot Whiskey Decanter and Rocks Glass Set
Add some class to your wet bar with this glass decanter sporting a Lehigh Defense, lead-free .50-caliber bullet embedded in its side. The rocks glasses sport similar .308-caliber bullets. Everything from the projectiles to the glass products themselves is made in the U.S. and provides superior flair to your fine adult beverage-serving style. $69.99; benshot.com
6 | Premier Body Armor Bulletproof Coffee Sleeve
Keep your hands safe from the heat of a coffee cup, and keep your coffee super safe with this NIJ Level II ballistic panel coffee sleeve. An outer shell of 500D Cordura provides durability, while the actual ballistic-protection inside is effective against most handgun rounds. You might leak, but your coffee cup will remain hole-free. $29.95; premierbodyarmor.com
7 | Frag Out Flavor Tactical Apron
Show off your readiness whilst grilling with this MOLLE-festooned apron. It comes with two pouches that fit the company's seasoning bottles, along with two additional large pouches for other barbecuing needs. The pouches can be moved anywhere on the apron, which also features three large pockets toward the bottom. $69.99; fragoutflavor.com
8 | Ontario Knife Company Old Hickory Cleaver
A must-have kitchen tool for anyone who cooks meat or poultry, this cleaver features a hardwood handle and a 1095 carbon-steel blade that retains its edge better than stainless steel. Handwashing, drying and a light coat of vegetable oil are recommended to prevent rust. $29.07; ontarioknife.com
---
Vehicle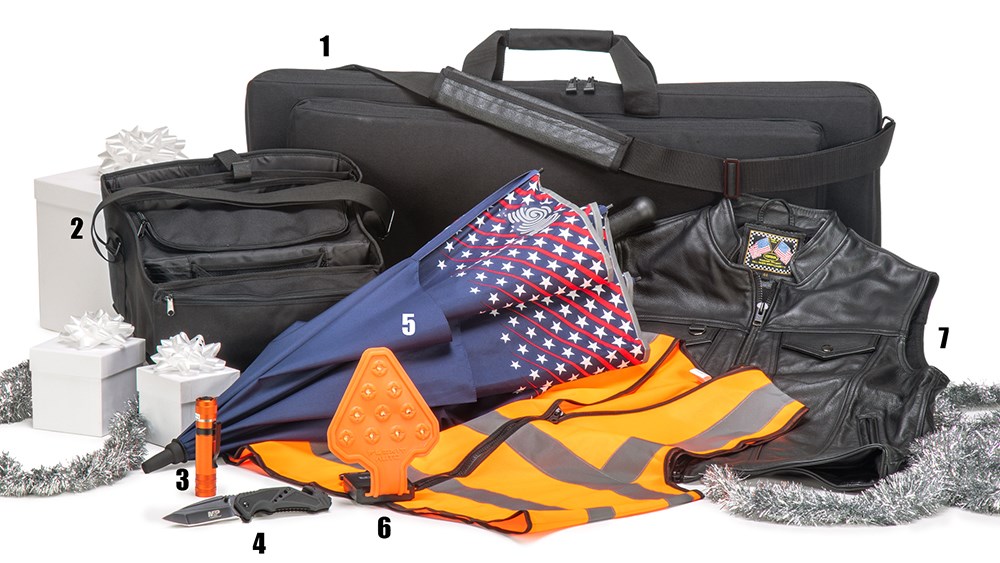 1 | Blackhawk Homeland Security Discreet Case
For the low-profile transport of long guns and accompanying accessories, the Homeland Security Discreet Case is the perfect option. The case features an external zipper pocket with hook-and-loop attachment points and stows conveniently in the backseat or trunk of a vehicle. $112.45; blackhawk.com
2 | Uncle Mike's Deluxe Car Seat Organizer
If you're looking for a quick and simple way to organize all the gear in your vehicle, the Deluxe Car Seat Organizer is an ideal solution. The organizer not only stores gear in easy-to-access compartments, but also allows you to transport that same gear between vehicles, workbench or range with incredible ease. $33.95; unclemikes.com
3 | Coast PX1R Flashlight
Coast's rechargeable PX1R features pure beam focusing and is fully rechargeable, making it the perfect companion for a vehicle or as an EDC flashlight. The Flex Dual Power system can harness either lithium or alkaline power using a micro-USB cord. Impact resistant, the PX1R utilizes an incredibly rugged LED. $49.99; coastportland.com
4 | Smith & Wesson Tanto Folding Rescue Knife
This liner-lock folding knife is insanely durable and features a high-carbon, stainless steel tanto blade with ambidextrous thumb studs, ramp jimping and index flipper. The black G-10 handle also includes a glass-breaking tool, pocket clip for EDC purposes and a strap cutter, making it ideal for emergency use in a vehicle. $29.99; smith-wesson.com
5 | Weatherman United Folds of Honor Umbrella
This golf umbrella is the perfect companion for the course or range and features industrial-strength fiberglass construction that can withstand up to 55 mph winds. Best of all, every umbrella sold results in a $5 donation to the Folds of Honor Foundation. $89; weathermanumbrella.com
6 | Stkr Concepts FLEXIT Auto Flexible Flashlight
Ideal for situations that leave you stranded on the side of the road, the FLEXIT Auto Flexible Flashlight features a fully flexible body with 200-lumen, front-facing, white LED lights and rear-facing red hazard lights. The Shape-Loc frame, plus four night modes, make this weather-resistant light an optimal accessory for any vehicle. $34.99; stkrconcepts.com
7 | Vanson Leathers Revolver Denim Style Vest
Perfect for use while riding your motorcycle, this deep, leather-lined, concealed-carry vest utilizes a gun pocket and is made in the USA. The deep-CCW pocket is attached to the front facing, preventing the pocket from ruining the lining, sagging or printing, yet giving you easy access. Built with the highest-quality materials, the vest also features ample pockets for cell phones and other gear. $339.15; vansonleathers.com
---
Outdoors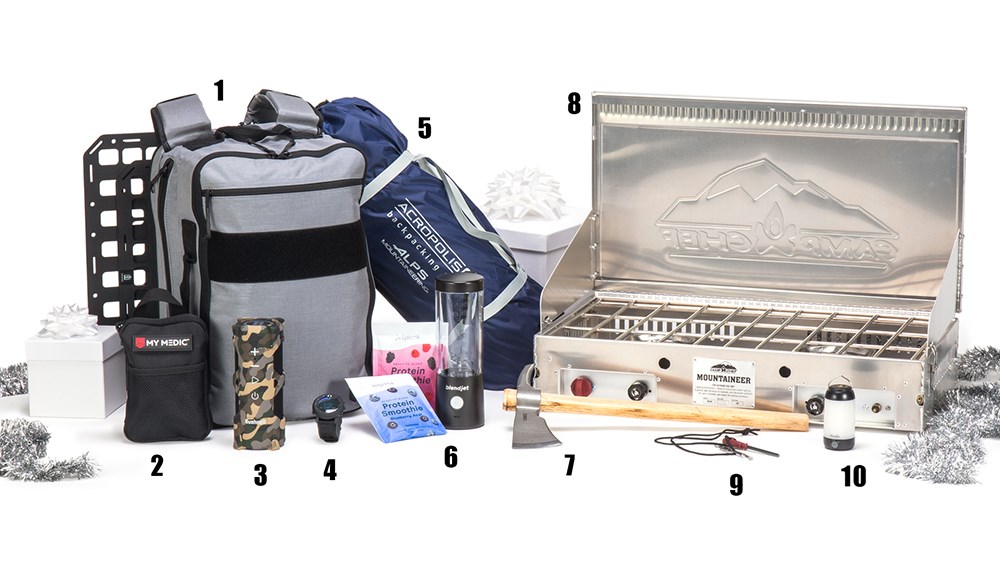 1 | Grey Man Tactical Stealth 20L Backpack
Whether configured with the company's Rigid MOLLE Panels or just left open, the Grey Man Tactical Stealth 20L Backpack will tote plenty of your gear to and from the campsite. With a 180-degree opening, it's easy to pack, and once loaded up you won't attract attention with its subdued styling. $149.99; greymantactical.com
2 | MyMedic The Solo First Aid Kit Pro
When you're miles from the nearest road, let alone the closest urgent care, having a comprehensive first-aid kit is crucial. With a tourniquet, trauma sheers, QuikClot and other emergency items alongside more standard fare like ibuprofen, sunscreen and gauze, you'll have plenty available when help is a long way away. $99.95; mymedic.com
3 | Bushnell Outdoorsman Bluetooth Speaker
When communing with nature, what better way to relax than with some tasty tunes?  Bushnell's new Outdoorsman Bluetooth speaker not only has a rubberized exterior to protect it from damage, but it can also run for 10 hours on a single charge—and it can charge your phone, too. $199.99; bushnell.com
4 | Suunto Core Alpha Stealth Watch
If hiking is your thing, the Core Alpha Stealth watch from Suunto has plenty of features you'll like. The Core Alpha has an altimeter, barometer, compass and weather information available, and if you prefer off-grid, it's not GPS enabled, so no one can track you. A single CR2032 battery powers the watch for about a year, so it doesn't need charging. $299; suunto.com
5 | Alps Mountaineering Acropolis 3-Person Tent
Getting away from it all is simpler in a tent, but you don't have to rough it. Freestanding poles, factory-sealed seams and UV-resistant sides and floor make the Acropolis 3-Person tent a rugged home in the woods. Twin vestibules for gear storage along with a mesh loft pocket offer room for plenty of creature comforts. $299.99; alpsmountaineering.com
6 | Blendjet Blendjet2 Portable Blender
Just because you're out in the elements doesn't mean you can't have some of the comforts of home. Whether it's a refreshing smoothie or your favorite frozen-margarita mix, the Blendjet2 can whip it up while you're in the woods. USB-rechargeable, it's good for 15 uses or more per charge and is easy to clean. $49.95; blendjet.com
7 | CRKT Woods Kangee T-Hawk
Splitting wood for a campfire is a lot easier with the Woods Kangee T-Hawk from CRKT. A 4.2-inch long, 1055 carbon-steel blade that's .4-inch thick will make short work of logs and kindling, while the Tennessee hickory handle gives leverage and balance. It weighs slightly less than 2 pounds. $69.99; crkt.com
8 | Camp Chef Mountaineer 2-Burner Stove
Lightweight while still quite rugged, the Mountaineer 2-Burner stove runs on either standard 20-pound propane tanks like your grill at home, or on the portable 1-pound canisters with a separate adaptor. Matchless ignition, twin 20,000-BTU aluminum burners and three-sided windscreens let you cook in most any conditions. $380; campchef.com
9 | Buck Knives 837 Selkirk Firestarter
Once you've got the wood for your campfire, starting that fire will be a cinch with the Selkirk Firestarter. A 2.25-inch ferrocerium starter contained in a polymer handle works with a striker notch in a multi-tool that also contains a hex driver, bottle and can opener and flathead screwdriver. $22.99; buckknives.com
10 | Fenix CL26R High Performance Rechargeable Camping Lantern
Don't be fooled by its size—the CL26R puts out up to 400 lumens. With both white- and red-light outputs, eight different settings can be chosen with up to 400 hours of run time. On the lowest white light setting, 40 lumens of light can run for 30 hours—definitely enough to get through the weekend in a tent. $59.95; fenix-store.com
Article by SHOOTING ILLUSTRATED STAFF
Don't forget to like us on Facebook and follow us on Twitter.