.45 Colt/.410 Bore Handguns Versus Non-NFA Shotguns
Among my favorite shooting-sports hobbies is exploring the performance potential of the more unusual handguns in the marketplace. Itty bitty 'mouse guns,' the big-bore snubby revolvers, uncommon grip frame configurations and some of the downright unusual designs have all caught my eye over the years. And if I had a vote, I would love to see more unique guns in production like the H&R Model 999 break-top revolver.
Among the more controversial types of handguns that I started working with several years ago were the dual-caliber models chambered to fire both .45 Colt revolver cartridges and .410 bore shotgun shells. The various revolvers, derringers and break-action single-shots were intriguing due to their intended ammunition flexibility, the divisiveness they drove in the shooting community and the lack of a substantial body of performance data to either support or refute the claims of the enthusiasts who adopt or reject them.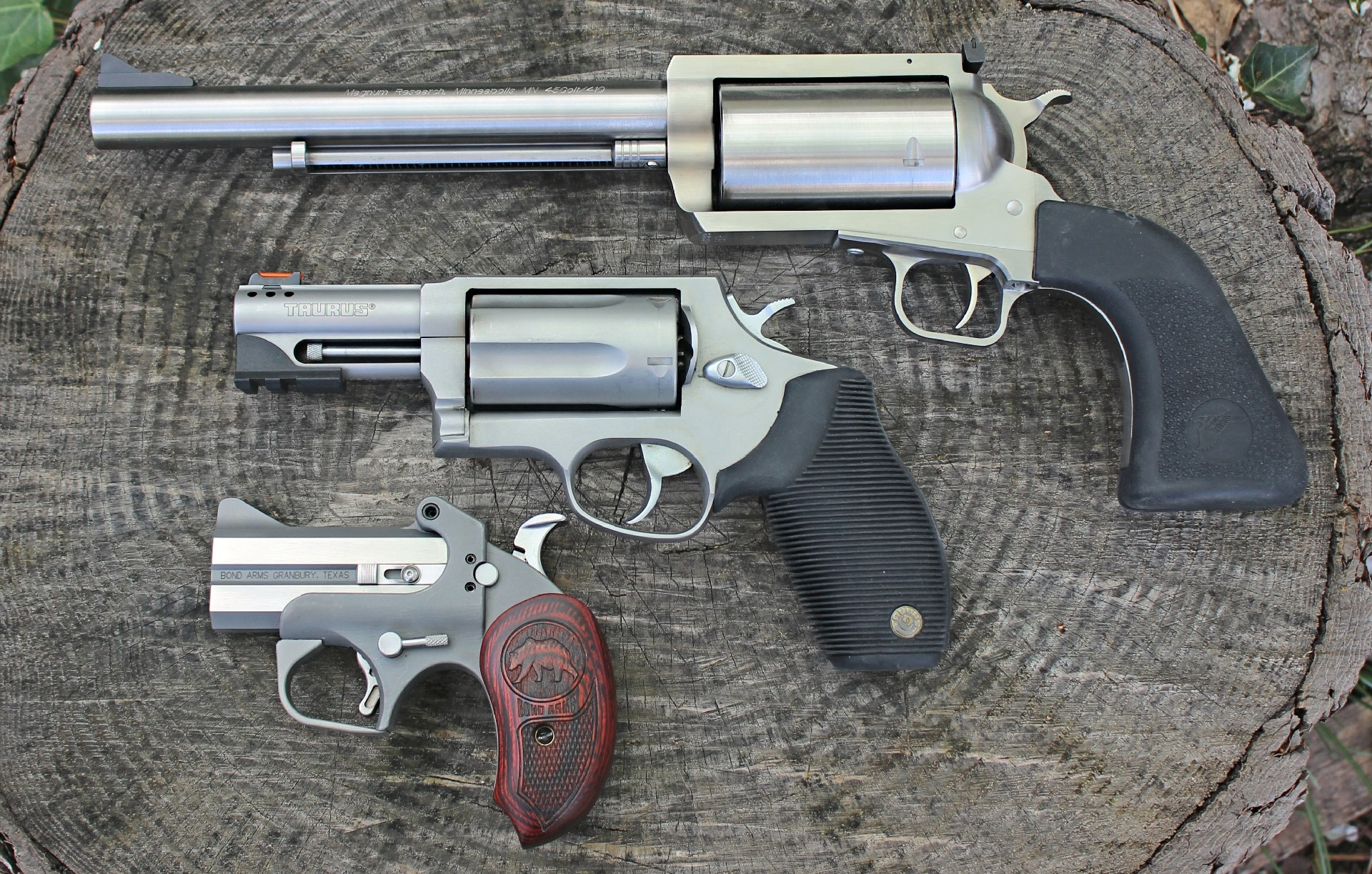 Handguns that can safely fire .410 bore shotshells are available in a variety of configurations including single-action revolvers, double-action revolvers and over/under derringers.
Let's take a closer look at how these guns do and don't work, along with the alternatives that non-NFA firearms do, and don't provide.
The Somewhat Confusing .45 Colt/.410 Bore Handguns
The history of .410 bore-chambered handguns is fairly diverse with more than 30 years of production to consider. But for this conversation, I want to get right to the unique design, performance and legal challenges of these platforms.
Handguns chambered for .45 Colt and .410 bore shotshells are mechanically feasible due to these revolver and shotshell cartridges sharing some features in common. Other external dimensions are just close enough to share the same platform. For example, both have a cartridge rim thickness of 0.060″ with a rim diameter of 0.512″ for the .45 Colt and 0.535″ for the .410 bore. The cartridge base diameters are 0.480″ and 0.470″, respectively, while other measurements are similar, but not quite the same. The .45 Colt operates at higher pressure levels (a SAAMI maximum of 14,000 psi), which is compatible with the lower operating pressures of .410 bore shells (12,500 psi to 13,500 psi depending on length).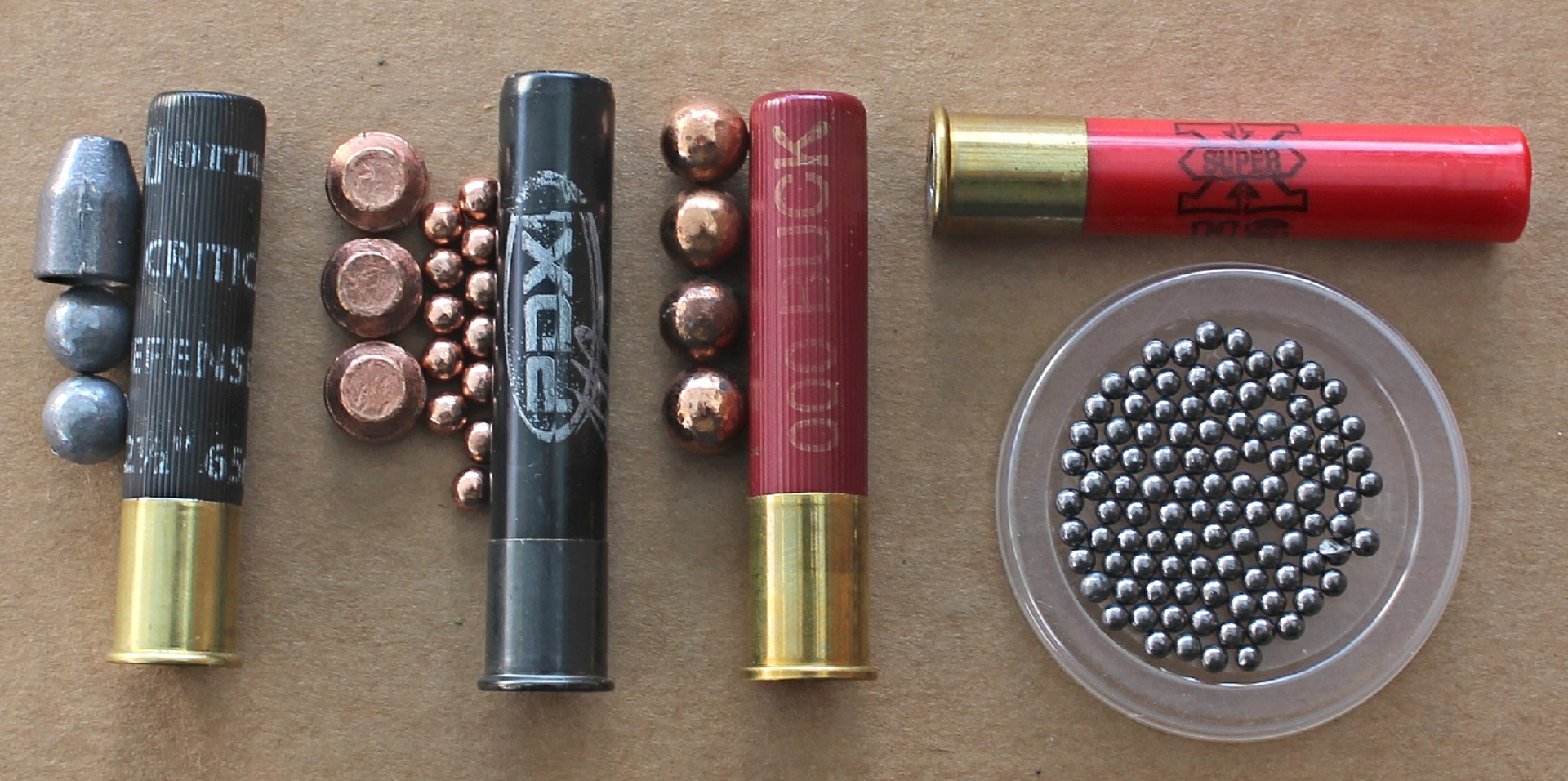 The popularity of the Taurus Judge inspired the development of mixed payload shotshells in addition to traditional buckshot and birdshot loads.
The most notable dimensional differences between the two rounds is the overall length and projectile size. The .45 Colt has a case length of 1.285″ and fires 0.452″-diameter bullets. Typical .410 shells are between 2.5″ to 3″ long, before they are crimped, and they launch 0.410″ projectiles when loaded with slugs. When it comes to making a safe and reliable two-caliber handgun, the larger dimensions win. This is why .45 Colt-chambered handguns have .452-cal. bores, with rifling to match, along with cylinders and frames elongated to fit .410 bore shells.
But these various accommodations for cartridge and platform differences come at a cost to performance. Shotgun shells are, for the most part, intended to be fired from shotguns through smoothbore barrels between 18.5″ to 28″ in length. The .45 Colt/.410 bore handguns are fitted with much shorter rifled barrels with bore lengths ranging from a stubby 0.5″ for some derringers to 10″ for the beefy Magnum Research BFR.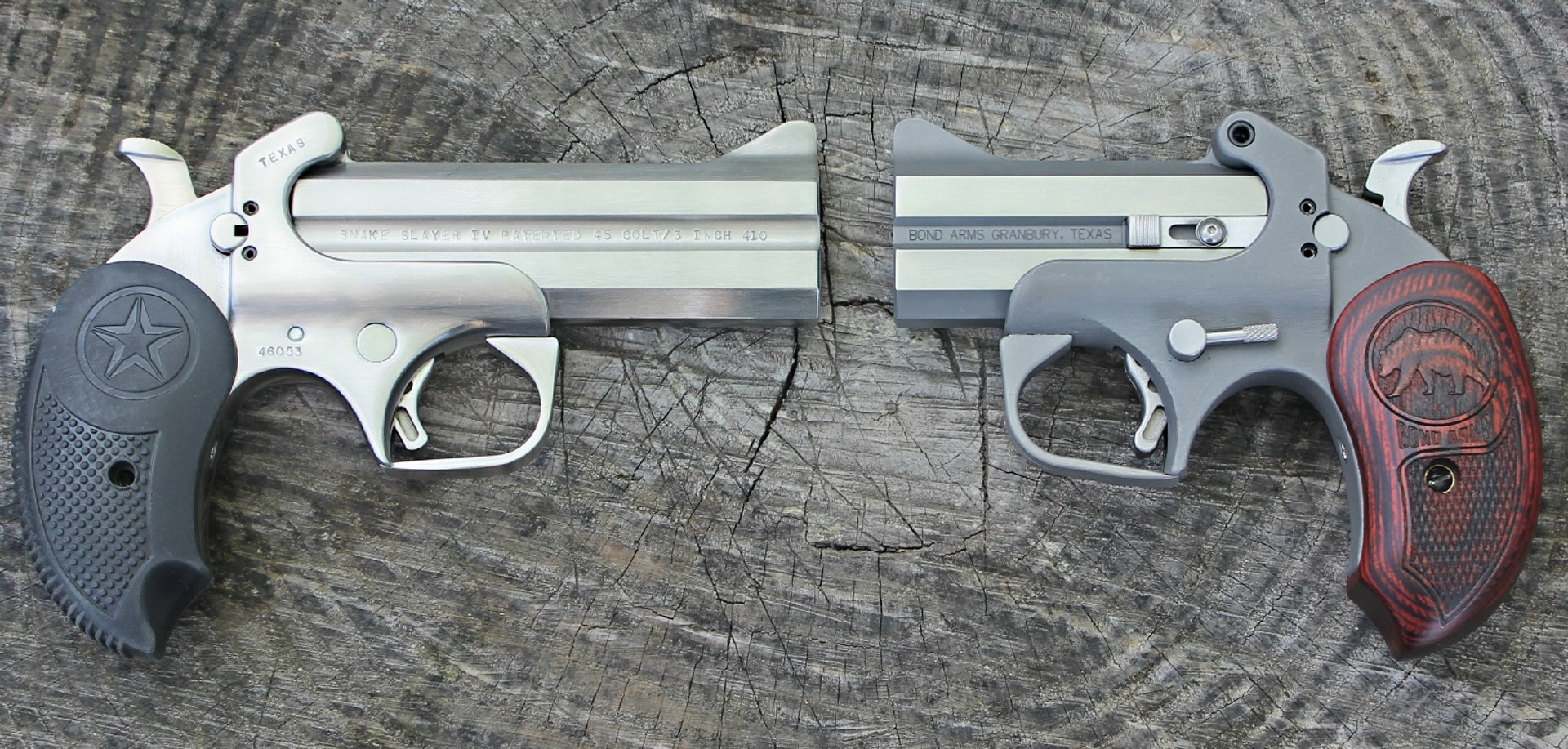 Bond Arms flagship .45 Colt/.410 bore stainless steel double-barrel pistol was launched in 1995, more than a decade before the Taurus Judge. 
Shortening the barrel this much will obviously reduce a .410 bore shell's velocity potential while causing shot patterns to open up more quickly. The same rifling that works so well to stabilize revolver bullets puts a spin on shot loads. This spin causes the shot patterns to open up even more quickly, especially when firing shells loaded with birdshot.
Just how much does the pattern open up? Our typical .410 bore shotgun testing procedures call for paper targets to be set at 25 yards to capture birdshot and buckshot patterns, like this evaluation of the 19.8″ barrel Henry X Model lever-action. When I had the opportunity to test the Henry Axe, which uses the same action as the X Model, we rolled the target back to 10 yards to accommodate the shorter 15.125″ barrel. When patterning .45 Colt/.410 handguns with shotshells, I start at 5 feet. That's right, feet! The targets are then moved out at 5' intervals out to about 7 yards, depending on how the patterns look. There's a big difference in performance.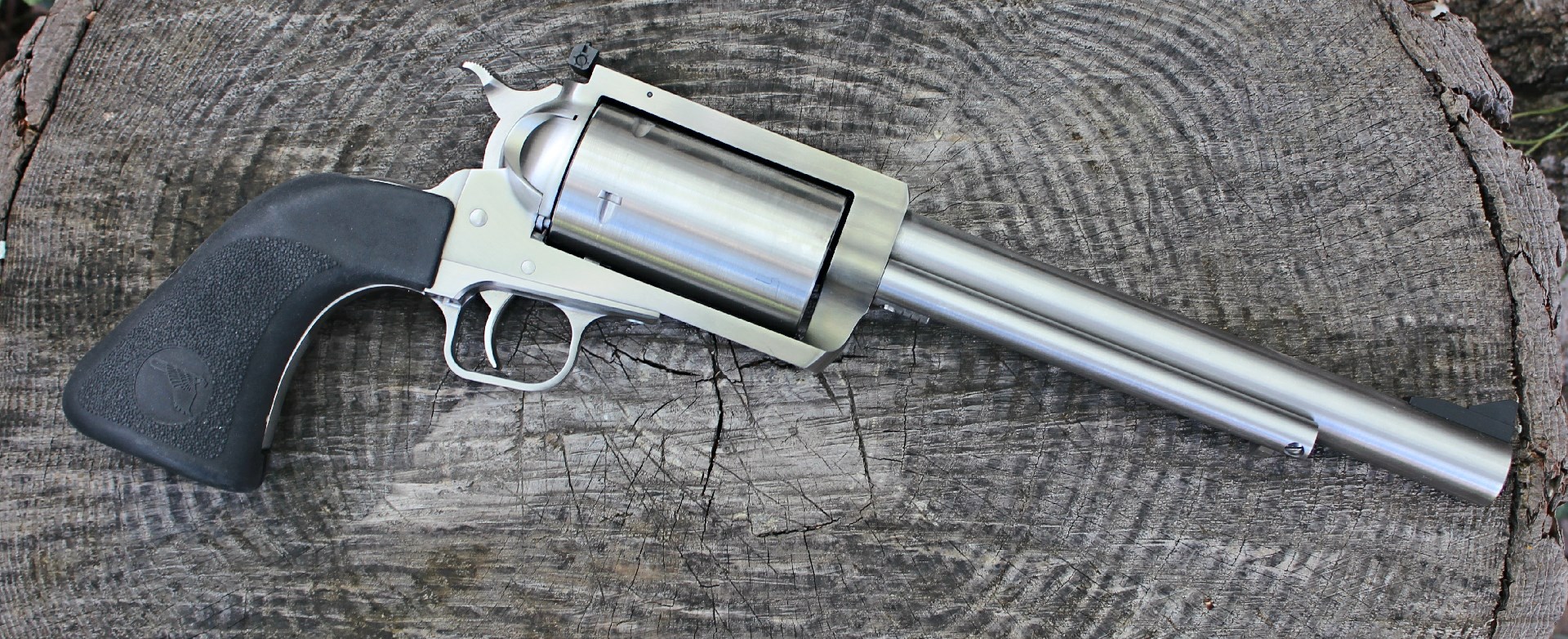 The Magnum Research BFR's barrel is threaded for a choke tube intended to help mitigate the rapid spread of .410 bore birdshot loads.
One might ask, would it be better to load .45 Colt/.410 handguns with .45 Colt ammunition? Actually, there's a performance limitation here as well. The longer cylinder or chamber extends the distance a .45-cal. bullet must travel before it hits into the barrel's forcing cone. This in turn affects the bullet's stability, which translates into larger groups down range. A quality cartridge launching a modern jacketed bullet can comfortably print 3″ to 3.5″ groups when fired from a dedicated .45 Colt revolver at 25 yards. That same round may only be able to produce those same levels of accuracy at between 7 to 15 yards when fired from a .45 Colt/.410 handgun.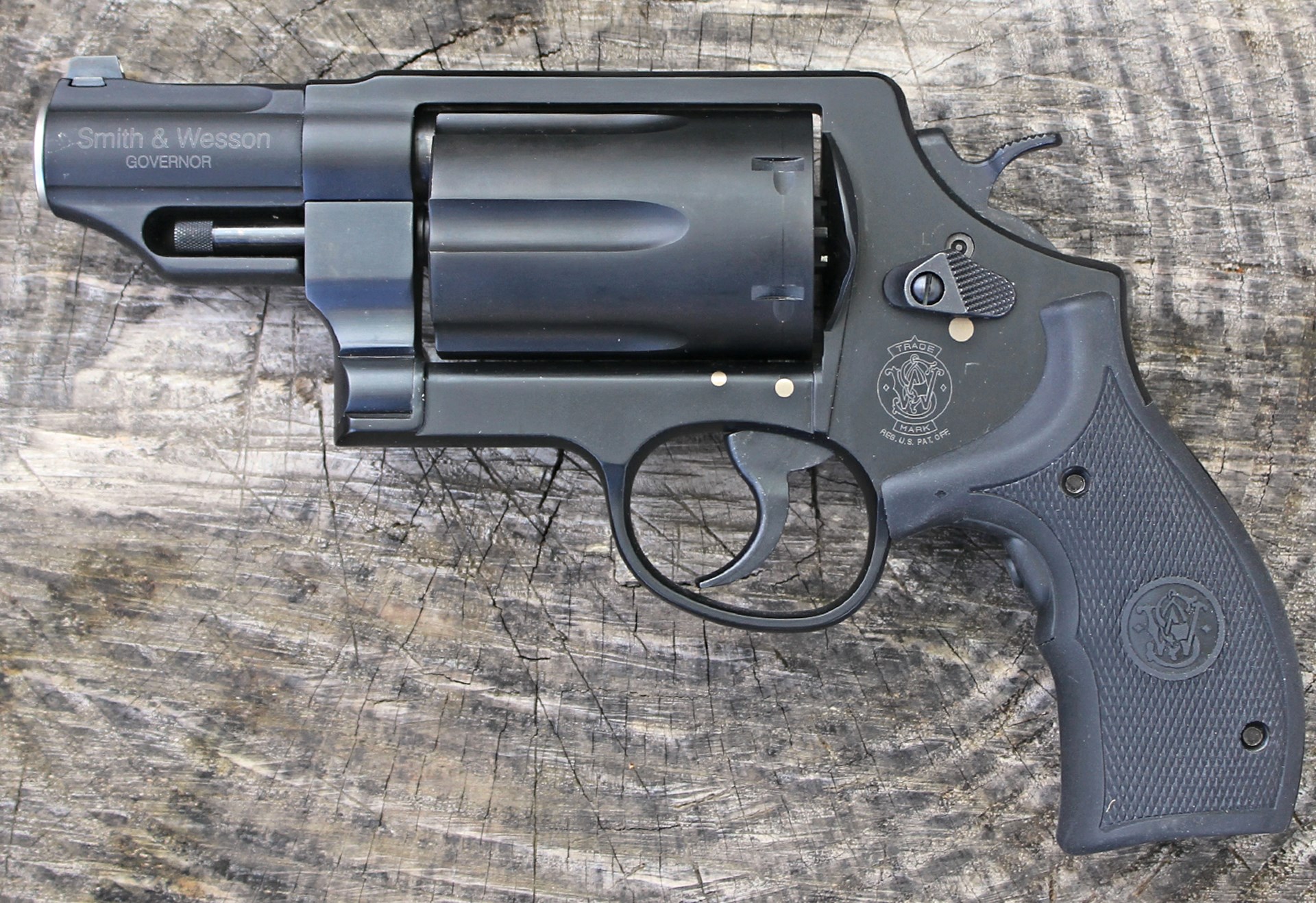 The Smith & Wesson Governor has a six-shot cylinder milled for moon clips so that it can fire .45 ACP pistol cartridges in addition to .45 Colt and .410 bore.
Then what's the sense in building a revolver or pistol chambered for these munitions when performance is less than optimal with both?  It's a well-thought-out workaround for a piece of gun legislation better known as the National Firearms Act of 1934. This act regulates the ownership of smoothbore handguns, which are classified as short-barrel shotguns. They are not illegal to own, per se, but one must traipse through the same legal processes, paperwork and fees as those required to legally obtain a tax stamp for a machine gun, short-barreled rifle or a sound suppressor.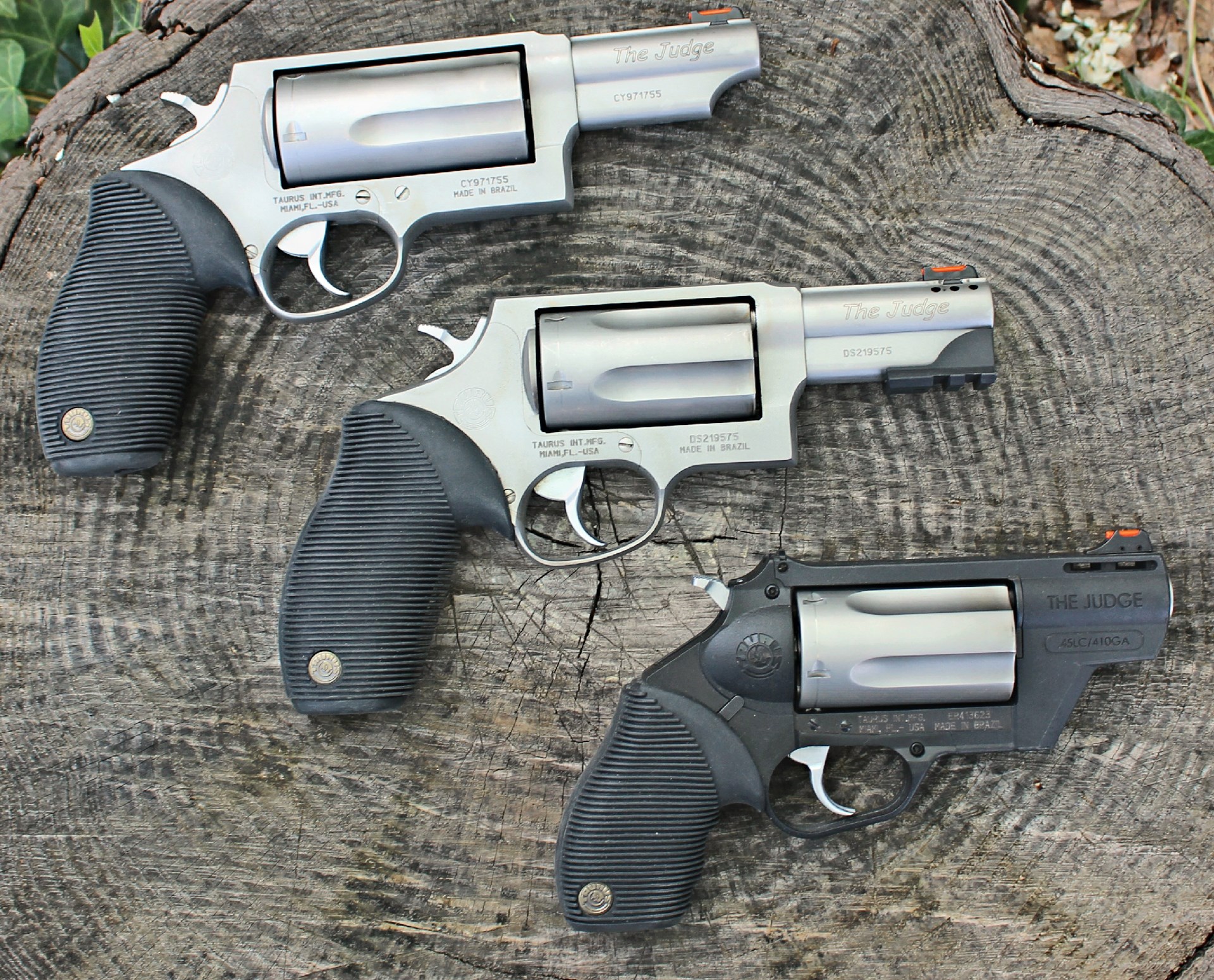 The Taurus Judge, currently available in 14 configurations, is arguably the most popular .45 Colt/.410 handgun to reach the market.
However, NFA restrictions do not apply to rifled .45 Colt revolvers that can also safely chamber and fire .410 bore shells. This is why the barrels are stamped '.45 Colt/.410,' along with having rifled bores and chambers sized for .452-cal. projectiles. Otherwise they could not be sold over-the-counter like typical 'single-caliber' handguns. The design also takes advantage of two well-established cartridges that are relatively common and easy to find.
Non-NFA .410 Bore Firearms
Another interesting twist in NFA regulations are guns that fall into the category of 'firearm.' Among the more well-known commercial options in this niche is the 12-ga. Mossberg 590 Shockwave, which was first released in 2017. Although it's based on a shotgun action, fires shotshells and has a shorter 14″ barrel, it does not qualify as either a short-barrel shotgun or a shotgun. Because it ships from the factory with an angled pistol grip, which gives it an overall length just over 26″, it is a 'firearm' that does not fall under the NFA purview. But it should be noted that guns like this have been banned in some states. Once the 12-ga. Shockwave caught on, other models chambered in 20-ga. and .410 bore soon joined the Mossberg lineup along with other manufacturers adding similar models to their portfolios.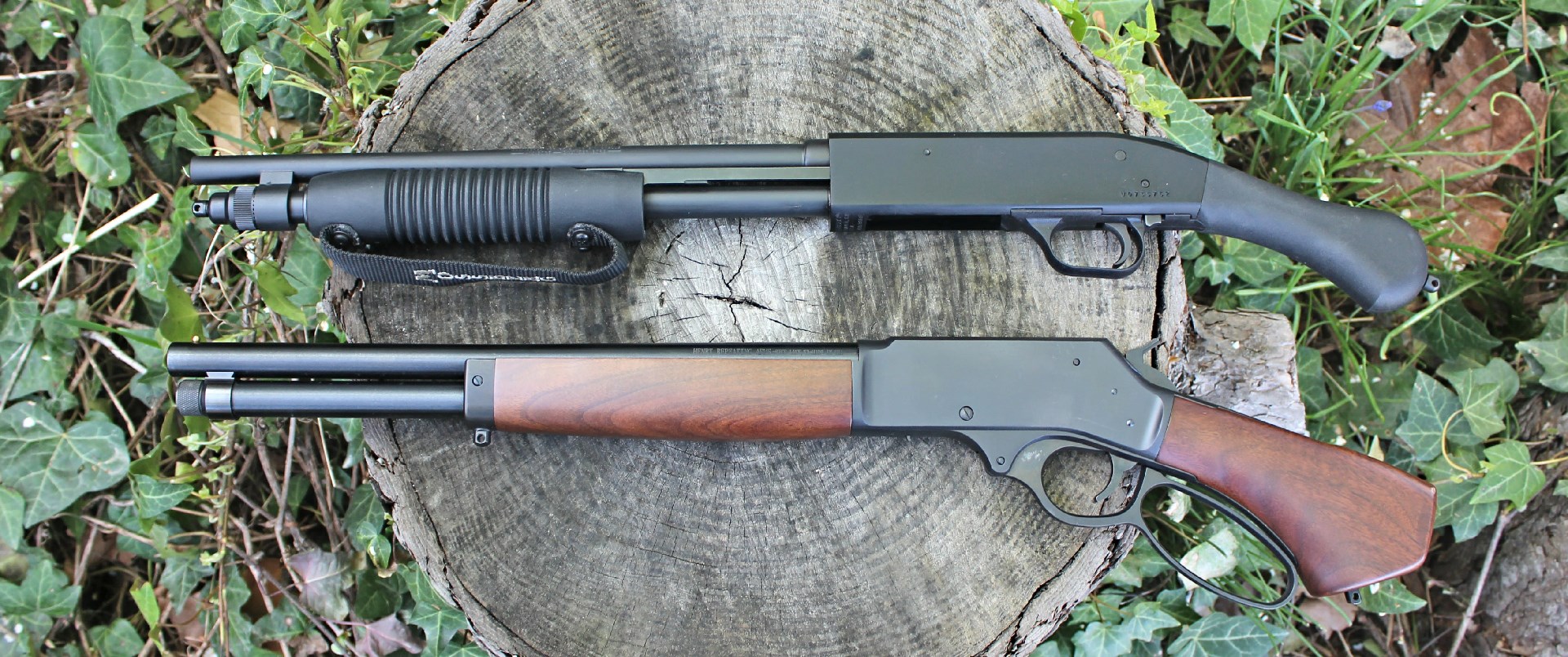 Non-NFA firearms chambered for .410 bore shells include the pump-action Mossberg 590 Shockwave (top) and the lever-action Henry Repeating Arms Axe (bottom).
What do non-NFA firearms have going for them when compared to .45 Colt/.410 bore handguns? They have dedicated .410 bore platforms with longer smoothbore barrels designed specifically for that cartridge. I've patterned the .410 bore Shockwave's fixed, cylinder-bore choke on a 14″ barrel at 7 yards using a variety of loads. Pattern results were similar enough to an 18.5" Mossberg Persuader to be useful at this distance. In essence, the range results showed that non-NFA firearms perform at the levels they were hoped for, but not fulfilled, when firing the same .410 loads from .45 Colt/.410 handguns.

The 14" barrel Mossberg 590 Shockwave .410 bore (bottom) compared to the 18.5" barrel Mossberg Persuader (top).
But once again, the platform tradeoffs are self-evident. The non-NFAs are smaller, lighter and handier than standard shotguns, but they are still too long and heavy to be carried in hip holsters like duty-type handguns. And any modifications that would make a non-NFA firearm more handgun-like, such as a shorter barrel or a vertical pistol grip, will cause it to fall into the short-barrel shotgun classification with the associated NFA restrictions. So once again, NFA regulations keep the gun some of us are looking for just out of reach.

Built using the same action as the company's .45-70 Gov't. rifle, the Henry Axe may well be the toughest .410 bore firearm available. 
As-Is Versus Could Be
Years ago, I remember a radio talk show movie reviewer sharing a bit of sage advice. He said that a film should be judged for what it is, not for what the audience expected it to be. It's not uncommon for folks to have already mentally written, produced and screened a movie in their minds before actually seeing it at the theater. Even though it's a well-made show, they may end up panning it because it doesn't play out the way they expected.
The .45 Colt/.410 handguns seem to be in this same situation. When the Taurus Judge caught on in the mid-2000s, many folks bought them thinking they were purchasing a .410 shotgun they could wear on their hip. But as discussed above, .410 handguns that meet current federal regulations simply do not behave like shotguns. They are in a unique class with performance levels, which are not comparable to other types of guns, including non-NFA shotguns.
Their rifled barrels perform best with shotshells when fired at contact to 7-yard distances, depending on the ammunition used. For dispatching pests and poisonous snakes at up-close-and-personal distances, one of these guns loaded with birdshot is hard to beat. I've also heard and read personal accounts of buckshot loads fired from these handguns getting the job done in defending against threats of the two-legged variety. Do these successful applications of .45 Colt/.410 handguns make them the right fit for your particular needs? That's up to you.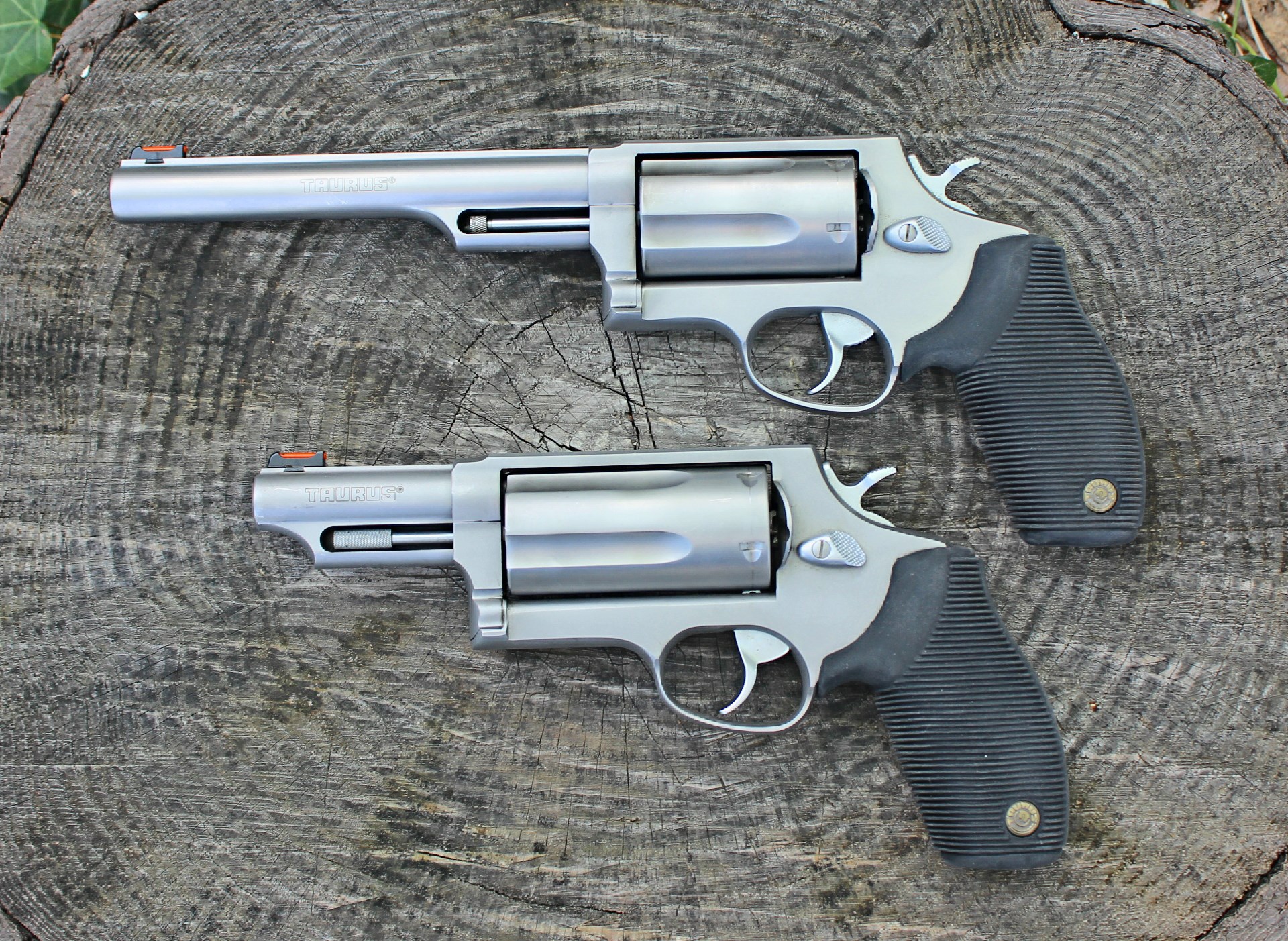 Longer rifled 6" barrels (Top) and cylinders stretched to fit 3" .410 bore shells (Bottom) are attempts to make birdshot patterns either smaller or more dense. In both cases the result can be patterns that are even more dispersed with some loads.
Could .410 bore compatible handguns perform better? The data we do have suggests that dedicated .410-bore revolvers and pistols with a smoothbore, choked barrel should easily outperform rifled .45 Colt/.410 models. My best guess, as of this writing, is that a .410-only handgun with a 4″ to 6″ barrel and interchangeable chokes could prove to be fairly useful at distances of 15 to 25 yards with purpose-built ammunition.
But this is purely speculation on my part at this point since there is no way to test commercially-available handguns like this until the regulations change. And if industry history can be used as a guide, ammunition development and changes to federal regulations rarely receive any attention until demands for them reach levels that can't be ignored. And so, we'll carry on with the short-range .45 Colt/.410 handguns and non-NFA .410 bores until policies allow for a more logical shooting solution.
Article by B. GIL HORMAN
Don't forget to like us on Facebook and follow us on Twitter.