5 New Camo Patterns for 2022
Years ago, camo clothing was purchased at military surplus stores and camouflaged were shotguns coated in various shades of spray paint, but today's camo patterns (and application procedures) are far more advanced. There are lots of camo loyalists that will only use one pattern or one family of camouflage, making certain that their clothing, packs and guns all share the same look.
Some hunters prefer the look of real vegetation while others prefer modern digital patterns. But whatever you choose, your camo needs to make you disappear in the environment where you are hunting. Quality camo patterns do two important things: they help break up your outline and conceal minor movements. Firearms with camo finishes cut down on glare, which is especially hunting sharp-eyed animals like turkeys and waterfowl. Here's a look at five of our favorite new camo patterns for 2022.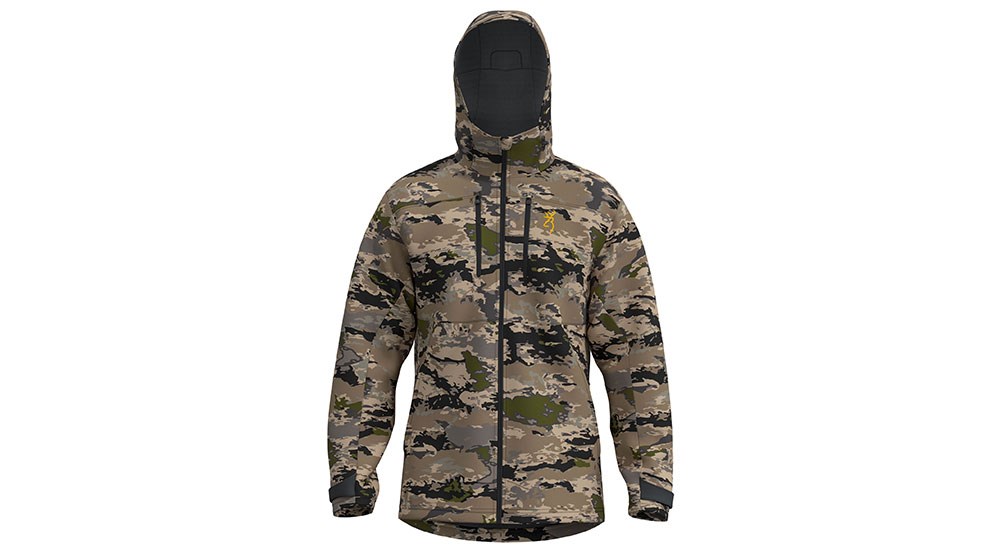 1. Browning Ovix
For 2022, Browning announced its new Ovix camo, a versatile pattern that works well in almost every environment. The base colors are tan and khaki with greens, grays and outline-breaking blacks throughout. As a digital pattern, it doesn't have the sticks-and-leaves look, but it's very well-suited to a variety of habitats including high plains desert, alpine and prairies. I was surprised how well the camo blended into the north woods of Maine, matching the pattern of broken light in the dark forest perfectly. Ovix will appear on Browning's rifles, but it will also appear on the company's brand-new line of technical clothing, including the Pahvant Pro jacket ($179.99) shown here. browning.com.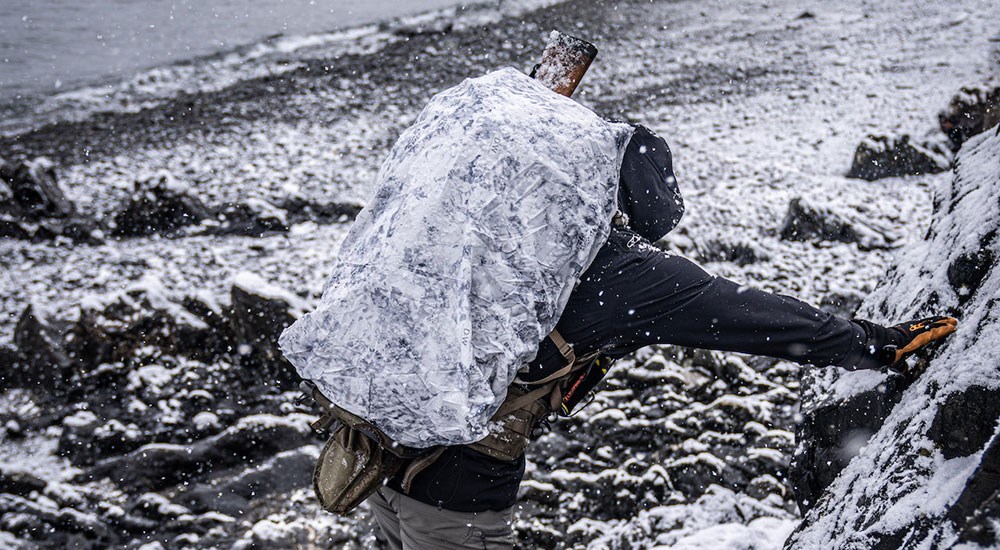 2. Eberlestock Dopple:Ganger Winter
If you're a serious hunter, you're likely familiar with Eberlestock, the Idaho-based company that makes some of the best technical clothing, packs and accessories on the market. The brand also offers several camo patterns including Dopple:Ganger Mountain, shown in the lead photo of this article. Dopple:Ganger Mountain is comprised of various green and browns and works in most any environment.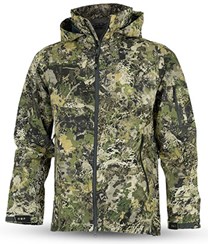 Dopple:Ganger Mirage uses browns and even subtle purples to help you vanish in the sage of the high prairie and other dry environs, and Dopple:Ganger Skye offers substantial dark and light contrasts to effectively break up the human silhouette when skylined. This year, Eberlestock is adding its Dopple:Ganger Winter camo to its lineup, which helps hunters disappear in snow conditions such as winter varmint or spring light goose hunting. The pattern is shown here on the company's Large Reversible Rain Cover, a must-have for any wilderness hunter. eberlestock.com.
3. Realtree MAX-7
Realtree didn't attend this year's SHOT Show in Las Vegas, but their new camo—MAX-7—was well represented. MAX-7 is engineered to replace Realtree's MAX-5 pattern, which was a popular option for many years. The new MAX-7 pattern uses darker contrasting elements than the pattern it replaces. Unlike the digital patterns here, MAX-7 uses images of vegetation and not a series of patterns, but the effect is the same: by breaking up the human silhouette with various light and dark shades it makes it difficult to detect the human profile. That's extremely important when hunting ducks and geese which have sharp eyes and will flare ion any unnatural object, especially late in the season and near the end of their migration. Browning is offering several guns in MAX-7, including the Maxus II shown here. realtree.com.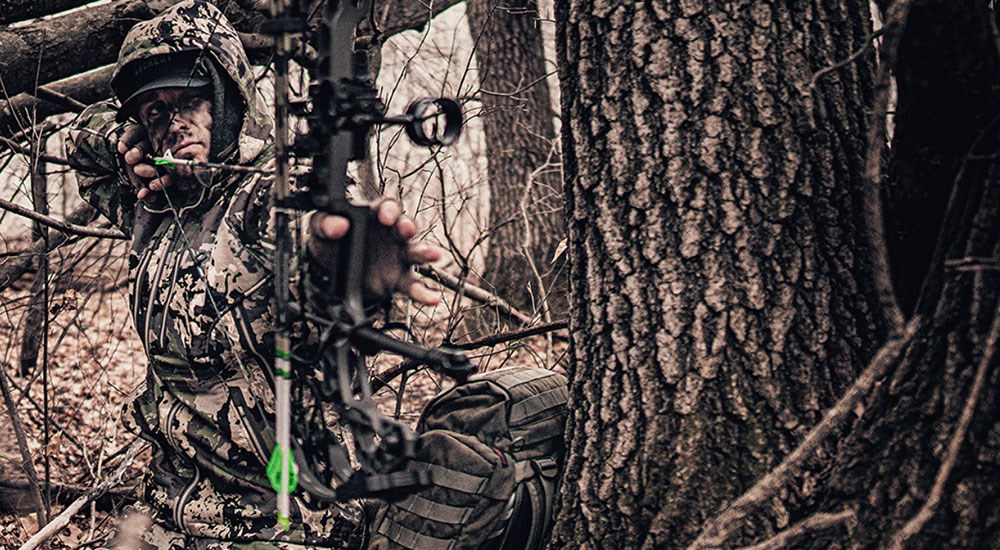 4. Pnuma Caza
Pnuma Outdoors is another company that makes outstanding clothing, packs, bino harnesses, and other accessories for hunters.
 The quality of their gear and clothing is on-par with brands costing much more, and the company's new all-purpose Caza camo pattern effectively conceals in a wide variety of habitats.
Like Ovix, the base colors of Caza are tan and brown, and that allows this clothing to effectively blend in in drier environments. Large patches of outline-breaking blacks, dark browns, and dark grays also make this pattern ideal in deep forest and timber. The advantage of buying Pnuma gear is that you're getting high-end technical hunting clothing in a universal pattern that's well suited for most any hunting area. Caza is shown here on Pnuma's Pursuit pants. pnumaoutdoors.com.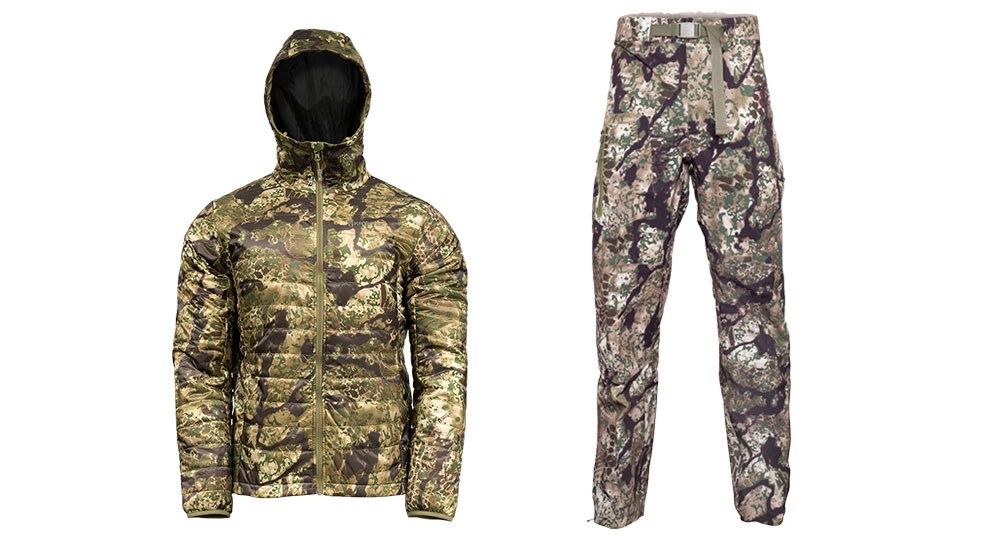 5. Kryptek Obskura
Kryptek's Obskura camo patterns were developed with insight garnered during the U.S. Army Camo Improvement Effort, and as such these patterns employ features that have the effect of distorting the body lines and making the wearer blend into an array of natural surroundings. The most versatile hunting pattern is Obskura Transitional, which matches 70 percent of the terrain on earth. The colors are designed to make use of ambient light reflected off surrounding objects. Obskura Grom is a winter pattern designed with input from U.S. and Coalition Special Operations testing, making it ideal for hunting in snowy conditions. Though not designed for hunting specifically, the new Obskura Nox pattern, which is based on the older Typhon pattern, provides a striking new tactical option for law enforcement and counter terrorist units. Kryptek's Koldo rain pants are shown here in Obskura Transitional. kryptek.com.
Article by BRAD FITZPATRICK
Don't forget to like us on Facebook and follow us on Twitter.