6 Great Hard-Sided Pistol Cases
Even though your gun probably came with the plastic case from the manufacturer, it might not be the best way to protect your investment. Plus, not every factory-provided case comes equipped with the features you need to protect and haul around your investment in the best possible manner. Many gun owners discard the original box—or at least relegate it to a dusty shelf in the basement—and replace it with a sturdier case that protects the gun better. Let's look at some of the most popular and functional after-market pistol cases on the market.
Get updates directly to your inbox from GunsInTheNews.com!
What Makes a Good Pistol Case?
Several factors go into choosing a good pistol case. The cases below all feature some or all the preferred features to keep your pistol safe and, in some cases, protected from water. Here are features to look for in a good pistol case. Hard sides to protect against drops, bumps, and heavy items stacked on top. Soft cases won't protect from twisting or hard drops like a hard-sided case will. And heavy items could crush them and the gun inside. Plus, if you ever fly commercially with your gun, TSA requires it to be stored in a locked, hard-sided box.
Plenty of padding to cushion the pistol, mags, and other accessories in case of a drop. A sturdy locking hole or two that allow you to insert a key or combination padlock, important not only when you travel (see above) but also if you want the added deterrent of a potential thief bypassing your gun because it's too hard to get inside the case. Some states also require you to carry your gun in a locked case in your trunk.
It's also got to be big enough to hold not only your gun but also any accessories that you typically carry with it. Why carry a second bag or case when you could stow everything in one and be done? Ground rules established, let's look at some top contenders.
Cedar Mill Firearms Hard Lockable Waterproof Pistol Gun Case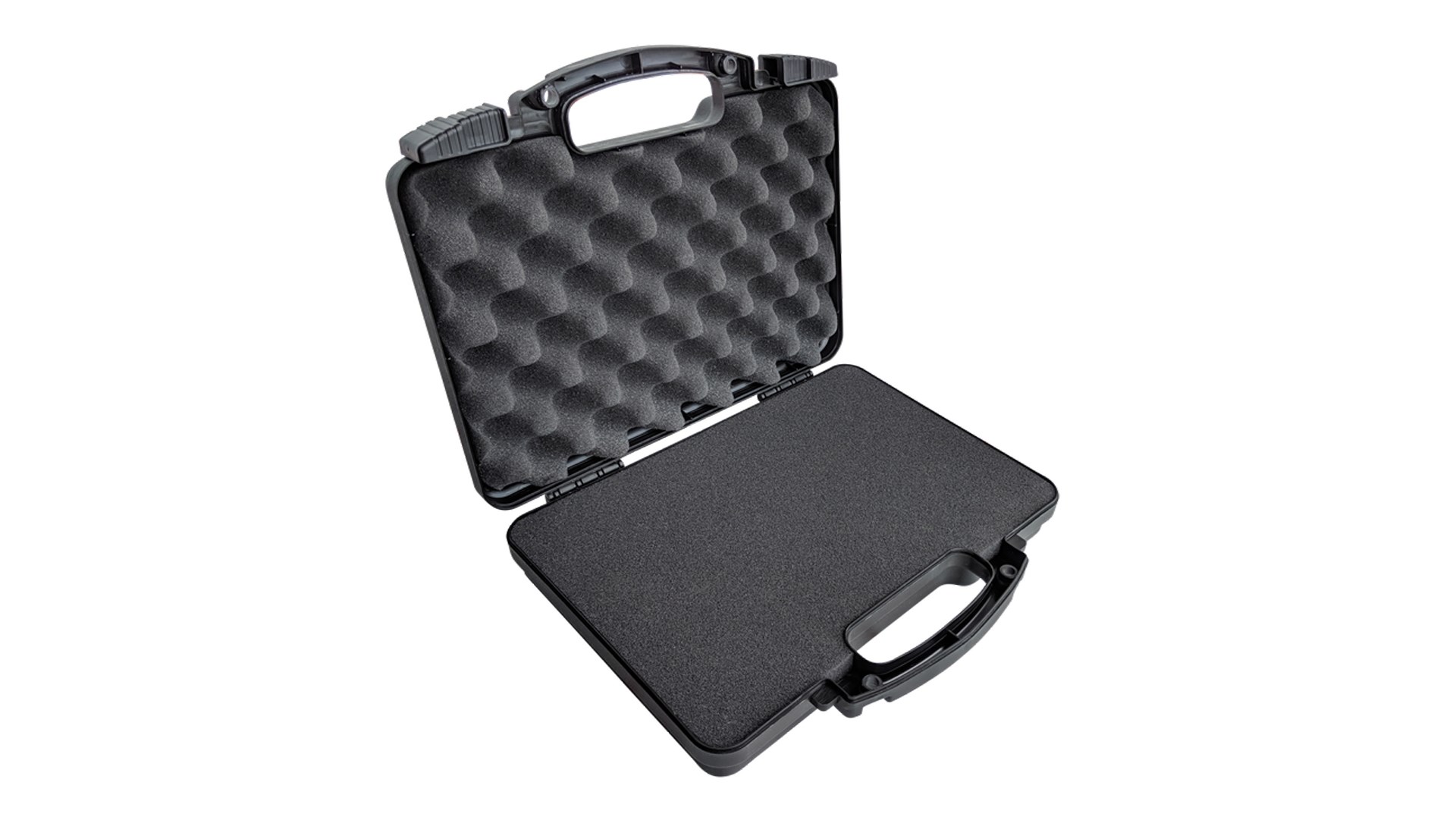 Unlike many of its competitors, Cedar Mill has an extra layer of protection not typically found in other cases: carbon fiber reinforced polypropylene. This added ultra-light yet ultra-strong carbon fiber enhances the polypropylene's resistance to bumps and dents. Available in four colors and four different pad insert packages, including a Glock cutout and customizable pickable foam, this case offers an IP64 splashproof rating that keeps dust and water from entering through the lid closure. MSRP: $24.99
Pelican 1200 Protector Case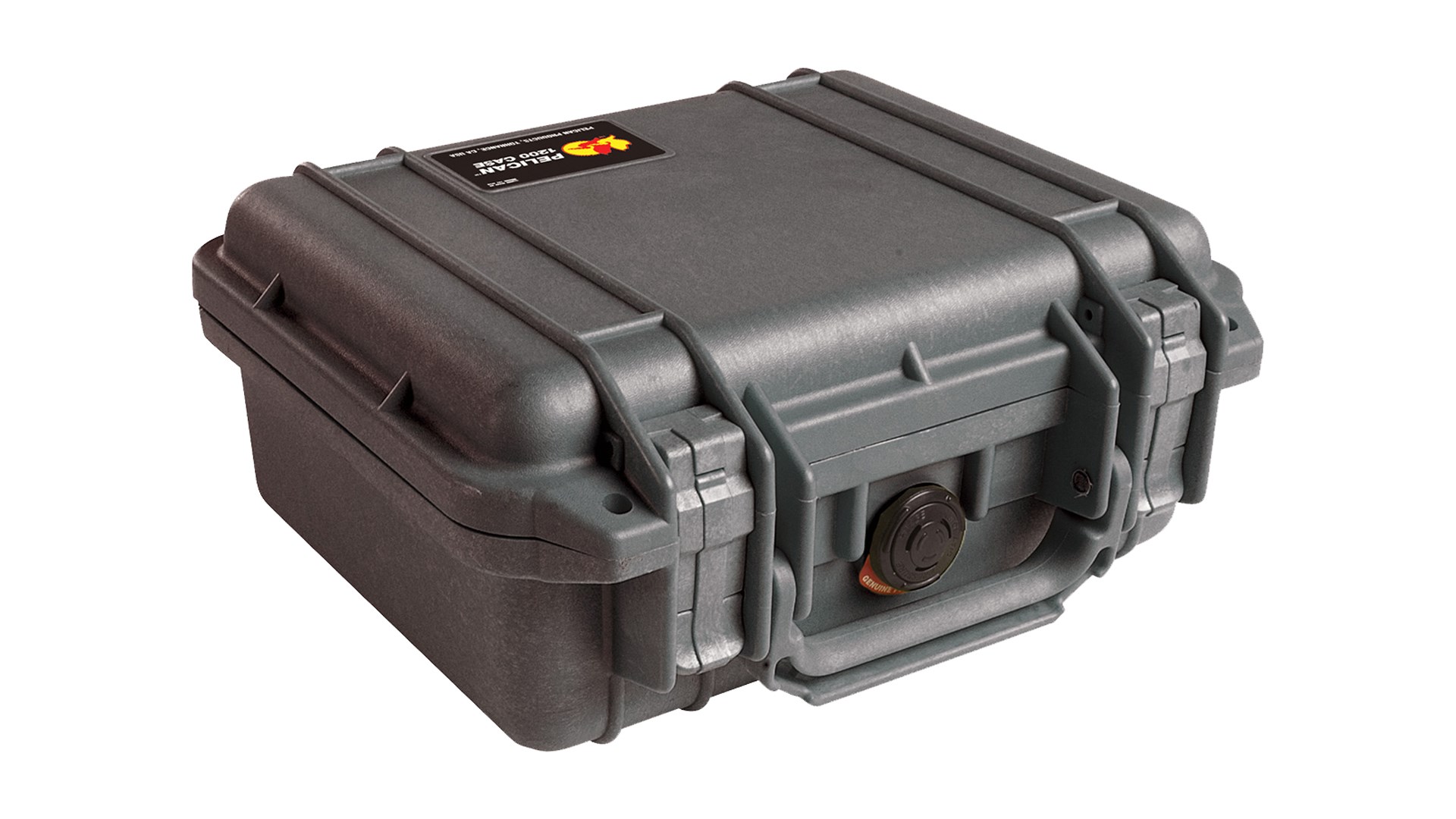 Long known as the brand everyone looks up to, Pelican set the standard for protective hard-shell cases for cameras and other sensitive electronics. Now they carry that same commitment to the 1200 Case with Foam. Like their other cases, the 1200 doesn't have to be used for a pistol, but it works well for that application. Pelican cases come standard with an Automatic Pressure Equalization Valve that releases built-up air pressure while keeping water out. The 1200 is padded with egg crate foam on top and picking foam in the bottom to fit your firearm precisely. MSRP: $54.95
Explorer Cases 3005 Pistol Case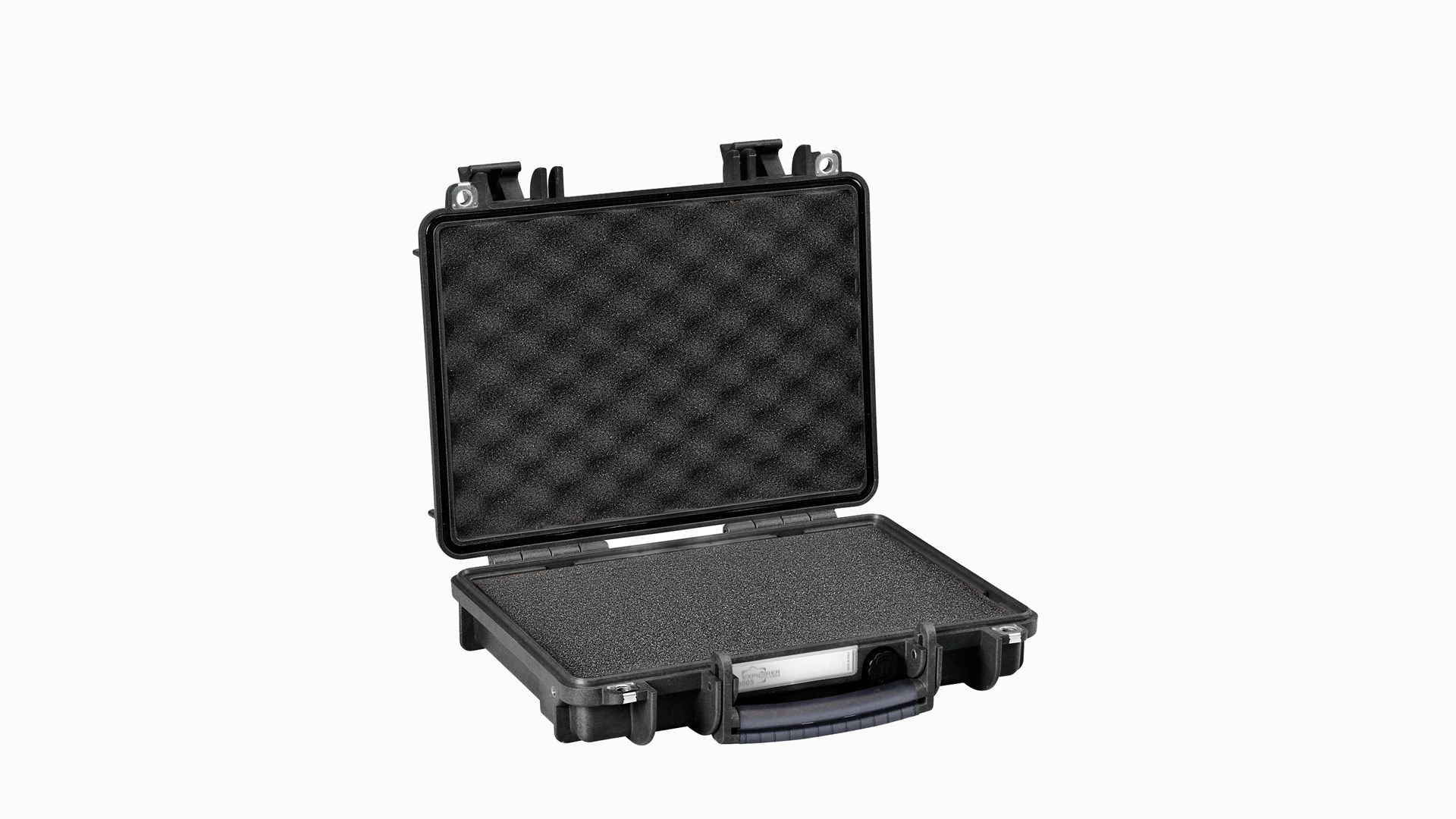 Like Pelican, Explorer Cases offers protection for various non-firearm items, including camping gear and electronics. The 3005 Pistol case is one of their more firearm-specific items, thanks to its slim design that isn't thick enough to carry much of anything else. The 3005 carries many of Explorer Cases' features, including large dual heavy-duty polymer latches that close with an audible click on the front. Two aluminum-lined padlock receivers make adding locks easy. Surrounding the perimeter of the lower half of the case is a gasket that fits perfectly into a matching receiver grove on the top that forms a watertight and airtight seal when the case is closed and latched. MSRP: $63.99.
Case Club 4 Pistol & 16 Magazine Pre-Cut Heavy Duty Waterproof Case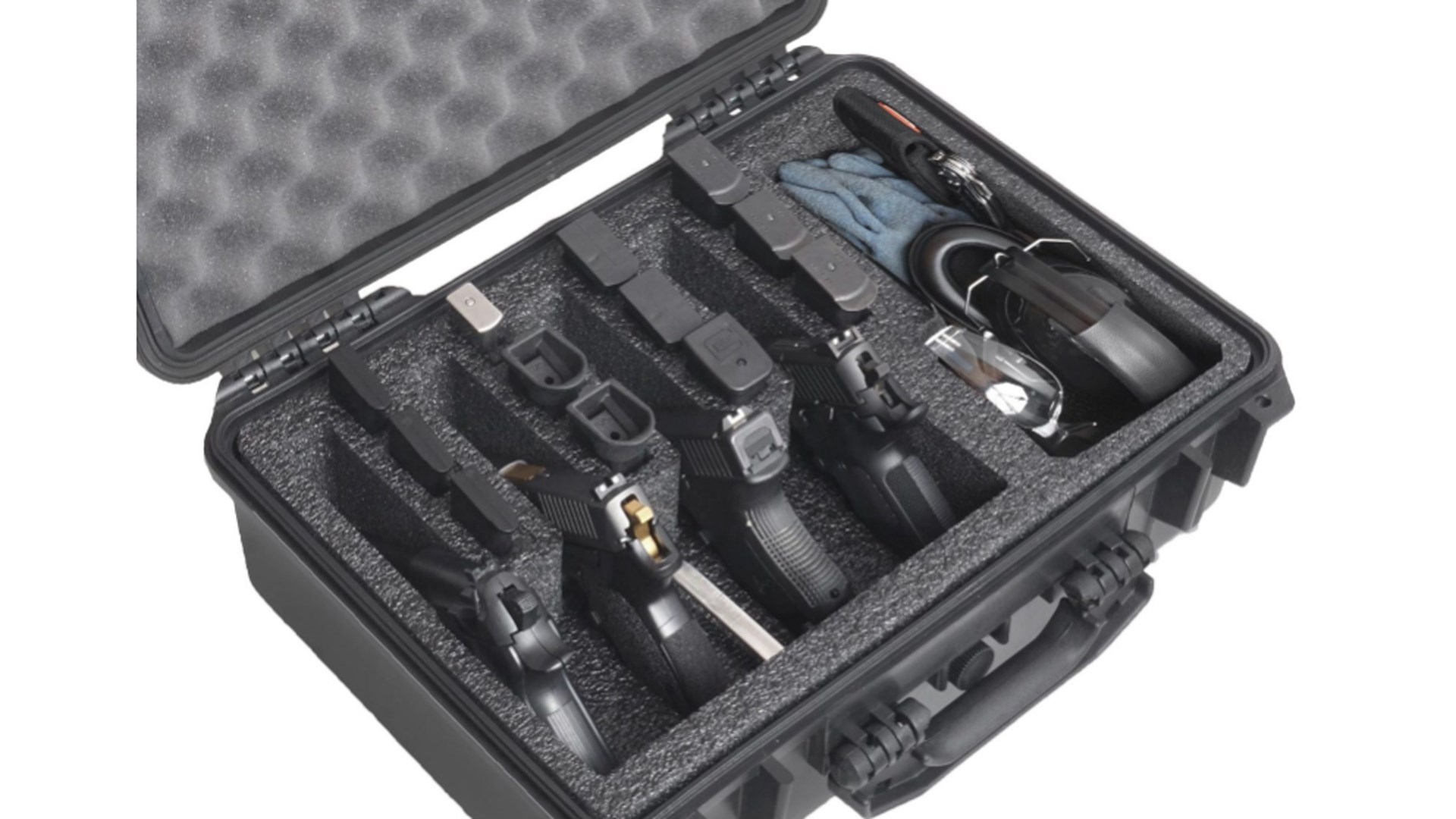 It might not be fair to compare this one to the rest because the others are all single-pistol cases, but if you're looking for a multi-gun transporter, the Case Club 4 Pistol and 16 Magazine Pre-Cut Heavy Duty Waterproof Case might be for you. As the name implies, this case houses up to four full-size pistols and their accompanying 16 magazines in a waterproof system that stands up to tough and wet conditions without leaking. The foam inside is customizable for various size guns and can magazines. Two metal reinforced padlock points support inserting a padlock with a 0.3-inch shackle along with one-way hinge pins to ensure gear remains safe and secure. MSRP: $109.20
Premium Tactical Supply Hard Plastic Single Pistol Case
If you're looking to save a little money while still protecting your pistol, check out the Premium Tactical Supply Hard Plastic Single Pistol Case. While this case does not offer much customization, it does offer top and bottom egg crate foam for great protection, two sliding latches in front for easy open and close, dual padlock openings on the front for secure travel, and tough plastic hard shell on the outside for bump and drop resistance. The case is fully TSA-compliant, making it a great way to transport your firearm when flying. MSRP $24.97
Nanuk 910 Waterproof Hard Case with Foam Insert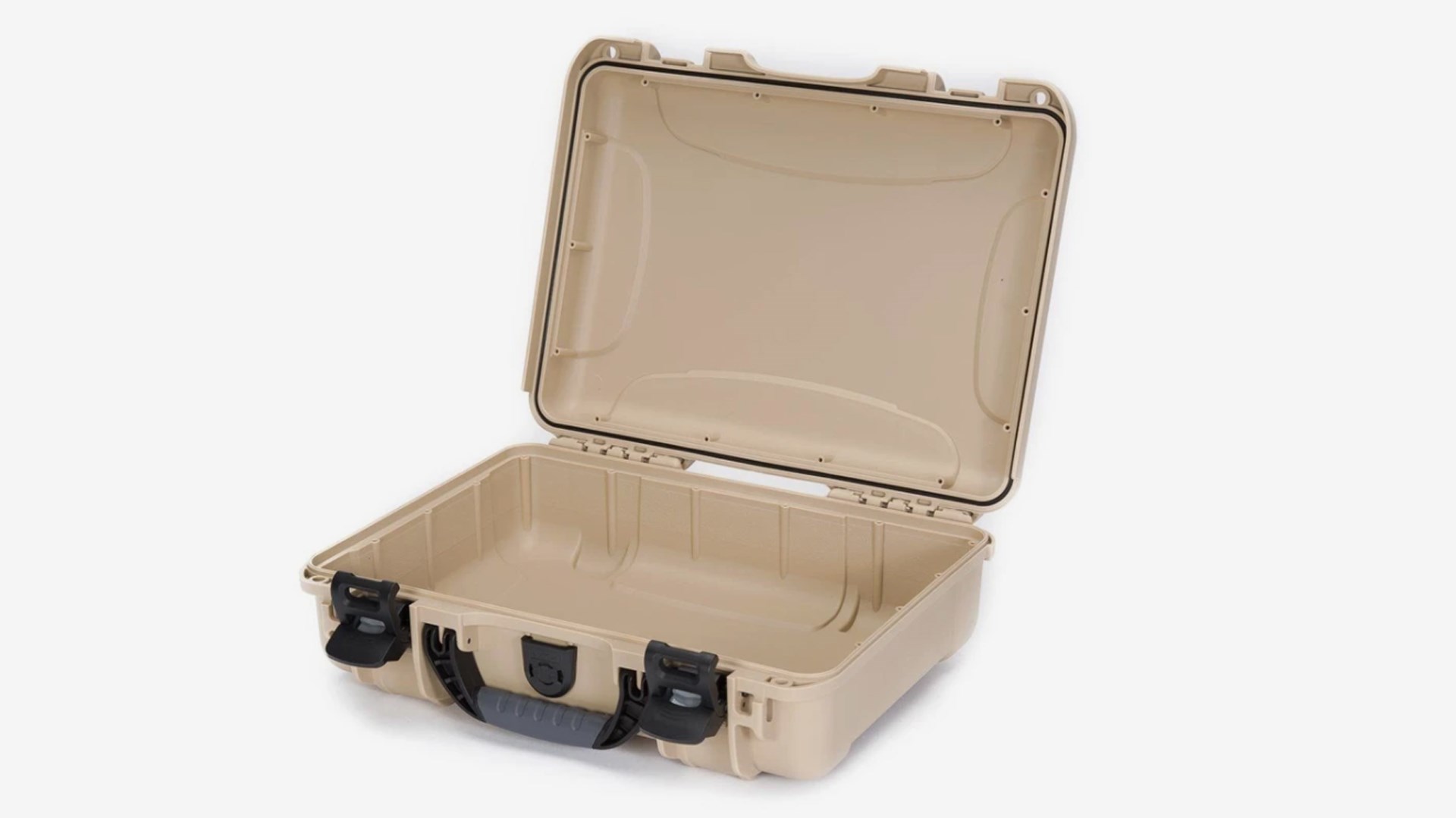 The Nanuk 910 features an IP67 waterproof rating, is dustproof and shockproof. Like many of its brethren, it includes an automatic purge valve that equalizes pressure on the inside of the case when traveling. Outside impact is minimized via an NK-7 resin case designed to survive tough conditions. The case is held closed by two Powerclaw triple action latches molded in super-tough nylon to keep the case securely closed. Lock it all in place with the dual padlock inserts on the front corners. The Nanuk 910 is available in 10 colors, from dark to bright. MSRP: $59.95
Article by DAVID WORKMAN
Don't forget to like us on Facebook and follow us on Twitter.