9mm Double Stack 1911 Pistol Roundup
The 1911 pistol design has endured for over a century—since 1911, when John Moses Browning received his first patent for his masterpiece—and its timeless appeal is still evident today. However, ballistic preferences have evolved with the slight evolution of the 1911 platform. With the growing popularity of 9mm ammunition and the decreasing popularity of .45 ACP, many manufacturers have introduced double stack 1911 models chambered in this versatile cartridge. Here are five exceptional double stack 1911 pistols in 9mm from Wilson Combat, Springfield Armory, Staccato, Kimber, and European American.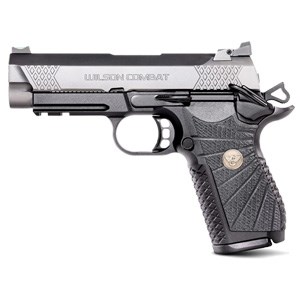 Wilson Combat EDC X9 9mm
MSRP: $3,315
Wilson Combat is renowned for producing high-quality firearms, and the EDC X9 9mm is no exception. This pistol offers a blend of classic 1911 aesthetics and modern features. It boasts a full-size aluminum frame with a 15-round magazine capacity, providing ample firepower for self-defense or competition.
Distinctive Features:
Chambered in 9mm for reduced recoil and increased capacity.
Enhanced grip with high-cut front strap and G10 grips for improved control.
X-TAC pattern on the front strap and slide for a secure grip.
Match-grade barrel and crisp trigger for outstanding accuracy.
Accessory rail for attaching lights or lasers.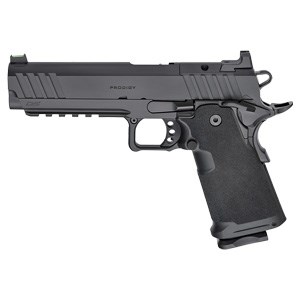 Springfield Armory 1911 DS Prodigy AOS
MSRP: $1,499
Springfield Armory has a rich history, and its Prodigy model is a modern interpretation of the classic 1911 design but with a much higher capacity. Available in two barrel lengths, this pistol offers a great balance of performance and affordability.
Distinctive Features:
Designed for both competitive shooting and self-defense, it boasts 17- and 20-round capacity magazines.
Fiber optic front sight and adjustable rear sight for quick target acquisition.
Lightweight alloy frame and 5-inch match-grade barrel for enhanced accuracy.
Also available with a 4.25 inch barrel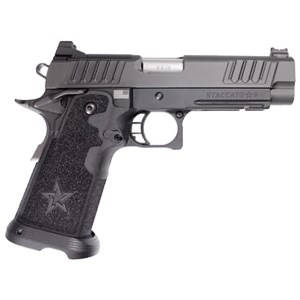 Staccato P 9mm
MSRP: $2,499
Staccato has been in the double stack 1911 market for a while, and its high-quality 2011 pistols are a favorite of law enforcement and competitive shooters alike. The Staccato P in 9mm is a double-stack 1911 designed for self-defense and competition.
Distinctive Features:
Double-stack design for 17- and 20-round magazines.
Lightweight alloy frame with accessory rail.
Dawson Precision fiber-optic front sight and adjustable rear sight for precise aiming.
STI-designed, crisp trigger for exceptional shooting performance.
Front and rear slide serrations for improved slide manipulation.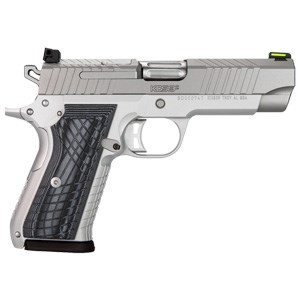 Kimber KDS9C Stainless
MSRP: $1,499
Kimber is another well-respected name in the 1911 industry, and the double-stack 9mm KDS9C is a prime example of fine craftsmanship. This 9mm 1911 is built with a stainless steel slide and frame, making it durable and corrosion-resistant.
Distinctive Features:
Serrated rear adjustable sight and fiber optic front sight.
G10 grips provide a secure and comfortable hold.
Reversible magazine release for right or left-handed shooters
Kimber's reputation for quality is on full display with the Aegis Elite Pro.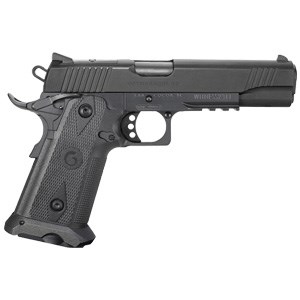 EAA/Girsan Witness 2311 9mm
MSRP $999
European American Arms (EAA) is bringing in the Girsan Witness 2311 to our shores. The Witness 2311 has all the features you want in a double stack 1911, such as an optics-ready slide, compatibility with common magazine styles and an accessory rail, and wraps them up with a very attractive price.
Distinctive Features
Available with either a 5 inch or 4.25 inch barrel.
Compatible with the RMS and RMSc optic footprint.
17 round standard capacity magazine.
Skeletonized trigger.
Also available in .45ACP and 10mm.
These 9mm double stack 1911 pistols from Wilson Combat, Springfield Armory, Staccato, Kimber and EAA each offer distinctive features and benefits to cater to various preferences. Remember that prices vary based on local dealers and additional features or customizations. No matter which one you choose, you'll be acquiring a piece of firearm history with a double stack 1911 pistol chambered in 9mm, offering timeless design and reliable performance with the magazine capacity of a modern defensive pistol.
Article by DAVID WORKMAN
Don't forget to like us on Facebook and follow us on Twitter.