Developing The Walther Arms PDP F-Series
Walther's Performance Duty Pistol (PDP) has been a cornerstone of the company's handgun lineup since its release in 2021, combining a litany of upgraded features into one platform capable of home-defense, concealed-carry, training and competition use. Despite the design's early success, however, company leaders looked ahead and sought to develop an option for a largely untapped market: women shooters. Watch our American Rifleman Television feature above for the full story on how Walther developed its innovative PDP F-Series.
"It all started in Fort Smith, Ark.," said Bernhard Knöbel, president and CEO of Carl Walther, GmbH. "So we were sitting together at an office table, the PDP at that time was already pretty much laid out, so we had a good idea of where the project was going, and then we were discussing the future of female shooting in the United States, and we said, 'Hey, why don't we build a PDP for women?'"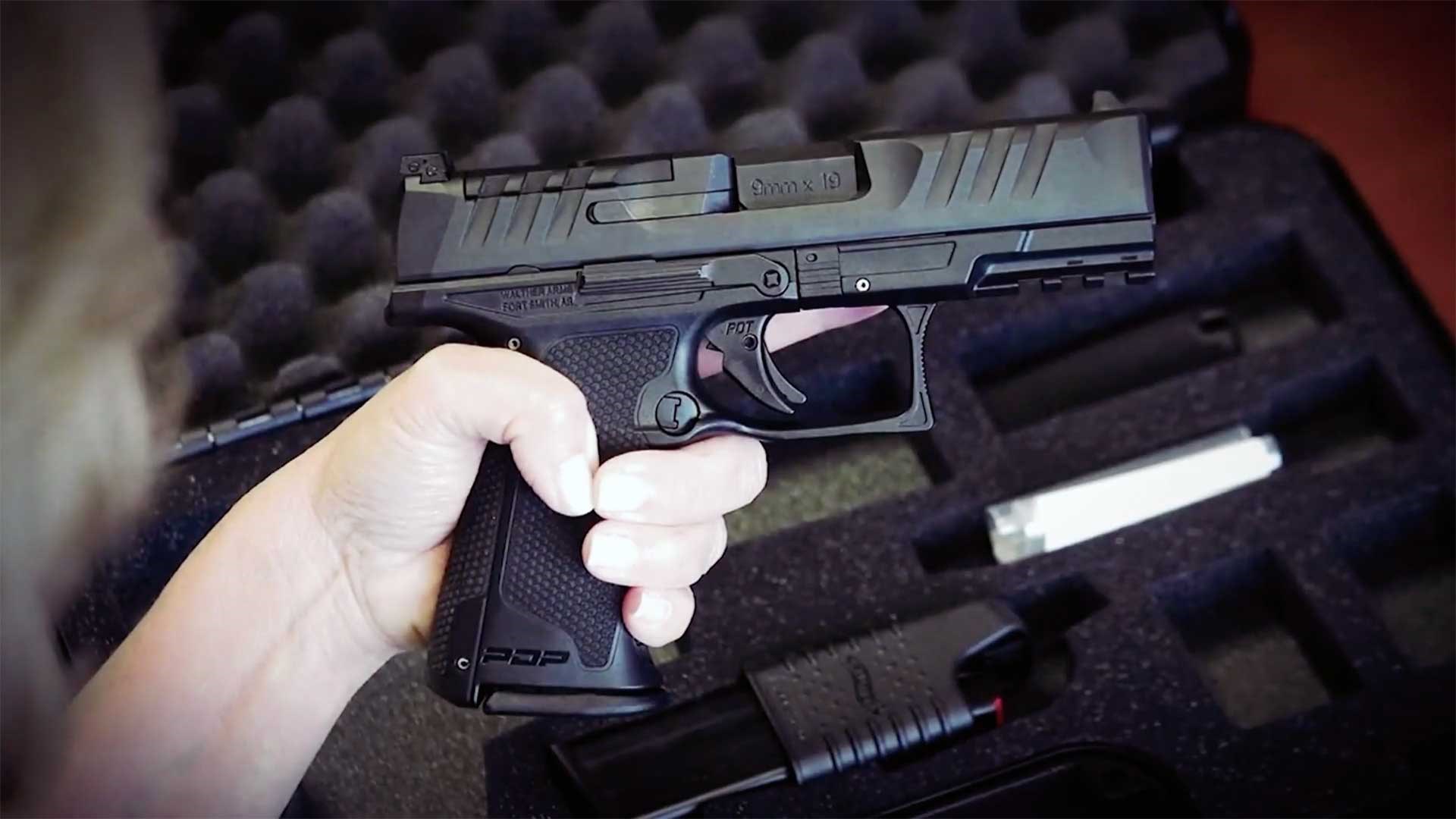 Walther had to consider the fact that women, particularly those who are first-time shooters, tended to seek out handguns that can serve across multiple disciplines, from home defense and concealed carry to competition and training. The starting point for the company's female-focused design centered upon the ergonomic elements, which has long been an aspect of handgun design upon which Walther focused. Specifically, the grip frame had to be examined from the standpoint of the physical differences between men and women's hand sizes.
"Some of the physical differences between men and women, particularly with handguns, is obviously hand size," said Tatiana Whitlock, a member of the Walther Defense Division. "But most women are told that they have itty-bitty hands, when they're actually falling within a normal human average. The differences are typically only about a quarter of an inch in overall hand length and finger length, width, etc. Where we see a lot of changes, however, are in the span of the palm, the swell within the palm, and how much we're able to go from a full purchase grip to reaching the trigger. So grip circumference is a really vital element in ensuring that a woman's hand can function a firearm in the same way that a gentleman can function a firearm."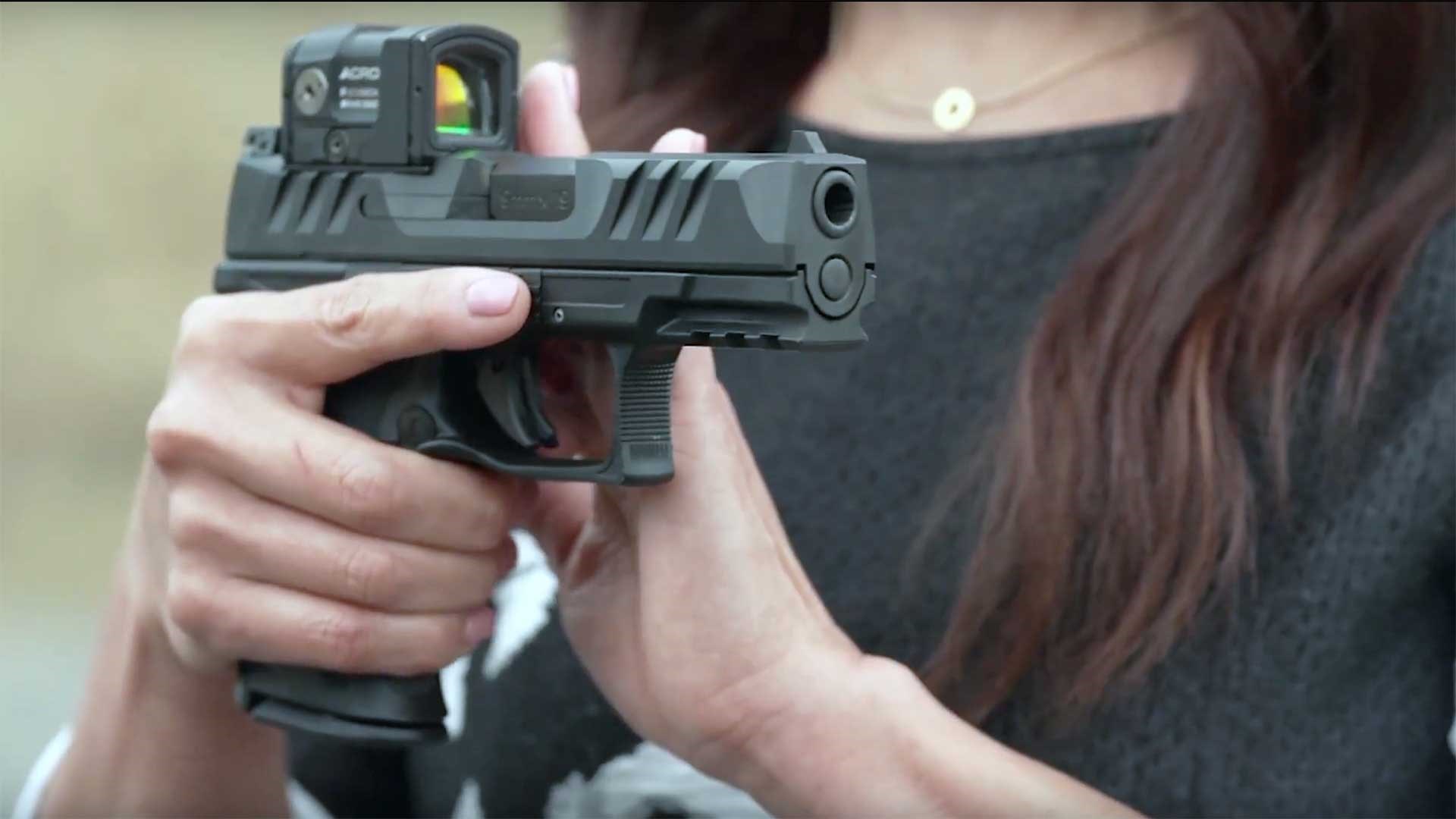 In developing the critical area of grip circumference, Walther also took the opportunity to draw on its extensive history in building target handguns for Olympic shooters, a great deal of whom are women. In building these pistols, the company takes measurements of a particular shooter's hand in order to build a perfect custom grip.
"We really wanted to build a duty-grade pistol that was very shootable for women, and so, you know, with all the history we had on the Olympics, we had a lot of data on hand size and where that's different, and we've put all of that into the shape of the gun and really made a gun that was ergonomically developed for the female hand," said Jens Krogh, VP of marketing and product development, Walther Arms.
In addition to the grip shape and circumference, Walther also focused on the internal mechanisms of the PDP action. Earlier designs used a spring-loaded firing pin, but in an effort to reduce racking force, the PDP F-Series was designed to have a true striker-fired action. The gun's 9 mm Luger chambering was also a conscious choice on the part of the company, as the caliber is considered not just one of the most easy-to-shoot options available, it's also trending as a go-to choice across multiple areas of the handgun market, ranging from concealed-carry to competition. The gun is also optics-ready and can be had in 3.5″ and 4″ barrel lengths, with the frame size being about the same size on both, and both guns use Walther's PDP Compact magazines.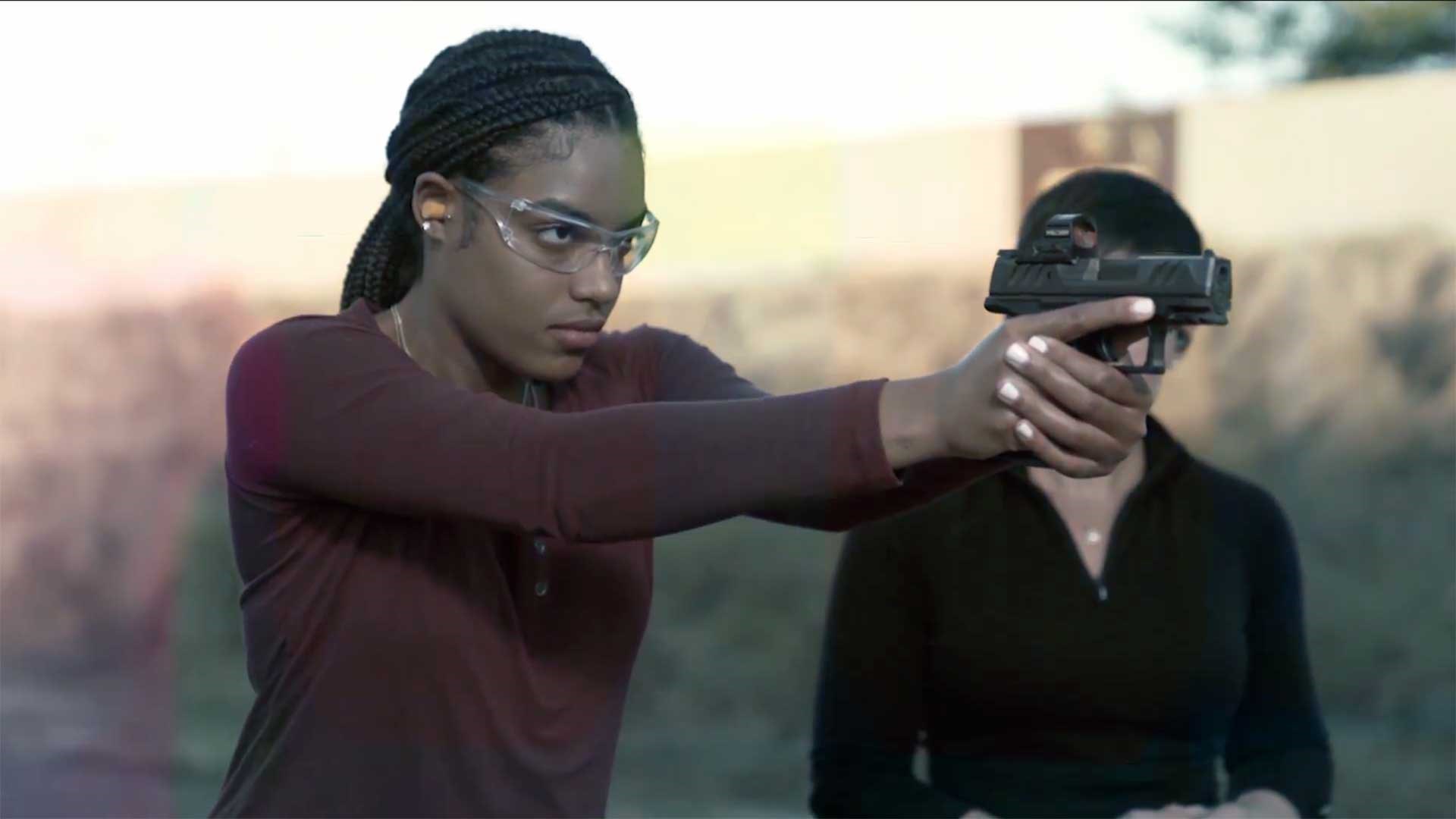 "…people who go out there to defend us and protect us, that are on the front lines, we want what they have," Whitlock said. "We're fully capable, we're competent, we're pursuing the knowledge, the training and the safety, and we want to make sure that we're able to do that same level of work for ourselves and on behalf of our families, so this firearm gives us an opportunity to carry something that is duty-grade and on a daily basis."
To watch complete segments of past episodes of American Rifleman TV, go to americanrifleman.org/artv. For all-new episodes of ARTV, tune in Wednesday nights to Outdoor Channel 8:30 p.m. and 11:30 p.m. EST. 
Article by AMERICAN RIFLEMAN STAFF
Don't forget to like us on Facebook and follow us on Twitter.