Exploded View: Luger P08
In 1893, the German firm of Ludwig Loewe offered what was designed to become the first commercially successful self-loading pistol chambered for a high-velocity smokeless-powder cartridge. Known as the Borchardt, after its American inventor Hugo Borchardt, this new pistol featured a revolutionary toggle-breech mechanism designed in principle by Sir Hiram Maxim of Maxim machine gun fame.
Although well-received, the Borchardt pistol had a relatively short production life, thanks to design improvements effected by Georg Luger and patented by him in 1900. Although preserving the toggle-breech principle and removable-clip magazine, Luger's re-design was drastic in concept. The resultant pistol was lighter, neater, easier to manufacture and possessed improved handling and pointing qualities.
The first Luger pistol to be produced in quantity was the 7.65 mm Model 1900, which featured a unique grip-safety device to prevent accidental discharge unless the piece was actually grasped in normal firing position.
Switzerland, in 1901, became the first nation to adopt the Model 1900 Luger pistol as an official service arm. It is interesting to note that U.S. Ordnance also in 1901 purchased 1,000 Model 1900 Luger pistols for a subsequent field trial that resulted in ultimate rejection of the design. In 1902, Deutsche Waffen und Munitionsfabriken (DWM), manufacturer of the Luger pistol, offered the Model 1902 chambered for a new 9 mm rimless cartridge. Designated the 9 mm Parabellum, this new development was destined to become the world's most widely used pistol and submachine gun cartridge.
The Model 1902 was subsequently improved to become the Model 1904, adopted in 1904 by the German navy. Chambered for the 9 mm Parabellum cartridge, it had the same grip safety, toggle lock and flat mainspring of earlier models. The year 1904 also saw the introduction of the Luger carbine with extra-long barrel, wooden forearm and detachable shoulder stock.
In 1906, DWM offered the improved Model 1906, which featured a coiled, rather than flat, mainspring. This was the first of the so-called New Model Lugers, and all earlier versions were thus automatically grouped into the Old Model category. The Model 1906 was equipped with a grip safety but lacked the toggle-locking device found on earlier models.
Despite relatively early adoption by the German navy, the German army waited until 1908 to adopt what became known as the Pistole 08 or Model 1908 Luger pistol. Of coiled-mainspring type, the Model 1908 was of 9 mm Parabellum chambering and lacked the grip-safety feature. Early Model 1908 Lugers were not fitted with the hold-open device subsequently adopted.
Shortly after army acceptance of the Pistole 08, an additional manufacturing facility was established in Erfurt, Germany, at the Royal Arsenal. All Luger pistols issued to German forces during the World War I period were manufactured by DWM or at Erfurt. During and after World War I, a flood of war-souvenir Luger pistols were brought to the U.S. by returning servicemen. Additional quantities were imported by various arms dealers. Many of these pistols were assembled from parts or rebuilt in such manner that they operated unreliably. In many instances, original proof, manufacturer's and service markings had been obliterated or ground off. A comparatively few dealers succeeded in obtaining good-quality Luger pistols for the U.S. market.
After World War I, the firm of Simerson & Co., located in Suhl, Germany, furnished the Luger pistols used by the new 100,000-man German Reichswehr authorized by the Versailles Treaty. This contract was completed in 1932. In 1930, production of Luger pistols was resumed by the Mauser firm in Oberndorf, Germany, with production continued during World War II. The firm of Heinrich Krieghoff also produced a quantity of Luger pistols for the German Luftwaffe during the early 1930s.
German production of the Luger pistol ceased with the termination of World War II, although a few guns were assembled for occupation forces after the war was over. Luger pistols were at one time produced in England by the Vickers firm and by Swiss government-subsidized arsenals.
It is important to note that several different models of the Luger pistol exist. Basic field disassembly is the same for all models, although the presence or absence of grip safety, toggle lock, hold-open device, etc. will affect procedures for detailed disassembly.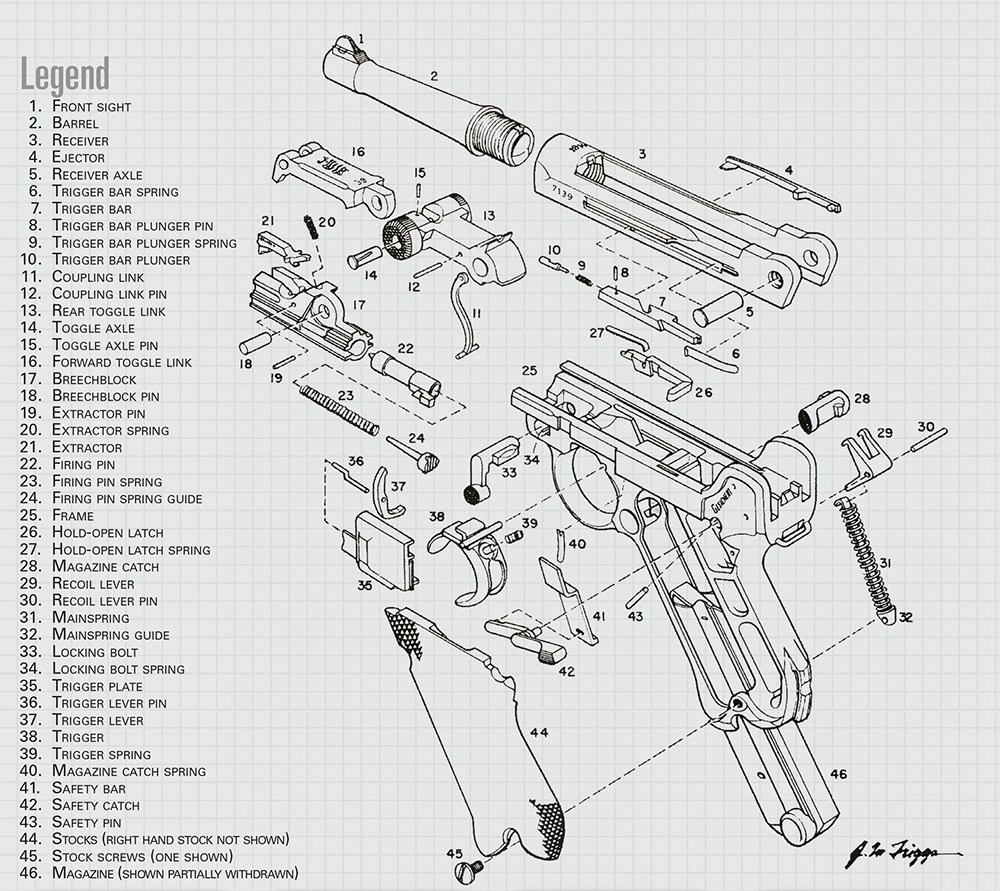 Disassembly Procedure
Remove magazine (46) and check to be sure pistol is unloaded. Press muzzle against a hard surface, moving barrel (2) and receiver assembly (3) back on frame about 1/4″ to release tension on recoil spring, then turn locking bolt (33) (Fig. 1) to vertical position.
Lift out trigger plate assembly (35) from frame (Fig. 2). When re-assembling pistol, trigger lever (37) in trigger plate must fall into its slot in trigger (38) and small lip at rear of trigger plate must be inserted under side of frame in recess provided.

Slide complete barrel, receiver and breech assembly forward and out of receiver (Fig. 3). During this operation, note the position of the coupling link (11) with relation to recoil lever (29) in rear of frame for reference in re-assembly.
Grasp knurled knobs of rear toggle link (13) and pull upward, buckling rear and forward toggle links (13 & 16) slightly to relieve tension (Fig. 4). Press receiver axle (5) in slightly from right side of receiver with fingertip. Axle may now be grasped from left side of receiver and withdrawn. Toggle and breechblock assembly can now be withdrawn from the rear of receiver.
Invert toggle and breechblock assembly and insert a screwdriver blade in slot (Fig. 5) in firing pin spring guide (24) in rear of breechblock (17). Press guide in about 1/16″ and turn counterclockwise 1/4″ turn and allow firing spring guide and firing pin spring (23) to come out, taking care not to allow compressed spring to escape. Firing pin (22) can now be dropped out rear. Extractor (21) may be removed by holding thumb over top of breechblock and extractor, and drifting out extractor pin (19), allowing extractor to pop up. Lift extractor out and extractor spring (20) may now be lifted out of its seat.

The above steps complete normal fieldstripping necessary for cleaning and lubrication. Re-assembly is accomplished in reverse order. When replacing barrel, receiver and breech assembly on frame, be sure coupling link (11) suspended from rear end of toggle assembly (Fig. 6) drops into its proper place in front of inclined upper arms of recoil lever (29). The proper relationship of these parts assembled is shown here.
Article by JAMES M. TRIGGS
Don't forget to like us on Facebook and follow us on Twitter.