Fink's Custom Ruger SP101: A 'Trail-To-Town' Revolver
Not long ago, at an event held at the Gunsite Academy in Paulden, Ariz., I had the opportunity to visit with Mike Detty, who is a fellow gun writer and friend. During one of the breaks, we stepped out to his car where he showed me a fully customized snub-nose revolver with an appealing set of upgrades ideal for daily carry. He explained that the work was done by Fink's Custom Gunsmithing (FCG), which operates out of a shop located right across from the classroom where we were meeting that day.
Mike kindly offered to walk over to the shop and introduce me to the proprietor, Dave Fink, to see if we might want to work together. The introduction and conversation that followed were both positive and promising. Once I got back home from the event, I teamed up with Dave, Ruger and a few quality accessory makers to pull together the custom Ruger SP101 carry package discussed here.
Selecting a Revolver: The Ruger SP101
Folks who have been following my 'trail-to-town' series over the last few years know that I'm on the lookout for potent, flexible handguns that can comfortably transition between use in the field and concealed carry. Some of them have been mid-size, big-bore revolvers like the Smith & Wesson Model 69 or the Ruger GP100. However, not all on-the-trail situations necessarily call for a big-bore revolver. In bear-free areas, folks can get by with more compact guns chambered in smaller calibers. It was with this idea in mind that I opted to use a six-shot Ruger SP101 chambered in .327 Fed. Mag. as the base gun for this project.
The Ruger SP101 is a proven compact revolver with sturdy all-stainless steel construction.
In 2020, I worked with the Model 5773, the 4.2″ barrel version, that has an adjustable rear sight. That gun went back to the manufacturer after the review, and I've missed it since. I've also tested the Ruger LCR in .327 Fed. Mag., which is purpose built with concealed carry in mind. It has a light-weight polymer and aluminum frame, 2″ barrel and a concealed hammer. It's comfortable to carry, but it can be a real handful to shoot with some loads. The all-stainless steel, 3″ barrel SP101 tames felt recoil without being overly heavy or large to pack. The exposed hammer for double- and single-action fire gives this model just-right flexibility for use in the field.
FCG's Custom Work
Once I had the gun picked out, Dave Fink and I met over the phone to decide on the work to be done. Once the list was agreed upon, the revolver was then sent to Dave's shop so that he and his team could work their magic. The pinned-ramp front sight was replaced with a dovetailed Novak GP100 Tritium Mega Dot front sight, which has a bright yellow outline around the green night sight. The fixed square-notch rear sight was milled out in favor of a Novak LoMount Carry Mini sight, with a matte black finish. The U-shaped rear sight notch couches the round yellow dot of the front sight for a sight picture that is quick to acquire and easy to use.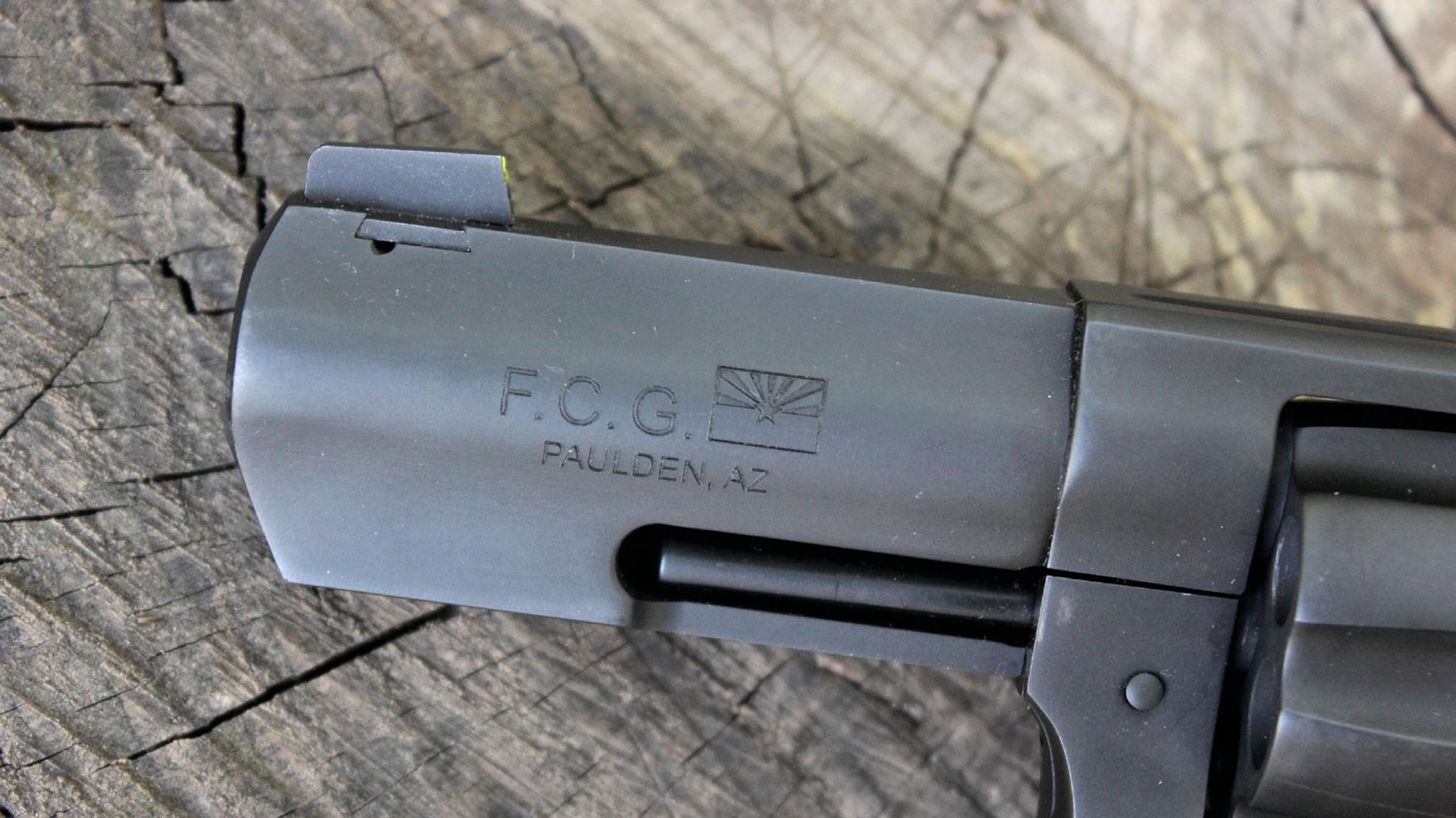 Fink's Custom Gunsmithing (FCG) provides a variety of services for revolvers and semi-automatic pistols.
Next was the action job. This involves breaking down the revolver and polishing the internal parts. The sear geometry was tuned, the action re-timed, and springs were replaced. They also polished and de-horned the trigger and hammer. The result is a lighter, silky smooth trigger pull which has to be felt to be appreciated. An unaltered factory double-action trigger can weigh in at 12 lbs. or more with single-action trigger pull of around 5 or 6 lbs., depending on the model. The FCG action work gave this SP101 a double-action trigger pull of 7 lbs., 2 ozs. with a crisp, clean single-action trigger pull of 2 lbs., 14 ozs. It's one of the best trigger jobs I've worked with, and it certainly contributes to more accurate shot placement.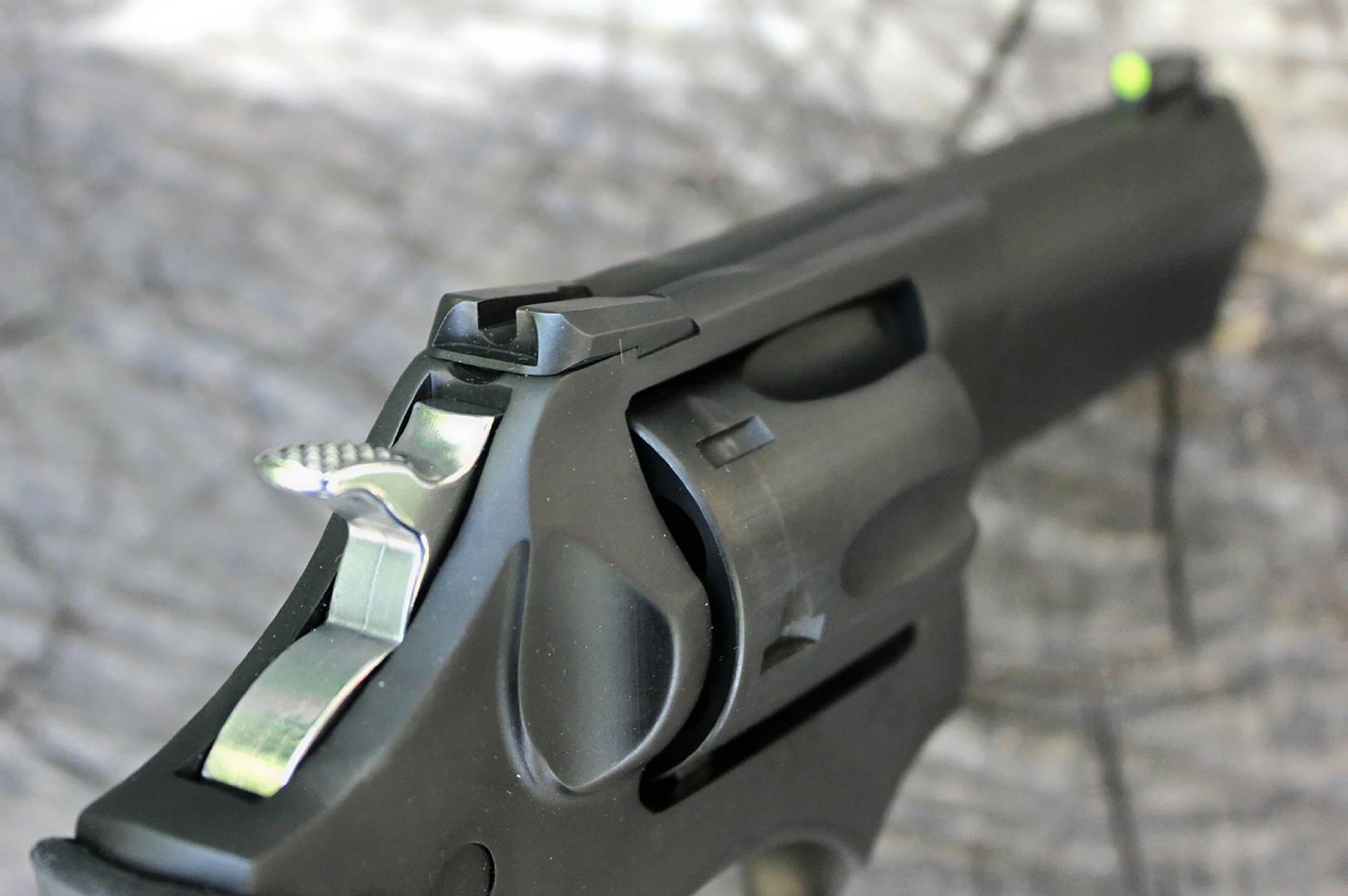 This Novak rear sight provides an easy-to-see sight picture.
The final touch was to treat the entire revolver with a matte-black nitride finish which was applied by H&M Black Nitride. Although Ruger's stainless steel is tough stuff, this finish provides additional corrosion and wear resistance, with increased lubricity. It gives the gun a classic matte-blued look that contrasts nicely with the polished silver look of the hammer and trigger. Before the revolver was sent back to me, the FCG team aligned the sights for 15 yards and conducted a full set of bench checks to make sure the gun was fully functional and ready to use.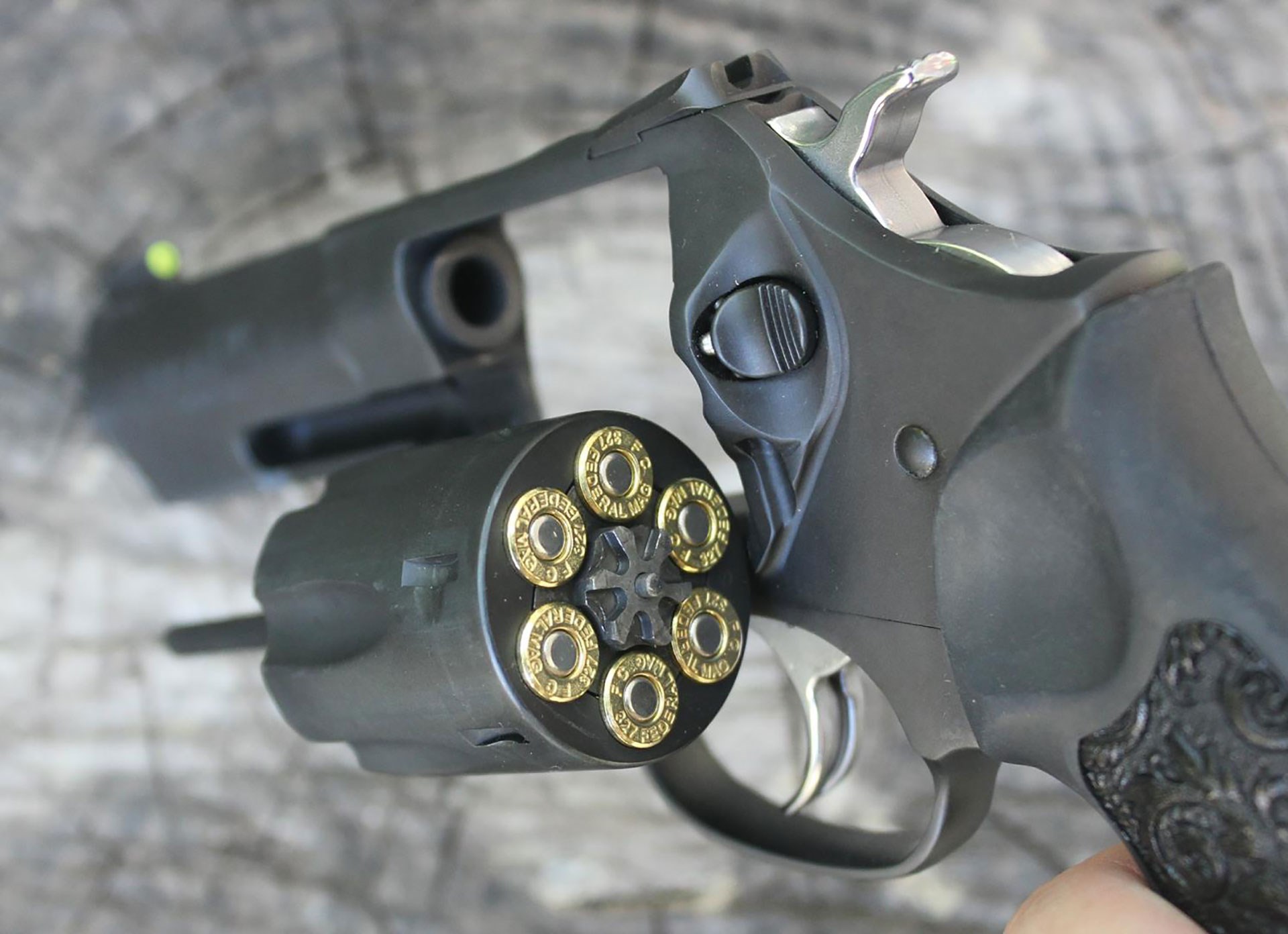 This six-shot version of the SP101 can safely fire .327 Fed. Mag. and .32 H&R Mag. ammunition.
Rounding Out the Carry Set
It's common with custom revolvers to upgrade the grip. But the SP101's factory-installed compact grip has been one of my favorites for quite some time. The monolithic smooth, soft rubber grip, which has interchangeable side inserts, fits my hands like it was made just for me. Some SP101s ship with utilitarian, grooved, black polymer inserts. Others leave the factory with checkered hardwood inserts engraved with the Ruger phoenix, depending on which model you choose. This model has the wood inserts, which look and feel great to work with.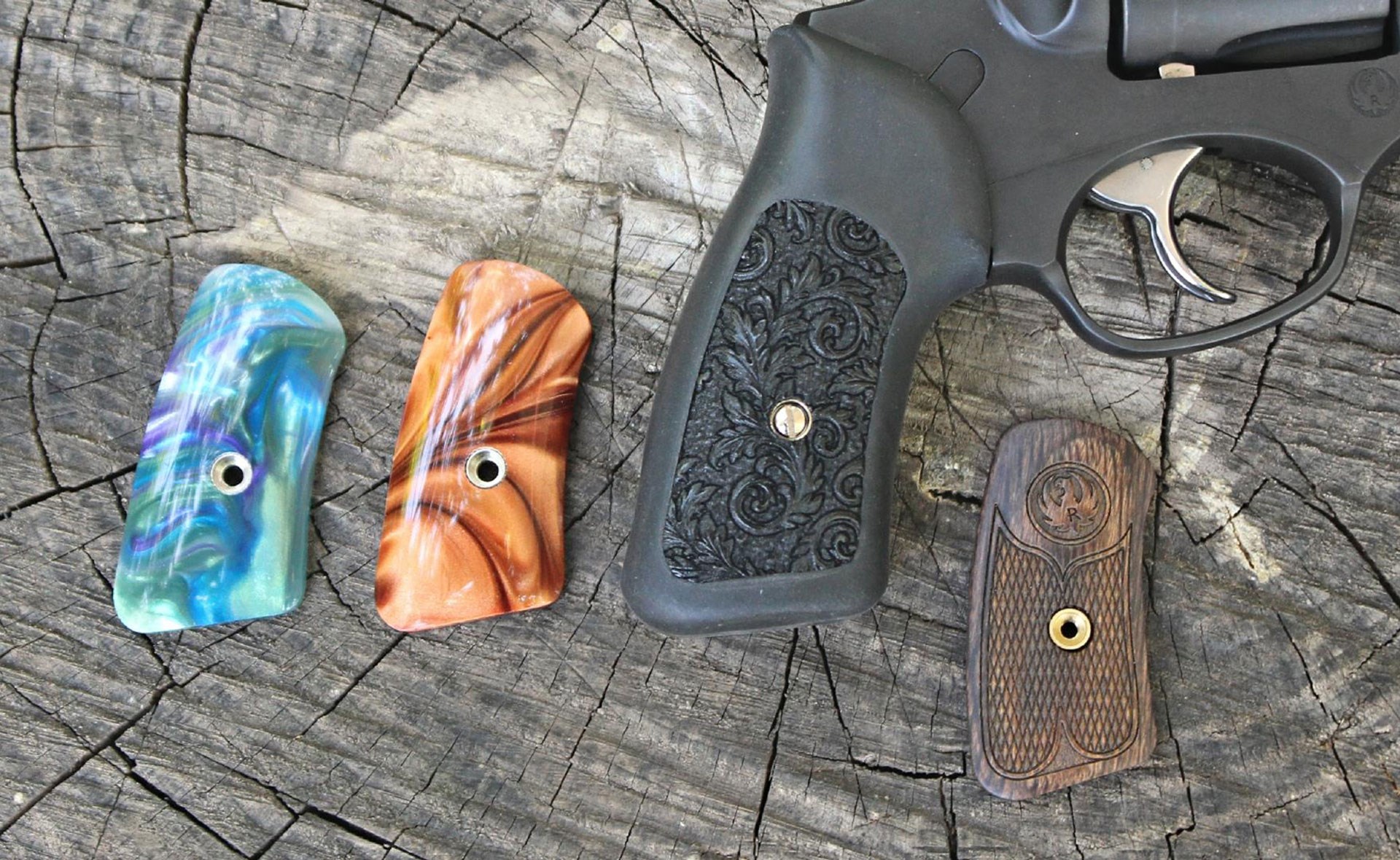 The author replaced the factory grip inserts with Floral Scroll Ebony inserts from LS Grips.
Nevertheless, I checked in with a company called LS Grips, which offers unique grip and insert options for a variety of handguns, including the SP101. I took a look at the company's Copper and Abalone pattern polyester composite pearl inserts, which are durable and colorful. But, the inserts that I liked best were the Ebony Floral Scroll. Somehow, they manage to be eye-catching without competing with the matte black of the rubber grip or nitride frame. They unify the all-black look of the gun while adding a touch of class.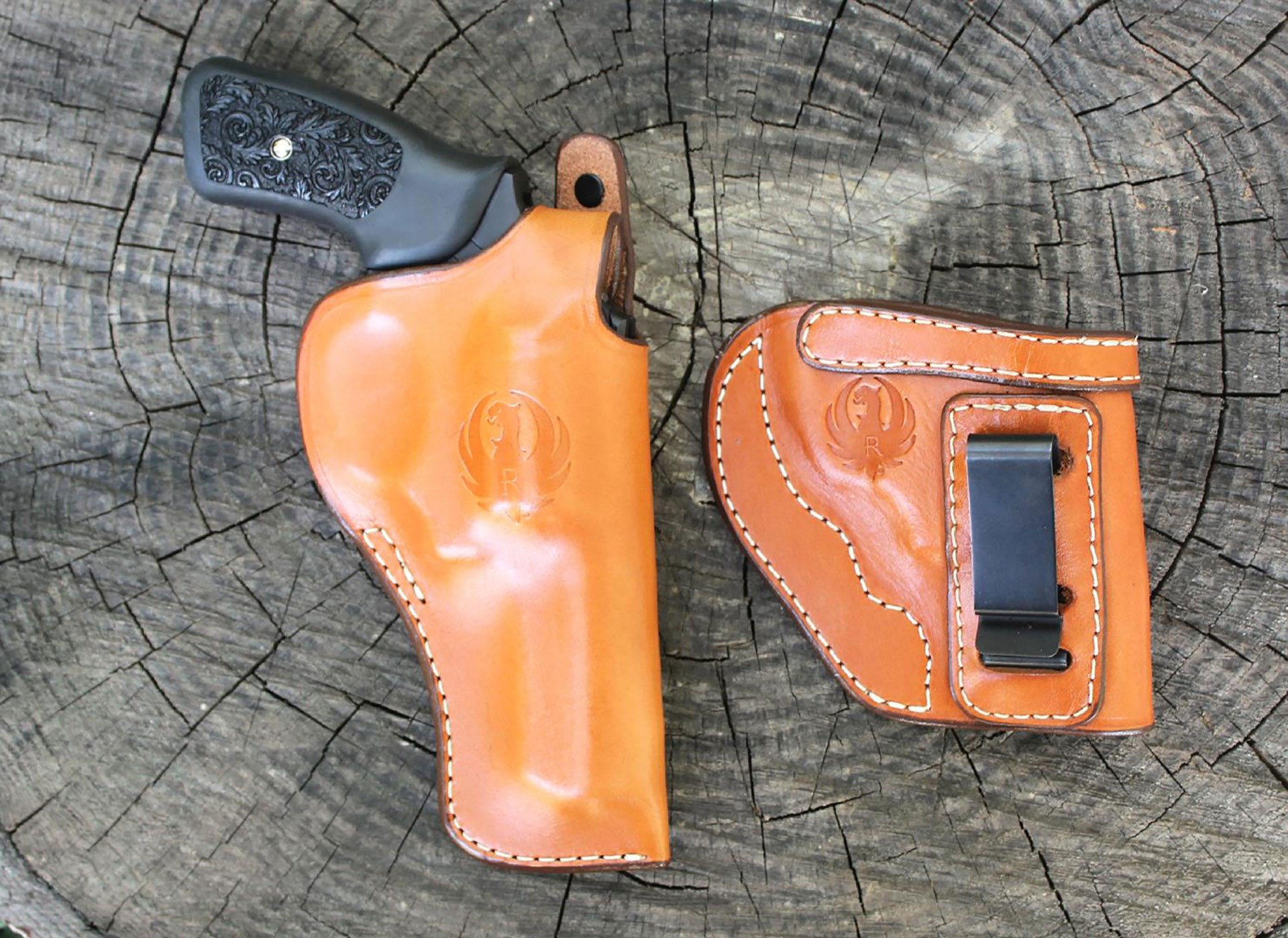 Ruger offers logo-stamped leather holsters made for the company by Triple K.
Holsters for SP101s with 2.25″ barrels are easier to find than those sized for the 3″ barrel. But I was able to line up three leather holsters that are a good fit. Two of them are made by Triple K for Ruger and can be found on the shopruger.com website. The tan Style 202 is a closed belt-slide holster, with a thumb-break retention strap that is ideal for use on the trail. The Style 314 is an open inside-the-waistband holster, with a steel belt clip that is also tan. The 3″ barrel protrudes a bit, but I didn't have any problems with the front sight catching when drawing the revolver.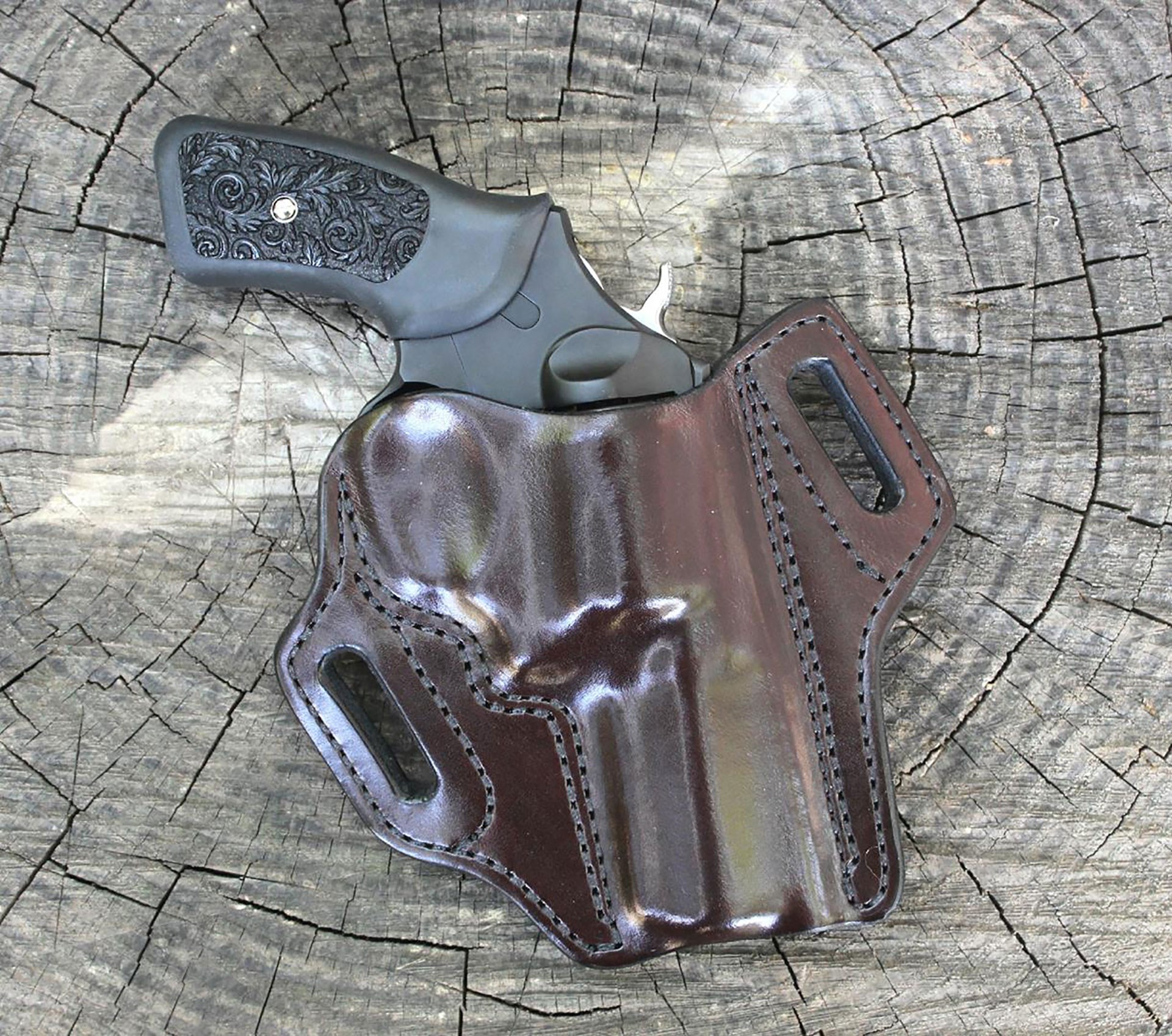 Mitch Rosen leather holsters are comfortable and classy.
Mitch Rosen offers old-school, all-leather goodness, which is hard to beat for good looks and comfortable carry around town. The 5JR Express is available with an open top (shown), or with a thumb strap in black or Cuban Brown finishes. This holster holds the revolver high and tight against the body, making it a good fit for use with a concealing shirt or jacket.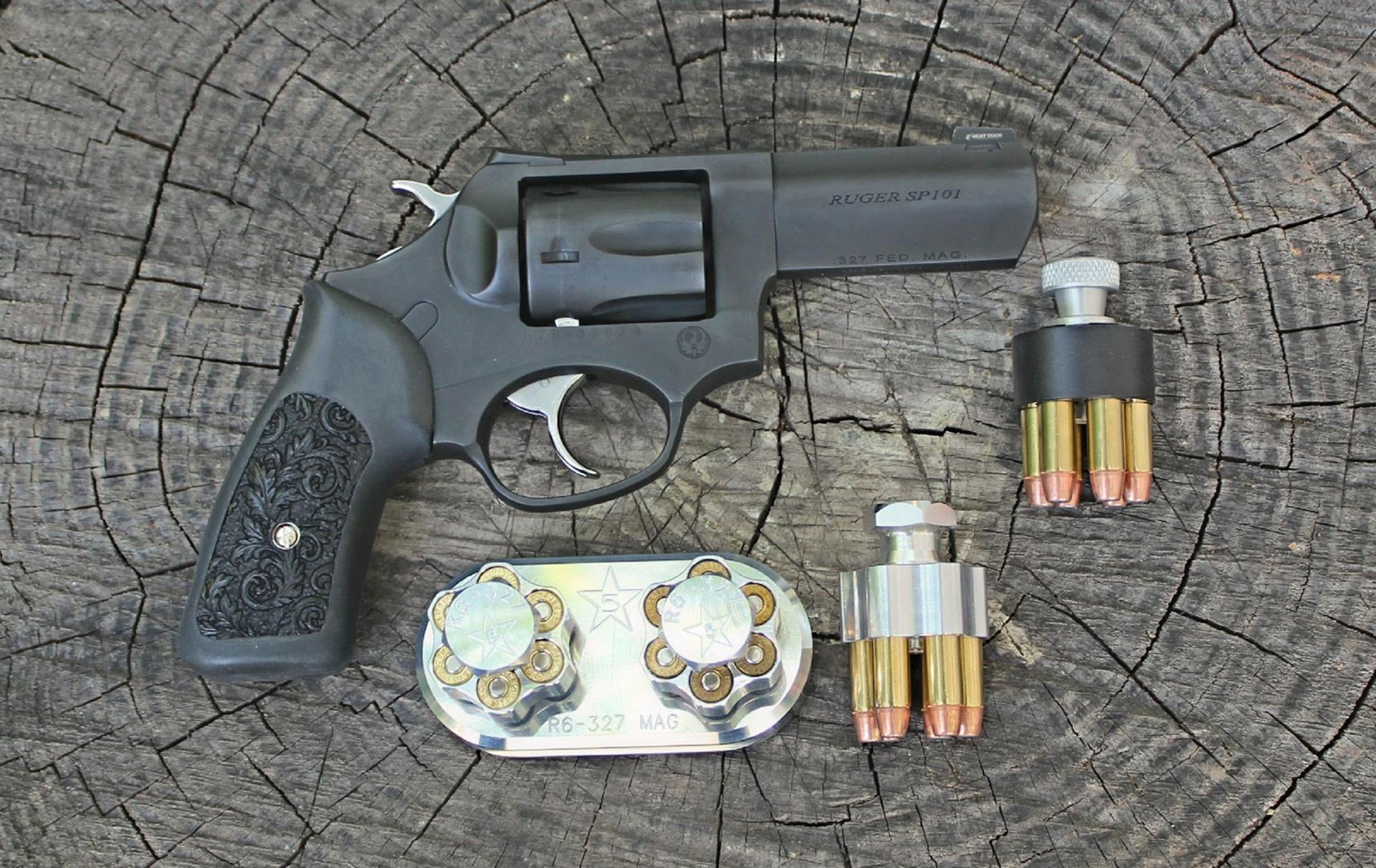 Companies that make compatible speed loaders include H.K.S. and 5 Star Firearms.
The six-shot speed loaders available for this version of the SP101 include the polymer and aluminum Model 32-J from H.K.S. and the all-aluminum Model R6-327 from 5 Star Firearms. 5 Star also offers aluminum loading blocks in different sizes. Both loader brands work well, but it should be noted that the H.K.S. speed loader releases its cartridges by rotating the knob clockwise, while the 5 Star loaders release by twisting counter-clockwise. For some revolver fans, the knob's rotational direction seems to be the deciding factor as to which brand they prefer.
At the Range
Taking this rig to the shooting range was quite satisfying. The action tune-up and sights were terrific to work with, thanks to a more useful sight picture and clean, light trigger pull. The SP101 operated flawlessly with all of the test ammunition loading, firing and ejecting properly.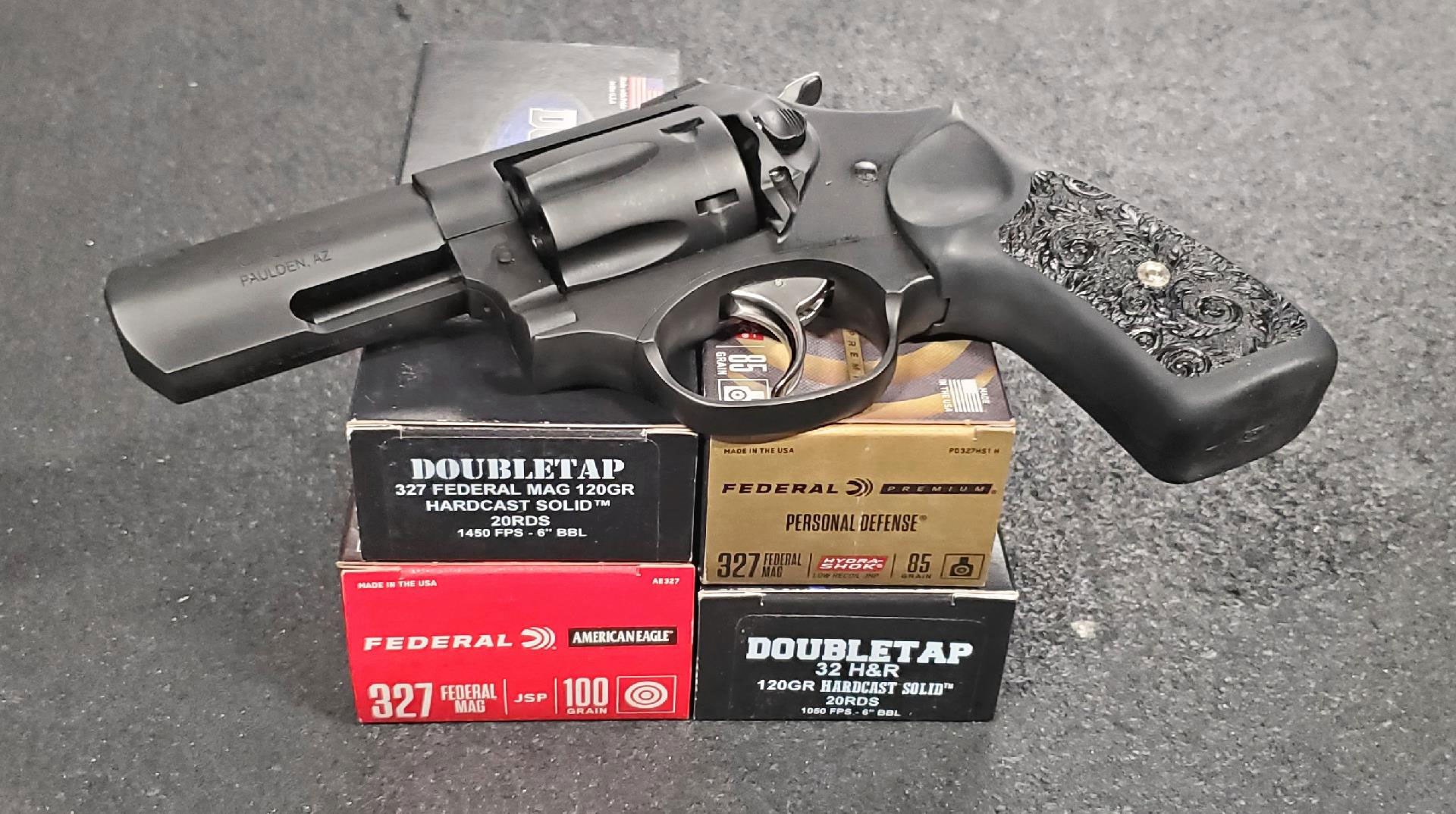 The custom SP101 was tested with defensive and field-grade loads. 
The levels of recoil were right where they were expected to be. The Federal Premium 85-grain to 100-grain .327 Fed. Mag. defensive loads yielded performance in between that of the .38 Spl. +P and the low end of the .357 Mag. spectrum, with moderate levels of felt recoil. Double Tap Ammunition offers a pair of field loads topped with 120-grain flat-nose, hard-cast lead bullets designed for deep penetration. Their .32 H&R cartridge is loaded down to a listed muzzle velocity of 1,050 f.p.s., while the .327 Fed. Mag. cartridge is cranked up to 1,450 f.p.s. The range results are shown in the following table: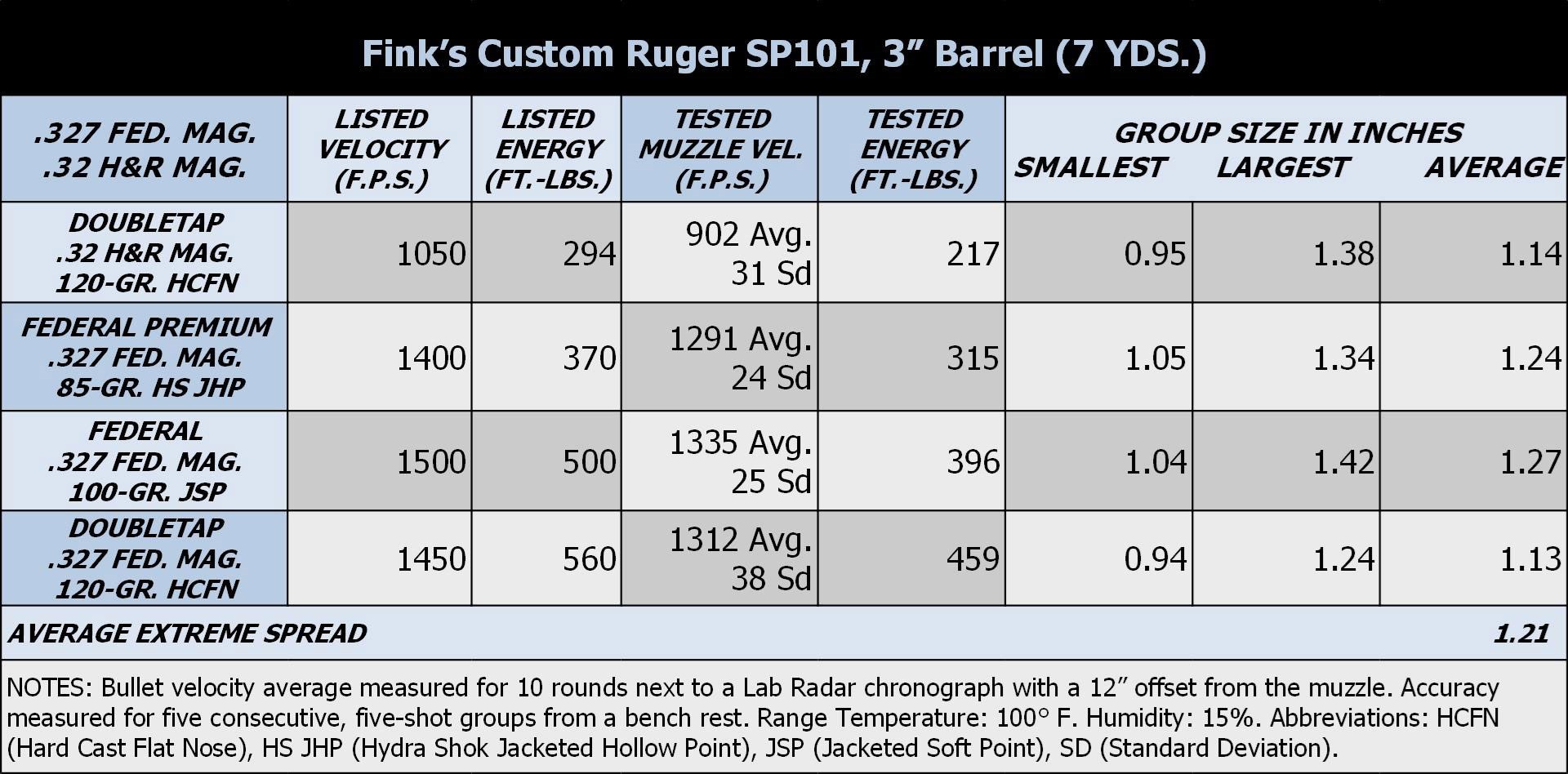 Parting Shots
The goal of this project was to pull together what I believe to be an ideal compact-size, "Trail-to-Town" carry set, and I'm happy to report that I got just what I wanted. This version of the Ruger SP101 offers a useful balance of size, weight, capacity and performance to fill the "micro magnum" niche. Fink's custom work took this revolver from being very good to great. I'm quite pleased with the gun's cosmetics, its feel and the support gear tested along with it.
It's understandable that not everyone will be as intrigued by the finished project as I am. All-steel, short-barrel revolvers chambered for .327 Fed. Mag. are not everyone's cup of tea, and I'm sure there are at least a few things you would have done differently. But the good news is that Ruger makes a wide variety of different types of handguns, and the folks at Fink's Custom Gunsmithing are ready to tweak and tune them to your specifications. Take a look at what these companies have to offer and go get what you want.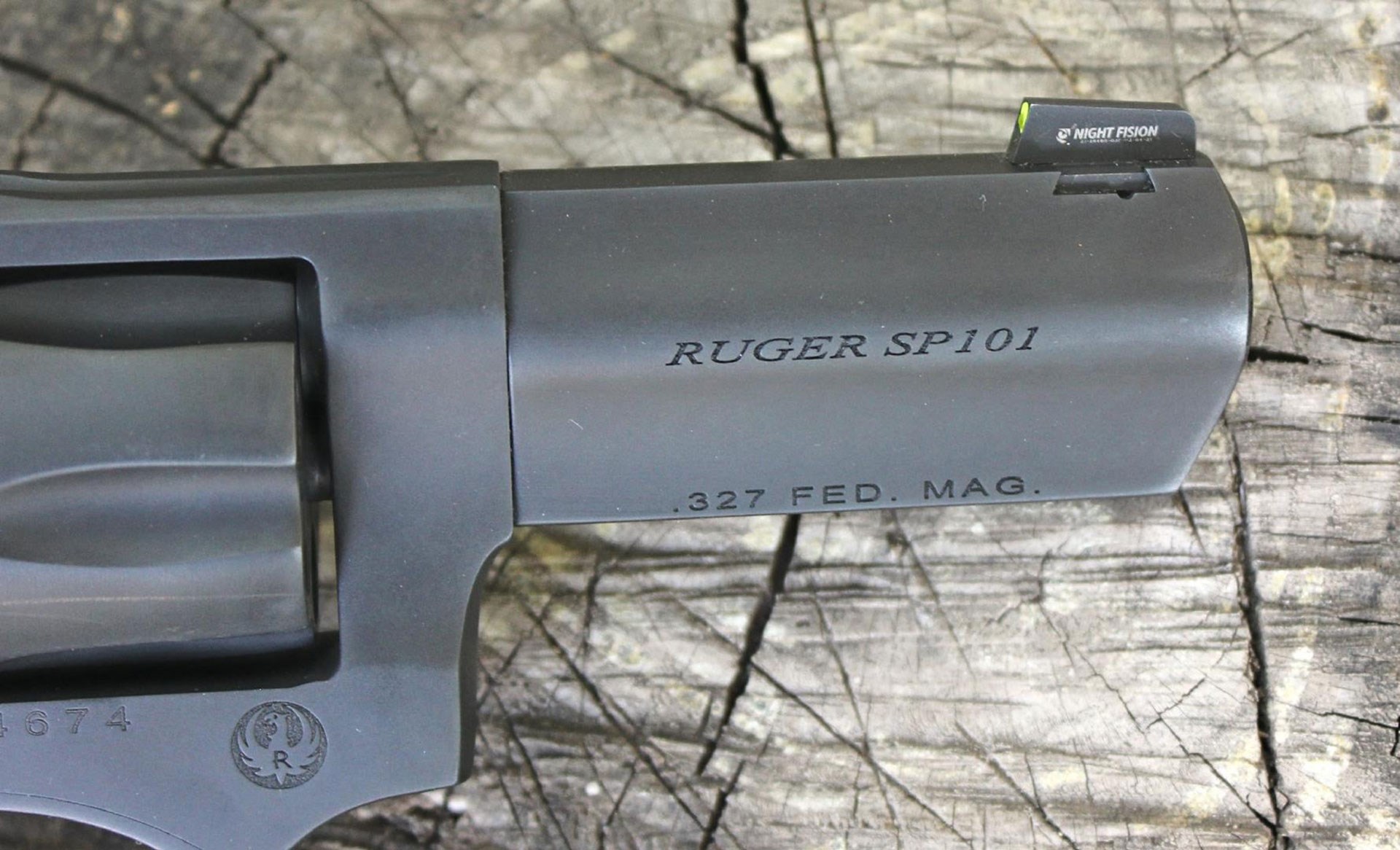 Ruger SP101 OEM Specifications
Action Type: double-action, centerfire revolver
Chambering: .327 Fed. Mag.
Receiver: stainless steel
Barrel: 3″ stainless steel; five-groove, 1:16″ RH twist
Trigger: double-action, 12-lb.pull; single-action, 5-lb. pull
Sights: Patridge-style; black ramp front, fixed square-notch rear
Grip: rubber, engraved-wood inserts
Cylinder Capacity: six
Weight: 27 ozs.
Accessories: owner's manual, hard case, lock
MSRP: $889
Modifications & Services
Action Job: Fink's Custom Gunsmithing; Ruger revolver; double-action, 7-lb., 2-oz. pull; single-action, 2-lb., 14-oz. pull, $189
Front Sight: Novak 0.265″ GP100 Tritium Mega Dot, yellow outline; $55
Rear Sight: Novak LoMount Carry Mini; $35
Finish: H&M West, black Nitride; $275
Labor: $190 ($95 for Two Hours)
Shipping & Handling: FedEx $25
MSRP: $769
Accessories
LS Grips Abalone Pearl, $40
LS Grips Copper Pearl, $40
LS Grips Ebony Floral Scroll, $47
Mitch Rosen 5JR-Express Leather Belt Slide holster, Cuban Brown, $85
Triple K-style holster, 202 Tan Leather Belt Holster, $63
Triple K-style holster 314 Tan Leather IWB, $63
H.K.S. Model 32-J speed loader, $11
5 Star Firearms R6-327 speed loader, silver finish, $20
5 Star Firearms R6-327 Bedside Block loading block kit, $30
Article by B. GIL HORMAN
Don't forget to like us on Facebook and follow us on Twitter.