Gatorz Marauder Eye Protection Review
Eye protection is one of those things, like life insurance and daily vitamins, that everyone knows we need to have, but no one really gets excited about. Of course, protecting your eyes is critically important; no one is going to argue otherwise. But, generally we tend to either use inexpensive plastic glasses we get at the local big-box hardware store, toss on what the range offers for loaners or simply use our existing prescription glasses (more on this, later).
And, it's funny, too, because at the same time, there's pretty much been a love affair with fancy eye wear. Popular culture is rife with it: Cary Grant's Tart Arnels in "North By Northwest," Tom Cruise's Ray Ban Aviators in "Top Gun," Arnold Schwartzenegger's Gargoyles in "Terminator 2," Will Smith's Ray Ban Predators in "Men in Black," The Dude's Vuarnets in "The Big Lebowski" … We've proven that we will spend ridiculous amounts of money on fancy sunglasses.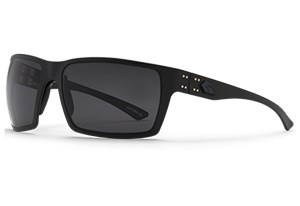 So, why not combine the two? Why not have fancy sunglasses that are also rated as safety glasses? Companies like Gatorz—started in 1989, long before Arnie put on those Gargoyles—have been doing it for years. More recently, high-profile, high-end eyewear has gotten more, pardon the pun, visible.
With the Marauder Ballistic line, Gatorz really steps things up. Four Cerakote frame-color options are available. Prescription lenses can be ordered. And, for the pair we have today, there's an extra bonus: there's a photochromatic version. As the name implies, the Ballistic line is ANSI Z87 rated for ballistic protection. The frames are aluminum, with the aforementioned Cerakote options. A silicone nosepiece with a metal core allows for a better fit on the face. The frame is designed with flexibility in mind to suit the wearer. These aren't one-size-fits-some glasses; these are customizable to the individual.
Lenses are high-contrast and come with not only anti-fog but coating but also scratch-resistance built in. They're polarized and protect against UV rays, which in the case of the photochromatic lenses is also how the lenses darken. Upon exposure to direct sunlight (sorry, they won't activate in your car or greenhouse), the lenses will increase tint. Once the sunlight exposure ceases, the lenses will return to clear.
This may not seem like a big deal off the bat, but if you've ever been at a facility that has both indoor and outdoor ranges, this make a huge difference. Rather than having to either bring along two pairs of eye protection, or attempt to swap out different lenses, you simply … walk inside. While you're listening to the shoothouse safety briefing, your Marauders will be transitioning back to clear (the company lists a 60-second transition time from clear to dark and slightly longer in the reverse).
Going from the shoothouse to outside? No problem. Going from the bright rifle range to the indoor rimfire range? Also, no problem. You don't even have to take the Marauders off. Now, this might not be enough to get you to part with the $300 price tag alone, but if you're already dropping the $250 for the ballistic lenses, that's $50 well spent, at least in our opinion. If your local range has both outdoor and indoor facilities, or even covered bays vs. open, not having to swap out lenses saves time and space in the range bag (by not needing duplicate eye protection for indoor or outdoor).
While the price range on ballistic sunglasses varies pretty substantially, for stylish, customizable frames with rock-solid protection, the Gatorz Marauders aren't unreasonable by any stretch. With aluminum frames protected by a stout Cerakote finish, these glasses will outlast most other protective gear. When it comes to price, too, consider that these can be ordered in one's prescription, for those who need corrective lenses. Using standard prescription glasses as eye protection is risky—most aren't rated for any sort of impact, and don't cover the sides, either. Consider it a buy-once, cry-once type transaction; while the Marauders might be pricier than other options, the benefits are significant.
One of those benefits is the amount of custom-fitting that can be achieved. The frames have enough give to be contoured to the individual's face, with thin arms that fit well under over-the-ear hearing protection. The nosepiece is also configurable, allowing the glasses to be extremely comfortable even when worn for extended range sessions. Lenses have a slight curve to them, which at first looks like they don't protect the sides—until you get a good look at the side profile. They're very well done, comfortable, stylish and offer plenty of protection. What's not to like?
Article by  JAY GRAZIO
Don't forget to like us on Facebook and follow us on Twitter.