Great Handloading Gear For 2022
Handloaders making their own ammunition will often look for the best equipment to complete this tall task. Here are 23 of our favorite products available from top brands in the ammunition reloading industry.
POWER TRIM XPRESS
Affordably priced, the Lyman Power Trim Xpress is made to handle trimming duties for most automated, progressive, turret or single-station presses. With a variable speed direct-current electric motor, it can handle cartridge conversions as well, and there's also a vacuum manifold. Additionally, it accepts standard trim dies and uses a long-lasting carbide cutter. MSRP: $314.95, lymanproducts.com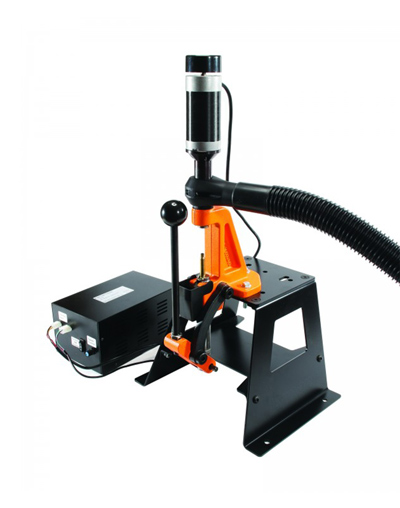 ---
X-10 PROGRESSIVE PRESS
Coming soon, the Frankford Arsenal X-10 is a 10-station automatic indexing reloading press crafted from rigid steel and with multiple ball bearings. Along with a proprietary gear-driven rotating shell plate, advanced features on the X-10 include dual de-capping stations, in-line primer pocket swaging capability and the ability to run powder check and case trimming dies. MSRP: $1,199.99, frankfordarsenal.com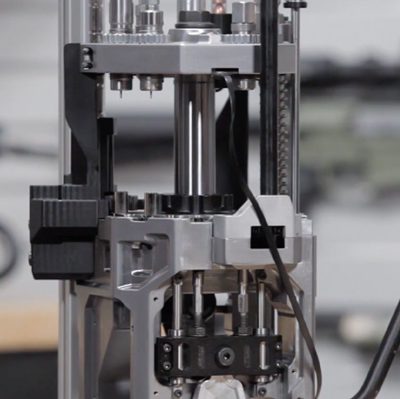 ---
F-1 SINGLE-STAGE PRESS
Designed for accurate and precise reloading, the new Frankford F-1 Single-Stage Reloading Press is packed with features, including a linear ball bearing system for smooth operation, integrated LED light, a fully contained primer catch system and precision-machined, solid-steel construction. It is compatible with 7/8-inch-by-14 dies and loads up to .338 Lapua-sized cartridges. MSRP: $149.99, frankfordarsenal.com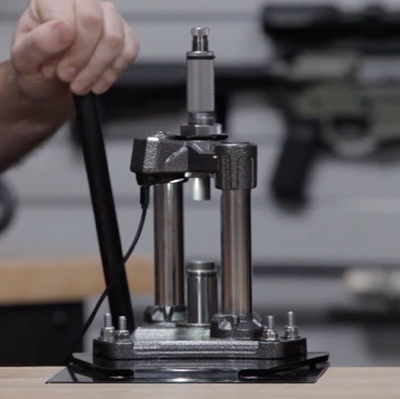 ---
FRANKFORD ALUMINUM FUNNEL KIT
The Aluminum Powder Funnel kit from Frankford Arsenal is a new option for those who need to fill cases .17 caliber and up. With eight interchangeable nozzles, this is an excellent funnel for creating consistent loads. The metal funnel should also help to reduce static cling and powder spillage. MSRP: $34.99, frankfordarsenal.com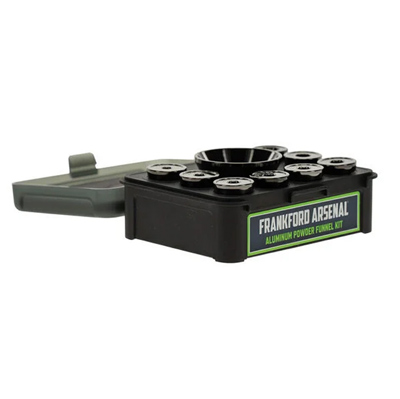 ---
ROCK CHUCKER POCKET SCALE
The Rock Chucker Pocket Scale 1500 GN is the company's newest scale, and is a bargain for handloaders looking for an affordable, yet durable weighing option. It has a 1,500-grain capacity, 0.10-grain accuracy and an easy-to-read digital display. Sporting a rugged design, the 1500 GN is powered by two AAA batteries and includes a one-year warranty. MSRP: $41.95, rcbs.com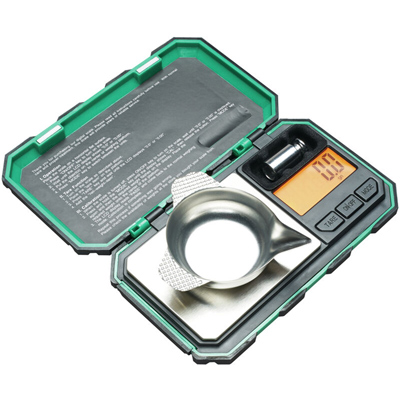 ---
FORSTER PRODUCTS NECK TENSION GAUGE KIT
Forster's Neck Tension Gauge Kit is a solid inspection tool that accurately and quickly screens brass, which is important to perform prior to the bullet seating operation. Done properly, this process can help determine optimal inside neck diameter for consistent release of a bullet from reloaded rounds. It also allows for inspection of the inside diameters of case necks. MSRP: $300, forsterproducts.com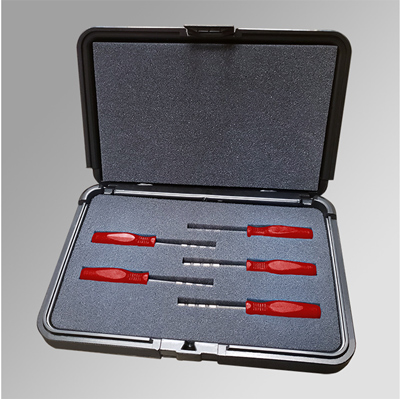 ---
DIGITAL ROUND COUNTER
Want to keep track of the number of rounds you've produced? Consider the Armanov Digital Reloading Round Counter, which can help determine the total number of rounds you've reloaded (and for each caliber), how long it took and also reloading efficiencies. It has 45 predefined caliber profiles and eight custom profiles, four for rifles and four for handguns. MSRP: $139.99, usa-shop.armanov.com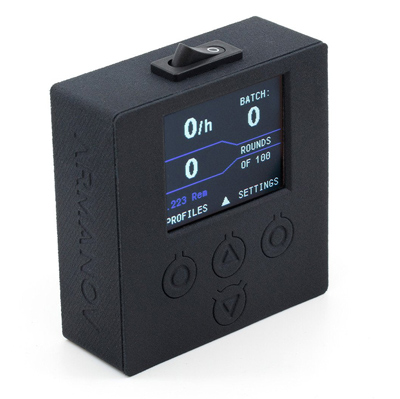 ---
LYMAN HEADSPACE GAUGES
The Lyman Rifle Case Length Headspace Gauge is a great tool for those who need to measure critical dimensions with the most possible accuracy and safety. This tool is especially important for the latter. It's available in several calibers, including newer offerings such as .260 Rem., 6.5 PRC, 6.5 Grendel, 6.5×55 Swede, 327 Federal, 350 Legend, and more. MSRP: $30.95, lymanproducts.com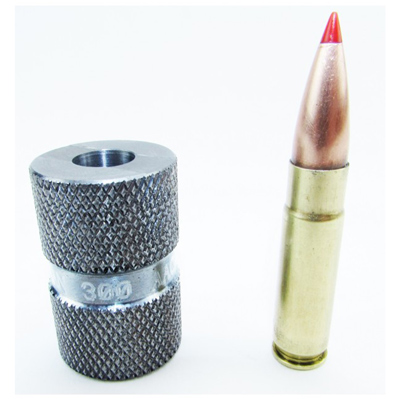 ---
UNIFLOW POWDER MEASURE
Those who need a precise powder measuring tool might look to the Rock Chucker Uniflow Powder Measure III, which according to RCBS is the "most accurate uniflow that it has ever produced, helping produce top-of-the-line reload charges." Additionally, the anti-static threaded hopper can hold up to ½-pound of extruded powder or 1/3-pound of flake. MSRP: $119.95, rcbs.com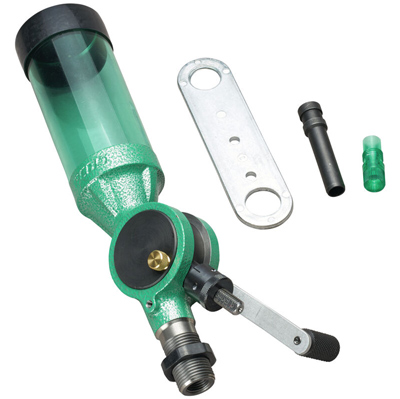 ---
SUPREME RELOADING KIT
The Rock Chucker Supreme Master Reloading Kit is a bargain, with the equipment you need to begin handloading (except dies and shell holders), making it great for beginners and experienced reloaders alike. Features include an accessory handle, .17 to .60 caliber deburr tool, case lube kit, hand-priming tool, hex key set, M500 mechanical scale, powder funnel, Uniflow-III powder measure, universal case loading block and Speer reloading manual. MSRP: $499.99, rcbs.com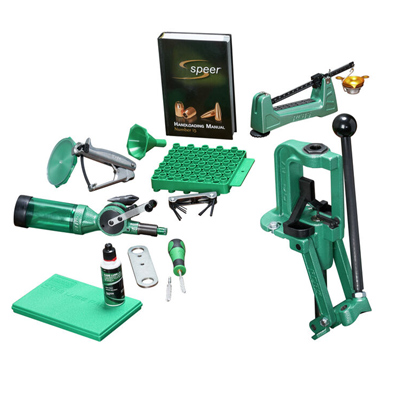 ---
LYMAN 51ST EDITION RELOADING HANDBOOK
One of the premier books on reloading ammunition, Lyman's recent 51st Edition Reloading Handbook is jam-packed with incredible information for handloaders and helpful data for those who really dig into the specs to produce the best results. And, of course, safety is paramount, and this book addresses the subject well. The latest edition includes a large selection of bullets, wide range of popular powders and even calibers such as 224 Valkyrie, 22 Nosler, 6 mm ARC, 6 mm Creedmoor, 6.5 PRC, 6.8 Western and 300 PRC. $24.99, midwayusa.com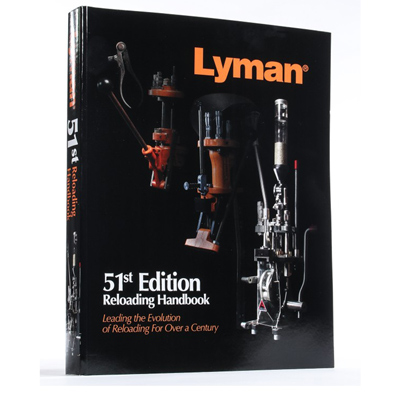 ---
BREECH LOCK HAND PRESS
The Lee Precision Breech Lock Hand Press Kit is a fantastic portable reloading option. Compact, it packs easily in the box for transport or storage. It's a solid option for those without much space to work with, as well as those who reload at the range. This kit includes the Breech Lock Hand Press, Case Resizing Lubricant, Lock Ring Wrench, Powder Funnel, Ram Prime and a Breech Lock Quick Change Bushing. Dies available separately. MSRP: $94, leeprecision.com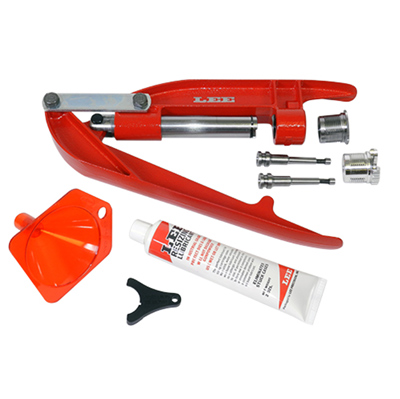 ---
LEE RAM SWAGE
The new Ram Swage from Lee Precision is equipped to handle single-stage or turret presses that have 7/8-inch-by-14 threads in the press frame. Compatible with universal press shell holders, it even features an all-steel case guide, spring assisted case extraction and a shell holderless design. MSRP: $50, leeprecision.com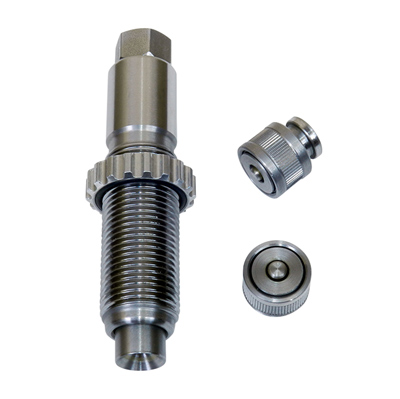 ---
ACP DE-PRIMING KIT
Reloaders who need to de-prime and tumble clean cases prior to sizing should consider the ACP De- Priming Kit from Lee Precision. No shell holders are required. Cases that are shorter than 2½ inches can be fed automatically with the additional universal case feed magazine. This add-on makes the ACP even more efficient. MSRP: $12, leeprecision.com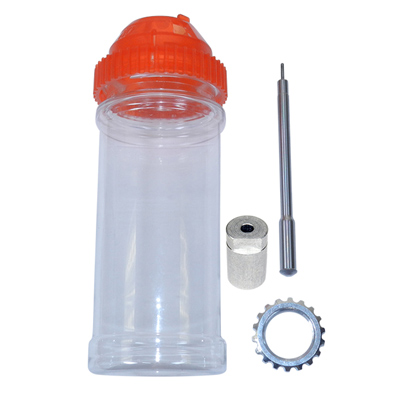 ---
SPORT PISTOL PROPELLANT
The Sport Pistol offering by Alliant Powder is a reliable, clean-burning option made for precision and action shooters. The low-muzzle-flash formulation is optimized for polymer-coated bullets such as Syntech. Best of all, this propellant is made in the United States. MSRP: varies, alliantpowder.com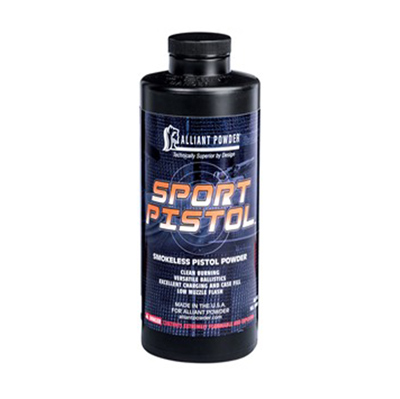 ---
RELODER 16 PROPELLANT
Alliant Powder's Reloder 16 is a consistent propellant with world-class stability. Its burn rate is optimal, and slightly faster than Reloder 17, but is within the H4350 powder-burn speed band. It's an ideal propellant for .30-06 Springfield, .270 Winchester and 6.5 mm loads. MSRP: varies, alliantpowder.com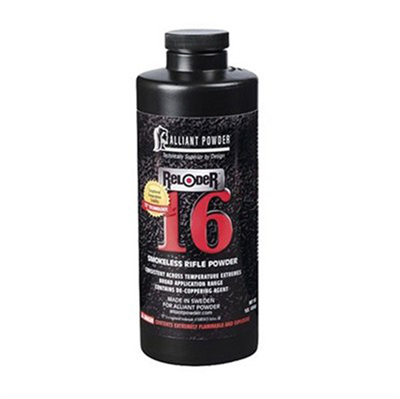 ---
HORNADY BASIC FUNNEL
Those who want a basic powder funnel should consider this one from Hornady. This is an anti-static funnel fitting all calibers ranging from .22 to .45, with an available adapter to accommodate the newer .17 and .20 calibers. It's also MTM-compatible and even incorporates a squared rim design that prevents it from rolling—something reloaders commonly face with most funnel designs. MSRP: $4.49, hornady.com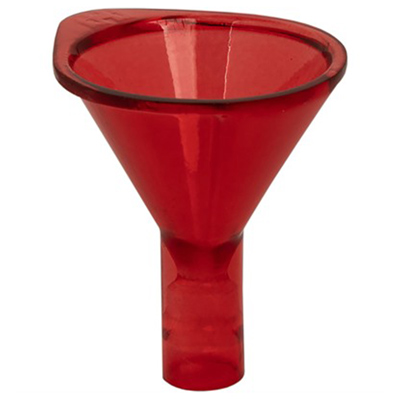 ---
PREMIER FUNNEL KIT
Considered as a top-of-the-line offering, Hornady's Premier Powder Funnel Kit is an excellent option for those who will be reloading this year and beyond. The kit includes high-capacity funnels built from a non-static aluminum material that make their home in a form-fitted storage case. MSRP: $40.99, hornady.com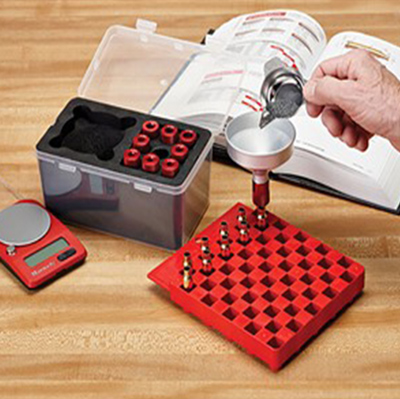 ---
ARC CARTRIDGE GAUGE
The Hornady ARC Cartridge Gauge allows users to check their cases and loaded ammunition. Simply slide your sized cases or loaded ammunition into the case gauge. If it isn't flush, the case is incorrect. If it sits flush, the case is correct, meaning a change is needed. This helps ensure the right fit with SAAMI chambers. Get cartridge gauges ranging from 6 mm to 6.5 PRC and 300 PRC. MSRP: $21.99 and up, titanreloading.com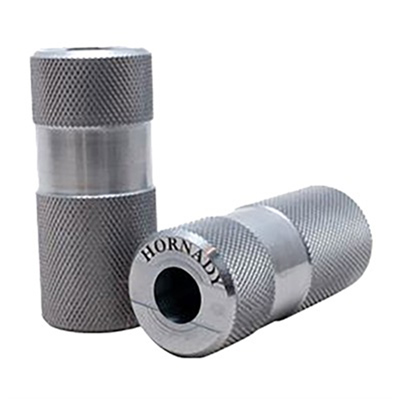 ---
LOCK-N-LOAD AMMO PLANT
The Hornady Lock-N-Load Ammo Plant offers reloaders a smooth and precise, yet fast, way to reload effectively and efficiently. This highperformance machine is responsive and durable, and also has power, which some models lack. Befitting this home ammunition factory, the AP boasts automatic indexing, priming and ejection. MSRP: $588.99, hornady.com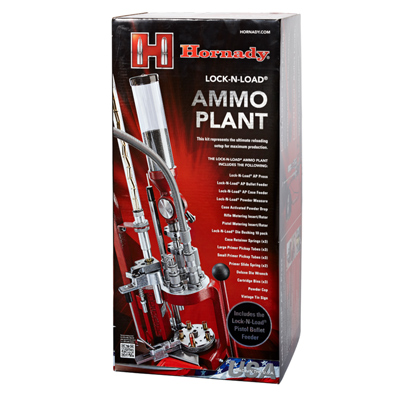 ---
HORNADY LED LIGHT STRIP
Those who want more light on their press should check out Hornady's Lock-N-Load Light Strip. With an adhesive backing, it's easy to place this LED-packed light where you need it the most, such as on a press or around a reloading bench. This helps reduce shadowing and makes it easier to see what you're doing. It can plug into a standard 110-volt outlet or Lock-N-Load Control Panel. MSRP: $24.99, hornady.com
---
POWER CASE PREP CENTER
The Hornady Lock-N-Load Power Case Prep Center will help you save both space and time while reloading ammunition. It does so by incorporating the most important case prepping features into a single product, such as a power trimmer, chamfer feature, deburr tool, (large and small) primer pocket cleaners and six neck brush sizes. It also has removable trays for easy detachment. MSRP: $560.86, hornady.com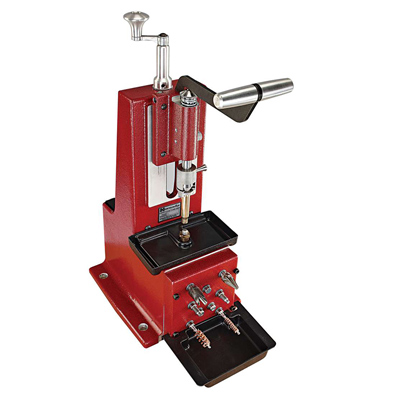 ---
MATCH BUSHING DIE SETS
Hornady Match Grade Bushing 2-Die sets are made for ultra-precision. The quality can help produce match-winning performance, with self-centering, interchangeable neck sizing bushings, full-length sizing die, two Sure-Loc rings and seated die with roll crimp. It comes with a plastic storage box, but does not include a shell holder. MSRP: $99.99, hornady.com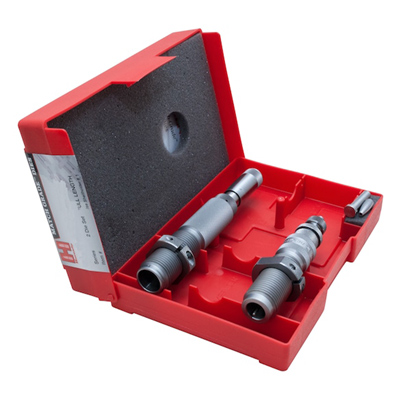 Don't forget to like us on Facebook and follow us on Twitter.