Hardware: Remington Core-Lokt Tipped
In 1939 America was still struggling to escape the Great Depression. The first airline passenger service across the Atlantic was started, and nylon stockings had just hit the market.
There were rumblings of war in Europe and talk of building an atomic bomb in Washington. Huge changes were on the horizon, so when Remington introduced a game-changing big-game bullet, it was a bit overshadowed on the world stage. No matter, it went on to make a huge mark in the hunting industry.
The Core-Lokt was the first controlled-expansion rifle bullet offered by a major ammo maker. It featured a jacket that was mechanically locked to the lead core and tapered to control the expansion of the bullet. In looking over the dealer's price list from 1939, 1,000 rounds of Core-Lokt cost about the same as one box of 20 rounds cost today.
The Core-Lokt went on to become arguably the most popular big-game bullet in history. Generations of hunters have depended on this bullet for their hunting needs. Just a few days ago I had a young man stop by with his new deer rifle. I asked what he was going to shoot in his .270. "The only thing my family ever uses is Remington Core-Lokt," he replied, indicating no room for discussion.
When Remington started the ad campaign for the Core-Lokt showing an expanded bullet and calling it "The Deadliest Mushroom in the Woods," it was brilliant. All the major magazines ran it full page, often on the back cover, and Remington Core-Lokt became America's hunting bullet.
The bullet has remained almost unchanged for 82 years. After all, why mess with a good thing? Remington went bankrupt a few years back, and Vista Outdoor (the company that owns Federal), bought out the ammo side of the Big Green R.
While Remington Ammunition will continue to offer a full line of Core-Lokt ammo, they decided to modernize the bullet in an all-new offering as well for 2021. The first new product from the "new" Remington is a tipped version of the Core-Lokt bullet called "Core-Lokt Tipped."  The new ad reads, "The deadliest mushroom in the woods just got deadlier!"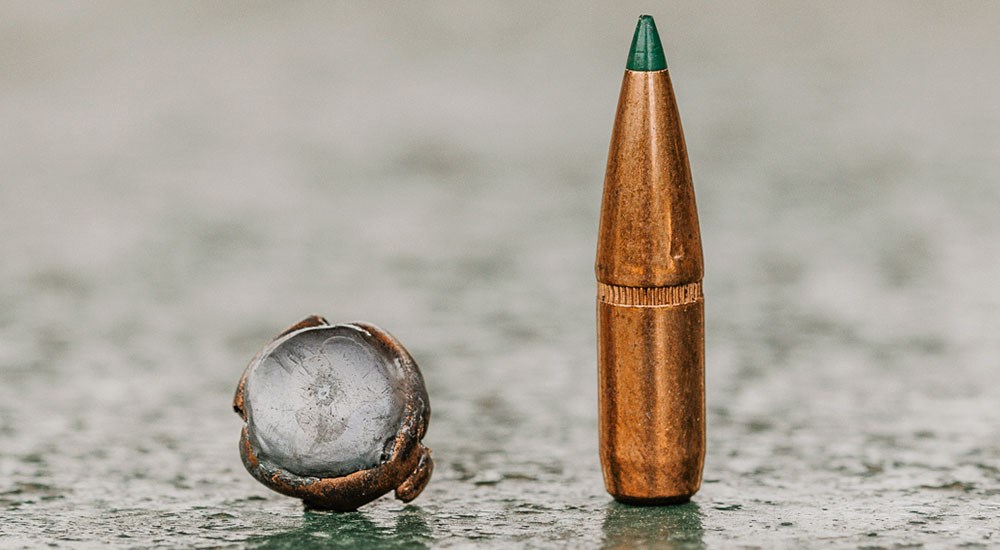 The addition of the Big Green Polymer Tip brings this long-trusted hunting bullet into the modern world. Core-Lokt started out as a round-nose bullet (still offered), and a lot of Northeastern hunters still claim that style hits harder. The bullet design soon enough advanced to possess a point, and that style has been dropping game for decades. But technological advancement continues to progress, and the addition of the polymer tip reflects that.
The main advantage of a tipped bullet is a higher ballistic coefficient (BC). The .30-caliber, 180-grain Core-Lokt Tipped bullet has a BC of .480, compared to a BC of .383 for the pointed Core-Lokt and .248 for the round nose.
Ballistic coefficient is a measure of the aerodynamics of the bullet. The higher the BC, the less wind resistance the bullet will experience in flight. That means it retains its velocity longer for a flatter trajectory and more energy at long range. The added polymer tip also shifts the weight slightly back for better accuracy, protects the meplat from damage and initiates expansion.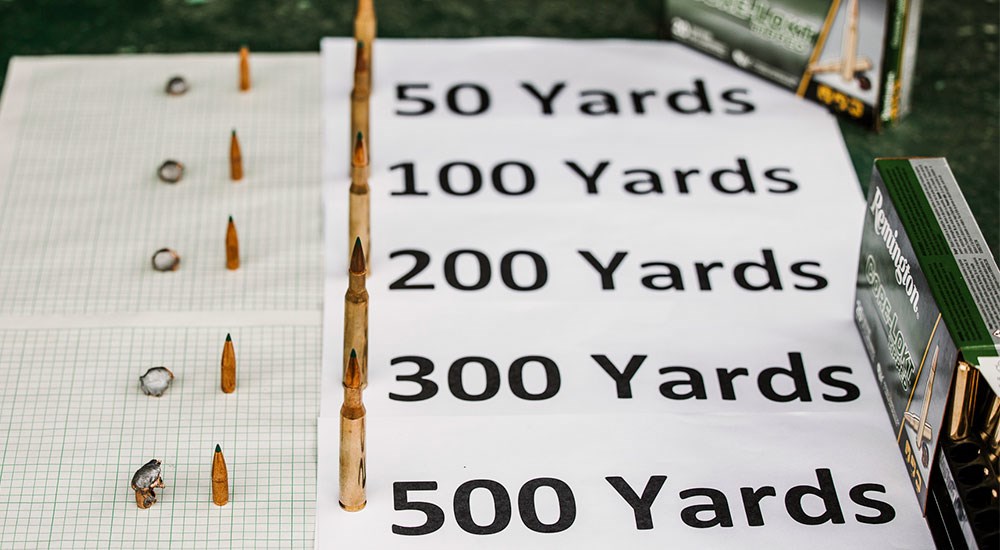 Pulled from ballistic gelatin, the 130-grain .270 Win. Core-Lokt Tipped bullets illustrate deadly expansion and weight retention out to 500 yards.
Hunting rifles have improved dramatically in the last decade. Most new rifles, even budget-priced rifles, are amazingly accurate. That has contributed to the popularity of long-range hunting. The new Core-Lokt Tipped bullet addresses that well. It is accurate, it retains its velocity so it shoots flat, and it has the Core-Lokt on-game performance that hunters have trusted for generations.
I recently had an opportunity to test the new bullet in the field using a .270 Savage rifle that delivered .5-inch groups at 100 yards. The 130-grain bullet is listed at 3080 fps. That's the same ballistics trusted by millions of hunters with Core-Lokt in their .270 Win. rifles every year.
I wish I could say I shot a Booner with antlers so big they wouldn't fit in the truck, but it wasn't in the cards. The part of South Carolina I was hunting was unusually hot during my three-day visit, and the deer were panting in the shade, deep in the thick swamps. One day saw biblical rain. It quit just before dark and the deer started moving. We love venison, and my freezer was so empty it had an echo.
I shot a small buck as he was quartering to me. I was high up in a blind and shooting down as he was relatively close. The bullet took out several inches of spine and penetrated about half the length of the deer. I found the expanded jacket under the hide on the off side—it traveled 30 inches, straight down. As most hunters know, the spine is a virtual bullet trap. I have seen a spine hit stop a .30-06 bullet dead in just a few inches. This one took out the spine and penetrated through another 15 inches of the deer. Impressive.
Half an hour later a big doe showed up. I shot her with a classic, behind-the-shoulder broadside shot. She ran 25 yards and was dead when she fell. The heart and lungs were mush and the bullet exited.
I have seen it all before, many times, as this is classic Core-Lokt terminal performance. Nothing has really changed, except the bullets are now more accurate, hold their energy longer and shoot flatter. So, yes, America's big-game bullet has evolved, and it's even better.
The ammo is already on dealer shelves and is available chambered in all the usual suspects, with Remington adding to the list every day.
I later tested the new ammo in several rifles, and as the chart shows, it's accurate hunting ammo.
This first introduction from the "new" Remington is a winner. If you like Core-Lokt, you are gonna love Core-Lokt Tipped.

Technical Specifications
• Cartridges and Bullet Weights: .243 Win. (95-gr.); 6.5 Creedmoor (129-gr.); .270 Win. (130-gr.); .280 Rem. (140-gr.); 7mm Rem. Mag. (150-gr.); .30-06 Sprg. (150-gr., 165-gr., 180-gr.); .300 Win. Mag. (180-gr.); .300 WSM (150-gr.); .308 Win. (150-gr., 165-gr., 180-gr.)
• Bullet Type/Style: controlled expansion, polymer-tipped bonded bullet
• Ballistic Coefficient (G1): .415 (150-gr., .30-06 Sprg.); .447 (130-gr., .270 Win.); .480 (180-gr., .308 Win.)
• Muzzle Velocity (adv. fps): 2930 fps (150-gr., .30-06 Sprg.); 3080 fps (130-gr., .270 Win.); 2640 fps (180-gr., .308 Win.)
• Muzzle Energy (adv. ft-lbs.): 2,859 (150-gr., .30-06 Sprg.); 2,738 (130-gr., .270 Win.); 2,785 (180-gr., .308 Win.)
• Uses: medium-large big game
• MSRP: $41.99-$61.99/20-rnd. box; remington.com
Article by BRYCE M. TOWSLEY
Don't forget to like us on Facebook and follow us on Twitter.