New for 2022: Benelli Lupo BE.S.T.
What It Is: A stunning new bolt-action rifle from Benelli that's tough as nails.
Why We Love It: The original Lupo was a bold rifle that impressed us with its innovative design and outstanding accuracy. The Lupo BE.S.T. is just as bold, but far more beautiful.

Two years ago, Benelli, no longer content with ruling just the semi-auto shotgun market, released their first bolt-action rifle, the Lupo. The Lupo's Crio barrel is free-floated and secured to the rifle's alloy receiver via a hardened steel barrel extension that is bedded to a steel block in the receiver. The Lupo's alloy chassis concept was similar in concept to the top chassis rifles used in long range accuracy competitions, and these guns proved capable of extraordinary accuracy.
That same chassis/barrel design carries over to the new Lupo BE.S.T., but the newest version of this rifle comes with upgraded aesthetics and perhaps the best surface coating ever designed for a firearm. For starters, it features a AA-grade walnut stock with Benelli's Progressive Comfort recoil reduction system. Borrowed from their shotgun line, the Progressive Comfort system utilizes interlocking fingers inside the stock that flex and dampen recoil.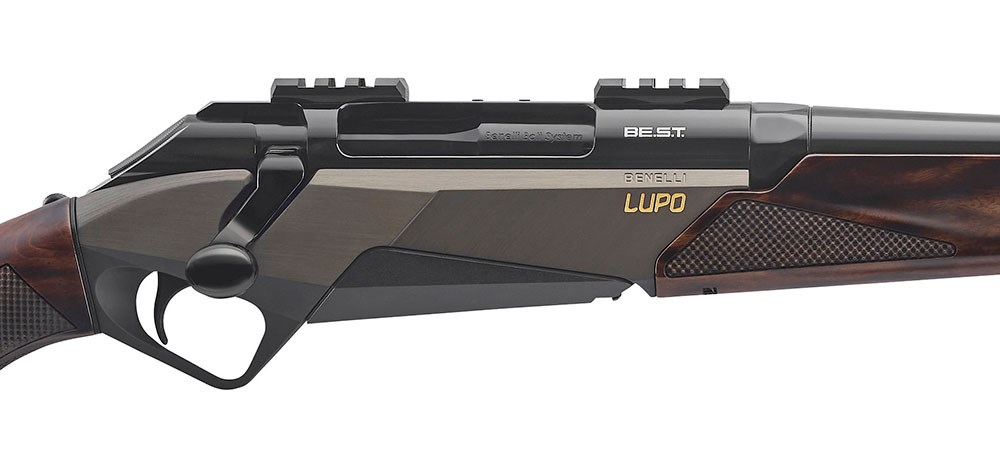 The Lupo's receiver comes with a striking Tungsten finish and BE.S.T. (Benelli Surface Treatment). BE.S.T. treatments are applied using a combination of physical vapor deposition (PVD) and plasma enhanced chemical vapor deposition (PECVD). In simpler terms, the surface treatment creates a barrier to the steel that is superior to perhaps any metal surface treatment ever designed for firearms. It's incredibly scratch and abrasion resistant—so much so that Benelli demonstrates the effectives of BE.S.T. on their shotguns by striking the barrel with car keys and wiped the scratches away by hand. After a quick wipe down of the barrel metal there isn't a blemish. Benelli is so confident in their BE.S.T. system that they back it with a 25-year warranty. The Lupo BE.S.T. comes with a glossy surface finish unlike the matte finish on the brand's BE.S.T. shotguns.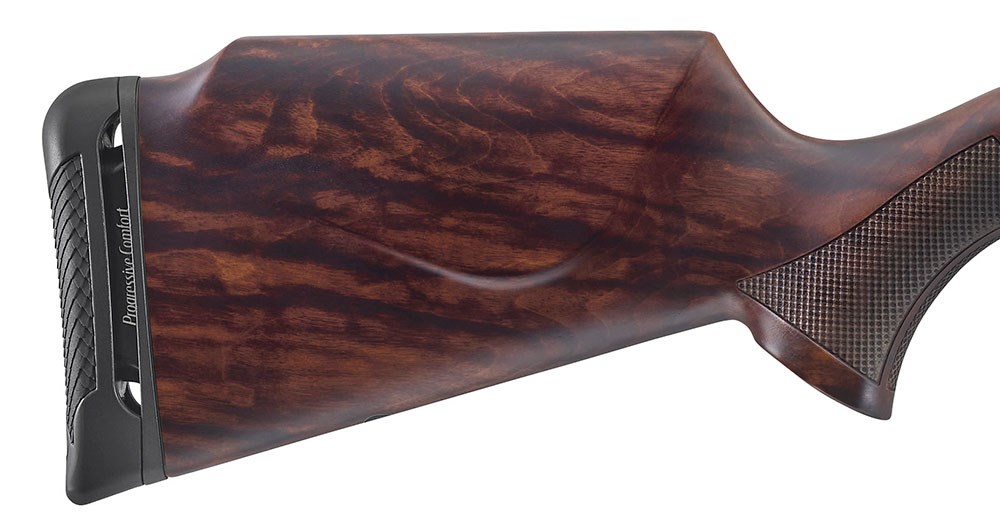 The Lupo BE.S.T. comes with many of the same features you'll find on the standard Lupo, like optics bases (with space to mount a third base) and a shim kit that allows you to customize the rifle for a perfect fit—another feature carried over from the shotgun side. A detachable box magazine is also standard, and there are two chambering options: .300 Winchester Magnum and 6.5 Creedmoor. The .300 Win. Mag. version comes with a three-round magazine, and the Creedmoor model gets a five-round mag. Both rifles come with 24-inch Crio barrels, and both of these rifles weigh in at around 7.1 pounds depending upon the density of the walnut stock.
With an MSRP of $1,899-$2,199, the new Lupo BE.S.T. is certainly a stunning rifle, and you can expect accuracy to be outstanding. For more information, visit benelliusa.com.
Article by BRAD FITZPATRICK
Don't forget to like us on Facebook and follow us on Twitter.