New For 2023: Pedersoli Model 86/71 Droptine
The year 2023 has seen a renaissance of the lever-action rifle, from the return of Marlin's classic 336 and 1894 models to manufacturers like Heritage introducing their own lever guns. To add to that mix, Italian manufacturer Pedersoli is taking a classic lever-action design and giving it a modern update, with its new-for-2023 Model 86/71 Droptine rifle.
For decades, Pedersoli has made versions of John Browning's 1886 lever-action. These include the classically styled Model 1886 and the Model 86/71, which pays homage to Winchester's Model 71 sporter. Ten years ago ago, the company began to add modern features to these rifles with its Boar Buster series. The Droptine is the latest addition; a classic, yet modern rifle, tailored to the whitetail deer hunter.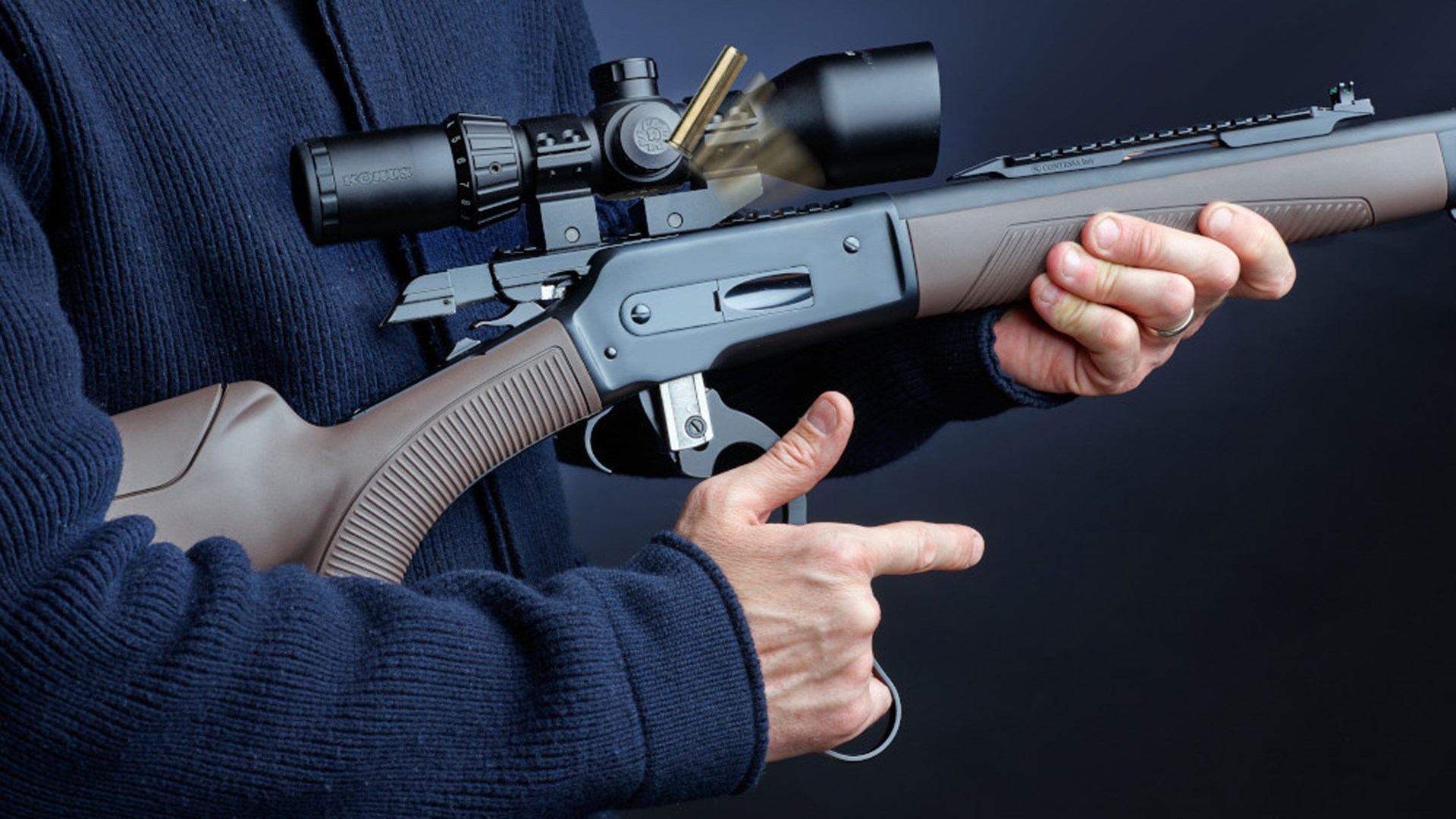 The Droptine is the latest variant in Pedersoli's Boar Buster line-up of modern 1886-style lever-actions, this one updated for the modern whitetail hunter.
At the heart of the Droptine is a Model 1886-style top-eject lever-action, with side-loading gate and under-barrel magazine tube. Both the receiver and loading lever, which has been optimized for ergonomics and use with gloves, are CNC-machined from solid steel. Chambered in .30-30 Winchester, the 3/4 length magazine holds four cartridges. A 19″ "Premium Match Grade" barrel is broach-rifled with six grooves and a 1:12″ twist rate and has its muzzle threaded 5/8×24 TPI for the attachment of suppressors or other muzzle devices. A sliding manual safety is located on the tang.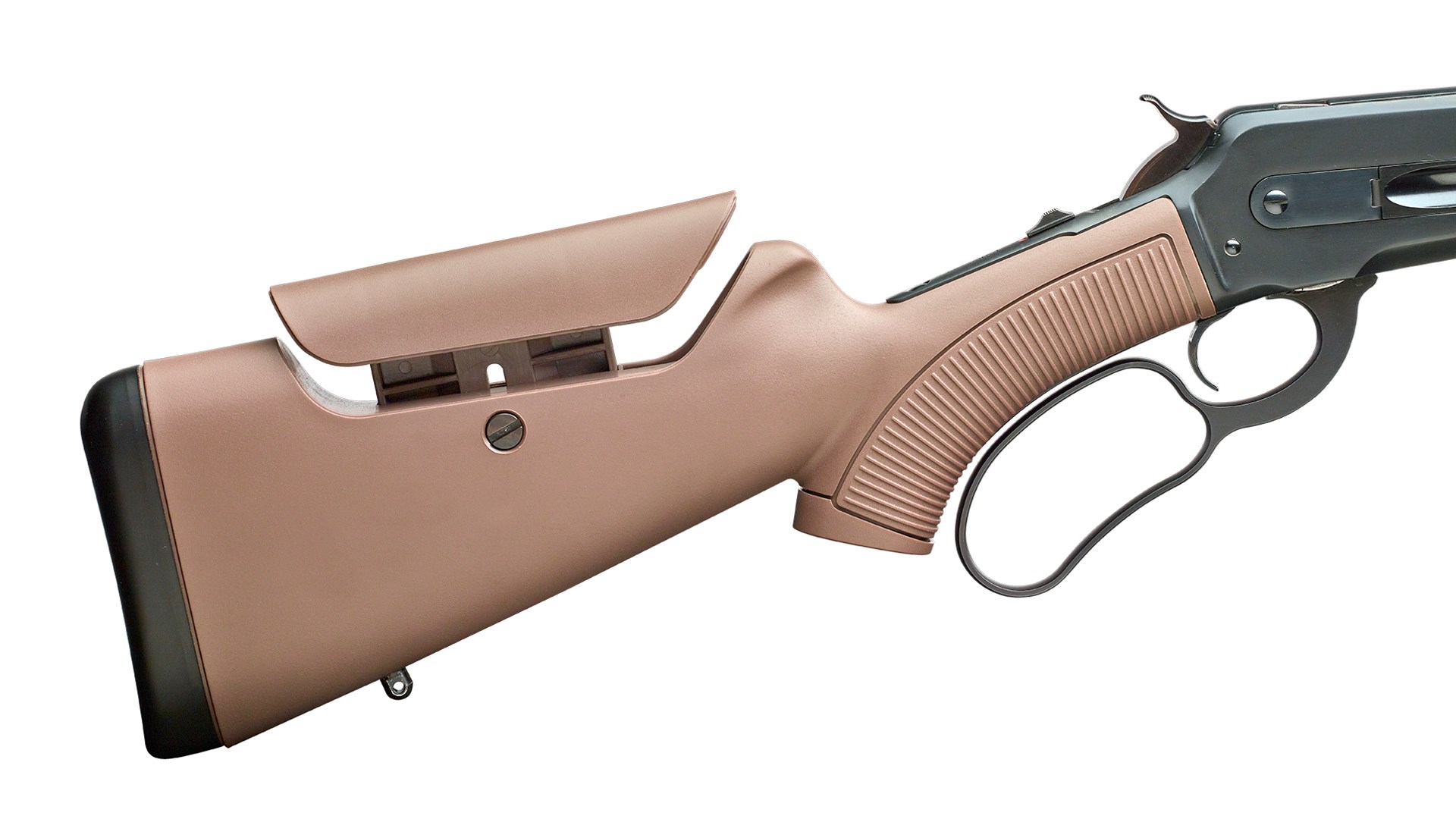 The Droptine's polymer buttstock has an adjustable cheekpiece to accommodate iron or optical sights.
Two major upgrades that come with the Droptine are its stock and optics systems. The stock and fore-end are made of "techno-polymer" that has a light brown "tobacco" color, and their shape has been optimized for modern hunters. Molded-in texturing is present in the grip and fore-end area, with detachable sling swivel studs also mounted fore and aft. On the buttstock, the cheekpiece is height-adjustable to accommodate either iron sights or optics, and the stock is capped with a Microcell recoil pad.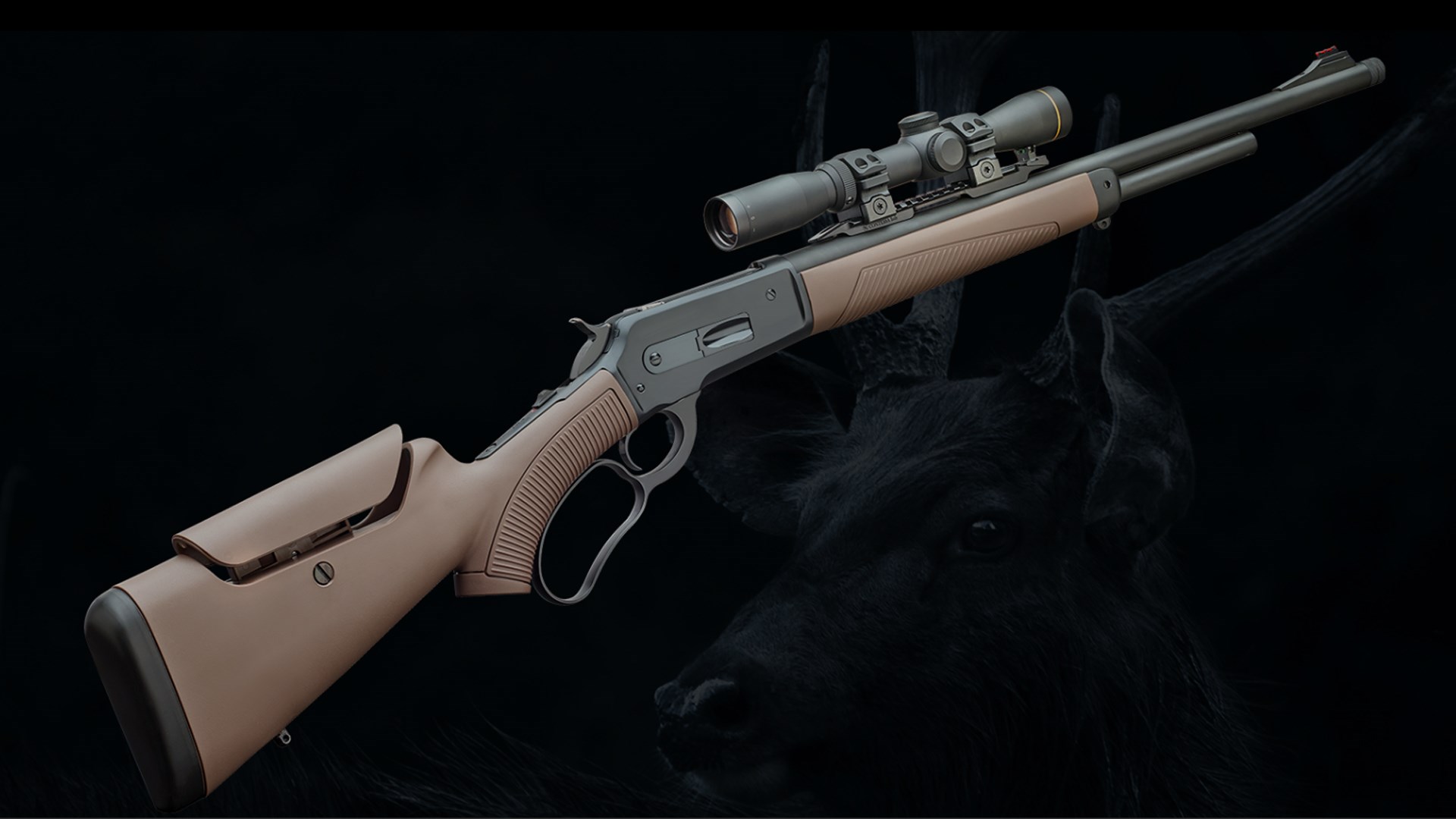 A Picatinny rail section mounted to the barrel holds the fully adjustable rear fiber-optic open sight, as well as providing a platform for mounting long-eye-relief optics.
Iron sights on the Droptine are a ramped front with fiber-optic insert and the fully-adjustable open rear sight also uses fiber optics. It is placed on a section of Picatinny rail attached to the barrel to allow for the mounting of long-eye-relief optics. The receiver is drilled so that a scope can be mounted with an offset mount manufactured by Pedersoli. This allows for the use of modern, higher magnification optics while still allowing for a top-eject action. With an offset scope mounted, the comb of the stock can be adjusted horizontally to accommodate a clear sight picture.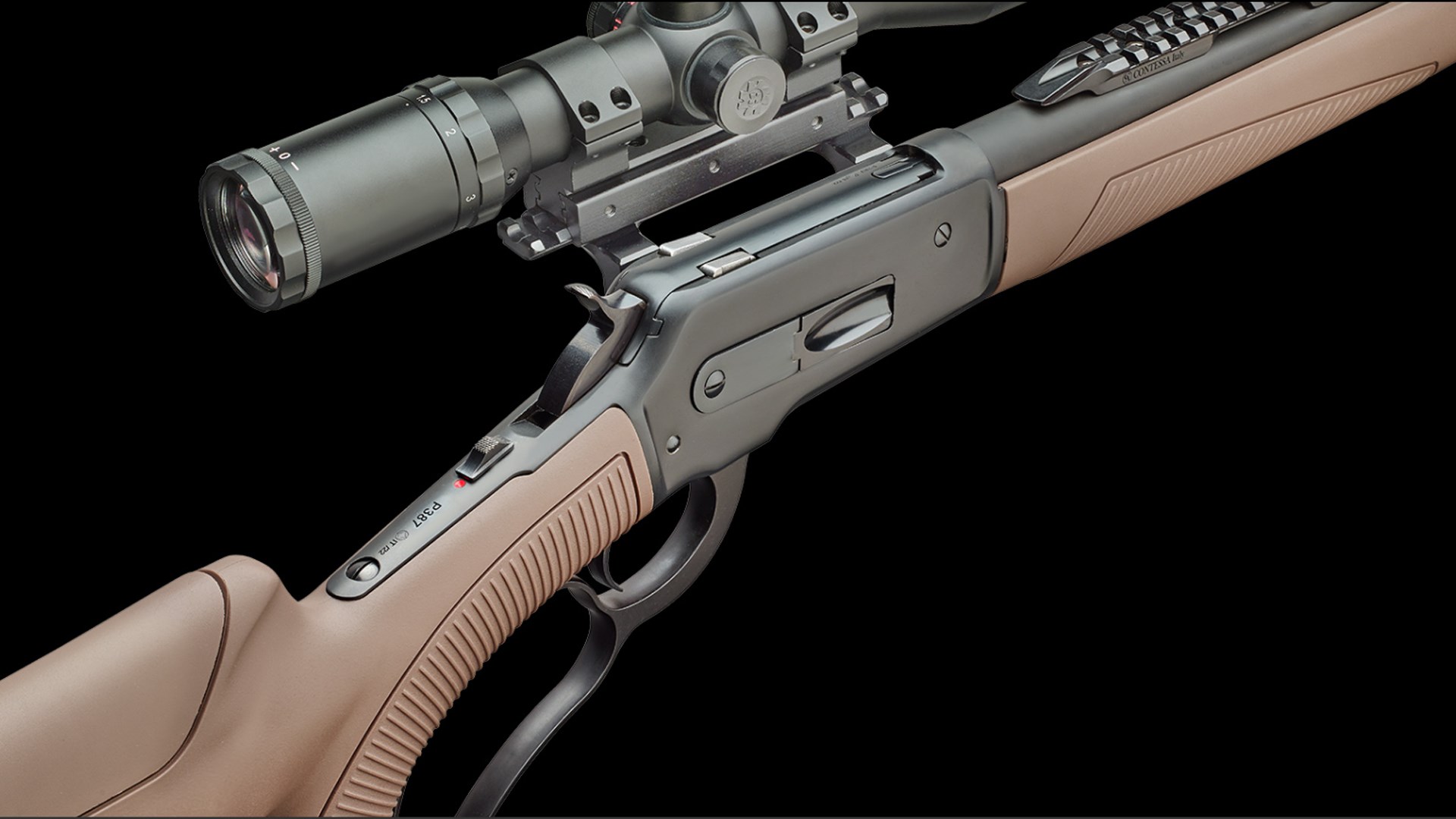 The Droptine is also capable of using a receiver-mounted optic with its unique offset mounting system.
The Pedersoli Model 86/71 Droptine rifle has an overall length of 37.44" and weighs 8.59 lbs. It has a MSRP of $2,045. For more information, visit davide-pedersoli.com.
Article by JEREMIAH KNUPP
Don't forget to like us on Facebook and follow us on Twitter.