Review: Hi-Point 3095 30 Super Carry Carbine
Hi-Point Firearms was founded in 1993 behind the simple, noble precept that no one should be excluded from the right to defend themselves for financial reasons. The company has been producing spartan but functional pistols ever since—with a family of pistol-caliber carbines (PCCs) joining the lineup in 1996—that basically anyone can afford. Over time, the manufacturer has expanded its offerings to include more and more pistol-cartridge chamberings, most recently adding .380 ACP and 10 mm Auto to the mix in 2016 and 2018, respectively. That has resulted in a modern catalog that now covers the majority of today's most popular pistol chamberings.
For 2023, however, Hi-Point broke fresh ground by introducing the industry's first PCC chambered to fire Federal Ammunition's newest pistol cartridge—the 3095 chambered in 30 Super Carry. Eager to see how this high-pressure chambering would behave through a longer, carbine-length barrel, we contacted Hi-Point for a test sample as soon as one was available, and what follows are the results of our testing.
All Hi-Point firearms are semi-automatics that use the straight-blowback method of operation, which has helped contribute to their reputation for reliability. And not only is the 30 Super Carry carbine functionally identical to all of the company's other long guns, but it is literally one of the 9 mm Luger-chambered carbines that has simply been re-barreled for the new, smaller-diameter cartridge.
The 3095's receiver and bolt are cast from Zamak 3 (a zinc-aluminum alloy), and a sheet-steel shroud encases the receiver, while the rifle's one-piece stock (which incorporates its ribbed fore-end, pistol grip and buttstock) is injection-molded from a high-strength polymer. Thanks to its mix of metal and polymer construction, the 31″-long gun weighs only 6 lbs., 10 ozs., empty. Rail space abounds on the Hi-Point carbines, as there is a 9″ Picatinny-style rail atop the gun for the installation of an optic, another 10 slots attached to the fore-end's 6-o'clock face and seven more mounted directly under the barrel. From the factory, a large, shielded, fully adjustable peep rear sight unit takes up most of the receiver's rail space, and an elevation-adjustable front sight post is affixed to the barrel, but both elements can be removed by the user, if desired.

A left-side manual safety swings up into the "Safe" position and down to fire, and the gun does not employ a passive magazine-disconnect safety. The reciprocating charging handle screws directly into the bolt assembly and extends through a slot cut into the left side of the receiver and shroud—it cannot be reversed. There is no way to manually lock the bolt rearward, however, it will lock itself back automatically on an empty magazine.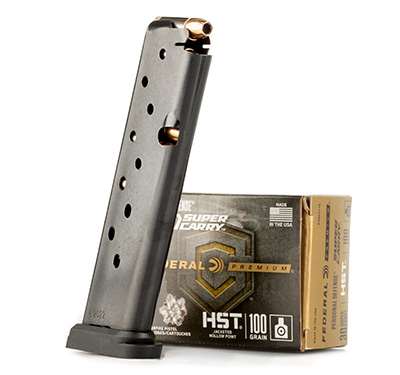 One of the chief selling points of the 30 Super Carry is its increased capacity potential compared to 9 mm Luger in pistols of the same size, a benefit that the Hi-Point unfortunately misses out on due to its use of single-stack 10-round magazines. Two 10-rounders ship with the gun from the factory, but, until they loosened, their springs were initially so tight that neither could be filled beyond seven rounds without help from a Maglula. The magazines are fed into the carbine through a well in the grip, in typical semi-automatic pistol fashion, and a round polymer release button on the stock's left side drops them free of the rifle when depressed.
The 3095 makes use of a 16.5″ button-rifled steel barrel with five-groove, 1:10″ right-hand rifling. It is threaded 1/2×28 TPI for compatibility with most 9 mm Luger muzzle devices and suppressors, and a thread protector is provided when an accessory is not in use. Of single-stage design, the trigger exhibited a consistent bit of creep prior to breaking on average at 5 lbs., 9 ozs., of pull.
During previous evaluations, we have found the company's carbines to be unfailingly reliable but capable of only marginal accuracy, which made our range session with the 30 Super Carry version an atypical Hi-Point experience—as the gun's accuracy exceeded all expectations, but there were a few break-in gremlins. For the first 100 rounds or so, we experienced an occasional failure to eject the fired case with both magazines, resulting in the empty getting hung up on the round beneath it as it attempted to chamber. However, these issues had resolved themselves by the end of the second box of ammunition, as either the magazines' follower springs or the gun's recoil spring (or both) broke themselves in. Between the weight of the carbine, the recoil-reducing springs in its buttstock and the demure nature of the chambering itself, recoil was minimal—even less than a comparable 9 mm PCC.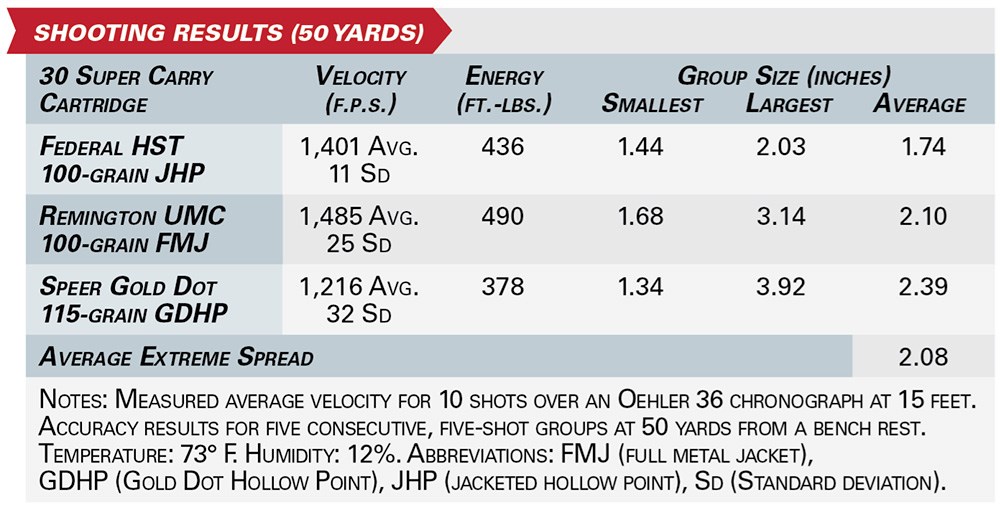 Using an unmagnified Viridian green-dot with a 2-m.o.a. reticle, the 3095 turned in the tightest 50-yard groups that we've ever encountered from a Hi-Point carbine. Across three 30 Super Carry loads—Federal's 100-grain HSTs, Remington's 100-grain FMJs and Speer's 115-grain Gold Dots—utilizing this magazine's five-shot, five-group standard, the rifle managed an impressive 2.08″ average extreme spread.
Not only did the 3095 seem to have a slight preference, accuracy-wise, for the two 100-grain test loads, but it was also these two lighter-weight ammunitions that made the most of the carbine's 16.5″ barrel. Relative to the three loads' listed velocities, which were taken using 4″ test barrels, the Federal HSTs gained 151 f.p.s. from the longer barrel and the Remington UMCs picked up an additional 235 f.p.s., while the Speer Gold Dots only increased by 66 f.p.s.
Between its fine accuracy and virtual lack of recoil, the 3095 proved to us that the premise of the 30 Super Carry-chambered pistol-caliber carbine is a worthy one, and we are curious to see if other manufacturers follow suit with designs of their own. But even if this doesn't come to pass, the Hi-Point is nonetheless an easy-to-shoot carbine that makes for a solid home-defense candidate for the highly recoil-averse.

Don't forget to like us on Facebook and follow us on Twitter.