New For 2023: Tisas USA 1911A1 Aviator
The 1911A1 Aviator follows the basic form of a "Commander"-size M1911A1 with a full-size frame and shortened slide that houses a 4.25″ barrel. Like the original Colt Commander, which was designed in response to the U.S. Army's request for a smaller and lighter M1911, the Aviator uses an aluminum-alloy frame with a forged steel slide. Another classic Commander feature is the rounded hammer spur. The left-side only safety, arched mainspring housing, grip safety beavertail profile and "short" trigger all follow the original M1911A1 pattern. Internals are of the Series 70 type. Sights are "enhanced G.I.", meaning the traditional fixed M1911-type notch and post steel sights are given a higher profile, and the front sight is fitted with a brass bead.
Both .45 ACP and 9 mm Luger versions use a traditional single-stack magazine design, with a capacity of seven and nine rounds, respectively. Two magazines are supplied with each pistol.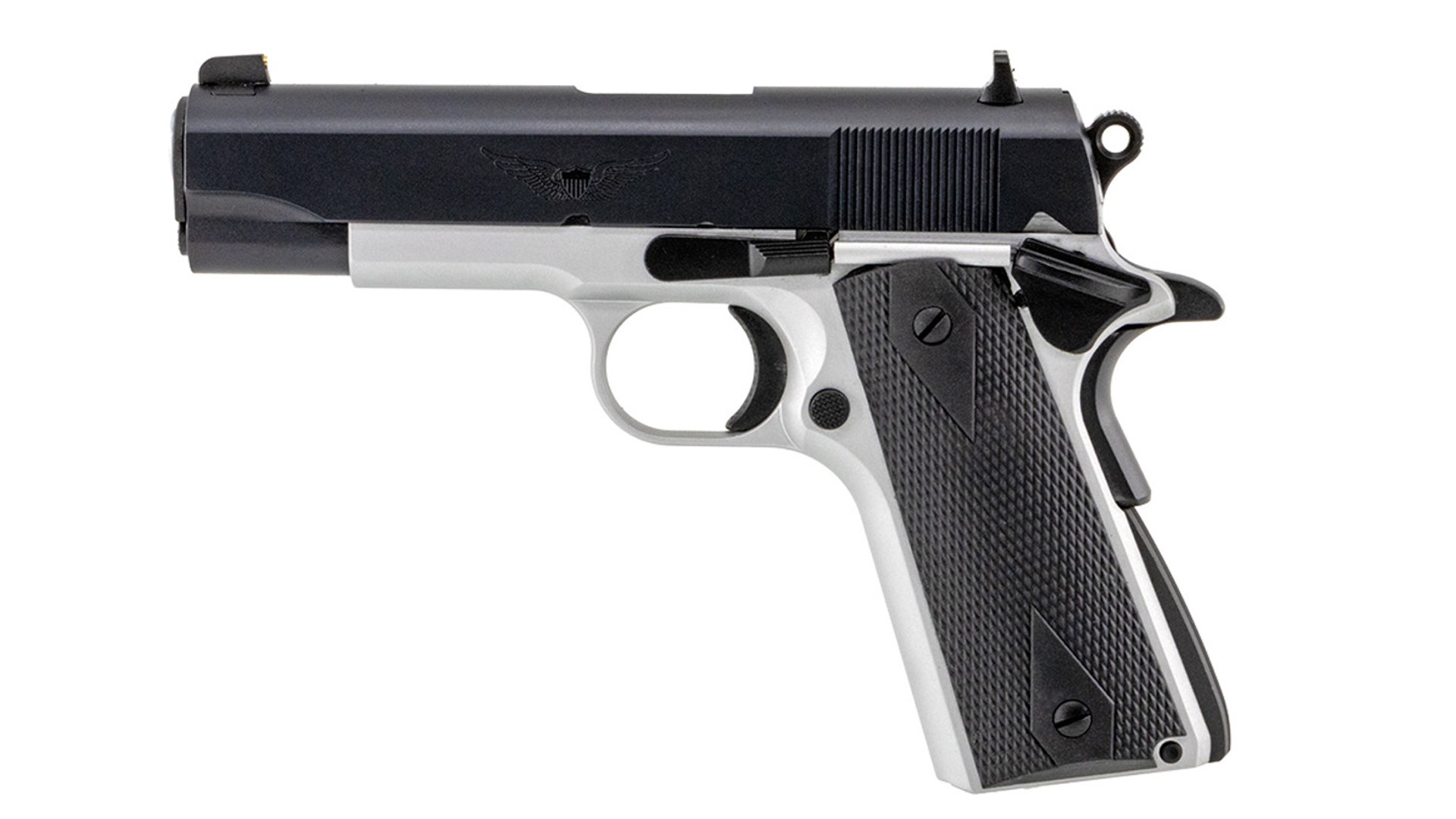 The Tisas 1911A1 Aviator is an alloy-frame, Commander-size pistol with a special finish.
The finish of the Aviator also makes it stand apart from the other M1911s in Tisas USA's line-up. The alloy frame is given an H-151 Satin Aluminum Cerakote finish, the barrel is polished, and all other external steel parts are given a H-146 Black Cerakote finish. Grips are black checkered overmolded rubber. To top it off, the left side of the slide bears an insignia that mimics the U.S. Army aircrew badge.
The 1911A1 Aviator weighs 32.6 ozs. in either chambering, has an overall length of 7.92″ and a height of 5.27″. It has a MSRP of $530. For more information, visit sdsimports.com.
Article by JEREMIAH KNUPP
Don't forget to like us on Facebook and follow us on Twitter.