New: SIG Sauer MCX-SPEAR LT
SIG Sauer's new MCX-SPEAR LT rifle marks the third generation of the company's MCX platform. Available in three calibers: .300 Blackout, 5.56 mm NATO and 7.62×39 mm, the latter is making its first appearance in the MCX rifle family.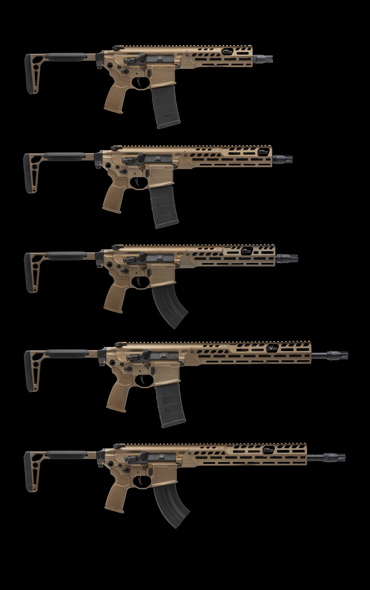 The MCX-SPEAR LT is an aluminum frame rifle with a gas piston operating system and a cold-hammer forged carbon steel barrel. Available barrel lengths are nine inches (.300 Blackout), 11.5 inches (7.62×39 mm and 5.56 mm NATO) and 16 inches (7.62×39 mm and 5.56 mm NATO).
A new latch system was developed for the MCX-SPEAR LT so that it can cycle many types of 7.62×39 mm ammo reliably.
The SIG QD suppressor-ready flash hider is optimized for SIG QD suppressors, and there is also a SIG flatblade match trigger. Additionally, the MCX-SPEAR LT will accept AR-15 style triggers.
With a lightweight ergonomic handguard and push-button folding stock with cheekrest, the MCX-SPEAR LT rifle also has fully ambidextrous controls including bolt catch and release.
In addition, this rifle is optics ready, and can be quickly paired with a SIG Sauer ROMEO8 or TANGO6T optic.
About the design of the new MCX-SPEAR LT, SIG Sauer says it "incorporates the best of both generations and is the culmination of the latest research, development and innovation in the MCX platform."
Learn more about the SIG Sauer MCX-SPEAR LT rifle at sigsauer.com.
Article by SSUSA STAFF
Don't forget to like us on Facebook and follow us on Twitter.