Review: Angstadt Arms MDP-5 Carbine
In the 1990s, the now-prolific pistol-caliber AR-15 was rarely seen on shooting ranges and made by only two companies:  Olympic Arms, that pioneered the concept with rifles and upper-receiver kits chambered in 9 mm, .40 S&W, 10 mm, and .45 ACP and Colt, which offered a semi-auto version of its submachine gun. Colt's carbine predated the Olympic rifles, but was  offered only in 9 mm and commercial sales weren't the company's focus. Both companies, however, built their rifles using a lower receiver designed for the 5.56 NATO cartridge, which required the magazine well to be adapted to accept the narrower, modified Uzi or Sten gun mags that were used.  
Three decades later, a burgeoning market for pistol-caliber ARs is served by at least 10 companies, each using a design much evolved from the Colt and Olympic models and many using a dedicated lower receiver that accepts Glock-pattern magazines. Despite widespread consumer demand, however, none of the largest five domestic gun manufacturers make such an AR, leaving the market to small and mid-size companies.
Angstadt Arms is one such maker, having made Glock-magazine-fed, pistol-caliber ARs since 2015. Based in Charlotte, NC, the company is a small shop with a boutiquish flair with design ideas that tend to be ambitious or unique. It is responsible for the integrally suppressed, whisper-quiet UDP-9I that allows reducing supersonic ammo to subsonic speed, and the SCW-9 submachine gun that competed in the U.S. Army's Sub Compact Weapons Trials.
After 2.5 years of development, Angstadt released the MDP-5 in 2022. The MDP-5 is one of only two 9 mm ARs that use a roller-delayed, blowback-operating system instead of the simple blowback system used on every other 9 mm AR. The RDB carbine from JP Enterprises is the other rifle that uses roller delayed, and we should mention CMMG's Banshee, which uses a proprietary radial-delayed blowback action.
"MDP" stands for Micro Defense Pistol, a well-suited designation. With an overall length (OAL) of 13 inches, a 5.85-inch barrel and 3.7-pound weight (without the magazine), it is the most compact and lightest metal-receiver AR pistol made. It's also dimensionally close to Heckler & Koch's SP5K-PDW.
Roller-delayed blowback systems use mechanical features to delay the breech from opening before gas pressure in the chamber has subsided to a level where it won't vent out the ejection port hazard-ously or cause a case rupture. Simple blowback systems, in contrast, rely on a heavy bolt and strong recoil springs to keep the action closed.
Most roller-delayed systems have two rollers mounted in recesses on each side of the bolt. When the breech is closed, the recoil spring presses the bolt carrier and a wedge-shaped part called the locking piece that lies inside the bolt forward. The locking piece presses the rollers about halfway outward from the sides of the bolt and into corresponding recesses in the trunnion. This connection keeps the bolt forward.
As a round is fired, the cartridge case presses rearward against the bolt face, which forces the rollers back into their recesses, thus pressing the locking piece and the bolt carrier rearward, which causes the action to open. The mechanical delay comes from the rollers retracting inward and the consequent rearward movement of the locking piece and bolt carrier.
Roller-delayed systems weigh less than blowbacks; the bolt alone on Angstadt Arms' blowback UDP-9 weighs 14.6 ounces compared with 10 ounces for the entire bolt-carrier assembly on the MDP-5. However, the real benefit is the perceptively softer recoil impulse they impart.
Roller-delayed systems have a few downsides. There are more parts, and engineering and manufacturing costs are higher because carrier weight, parts fit and the "wedge angles" of the locking piece all need to be harmonized or your gun won't work, as many who bought knock-off H&K 94s in the early 2000s unhappily discovered. The locking piece and rollers wear and may need to be changed at some point to retain proper headspace. Finally, optimizing this system for a specific load isn't as easy as changing the recoil spring or bolt-carrier weight as with simple blowback.

The MDP-5 is made with receivers milled from 7075 T6-aluminum billets that are Type III hardcoat anodized. The upper receiver shows distinctive engineering and is designed to be as compact as possible with the recoil spring positioned above the bolt carrier instead of inside a rearward-extending buffer tube as with most ARs. To minimize weight, there's no ejection port dustcover or forward assist. The upper fits any Glock-magazine-based lower after removing the lower's ejector and will soon be sold separately.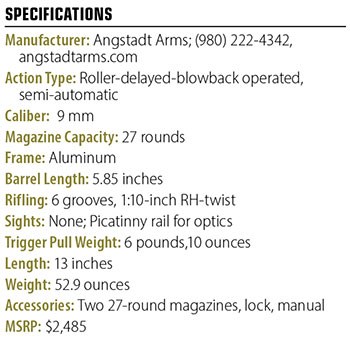 Two steel rails on which the bolt carrier rides are attached to the receiver with eight Torx-head screws. One has a pivoting ejector. The non-reciprocating charging handle is forward mounted and can be set to either side. The button-rifled barrel is press fit into the steel trunnion, which is secured to the receiver by two 3/16-inch-diameter roll pins. The upper receiver has five M-Lok slots, two QD swivel holes and an integral Picatinny-style rail.
One of the most enticing aspects is the muzzle device, which has a tri-lug for mounting a suppressor and slots around its circumference that act as a recoil compensator. The device is attached to the barrel via ½x28 tpi threads.
The lower receiver contains standard AR-15 fire-control parts and bolt catch, and the bolt locks rearward after the last round is fired. The extended magazine release is distinctive and well designed. An aluminum backplate with a QD socket and small section of rail sits at the rear allowing one to attach an arm brace or sling, or to convert this pistol into a short-barreled rifle by adding a stock, provided the necessary ATF approval is secured beforehand.
The fire-control components are phosphate finished, while the ejector, barrel, muzzle device and receiver rails are black-nitride finished. This pistol comes with two, 27-round Magpul magazines.
The MDP-5 is well made with tightly fitted receivers and heat-treated, hardened parts including the receiver rails, ejector, trunnion, bolt, bolt carrier and rollers. The review sample has a tan Cerakote finish, which was evenly applied and not so thick as to obscure engravings. The takedown pins have dimples to keep your punch from sliding off and marring the receiver finish, but they have an ideal amount of tension, allowing you to remove them without needing a tool.
The MDP-5 was tested for accuracy and load preference at 25 yards shooting from a Caldwell Precision Turret rest using a Simmons 6-24X scope to minimize sighting errors. The average five-shot group across all loads would have been smaller had this pistol not exhibited a tendency to shoot the first round of the group low.
Over the course of 250-plus rounds using five different loads, there were six stoppages: a failure to chamber SIG Sauer's 124-grain V-Crown cartridge which has a wide-radius hollowpoint bullet, two failures to lock the action open after the last round was fired, and three misfires from light primer strikes. The MDP-5 worked with the Magpul and three different Glock OEM magazines. Ejected brass from the Black Hills 124-grain +P load was bulged but this was likely due to its relatively hot load, which generated +P+ velocity. Brass from SIG Sauer's +P load, which wasn't nearly as hot, didn't bulge. Magazines which were stored load for a few days would not activate the bolt catch after the last round was fired, but worked after they were unloaded and sat for a while.

The MDP-5 is light enough to easily fire single-handedly and the B5 Systems' grip has an angle close to that of the M1911 pistol. Perceived recoil is mild with minimal muzzle rise that varies depending on where you mount an optical sight on the receiver rail. The standard AR-15 trigger releases at 6 pounds, 10 ounces, without any take-up or overtravel and moderate creep.
Four operational caveats are noteworthy.  First, seating a loaded magazine if the action is closed is very difficult, even when downloading the mag by 2 rounds. Second, rotate the pistol so that the ejection port faces downward when clearing the chamber of a misfire or unfired round, or it will not eject. Third, keep the bolt catch actuator clean and free of lubricant, because the bolt catch relies on very light spring tension to keep the bolt rearward after the last round is fired. Installing an extra-power magazine spring could also help. Finally, be extra vigilant when verifying the chamber is un- loaded because it sits far forward of the ejection port and isn't readily visible.
The MDP-5 has a cutting edge design for a 9 mm AR pistol owing to its compact length and roller-delayed, blowback-operating system.  Despite those benefits, however, it's uncertain whether this type of operating design will become mainstream for 9 mm ARs given the significantly higher R&D and build costs involved.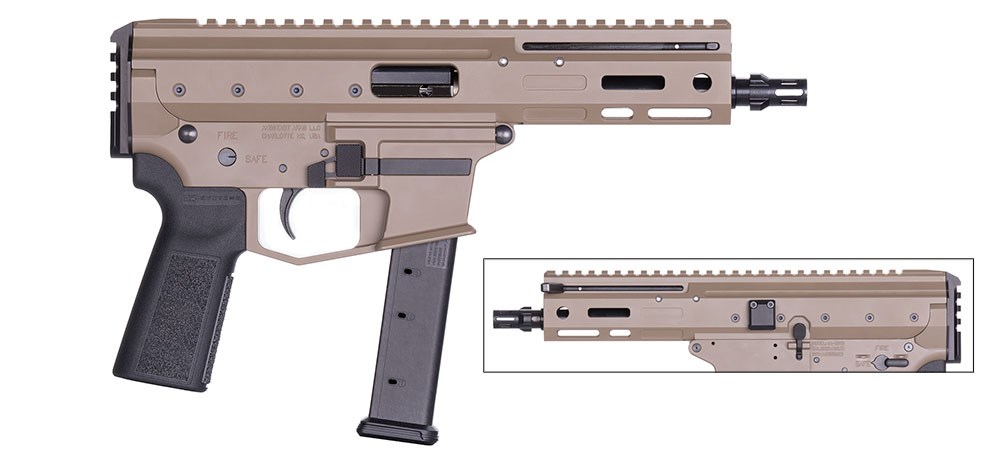 Article by ANDY MASSIMILIAN
Don't forget to like us on Facebook and follow us on Twitter.