Review: Diamondback DB9SL Handgun
About 10 years ago, I traveled to Christmas, FL, to hunt alligators. I was not given a lot of information up front; a friend just told me to get on a plane and get down there. When I arrived, we went to the Diamondback factory, and I got to see how they made their itty-bitty handguns. The next day we hit the swamp in an air boat. Armed with a Diamondback DB9 pistol loaded with Hornady Critical Defense ammunition, we proceeded to shoot alligators. Subsequently, I acquired a DB9 and a DB380. Both have spent a lot of time in my pocket.
But, that was a decade ago. With the current demand for ultra-compact 9 mm pistols, I wanted to see what one of the newest DB9s had to offer. I wondered if these miniature pistols were still as controllable and reliable as the one I battled alligators with.
According to their website, Diamondback firearms offers a dozen DB9 models. Five have a trigger mechanism that incorporates a passive safety and they're identified as the AM2 variation. Two of those come out of the box with a Viridian laser and are indicated as such with VLH in the model number. All A2M models have an impressive 17+1 round capacity. The other seven models are closer in design to the DB9 from my alligator hunting days; they have the standard trigger without the passive safety and a 6+1 capacity. While the higher capacity version might be appealing, the covert capabilities of the smaller DB9 impresses me.
I reached out to Diamondback and asked for a sample. The gun they supplied was the DB9SL, which is the standard configuration, has a bright stainless slide with deep cuts that are accented in black and serve as grasping groves on the front and rear of the slide. Diamondback also smartly blackened the top of the slide to prevent reflection interference when sighting. It is a good-looking handgun, and weighs in at a scant 13.4 ounces with an empty magazine installed. With seven rounds on board the pistol weighs one pound.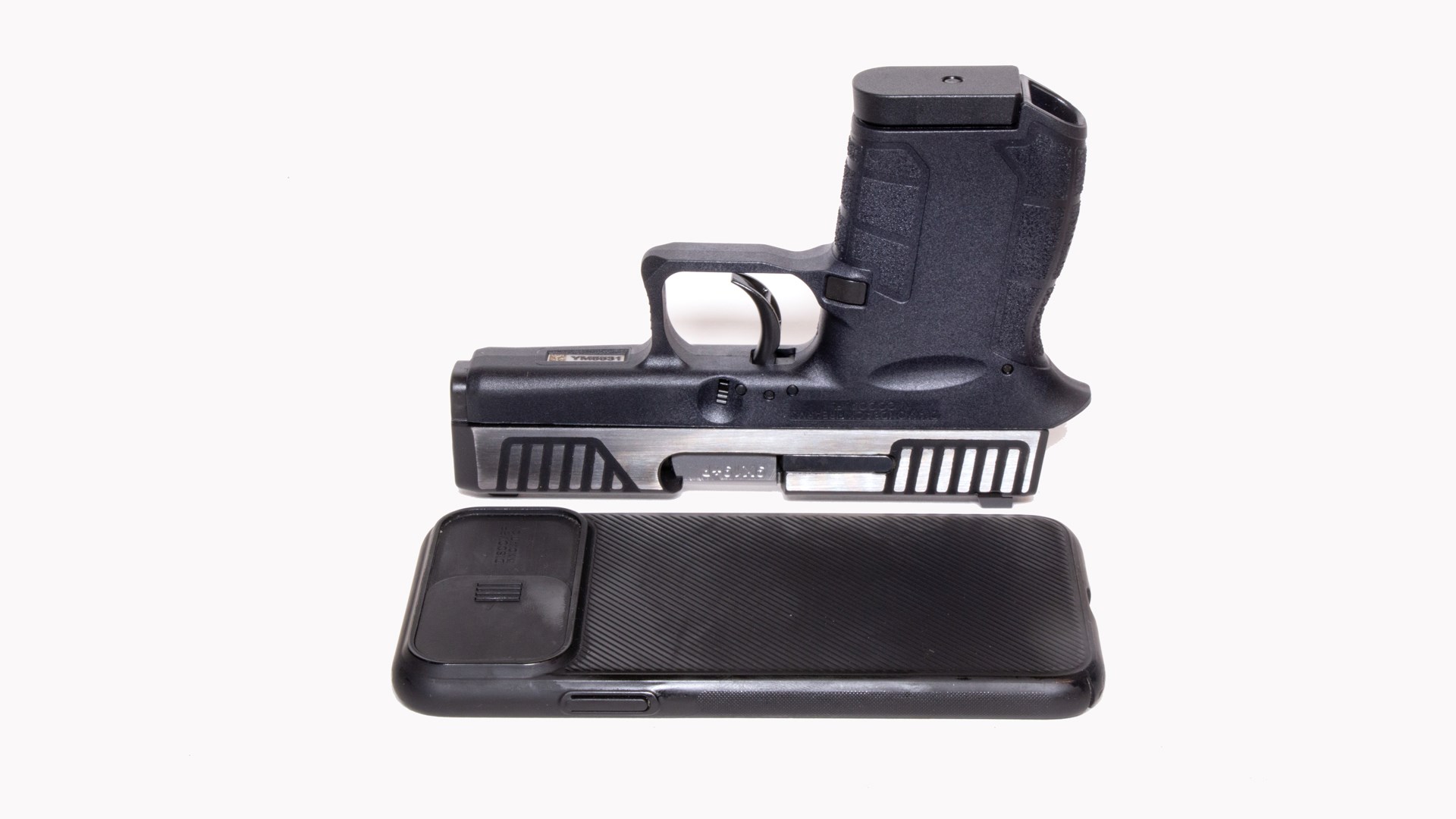 Just how big or little is this pistol? Length is about the same as my iPhone 11 Pro at just a shade less than 5.75 inches. The pistol ships with a single magazine and two base pads. One extends below the grip far enough to support the little finger on your shooting hand. The other is flush-fit and when installed sets the overall height of the pistol at just shy of 3 inches. The extended base pad does enhance the feel of the grip but does nothing to help with concealability. It might also slightly contribute to recoil control but for me it was not enough to justify the added bulk.
The sights are not what I'd call pocket pistol sights and are much better than the sights on the original DB9s. The two-dot rear sight stands proud and has a wide U-notch that makes the red dot front sight easy to align. These sights are as good as and better than some that come on duty-sized handguns. My grandfather would have called the DB9 a two-hand gun meaning, you held the bad guy with one hand and shot him with the other. This is because ultra-compact handguns are notoriously difficult to shoot with precision. But, that's not the case with the DB9. I was able to keep slow-fire 10-yard groups in an area the size of a dip can. More practically, I could run the Forty-Five Drill—five shots inside a 5-inch circle at 5 yards—clean and at right at the 4 second mark. Two of the current DB9 models do have the lower profile original sight configuration.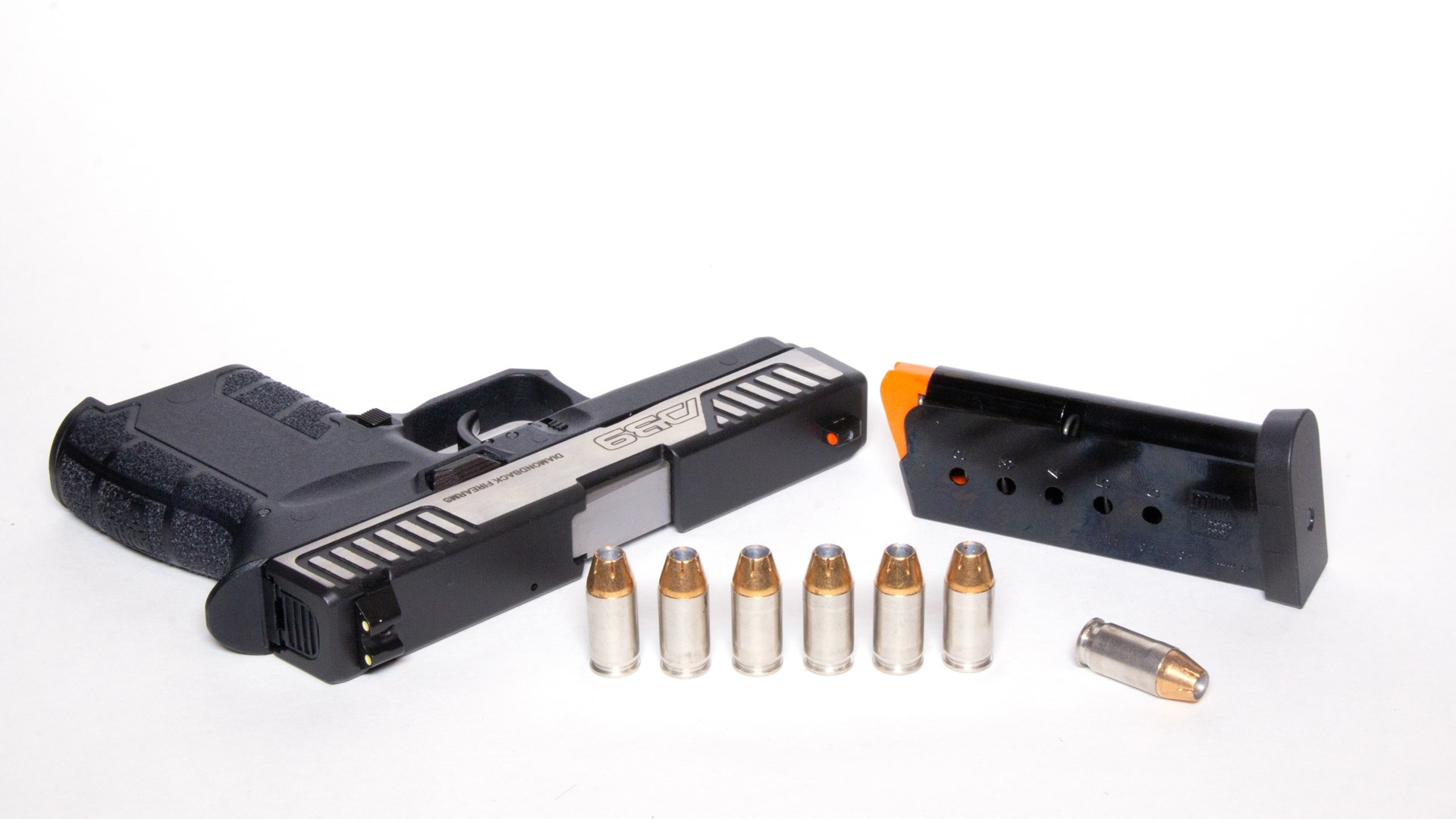 At less than a pound you might think the DB9 uncomfortable to shoot. The thin grip, combined with very little mass, will cause some hand sting, but the recoil impulse is tolerable. Still, I'd not want to conduct a 200-round range session with this pistol, especially with +P level 9 mm loads. Of course, while you would definitely want to train with this pistol, it is not a training gun. It has a single purpose and that's to serve as a deep concealment covert pistol that's exceedingly comfortable to carry in a coat pocket or even in the back pocket of your jeans (With an appropriate pocket holster of course.) This pistol also seems wonderfully sized for ankle or purse carry, and should also be an excellent candidate for something like new Galco's FastTrax Pac Waistpack.
A decade ago, I thought the Diamondback DB9 was a great idea. For some it could serve as a primary carry gun and for others it could serve as a backup or deep concealment option. I'm happy to say it has only gotten better and you can pick these pistols up for less than $300! These little guns work, too. So far, I'm about 150-rounds into the DB9SL without a single hiccup. I know for a fact it'll work just fine on 600-pound prehistoric lizards, and imagine it'll work just on bad guys. I've killed about a dozen alligators with Diamondback handguns. Six or so with a DB9 and the rest with a DB380…but that's another story.
Article by RICHARD MANN
Don't forget to like us on Facebook and follow us on Twitter.