Review: Extar EP9
The Extar EP9 is an ultra-lightweight, 9 mm, large-format pistol perfect for home defense. Weighing in at slightly more than 4 pounds and being less than 24 inches in length, it's an extremely agile firearm with familiar MSR-style controls.
Extar is a family-owned and operated American company founded by a long-time engineer and polymer-injection-molding expert. Extar sources all the raw materials required for manufacturing and creates each firearm from the ground up at its Arizona facility. It controls the manufacturing of parts, assembly, quality control and marketing, and sells directly to consumers. This all-encompassing operation allows Extar to provide customers with superior, well-designed and rigorously tested weapons systems at an affordable price. For as well built and reliable the EP9 is, the $449 MSRP is one of the best values on the market.
Because of the most recent attack on our Second Amendment rights involving pistol braces,  the Extar EP9 no longer ships with a brace. It instead ships with a standard pistol-buffer tube surrounded by a foam pad. It's not ideal and I'm sure Extar doesn't like it either, but companies are being forced to adapt while the ATF's grotesque administrative overreach remains in place. With that out of the way, let's start at the muzzle.
The EP9 comes installed with the Extar "blast director." The device does a great job at directing all blast and gases forward of the shooter. Significant flash is still visible even in daylight, but it does serve its intended purpose. The black-nitrided steel barrel is 6.5 inches in length with a 1:10-inch twist rate. It is threaded 1/2×28, which is compatible with a slew of muzzle devices and suppressors. Surrounding the barrel is a textured polymer handguard with a total of nine M-Lok slots located at the 3-, 6- and 9-o'clock positions.
Spanning the top of the rifle is a full-length Picatinny-style rail that allows the user to mount any type of optic system they prefer. I mounted my Holosun 508-T for this review. It was a bit of a struggle to seat the optic's lugs into the grooves of the rail, but with a little extra force and maneuvering, it locked firmly into place and held zero throughout testing.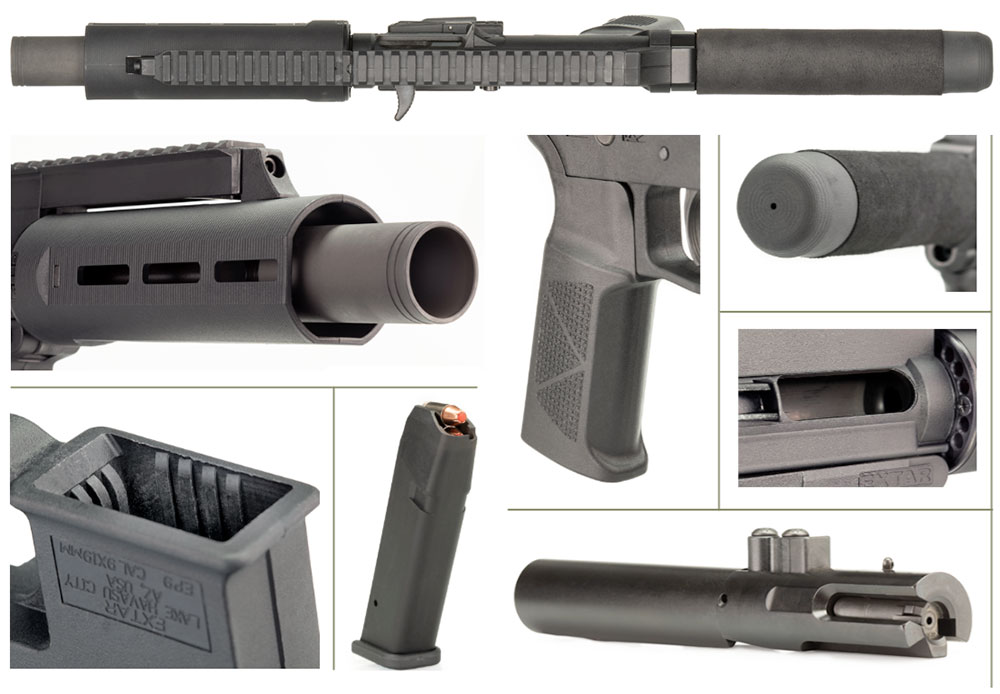 The magazine well is slightly beveled toward the back, which made magazine changes very smooth and easy. The ergonomic magazine release is one of the best I've used on a large-format pistol—it ejects the magazine quickly and efficiently. The left-side charging handle is made of sturdy polymer and serves its purpose well.
Moving down to the trigger assembly we have an all-steel fire-control group with a heavy trigger pull, measuring an average of 6.75 pounds. The trigger can be switched out with most standard MSR triggers. Although it didn't impress me with its somewhat gritty/spongy pull, it has an audible and tactile short reset, which was its redeeming quality while shooting. I was able to get some good double and triple taps to remain on target. The safety selector is also steel and non-ambidextrous with a 90-degree throw. Extar installs its own proprietary pistol grip, which has some grippy texturing on both sides. The gun can accept standard-AR aftermarket grips, too. A smartly placed QD attachment point is located on the bottom of the non-removable receiver extension, which is perfect for attaching a single-point sling.
As I mentioned before, the EP9 would make a very effective home-defense or vehicle firearm, but it is also a fun and inexpensive range plinker. The cost of 9 mm ammo has dropped significantly since the last ammo crisis, so taking this out frequently for training or just fun won't break the bank. The recoil impulse for a straight-blowback handgun this light is extremely manageable and is very similar to heavier-framed large-format pistols I've used. The EP9 can easily be held and shot one-handed.
Unfortunately, I was not able to put thousands of rounds downrange to prove its reliability, but others have done so with great results. I shot the EP9 both from a rest and from unsupported positions and achieved excellent accuracy from both. I used five different types of ammunition across three different magazine options. Glock factory magazines, Magpul PMags and Extar-branded mags all fed perfectly and dropped free when released without any hang-ups. I also tested hollow-point ammunition using 124-grain Hornady Critical Duty and Speer Gold Dot, which both fed flawlessly.
While the shooting experience overall would have been much more enjoyable with a brace or stock, I just used the single-point sling method. The only other drawback to the EP9 is the trigger, but for a sub $450 gun, it's hard to complain about. The heavy pull-weight arguably makes it safer in a self-defense capacity, but at times I felt I was able to outrun it. Maybe some slight polishing of the sear or a few hundred rounds to break it in would help with the grittiness. I should also mention that Extar offers a slew of upgrade parts on its website, one of which is a nickel-coated trigger group.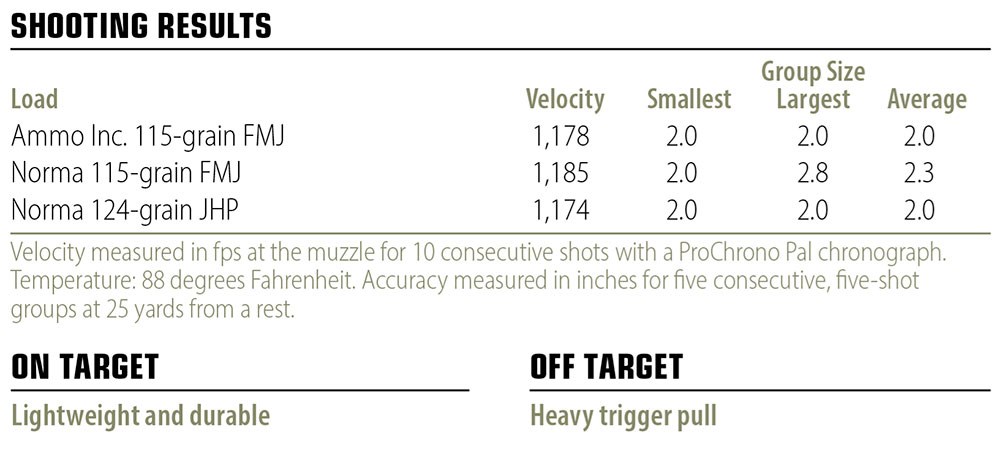 Going into this review, I was a little bit skeptical. With my "buy once cry once" mentality, the idea of a budget large-format pistol made almost completely of polymer didn't really excite me. However, the moment I picked up the EP9 and felt how light it was, cycled the action a few times and did some dry magazine changes, my mind began to change. It's an "affordable" gun, but feels extremely well built and robust. I got the feeling that I could throw this off a roof or drag it behind a car and it would remain perfectly intact.
Accuracy and reliability were also very impressive. Across several ammunition and magazine types, the firearm didn't skip a beat. It's small and light enough that it doesn't feel like a burden to carry around the capacity and reliability afforded by the EP9 accepting standard Glock magazines, you'll never feel inadequately armed. Perhaps best of all, the gun is both practical and affordable. It would make a fine addition to a home-defense battery. The Extar EP9 made a believer out of me, and will likely do the same for you.
Of course, if 9 mm isn't your thing, Extar also offers the EP45 …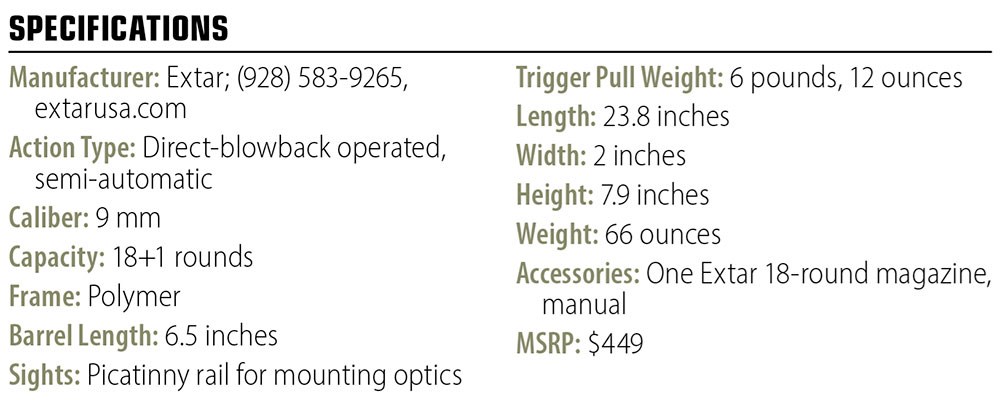 Article by CHRISTOPHER SADOFSKY
Don't forget to like us on Facebook and follow us on Twitter.