Review: Heritage Mfg. Settler Mare's Leg
Heritage Manufacturing Co. has a well-established fan base among U.S. shooting sports enthusiasts who enjoy this company's scaled-down and budget-friendly Rough Rider single-action rimfire revolvers. The company offers a wide variety of barrel lengths and finish options, a diverse selection of in-house accessories and uncommon configurations, including a 'tactical' model and a revolving carbine. In truth, the company is getting close to offering just about every model possible with a frame sized for .22 LR and .22 Mag. ammunition.
To shake things up a bit, the company is branching out into rimfire lever-actions. The new Settler series is launching with three models. They include a 20″ barrel rifle, a 16.5″ carbine and a rarely offered 12.5″ barrel "Mare's Leg" pistol. While I do have plans to work with one of the long gun versions somewhere down the road, I jumped at the chance to evaluate the Settler Mare's Leg pistol first.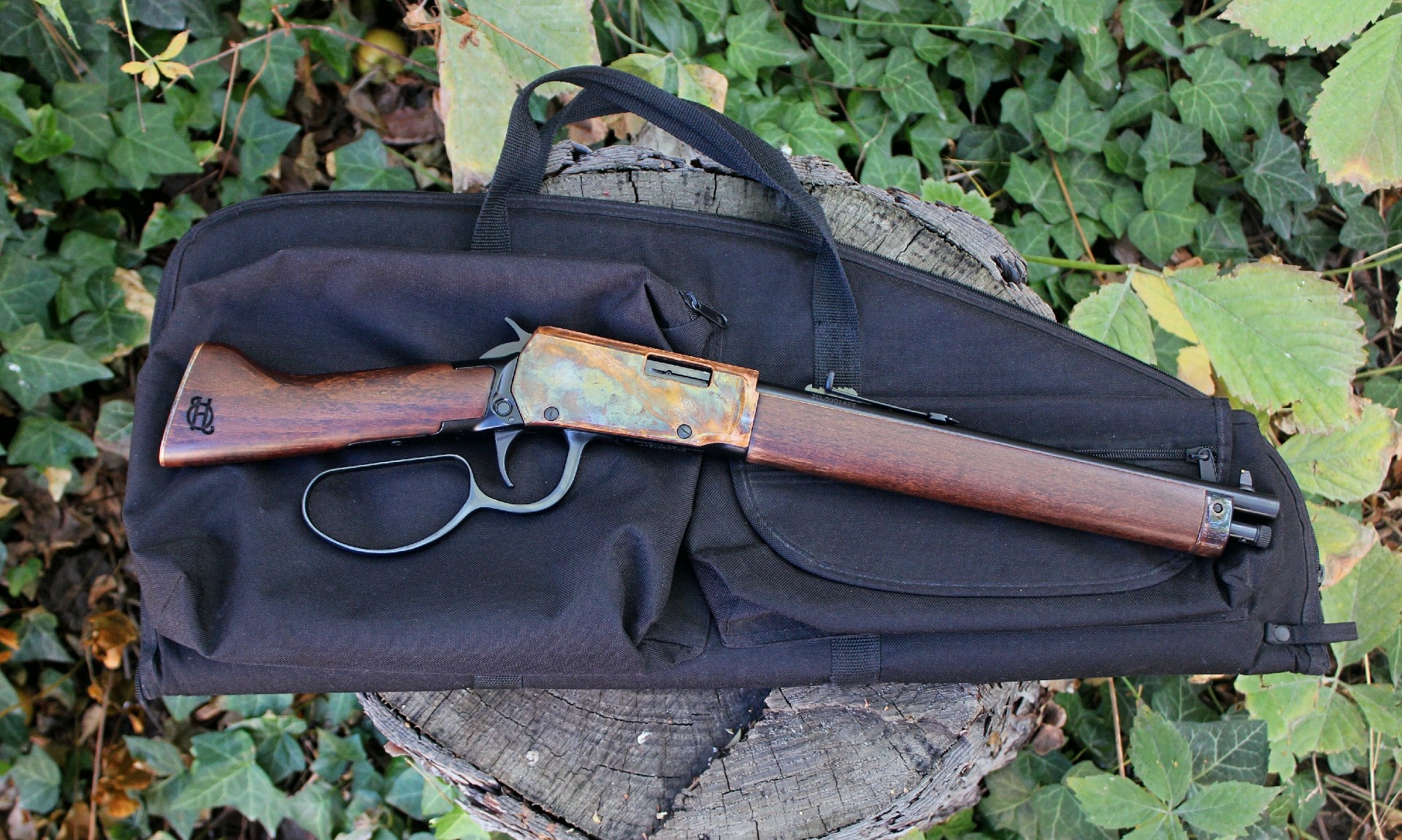 The author has yet to find a carry case made for Mare's Leg pistols, so he uses this inexpensive paintball gun case.
The Settler lever-action .22 LR series takes its design cues from the Rossi Rio Bravo carbine, which, in turn, is derived from Rossi's popular lineup of R92 lever guns. The left side of the Settler pistol's barrel is stamped,"Made in Brazil by CBC." CBC stands for Companhia Brasileira de Cartuchos located in Ribeirão Pires, São Paulo, which confirms this model is being produced for Heritage in partnership with Rossi USA. For those who don't know, Heritage and Rossi are both owned by Taurus USA (at the time of this writing). So the collaboration between a U.S.-based revolver maker and a Brazilian gun manufacturer to bring the Settlers to market is not as unexpected as some might think.
A Mare's Leg pistol legally qualifies as a handgun under United States NFA regulations because it was assembled with the shorter barrel and a pistol grip at the factory. As a result, this version of the Settler can be sold over the counter at local sporting goods stores without any additional paperwork or tax stamps. However, taking a lever-action that left the factory as a rifle and cutting it down into a pistol is a violation of federal regulations.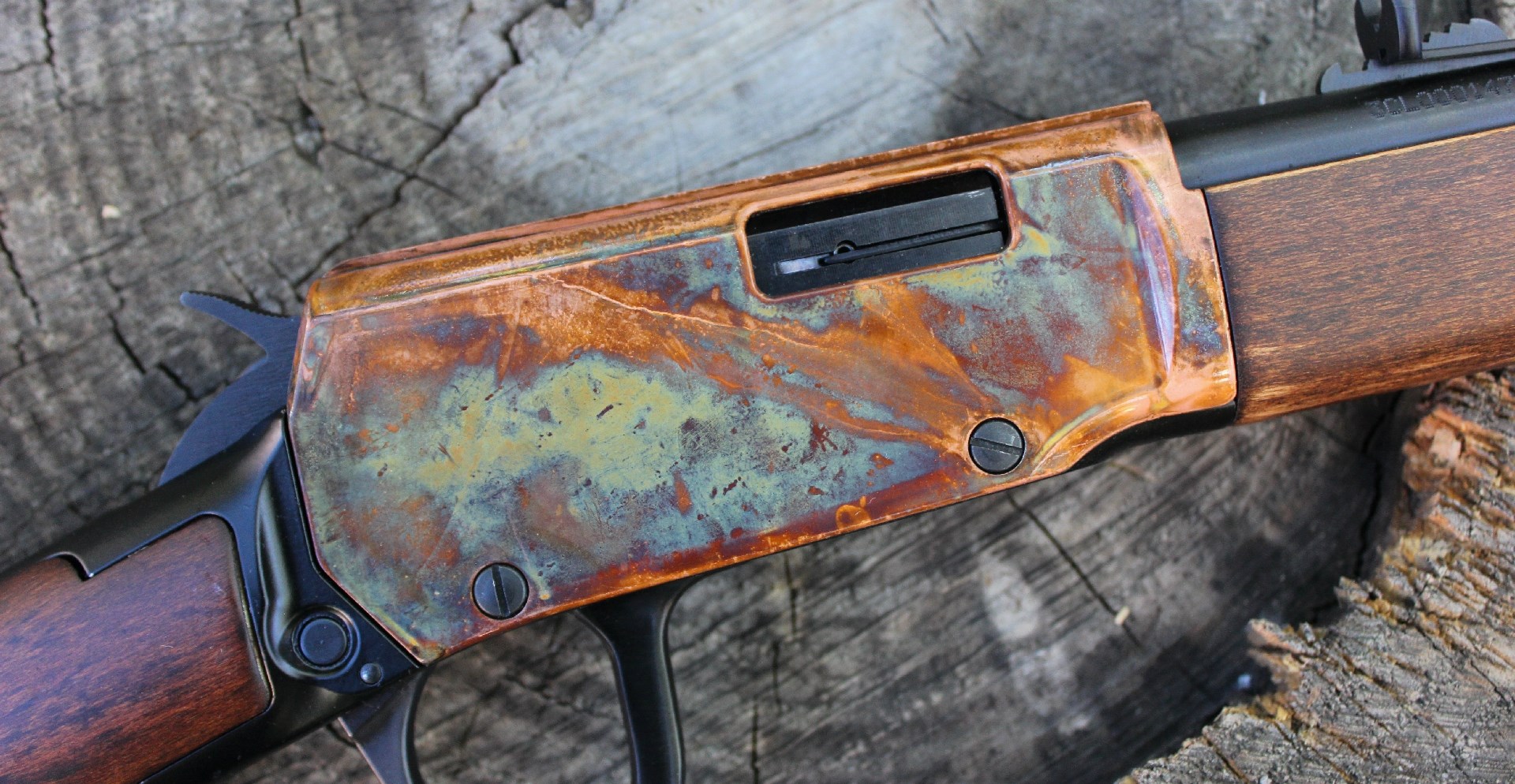 The receiver cover is treated with an "exclusive simulated case hardened" finish.
Trading out the grip of a Mare's Leg pistol for a shoulder stock will get gun owners into hot water as well, since doing so changes the status of a Mare's Leg from handgun to short-barrel rifle (SBR), according to NFA regulations. If you want to own an SBR, then check your local statutes to verify that you can own one where you live, get the gun registered as an SBR and pay for the tax stamps before making any modifications. Otherwise, leave carbines and pistols in their original factory configurations so as to avoid any uncomfortable conversations with the folks who enforce these laws.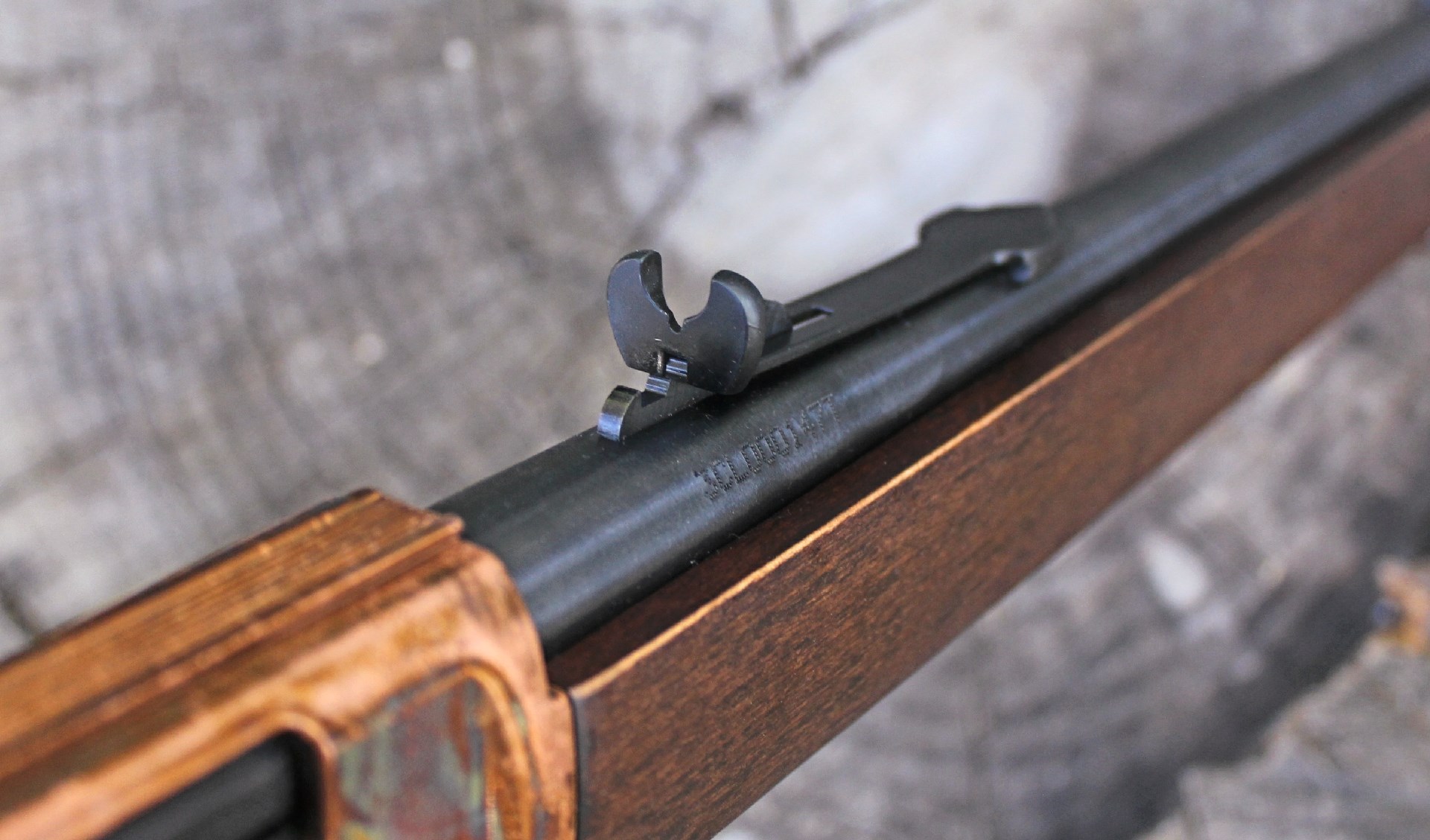 The semi-buckhorn rear sight is paired with a tall brass bead front sight.
The Settler's receiver is made from an aluminum alloy in order to reduce its weight, and features a grooved rail for mounting optics. The receiver's cover, the fore-end cap and the grip's butt plate have received an exclusive treatment the company calls "simulated case hardening." To me, it looks like polished copper with a handsome multi-hue tarnish. This finish is both conservative and eye-catching while blending in nicely with the finish of the hardwood stocks and the matte bluing of the barrel.
The 12.5″ long, round-profile barrel is fitted with a tall dovetailed brass bead sight up front, which is paired with an adjustable semi-buckhorn sight at the rear. The fixed tubular magazine sits within a 10.375″ long fore-end, which leaves just 0.75″ of the magazine protruding past the fore-end cap. The magazine is fitted with a twist-out brass liner that contains the magazine spring and a slim red polymer follower. This liner ships with a rubber O-ring installed below the knurled polymer end cap to help keep out dust and to prevent the liner from rattling in the magazine.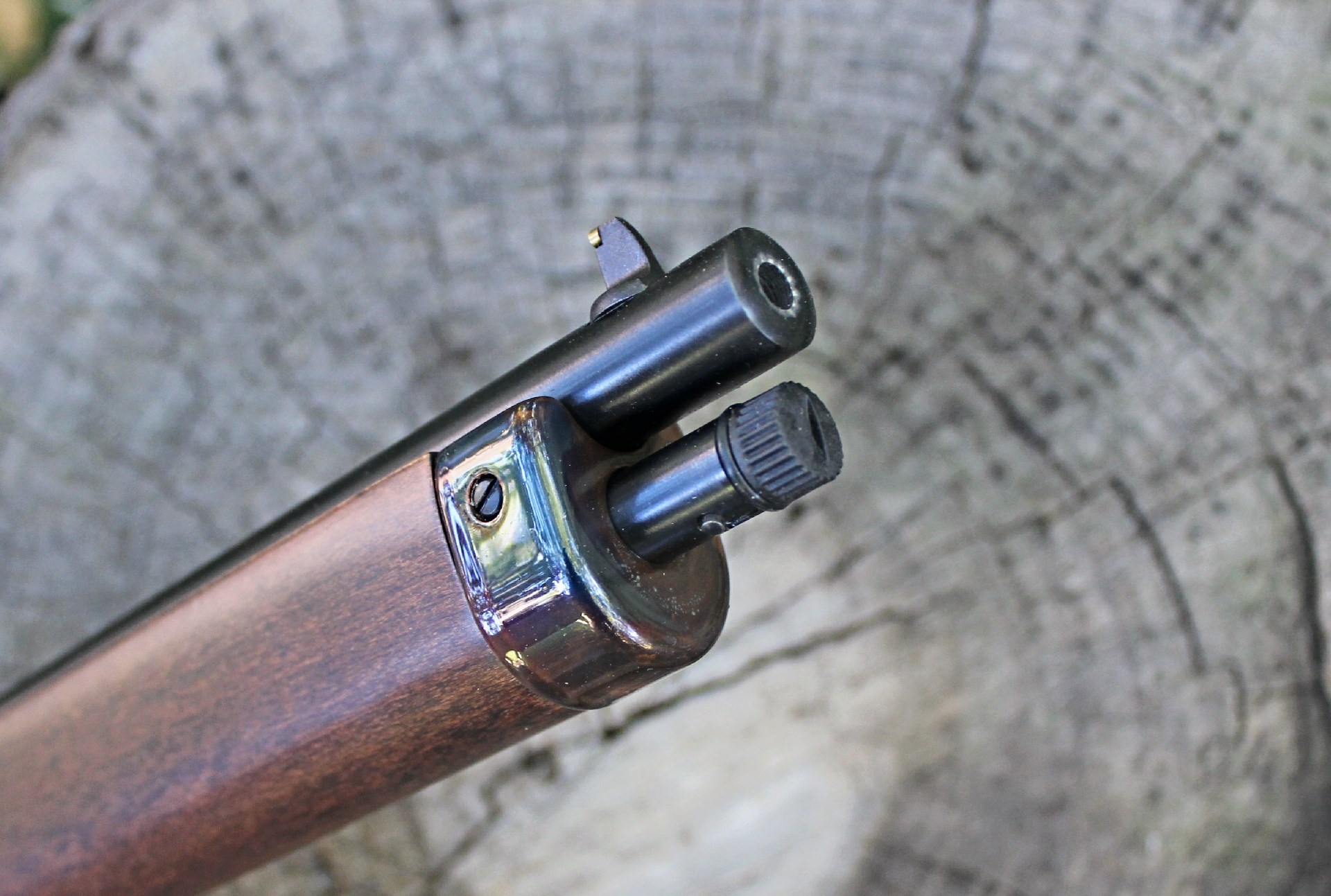 The magazine's twist-out brass liner is fitted with a knurled polymer end cap.
The fore-end and the pistol grip both have sleek, untextured gripping surfaces. The receiver screws, saddle ring, smooth-faced trigger and grooved hammer are made from carbon steel and finished to match the barrel. The lever loop is sized to more comfortably accommodate larger or gloved hands. Two external safeties are provided. The hammer has a half-cock position that acts as a drop safety. Set into the receiver, just above the trigger, is a push-button cross-bolt safety that blocks the lever from cycling and the hammer from cocking when set in the "Safe" position. Both sides of the pistol grip have a laser-engraved Heritage "H" set into a circle, much like an old-fashioned cattle brand.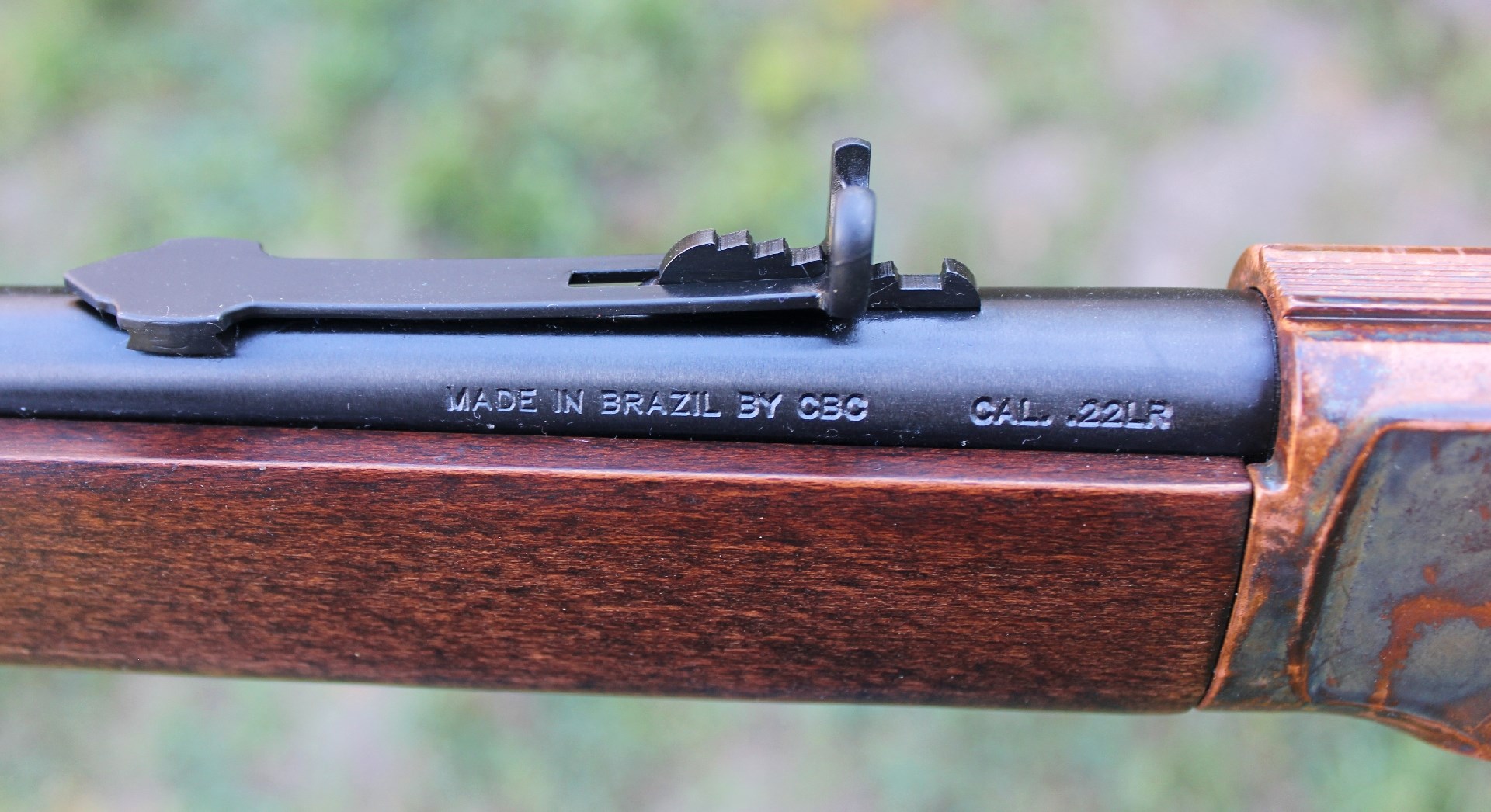 The left-side barrel stamp indicates this pistol was made in Brazil.
Because the end cap of the magazine tube liner is located right at the barrel's muzzle, it's important to pay extra close attention to following a safe loading procedure for this pistol. Start by verifying the pistol is completely unloaded by cycling the lever and inspecting the chamber both visually and manually. Once the empty condition of the chamber is confirmed, close the action and move the cross-bolt safety into the "Safe" position. Give the brass liner's cap a twist and completely remove the liner from the magazine. Drop up to 10 rounds of ammunition into the magazine, reinsert the liner and lock it back into place. The magazine is now loaded without a round in the chamber.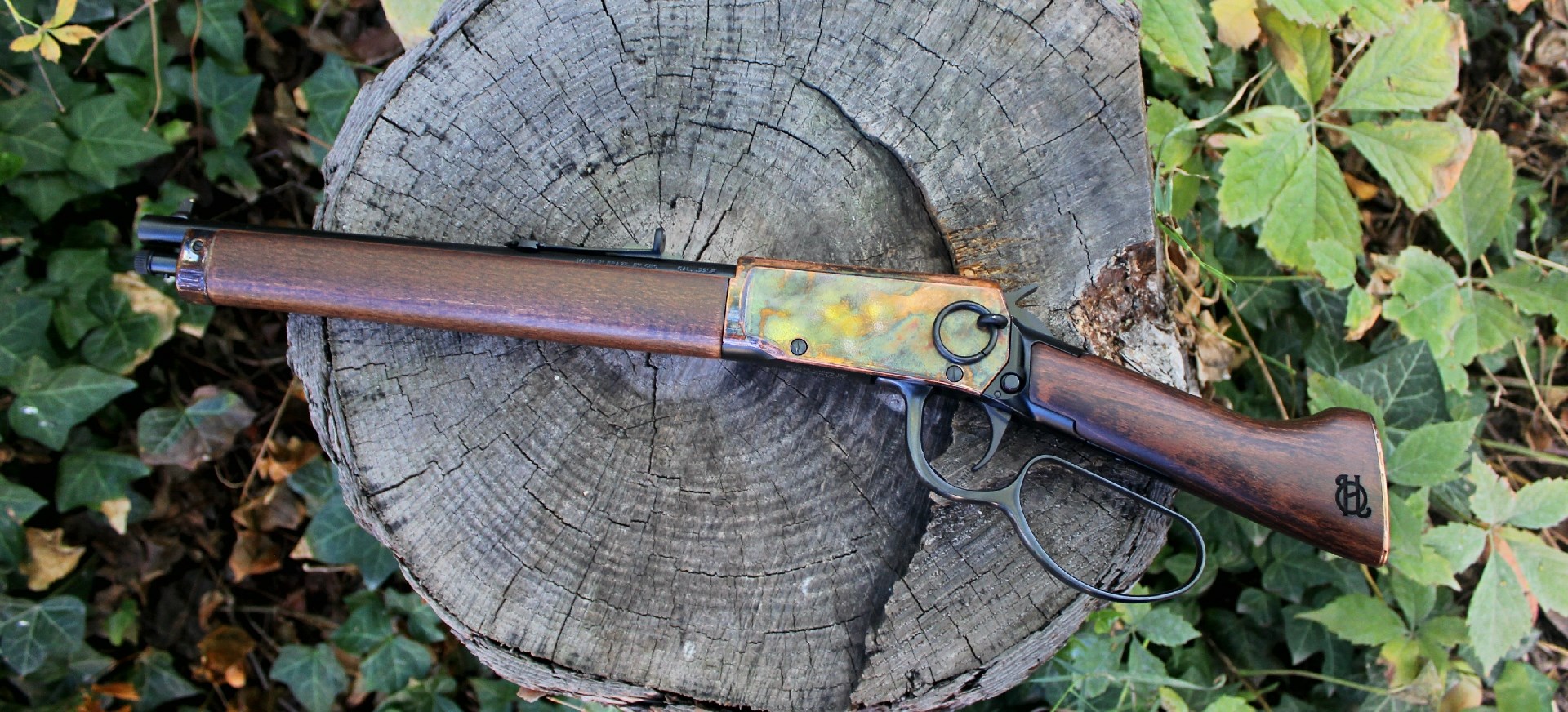 With its 12.5" barrel and pistol grip, this version of the Settler has an overall length of 23.5".
After learning how to fill the magazine, the next most likely question to ask, for those who are new to Mare's Legs, will be how to hold it when shooting from a standing position. Weighing in at 67.5 ozs. unloaded, this relatively hefty .22 Long Rifle-chambered handgun generates exceptionally mild levels of recoil. That being said, holding the pistol grip's butt plate right up against one's face is not advisable for two reasons. First, any recoil transmitted through a metallic plate is less than likely to be beneficial to the relatively delicate structures of the face. Secondly, the rifle-style semi-buckhorn sight system is intended to be used farther away from the shooter's eyes.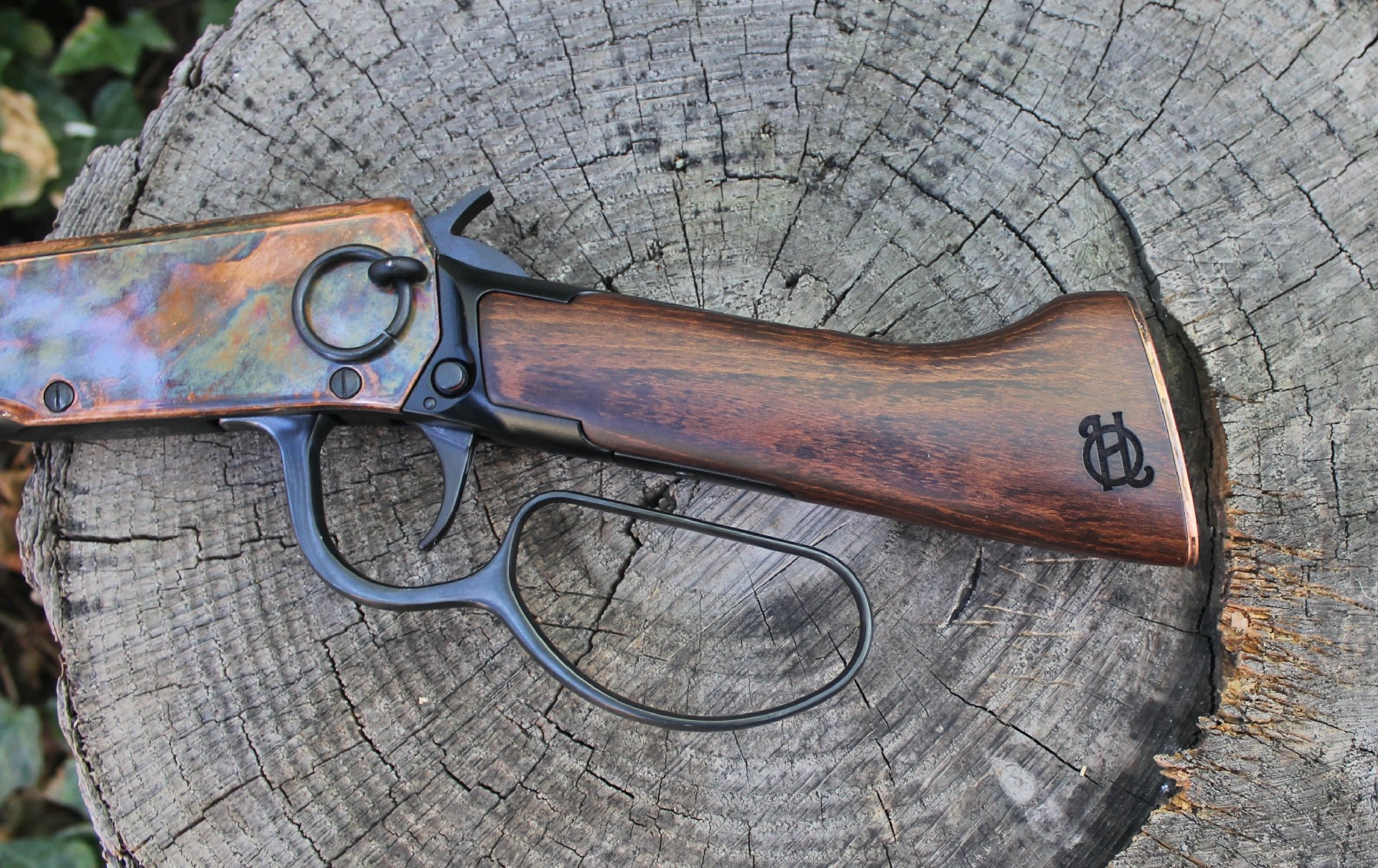 The generous lever loop provides room for larger or gloved hands.
I found the most useful sight picture with this particular gun by holding the sights up at eye level with the flat of the pistol grip about 7″ or so away from my body. After the range session, I measured from the trigger's face to the grip's butt plate which turned out to be a distance of 7″. Adding the 7″ of air space would give this gun a length of pull (LOP) of about 14″ if it had a shoulder stock. Mystery solved.
Stabilizing the Settler pistol to use the sights was most easily accomplished by pushing forward with the support hand, grasping the fore-end and pulling back toward the shoulder with the shooting hand. This push-pull tension technique is commonly recommended for managing the stout recoil generated by shotguns, but it also stabilizes rimfire Mare's Leg pistols quite well, resulting in accurate shot placement at longer distances than one might expect. This difference in shooting style makes for a challenging but enjoyable shooting experience.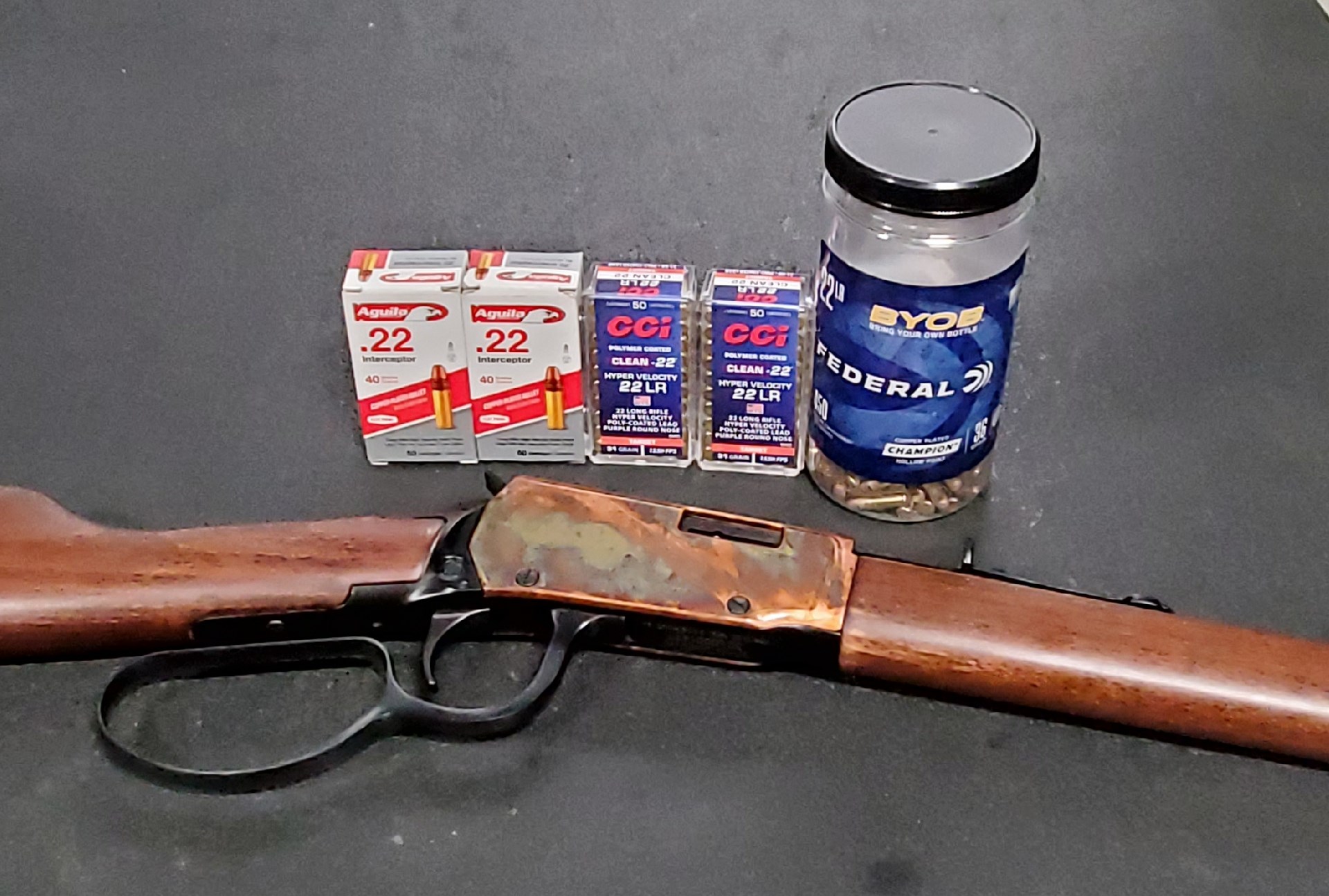 This pistol proved to be reliable will a variety of .22 LR ammunition.
I don't know if many Mare's Leg pistol owners will have either the need or the inclination to shoot them from a bench rest like I did for the formal accuracy testing results shown here. One of the best rests I've found for large and unusual-shaped handguns is the Rapid Fire (#30207) system from Hyskore. This fully adjustable rest is designed for use with rifles or handguns. A set of rails allows the front and rear supports to slide back and forth, depending on the gun's length. The height-adjustable front plate can be fitted with either a padded steel yoke or a small leather sandbag. The padded, twist-adjustable rear plate can be used as-is for handguns or fitted with the provided leather sandbag shaped for rifle stocks. The configuration that was just right for the Settler was the small sandbag up front with the flat padded plate at the rear.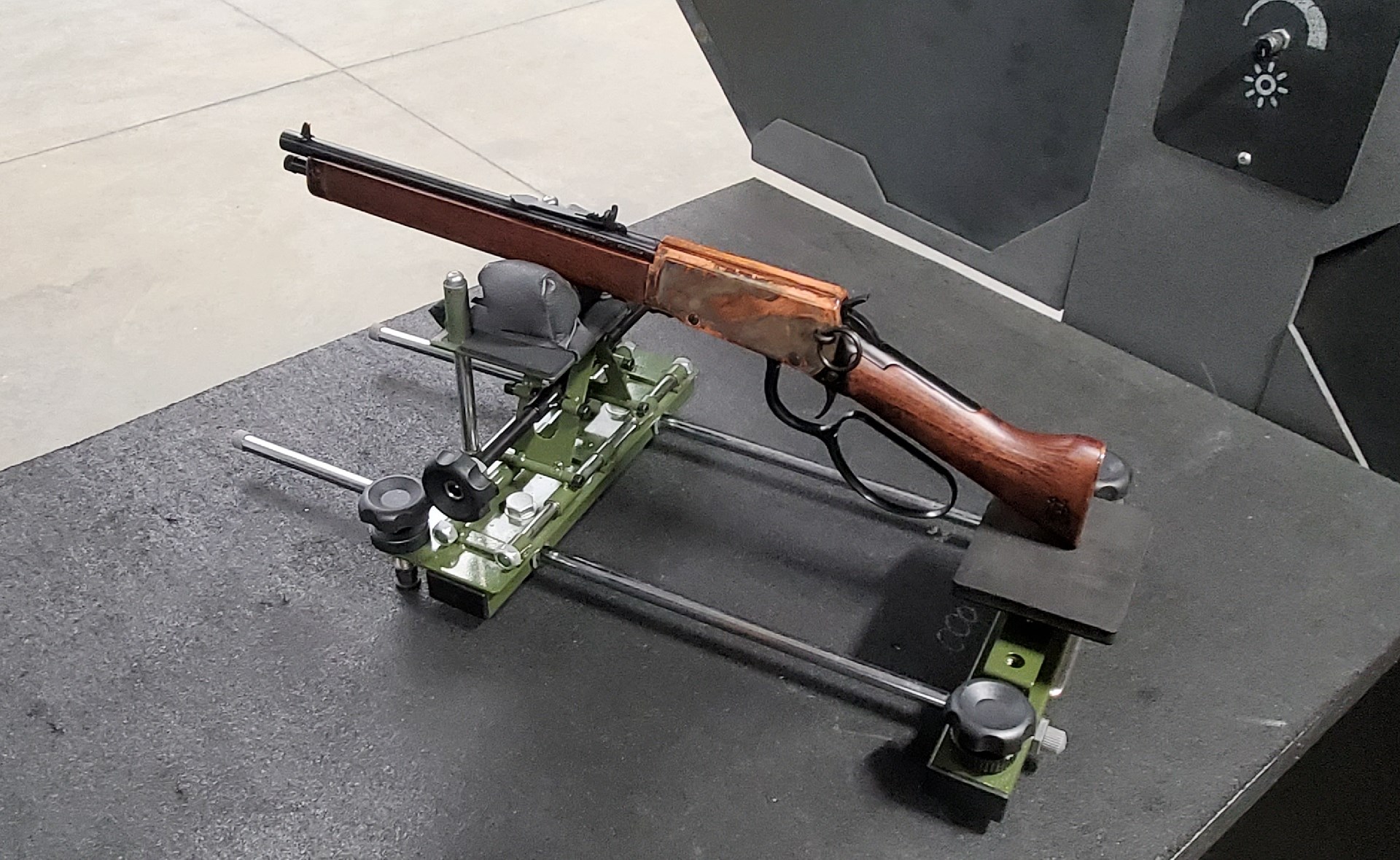 The majority of handguns chambered for .22 LR will generate noticeably slower bullet velocities than rimfire carbines outfitted with a 16″ or longer barrel. However, the Settler has a 12.5″ barrel (only 3.5″ shorter than a carbine) and a sealed-breach action that keeps all of the pressure produced by the fired cartridge directly behind the bullet until it leaves the barrel. The result is higher bullet velocities than most rimfire handguns can produce. Here are range results firing Aguila's Interceptor 40-grain copper-plated flat nose load with a listed rifle muzzle velocity of 1,470-f.p.s., CCI's Clean-22 hyper-velocity 31-grain polymer-coated lead round nose listed at 1,550-f.p.s. and Federal's Champion 36-grain copper-plated hollow points launching at 1,260-f.p.s.: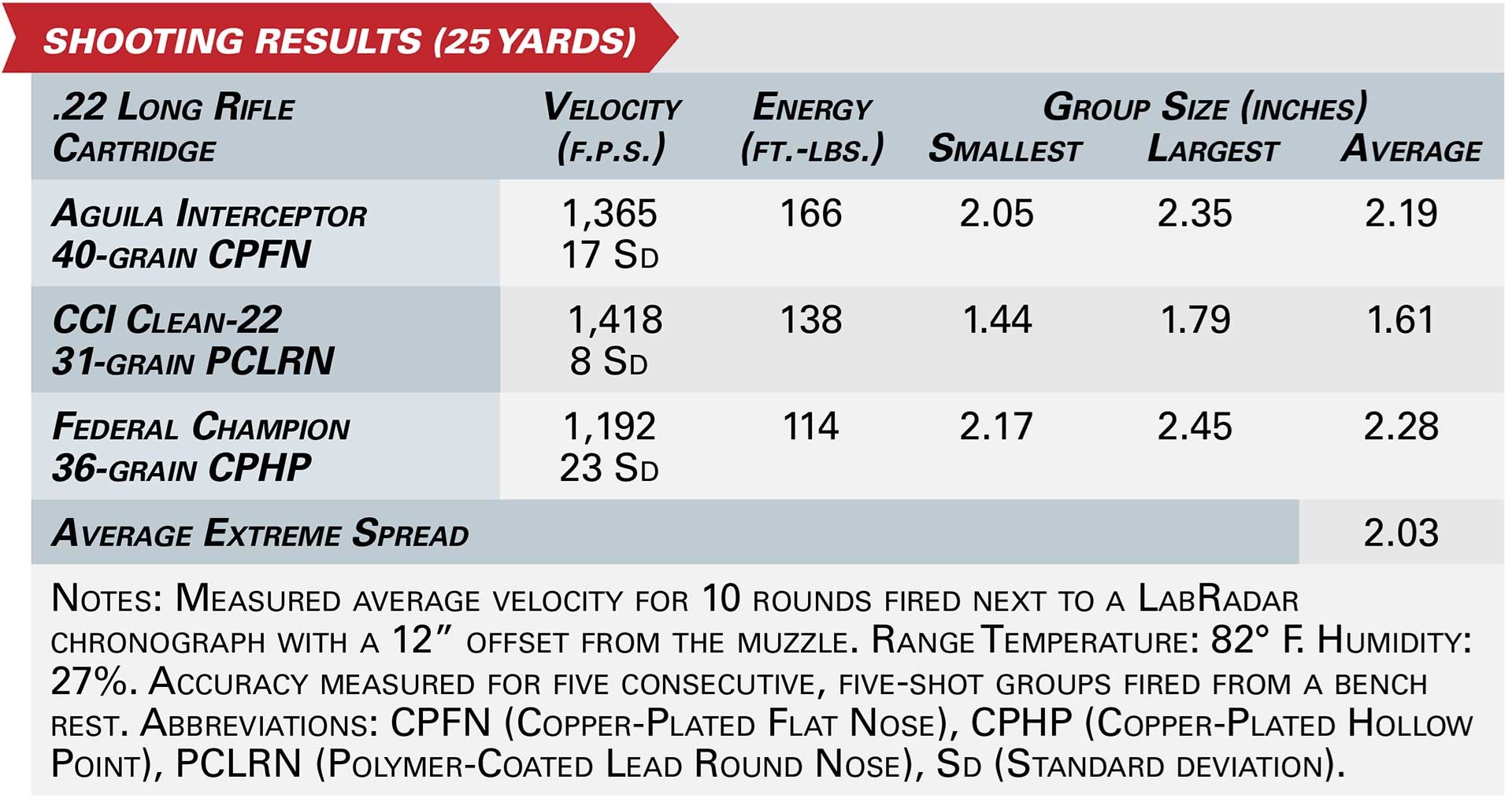 My experience has been that handguns built around rifle actions tend to have better accuracy potential than typical pistols and revolvers when fired at the same distances. Regular handguns can be considered fairly accurate when keeping group sizes in the 3″ range. The Aguila and Federal loads kept five, five-shot group averages hovering around 2.25″ in size. However, the CCI Clean-22 load shaved just over half an inch off that average with the two tightest five-shot groups of the evaluation, which were 1.44″ and 1.58″ in size.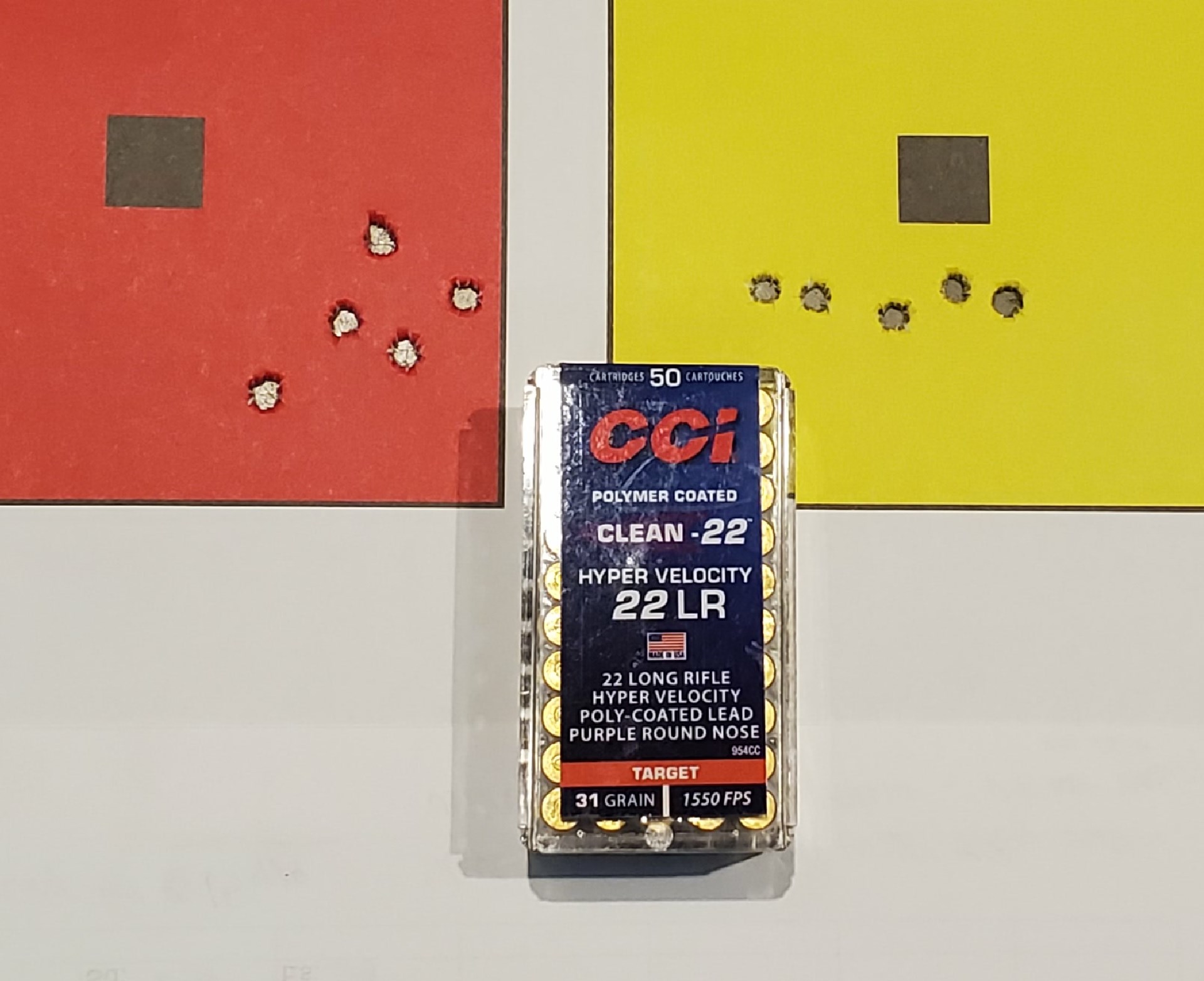 The two smallest five-shot groups of the test were shot using CCI's Clean-22 hyper velocity load.
The new Heritage Settler Mare's Leg .22 LR pistol proved to be properly fitted throughout, handsomely finished and utterly reliable with a variety of ammunition. The action and controls operated smoothly and cleanly right out of the box and continued to do so throughout the course of testing. I enjoyed my time at the range with this rimfire, which is a welcome addition for Mare's Leg fans. It handles nicely and has a suggested retail price which is about $50 less than the competition.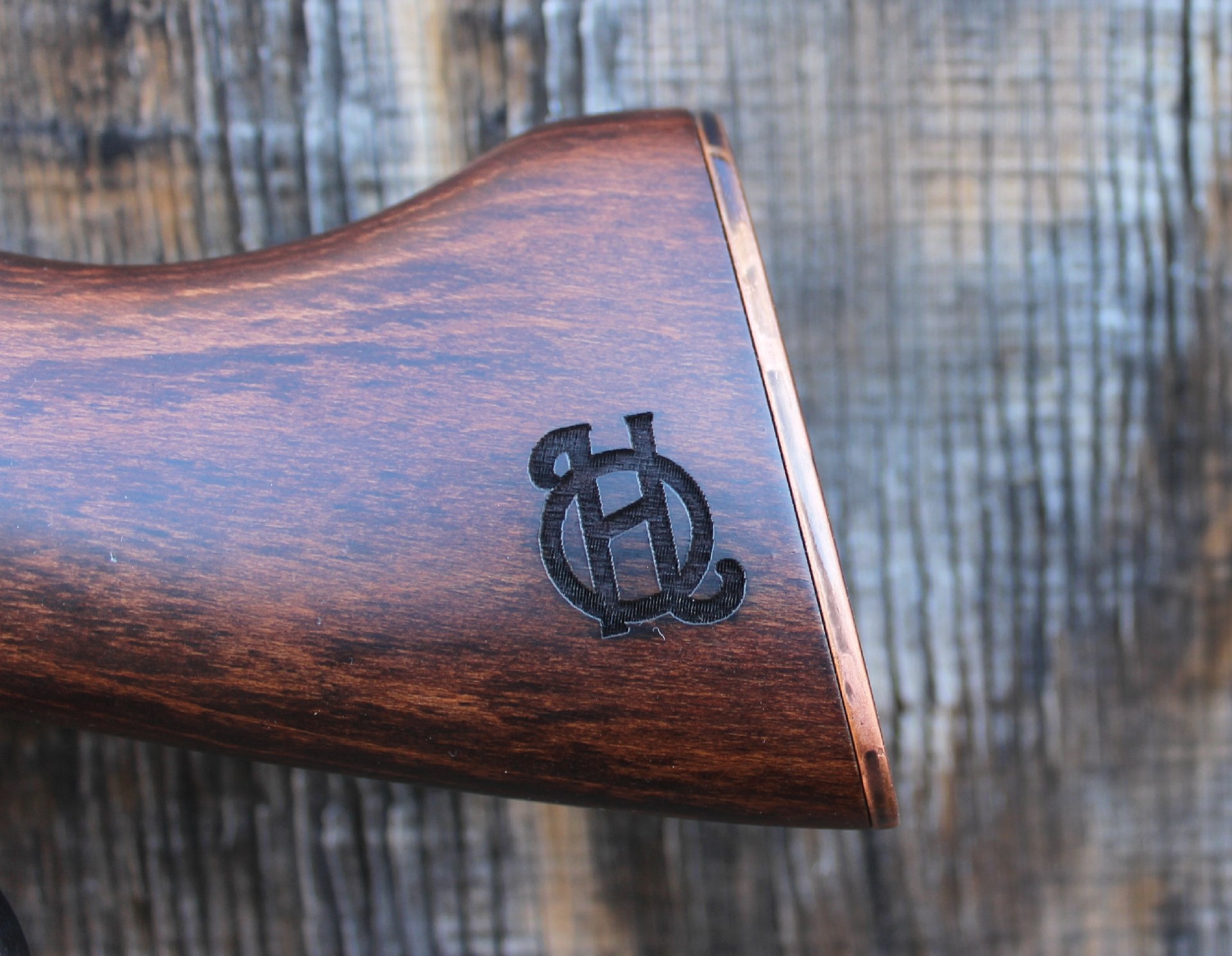 Heritage Settler Mare's Leg Specifications
Importer: Heritage Manufacturing Co.
Action Type: lever-action repeating pistol
Chambering: .22 LR
Receiver: aluminum alloy, simulated case-hardened finish
Barrel: 12.5" round profile, carbon-alloy steel, matte-blue finish
Magazine: fixed; 10-round tubular
Sights: adjustable semi-buckhorn rear, brass bead front
Trigger: two-stage; 4-lb., 10-oz. pull
Overall Length: 23.5"
Height: 5.85"
Weight: 67.5 ozs. (unloaded)
Accessories: owner's manual, lock
MSRP: $474.99
Article by B. GIL HORMAN
Don't forget to like us on Facebook and follow us on Twitter.