Review: Howa Carbon Elevate
In order to find the most elusive game, one needs to be willing to put in the miles—and that could very well mean a day's hike in and a day's hike out of hard-to-reach hunting grounds. For that reason, manufacturers have always sought ways to make rifles lighter without sacrificing accuracy. Several methods work for achieving these characteristics, but none are more modern than the proper application of carbon fiber. Japanese manufacturer Howa has always had the accuracy portion of the equation down, and now it has taken a significant step toward weight reduction with its Carbon Elevate rifle.

The Howa Carbon Elevate is a centerfire bolt-action built around the M1500-series receiver. This action utilizes a two-lug, push-feed bolt system, with a pivoting M16-style extractor and plunger ejector, that delivers ammunition to the chamber from an internal four-round magazine. The magazine well features a handy hinged floorplate to allow the user to unload without having to chamber each round individually. The action yields a 90-degree bolt throw that most riflemen will find familiar. Threaded to the action is a barrel that consists of a hammer-forged, stainless-steel core wrapped in several layers of carbon fiber. This construction ensures rigidity without the need for excess steel, while also hastening the dissipation of heat.
While a lightweight barreled action is a step in the right direction, a proper stock also helps determine whether a rifle is fit for the backcountry or not. For this critical component, Howa turned to Stocky's for its vast experience with carbon fiber. Using a blend of proprietary materials and processes, Stocky's produced a hand-laid carbon-fiber cradle specifically for this rifle. To keep weight at a minimum, it features a lightweight carbon version of its signature Accublock bedding system. This keeps the barreled action right where it needs to be using nothing more than a standard pair of action screws. It also allows for additional bedding if one should so desire. Lastly, it is paired with a LimbSaver recoil pad to soften the 6-lb., 8-oz., rifle's recoil. Prospective buyers can choose between a natural carbon-fiber finish or Kryptek's Altitude camouflage pattern.
At the time of this writing, the rifle is available in four chamberings that span the long, short and mini actions that Howa offers; our test sample was chambered in 6.5 mm Creedmoor, which put it in the short-action category. During our initial inspection, testers were pleased with the fluidity of the bolt manipulation, citing an effortless lift despite its cock-on-opening operation. The three-position safety located on the right side of the receiver allowed cycling in either the forward or central position, but the most rearward setting locked the bolt. Located on the other side of the receiver is a push-button bolt release that allows removal without needing to depress the trigger. A third and final control, which drops the floorplate when pressed rearward, is incorporated into the front of the spacious trigger guard.

Before our accuracy and function testing, we affixed a Tract 2.5-15X 44 mm Toric Ultra HD hunting scope directly to the receiver via a pair of combination rings/bases from Talley. We chose this optic for the outstanding clarity that it garners from German Schott glass and an ample magnification range that suits close-range hunting and long-range engagements alike. Our range day consisted of hot, muggy conditions that were sure to put the heat-dissipation claim of Howa's barrel to the test.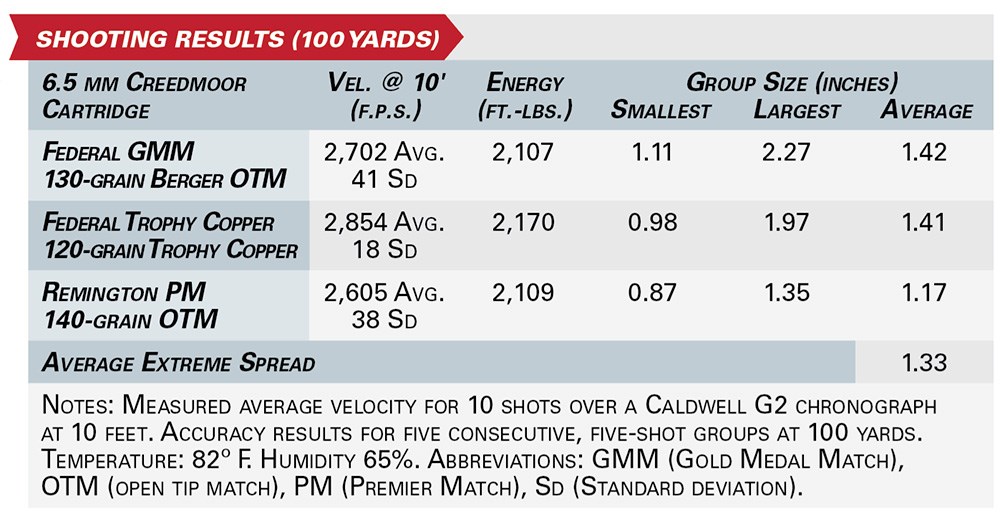 We started by confirming the sub-m.o.a. guarantee that all M1500 rifles carry and found that we could meet it with two of our three types of ammunition. Although this guarantee is only based on a three-shot group, we were able to meet it with some five-shot groups as well. Throughout the test, the barrel did indeed heat up in between groups, but we found that it cooled quickly, especially considering the warm conditions.
All testers agreed that the recoil was incredibly manageable for such a light rifle, even without a muzzle device attached. We ended our test by shooting in conventional field positions to get an idea of the rifle's balance. Here is where we most appreciated the carbon-fiber-wrapped barrel, as it reduced the muzzle weight and moved the balance point closer to the receiver. Landing hits on 12″ gongs at 100 and 200 yards was effortless, in part due to the two-stage HACT trigger; its light pull weight of 3 lbs., 8 ozs., allowed us to break a shot without disturbing our unsupported sight picture.
The Carbon Elevate proved to be another excellent addition to Howa's already-established M1500 line. This firearm is light enough to carry on a long expedition, and its ergonomics made the rifle a joy to shoot. Given its intended use as a backwoods gun, we appreciated its accuracy and simple design. Hunters looking for an easy-to-carry, easy-to-shoot rifle that won't let them down will find the Howa Carbon Elevate to be a strong contender for their attention.

Article by AMERICAN RIFLEMAN STAFF
Don't forget to like us on Facebook and follow us on Twitter.