Review: Mossberg Patriot LR Tactical
Connecticut manufacturer Mossberg has a well-earned reputation for making affordable, top-quality shotguns, and while the company takes pride in this fact, its underrated pistols and rifles are often overlooked. One of these underappreciated product lines is the Patriot series, a family of bolt-actions that has served hunters and casual target shooters well since its 2015 introduction, but that, until recently, hasn't offered some models necessary to address the needs of those looking to reach out at targets beyond conventional hunting distances.
With that in mind, Mossberg engineers collaborated with stockmaker MDT to create an affordable long-range rifle that feeds from modern magazines and is capable of sub-m.o.a. accuracy without pushing the MSRP beyond $1,100. Dubbed the Patriot LR Tactical, the resulting gun was introduced in late 2022, and our test sample for this evaluation was the 6.5 mm PRC-chambered version.
The LR Tactical is built on the familiar push-feed, two-lug Patriot action made of 4140 steel. This simple design's opposed bolt lugs are responsible for its solid one-piece bolt handle's 90-degree lift. It is milled with a slightly oversize knob that is given a grooved texture for improved purchase. The rifle's action feeds from a detachable AICS-style magazine, which is removed by pressing forward on a release lever located in front of the trigger guard.
A two-position, push-to-fire safety is located on the right side of the receiver, with the bolt release located opposite it on the left side. An accurate rifle must be served by a crisp, light trigger, so Mossberg installed its adjustable LBA trigger system into this new product. Using a common blade-in-bow design, its break can safely be adjusted from between 2 lbs., 3 ozs., and 7 lbs., 6 ozs.—and it came from the factory at its lowest setting. The Patriot LR Tactical does not include any sights; instead, it comes with a pre-mounted 20-m.o.a. Picatinny rail.
Heavy barrels carry the advantage of improved harmonics and expedited cooling, but their weight can paint the rifle into a target-shooting corner when it comes to its intended use. Conversely, thin pencil barrels heat up too quickly, experience more of a whipping effect and are better suited to hunting and low-round-count ventures. With these qualities in mind, Mossberg split the difference and built the LR Tactical with a medium-contour barrel that is heavy enough for precision work but can still be employed in typical field positions when needed.
It is threaded into the action, then secured and headspaced using a simple barrel-nut system. Our test sample's 24″ barrel was cut with 5R rifling that is gentler on projectiles while offering extended service life. Before leaving the factory, the barrels are threaded 5/8×24 TPI before being capped with a knurled protector.

The most notable feature of the LR Tactical is the MDT stock that firmly holds the barreled action in place. While its exterior is synthetic, the inside of the unit includes an enlarged aluminum bedding structure that features dual V-blocks to cinch the receiver down under the tension of a pair of action screws. The stock comes standard with a toolless adjustable cheek riser and three length-of-pull spacers, allowing the user to tailor its shape to his or her needs.
The stock's pistol grip has a pair of aggressively textured, removable grip panels, suggesting that aftermarket replacements may eventually be available from MDT. Both a traditional sling stud and four M-Lok slots are located under the fore-end, to accommodate a sling and other accessories simultaneously, and additional M-Lok slots can be found on either side of the fore-end.
Hornady's Precision Hunter and Match 6.5 mm PRC offerings, as well as Berger's Elite Hunter load, were used for our formal accuracy testing, and we were especially interested to see how the hunting ammunition would perform—as the LR Tactical is not too heavy for spot-and-stalk pursuits. All three loads performed well through the Mossberg. Each tester commented on the quality of the trigger, as it broke quite cleanly for a rifle designed to be affordable, and we were impressed by the smoothness of the action—which seemed to break itself in a bit over the course of our 100-round evaluation. We also experienced trouble-free feeding, firing and ejection throughout.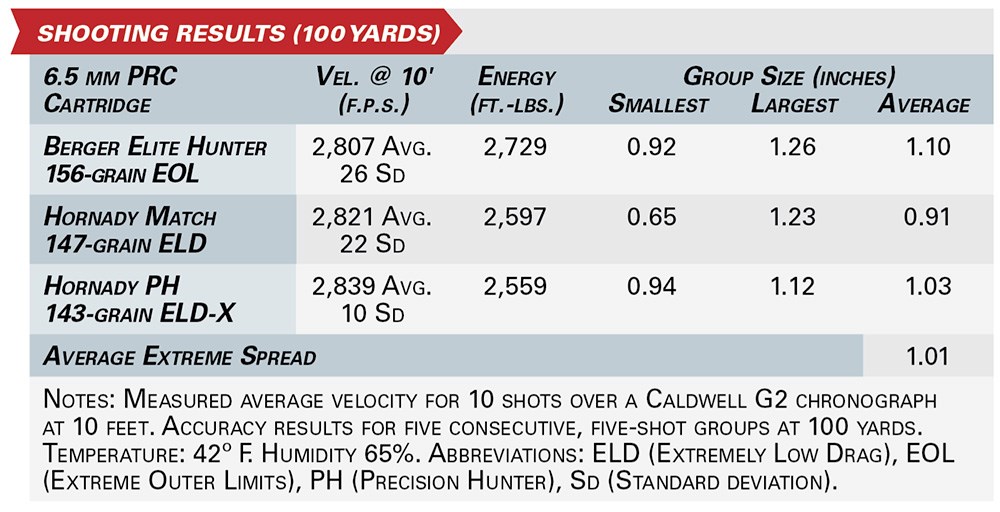 The Mossberg Patriot LR Tactical is evidence that the company is in tune with the evolving desires of the modern long-range shooter and has what it takes to deliver without wrecking a budget. Although perhaps a bit heavy for some applications, this is a great "do-all" design that would serve equally well as either an entry-level PRS gun or as a long-range Western hunting rifle.

Article by AMERICAN RIFLEMAN STAFF
Don't forget to like us on Facebook and follow us on Twitter.