Review: Ruger .22 LR/.22 WMR Super Wrangler
Comparing features with price, Ruger's new Super Wrangler is in a class of its own. Boasting steel construction with a bare minimum of alloy and an adjustable rear sight that competitive shooters know is necessary on a convertible revolver, the .22 Long Rifle and .22 Winchester Magnum Rimfire Super Wrangler performs about on par with Ruger's classic Single Six costing nearly three times as much.
Though more fair to compare the Super Wrangler with its predecessor and stablemate, the Wrangler, owners of Ruger's convertible Single Six will naturally compare the Super Wrangler with Ruger's classic Single Six, even though the Super Wrangler's intent—to provide a .22 Long Rifle and .22 Winchester Magnum Rimfire revolver option at a significantly lower price—might highlight any perceived negatives. While the Super Wrangler's attractive price is the result of manufacturing and material changes from the Single Six that render mostly cosmetic differences, the Super Wrangler's quality of workmanship and function doesn't suffer. In the final analysis, any negatives are a matter of personal taste in what a shooter believes a single-action revolver "should" look like.
SUBSTITUTIONS, NOT SHORTCUTS
First and immediately obvious is the departure from the Single Six's polished blue finish, as Ruger offers Super Wranglers in a choice of three Cerakote colors, black, silver and bronze. The Super Wrangler's frame improves over the Wrangler's alloy frame in being steel, like that of the Single Six. The steel gives the Super Wrangler some heft, which may not be so desirable for carry, but is desirable for helping the muzzle to "hang" on a target without wobble. As on my Ruger Single Six, the Super Wrangler's muzzle is not crowned. Hammer and trigger both strongly draw a magnet, indicating they are steel, though their matte finish gives the appearance of alloy.
In addition to the Cerakote assumably shaving some manufacturing costs over polishing and hot bluing, the Super Wrangler's grips are plastic, and the trigger and hammer pivots are unthreaded pins. The trigger guard/grip strap and ejector rod housing do not attract a magnet, so they are made of some material other than steel. Only the .22 WMR cylinder is so-stamped; the .22 LR cylinder instead simply has a third ring grooved around its circumference to visually identify it. In a departure from tradition, the screws attaching the trigger guard/grip strap to the frame are Torx head, rather than straight slot screws. None of these features detracts from the Super Wrangler's shootability.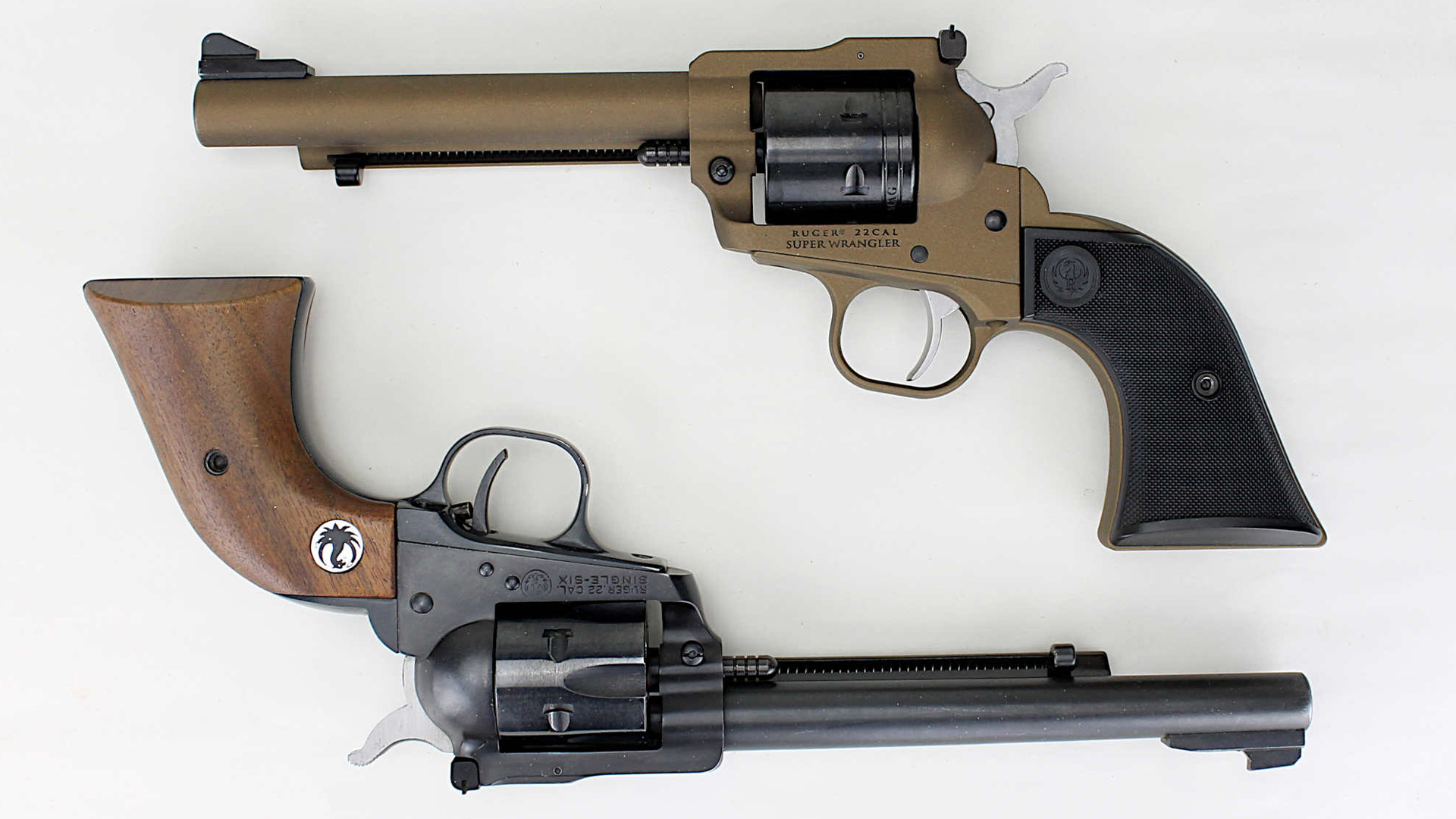 MUST-HAVE ADJUSTABLE SIGHT
When I learned Ruger was developing the Super Wrangler, the first question I asked was, "Will it have an adjustable rear sight?" An adjustable rear sight is an absolute necessity on such convertible revolvers because the ballistic performance of the .22 LR and .22 WMR are so different, and guns that don't send bullets where they are pointed aren't much fun no matter how inexpensive they may be. The Super Wrangler's rear sight click adjusts for both elevation and windage. A tiny roll pin attaches it to the frame, while the ramped front sight is held to the barrel with a single screw. Both sights are matte black.
The cylinders lock up tight with imperceptible end shake and play, as to be expected from a new revolver. Cylinders are easily swapped, as they are retained in the traditional Colt SAA manner. Simply depress the base pin latch and withdraw the base pin (cylinder pin), open the loading gate and the cylinder falls free. Insert the other cylinder through the right-hand side, depress the base pin latch and insert the base pin. Done. Noteworthy as a safety feature during loading, both trigger and full hammer movement are disabled when the loading gate is open. The cylinder spins freely when the loading gate is open, easing loading, unloading and ejecting empty cases.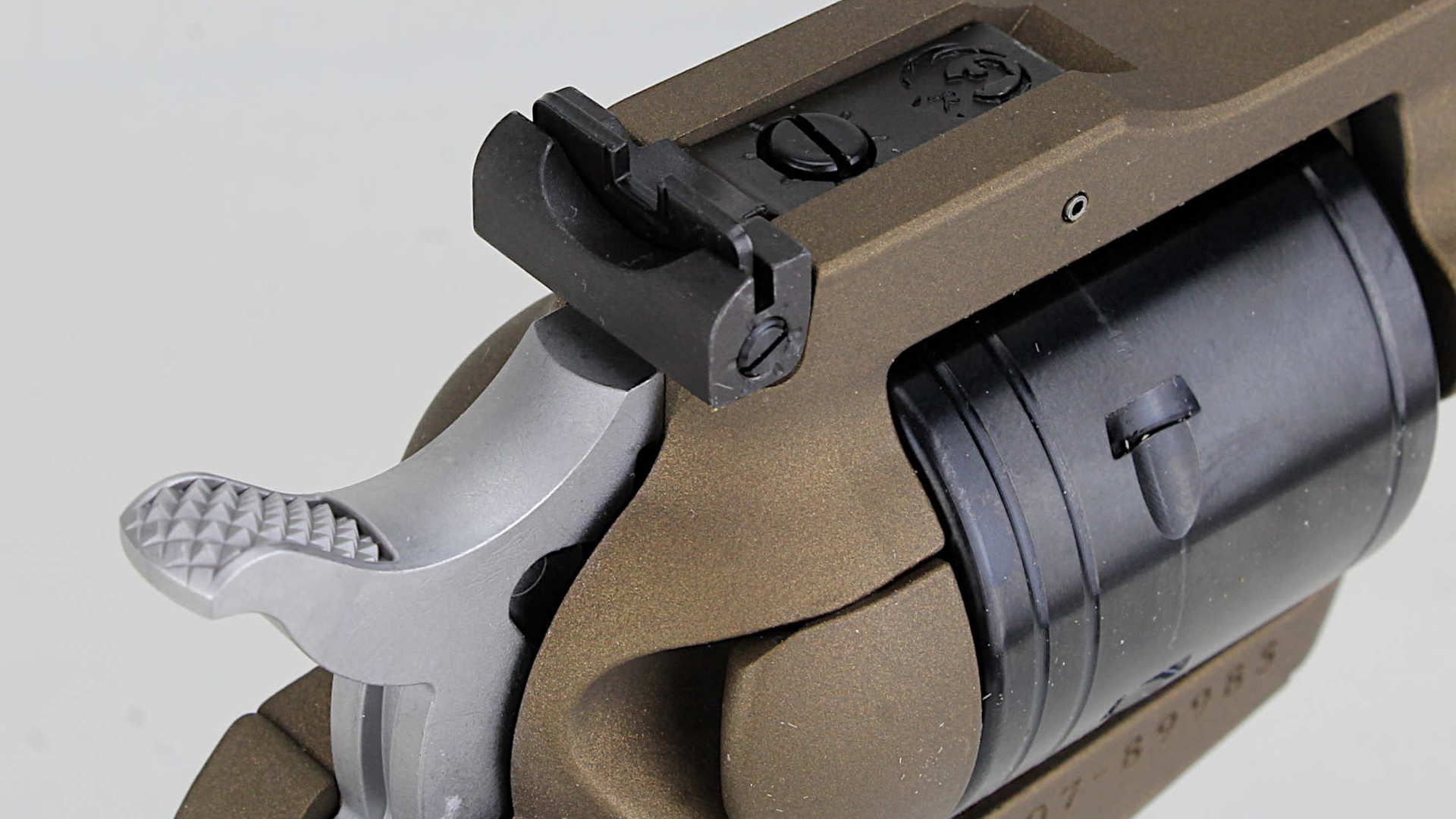 There is no half-cock on the Super Wrangler, the hammer rests either fully forward or fully cocked. Measured with a Lyman electronic trigger pull gauge, trigger pull is remarkably consistent from 4.12 to 4.15 pounds, five tests averaging 4.13 pounds with a slight amount of creep. Pressing the trigger raises a transfer bar that transfers the hammer blow to a firing pin and thus to the cartridge. The transfer bar allows for safely resting the hammer on a loaded chamber.
SIMILAR, NOT IDENTICAL
Though a .22 LR cartridge will fit into a .22 WMR chamber, it is not a safe practice to shoot the former in the latter, as bullets could lodge in the barrel without exiting, and the smaller .22 LR cases will rupture in the larger .22 WMR chambers, making extraction difficult, and possibly throwing hot gases and bits of brass backward at the shooter or sideways at bystanders. But bore and bullet diameter of the two cartridges are so closely similar that substituting the appropriately chambered cylinder in the same revolver works pretty well.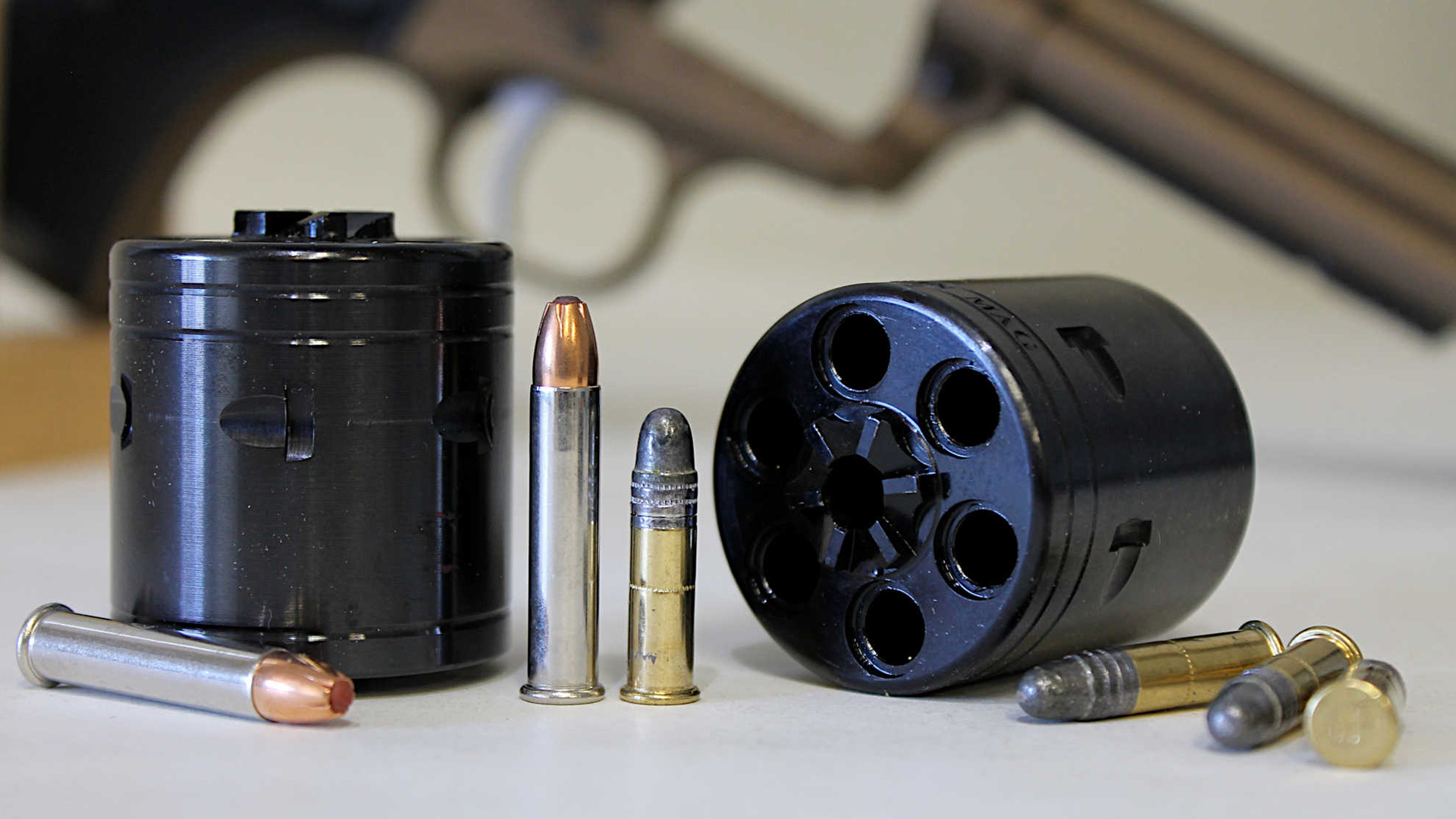 Ruger's advertising for the Super Wrangler claims its "cold hammer-forged barrel results in ultra-precise rifling that provides exceptional accuracy …," but however one may define "exceptional accuracy," with all .22 LR and .22 WMR convertible revolvers it is unreasonable to expect competition-grade precision, though hunting accuracy is generally acceptable. The fundamental reason is that bullet diameter of the two cartridges is nearly the same, but not identical. As noted in the accompanying table, the .22 WMR's larger bullet diameter requires a bore and groove diameter larger than what is optimal for the .22 LR.
Those lacking experience with .22 LR and .22 WMR convertible revolvers may at first be disappointed firing .22 LR bullets fired from them. Even though the .222-inch .22 LR soft lead bullets may obdurate somewhat to fill the .224-inch grooves required for the .22 WMR, the bullets are not intentionally designed to do so like, say, a Minié Ball, so the .22 LR bullet fired through a convertible revolver barrel can fly essentially off-balance, affecting accuracy. With enough testing, one will find brands of .22 LR cartridges that shoot with acceptable precision in the convertible revolver.
PLINK AND HUNT
Until fairly recently, a .22 LR bullet was either solid lead or a hollow point, which may or may not be clad in some other metal. Today we can add the segmented hollow-point bullet, such as from CCI and Winchester, designed to break apart inside soft tissue. In the .22 LR, solid bullets are not a first choice for game because they aren't designed to expand for quick and humane kills, and hunt regulations in many places prohibit nonexpanding bullets for hunting. Solid bullets in inexpensive loads are fine for plinking, and solid 40-grain round nose bullets are de rigueur for serious .22 LR competition.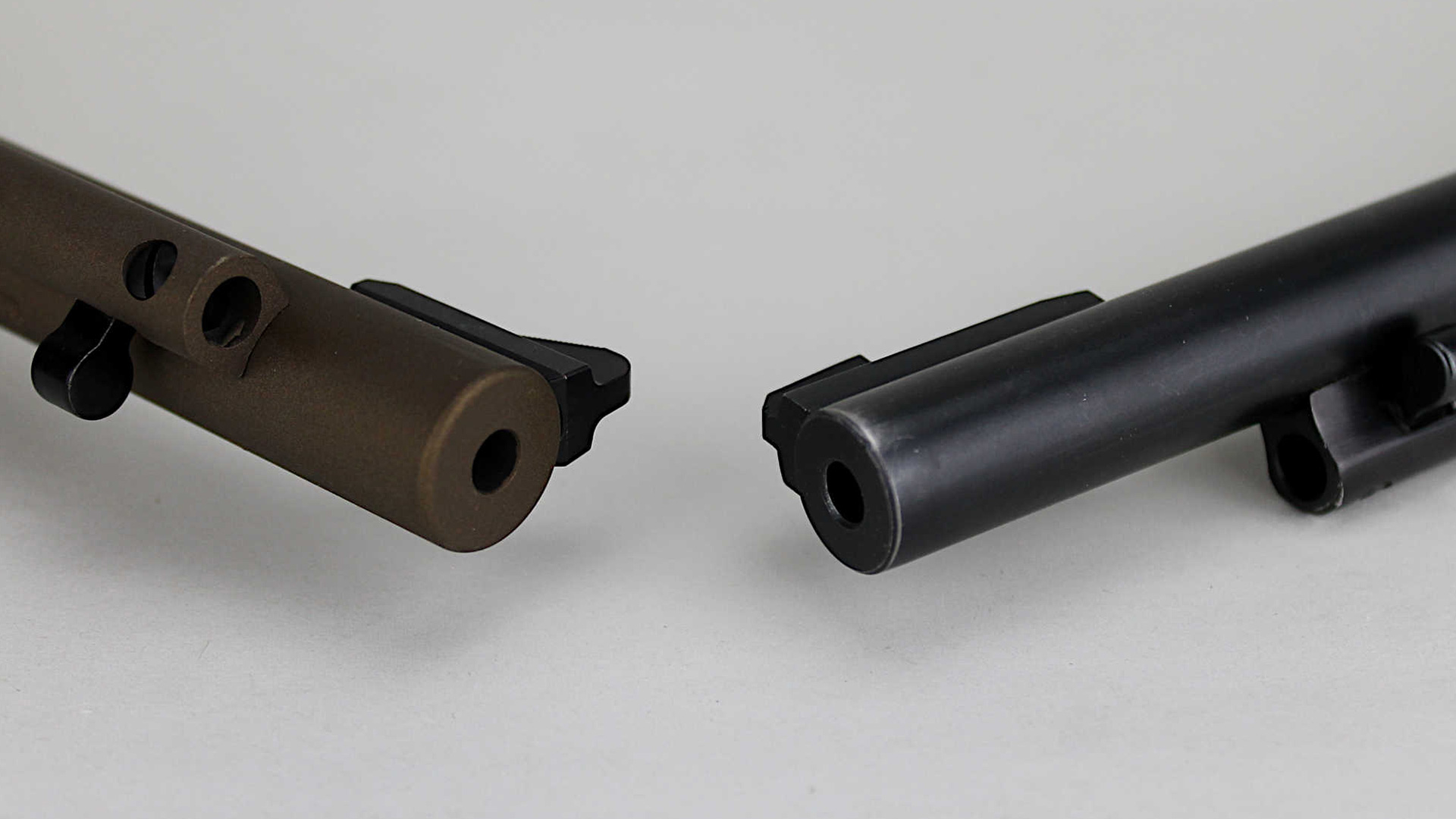 Even if clad in copper or some alloy (typically via an electroplating process), the .22 LR lead bullet is not truly jacketed. Look at the bullets for .22 WMR hunting cartridges, and you'll see they are a.) jacketed, and b.) hollow point or soft-nosed. This is the .22 WMR's advantage over the .22 LR, improving upon the .22 LR's performance in delivering more than twice the .22 LR's muzzle energy on game. While rifle barrel-length muzzle velocity of the .22 LR's 36- to 40-grain bullets range from subsonic to around 1,400 feet per second (f.p.s.), the .22 WMR's 30- to 50-grain bullets step out at around 1,500 f.p.s. to 2,250 f.p.s. velocity.
And that is the appeal of the convertible rimfire revolver, combining inexpensive plinking with superior small game performance. Ruger's Super Wrangler earns high marks in a time when the general price of quality revolvers—even used revolvers—has become prohibitive for many new, casual or utilitarian shooters. The Super Wrangler presents excellent quality at a surprisingly low price when we compare its $329 MSRP to that of a new Single Six, which starts at $800 and goes up from there. If you've been waiting for a shot at an affordable, quality convertible .22 revolver, here it is. Visit ruger.com.
Article by ART MERRILL, FIELD EDITOR
Don't forget to like us on Facebook and follow us on Twitter.