Review: Savage 110 Ultralite
It is nice to see a product evolve over time. The Savage 110 bolt-action rife is a great example. Even a cursory glance at the new 110 Ultralite will cue you in that something special is at hand. The 110 Ultralite has taken the Savage concept of the bolt-action rifle another step forward. Many notable features set the Ultralite apart from the previous Savage 110 rifles.
The most notable feature is the PROOF Research carbon-fiber wrapped stainless-steel barrel. The factory blueprinted stainless-steel Savage 110 skeletonized receiver and action with Melonite finish is another notable Ultralite attribute. The Ultralite benefits from a Savage AccuFit synthetic stock, allowing the user to adjust length-of-pull and comb height.
A detachable box magazine, spiral-fluted bolt, threaded muzzle and Savage's industry-leading AccuTrigger are also present in the Ultralight. We might as well address something head on, that being prejudices abound when it comes to Savage rifles, which stems from misconceptions based on price and elitist sentiments. Many individuals, not to mention industry competitors, want you to believe that the moderately priced Savage must somehow be deficient when compared to rifles costing two to three times more.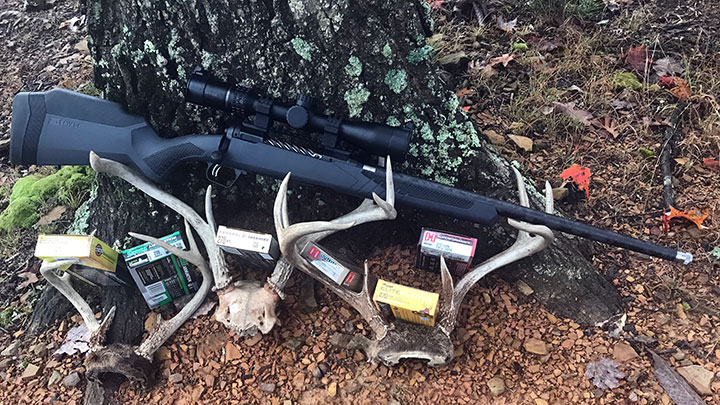 I have been privileged to evaluate rifles from numerous other manufactures, including some very high end rifles. This provides a solid background for objectively analyzing the Savage Ultralite. The Savage Ultralite takes a back seat to no rifle in terms of aesthetics, precision, repeatable accuracy, ergonomics, reliability, portability, trigger quailty and safety. The weight of the Savage Ultralight is 5.85 lbs. with overall length slightly over 42".
Aesthetically, the Ultralight is unrecognizable as a Savage bolt action. This is meant as a compliment to the new Ultralite, not as an offense to previous Savage rifles. Misunderstandings surround the Savage bolt-action design, most attributed to ill-informed conjecture regarding the floating bolt-head design and barrel-nut arrangement. Many critics mistakenly label the Savage floating bolt head and barrel nut arrangement as strictly cost saving measures.
It is better understood as an ingenious alternative method of producing accuracy without spending undo time and money on tedious hand fitting in this age of CNC machines. The purpose of the floating bolt head is to allow the bolt's locking lugs to line up independently from the bolt body. This eliminates any minor misalignment between the axis of the receiver and the bore.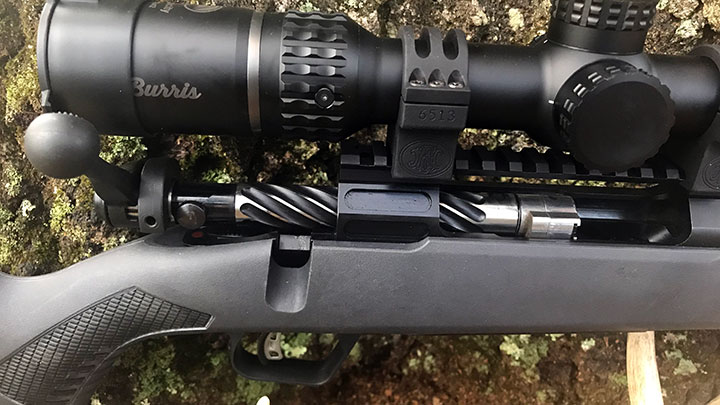 The Savage bolt finds its own "sweet spot" when it locks up, due to the floating boat head behaving independently of the bolts main body. This also contributes to relieving any stress on the action from the barrel constantly exerting pressure downward from to gravity. The Savage system enables a truly "free floated" barrel. The other Savage bolt-action trait misconstrued solely as a cost-saving measure is the barrel nut.
Almost perfect headspacing is achieved using the Savage method. Yes, production costs are reduced due to the chambering and headspacing being automated because of the barrel-nut design. However, the design also contributes to trued barrel-to-receiver alignment, negating any conflicting alignment from associated parts. The Savage AccuTrigger is just as important as the Savage 110 action, AccuStock bedding, and PROOF Research barrel in the accuracy equation.
A rifle's trigger is the interface between the user and rifle and must be tuned right or accuracy will suffer. The AccuTrigger stems from Savage's desire to give the shooter a proper trigger that is crisp, creep-free and fully adjustable between 1.5 and 4 lbs., yet totally safe from firing if jarred or dropped. A byproduct of the AccuTrigger design effort is the inclusion of a tear-drop safety conveniently located center of stock right behind the action for smoother, quieter operation.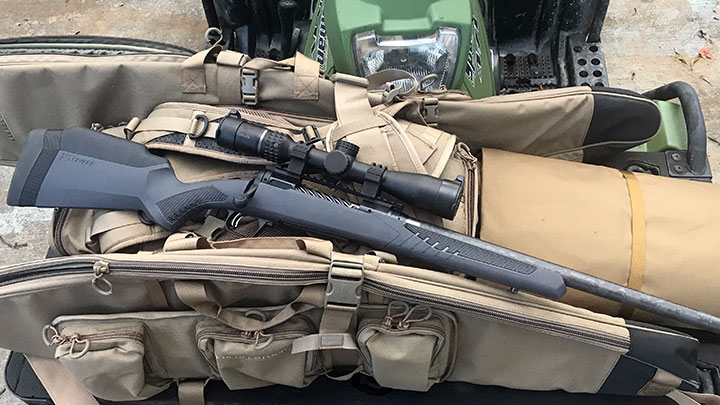 Without going into the small details, the AccuTrigger's distinctive release lever, the AccuRelease, in front of the trigger proper is the secret to maintaining minimal trigger weight without creep, while keeping the system safe. The AccuRelease must be activated by pulling the trigger before the sear will move to release the firing pin. A sudden drop or impact will not do this, even if the safety is off.
The AccuTrigger is adjustable by removing the action from the stock and turning a single screw with a supplied tool. The Savage design is renowned for one of the fastest lock-times in a current production rifle. Combine the fast-lock time with the AccuTrigger and the Savage Ultralite is equipped with one of the finest triggers on the market. The Savage AccuFit is a modular system which allows the user to adjust both the length of pull and comb height.
The Savage AccuStock system allows you to obtain the rifle fit you want, something that is usually reserved to custom shop purchases. The AccuStock system is even more flexible than a custom stock as it it allows for modifying a rifle as user's grow, or optics change. This is accomplished via three different buttstock spacers, besides the one installed at the factory, of varying thicknesses increasing in 0.25″ increments.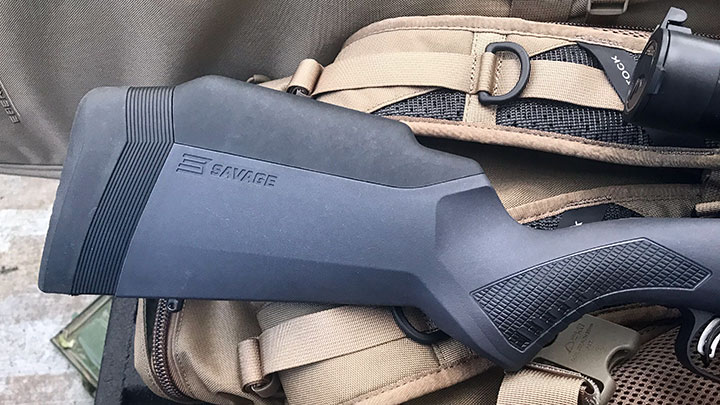 Comb risers follow a similar pattern with four additional heights included with the package, increasing in height in 0.125″ increments. All of the positive attributes listed above are further reinforced with the Ultralite due to its action being factory-blueprinted. For maximum accuracy, a barreled action should have a receiver with a bolt hole that is dead straight and centered in the receiver body.
The axis of this hole becomes the reference axis with which the chamber, bore and barrel threads are perfectly aligned and to which the barrel shoulder, receiver face, locking lug seats, bolt lugs and breech face should be exactly perpendicular. The Ultralite gets extra attention by Savage double checking and re-aligning its barrels to the tightest dimensions.
The benefit is that all parts are square and true to one and other, allowing for ideal harmonics. This ensures consistency which equates to increased accuracy. The Savage Ultralite is offered in eight different calibers, with .270 Win. chambering being used for this review. The PROOF Research 22″ 1:10″ 5R twist spiral-fluted barrel is threaded at the muzzle for suppressor use.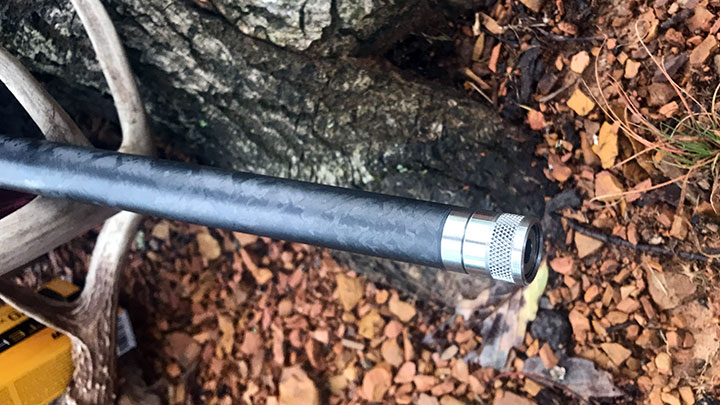 PROOF Research begins with full-profile, match-grade 416R stainless-steel barrel blanks. These blanks are then turned down to a significantly reduced profile, greatly reducing weight. This reduced contour barrel is then wrapped with high-strength, aerospace-grade carbon fiber impregnated with a proprietary matrix resin. The PROOF Research carbon fibers add strength and diffuse heat along the length of the barrel.
Carbon fiber also moves heat very effectively through the wall thickness of the barrel, greatly increasing heat transport resulting in barrels that cool faster, maintain accuracy over longer sessions of fire and increasing lifespan. The end result is an aerospace-grade, high-fiber content composite barrel that is stronger and 64 precent lighter than similar all steel barrels while being just as accurate.
Scope selection was a consideration. I did not want to put too much extra heft on the Ultralite, yet still wanted increased magnification to take advantage of the .270 Win. range potential. The optic would have to fit in the role of light enough for stalking game while maintaining long range clarity across a clearings or between ridge tops. An important part of the accuracy equation is a quality optic to go along with cartridge and rifle.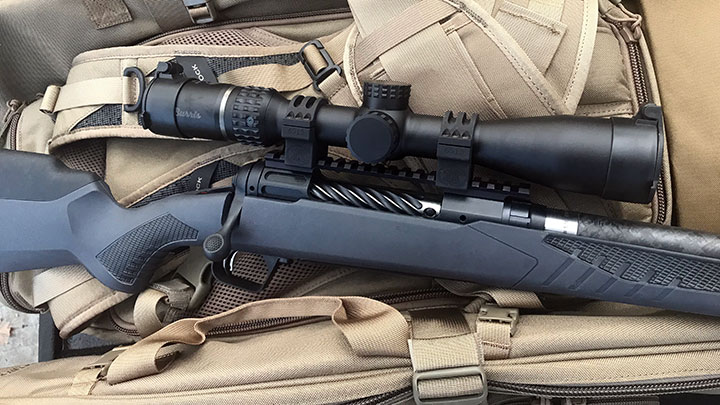 A Burris Veracity 2-10×42 mm scope was mated to Ultralite with 30 mm rings. A second-focal plane was chosen with the Ballistic Plex E1 reticle. While risking slander, I prefer second-focal plane for my hunting rifles. The relative compactness and low weight of the Veracity 2-10×42 mm makes it a natural for the Savage Ultralite. Burris designed the Veracity line to give hunters and shooters the quality features they desire in an affordable package.
High-quality glass, precision grinding and Burris' proprietary Hi-Lume multi-coatings that are "index matched" to the lenses for excellent light transmission are part of the Veracity optic package. The .270 Win. cartridge has been the darling of performance since the 1920s. What is not to love about a 130-grn. bullet traveling at 3100 f.p.s.? Few cartridges equal the soon to be 100-year-old .270 Win. as a pure hunting cartridge.
The advantage lies in case dimensions, which allows for higher velocities to be obtained with .270 Win. 130- or 140-grn. bullets at typical game engagement distances. A rifle that shoots well off the bench instills confidence when field practice starts or, more importantly, in the woods when stalking game. Testing was conducted with Black Hills Gold 130-grn. TSX, SIG Sauer Elite 140-grn. Controlled Expansion Tip and Hornady Superformance 130-grn. SST & GMX loads.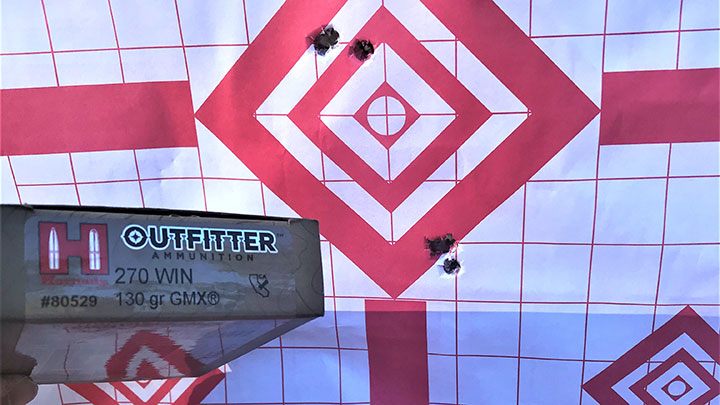 Bench testing was done off a Caldwell tripod front rest and rear sandbag. The Black Hills, SIG Sauer and Hornady loads produced groups no larger than 1″ with most in the 0.75″ range. After the bench work at Echo Valley Training Center's Range number two, I performed a battery of field tests. This consisted of shooting prone off a bipod at a pack at clay pigeons at 300 yds.
I worked the bolt and acquired the next target as quickly as possible. The ergonomic stock, Burris optic, premium ammunition and slick bolt proved efficient. Other range work consisted of shooting 8" round steel poppers out to 650 yds. on EVTC's Known Distance Range. The Savage Ultralites's accuracy combined with .270 Win. ballistics and clear, powerful Burris optic enabled hits on target at distance.
The EVTC Jungle Walk Range was used to get a sense of handling of the Savage Ultralite. Targets were set up randomly along the meandering 575 yds. A shooter must move down the path until a partner points out a target for engagement, albeit paper or steel. Often, unconventional braced field positions were assumed to take advantage of fallen tree or limb for support.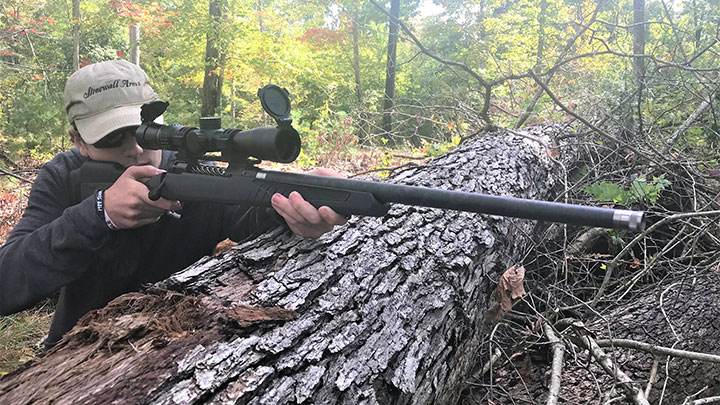 While not empirically quantifiable, the Savage Ultralite "hangs" well from various unsupported shooting positions and is conducive for getting into and out of field shooting positions. The Savage Ultralite's AccuFit stock design allows for a good cheek weld that aids in handling recoil by preventing a "slap" of the face. The ability to move through varied terrain and engage randomly placed targets hidden within cover suited the Ultralite perfectly.
If lucky, the hunter will be able to adopt a kneeling or sitting position in lieu of pure offhand.  The Ultralite proved easy to handle with no searching for the target required when the rifle was brought up to the shoulder. A rifle weighing less than 6 lbs. chambered in a hard-hitting caliber and capable of sub-m.o.a. accuracy cannot be ignored by any hunter that frequently stalks in limiting terrain.
What Savage has created with the 110 Ultralite chambered in .270 Win. is a rifle and caliber combination capable of handling a multitude hunting situations and quarry. In short, if you need a rifle to reach out and hammer something, especially after a long stalk in rugged terrain, the .270 Win. chambered Savage 110 Ultralite is a sound choice.
CALIBER: .270 Win.
BARREL: 22″ 1:10″ Twist PROOF Research with threaded muzzle.
OVERALL LENGTH: 42.5″
WEIGHT: 5.85 lbs.
SIGHTS: Receiver drilled and tapped 8×40 for optic.
MSRP: $1,499
Article by Americanrifleman
Don't forget to like us on Facebook and follow us on Twitter.