Review: Savage Model 110 PCS
Sometimes a long-barreled firearm is called for when the shooter wishes to squeeze every little bit of ballistic performance out of a cartridge. But many times the improved handiness and totability of a firearm with a shorter barrel and markedly less overall length more than make up for the velocity lost. This was Savage's rationale when it morphed the Model 110 Elite Precision rifle into a pistol incarnation—the 110 PCS (Pistol Chassis System). We decided to evaluate an example chambered in 6.5 mm Creedmoor.
The Savage 110 PCS is a bolt-action, centerfire pistol that strips ammunition from a detachable, 10-round, AICS-style magazine via push-feed operation. The magazine is held in place by a catch centrally located in front of the trigger guard. It is pressed forward to release the magazine. Both the receiver and its 10 5⁄8″ threaded barrel (5/8×24 TPI) are comprised of 4140 alloy steel, and the two components are each given a black-oxide finish before being joined together using Savage's barrel nut system.
After blueprinting, the barreled action is secured within a revised Modular Driven Technologies (MDT) LSS aluminum chassis by way of two conventional action screws. This chassis features a 7″ fore-end with multiple M-Lok slots at the 3-, 6- and 9-o'clock positions and a traditional sling stud on its bottom surface. A secondary sling point is located toward the rear of the handgun, just above the backstrap of the rubberized pistol grip. Lastly, on the rear end of the chassis is a three-slot Picatinny rail for the attachment of a pistol brace or buffer-tube adapter.
The two-lug bolt head of the 110 PCS floats, allowing it to self-center when in battery—a feature that has been a Savage signature for decades. The gun's left-bolt, right-eject format allows right-handed shooters to maintain a shooting grip while cycling the action.
The new pistol also features Savage's AccuTrigger, allowing for safety and user-adjustability. Once the bolt is cocked, the metal AccuRelease blade protrudes through the face of the trigger shoe and must be depressed before the trigger moves rearward to fire the gun, thus providing protection from both negligent and accidental discharge. In addition, a push-to-fire thumb safety is located on the tang.
From the factory, our test sample arrived set for an average trigger-pull weight of 3 lbs., 6 ozs. By removing the chassis, we were able to access the adjustment screw and found that the trigger on the 110 PCS could be set to break anywhere between 3 lbs., 2 ozs., and 9 lbs., 5 ozs.—one of the largest ranges we've ever encountered.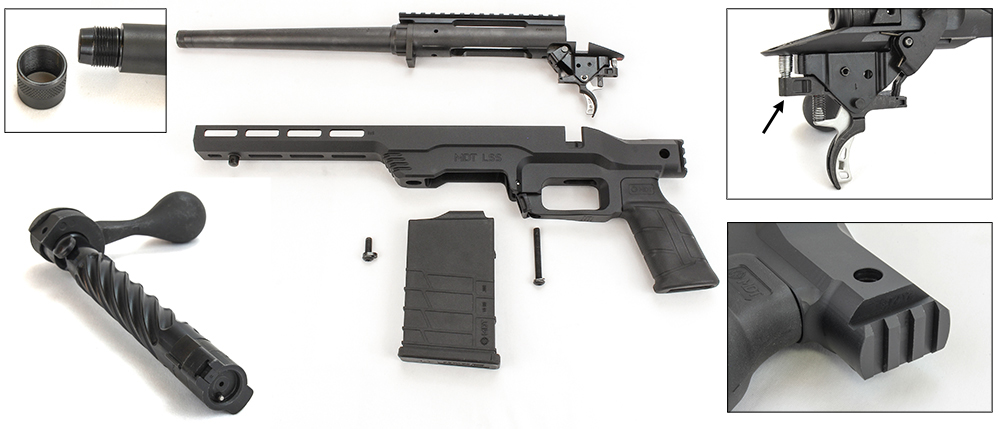 As the 110 PCS doesn't include sights, we needed to add an optic before heading to the range. Using the provided Picatinny rail, we mounted a Nikon Force XR EER 2.5-8X 28 mm pistol scope using a pair of Warne's Maxima scope rings. Lastly, we attached an SB Tactical TF1913 brace to the rearward Picatinny section to provide additional stability for our accuracy testing.
Using ammunition from Hornady, Remington and SIG Sauer, we conducted function and accuracy testing from a fully supported position. Although located on the "other" side of the receiver for right-handed shooters, use of the left-side bolt was quick to pick up for most testers, as it allowed for very rapid follow-up shots, despite its longer, 90-degree throw.
Although chambered in 6.5 mm Creedmoor, the 110 PCS exhibited surprisingly mild recoil, with most testers likening it to a large-frame .357 Mag. revolver. While recoil was minimal, the flash produced by the Creedmoor through a 10.63″ barrel was enormous, which is to be expected when using ammunition that is designed for barrels more than twice this length. Despite the abbreviated barrel, we were still able to achieve velocities upwards of 2,200 f.p.s., which is more than 70 percent of the test loads' advertised potential.
We also found the accuracy of Savage's pistol to be impressive, rivaling many rifles. Our best 50-yard groups hovered around 1 m.o.a., with very few exceeding the 2-m.o.a. mark—more than accurate enough for short-range pistol hunting. There were no issues with feeding, firing or ejection during testing of the 110 PCS.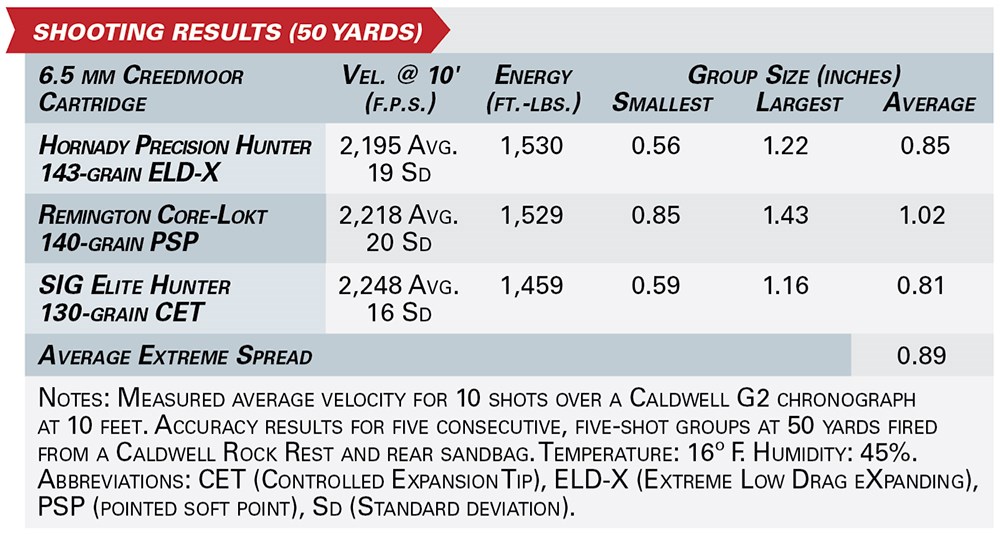 Our range day ended with a standard fieldstripping of the pistol, which involved simply removing the bolt by depressing the receiver-mounted bolt release and withdrawing it rearward out of the receiver. We then separated the chassis from the rest of the firearm by removing the two action screws. From here, we were able to clean the bore from breech to muzzle and lubricate as necessary. Re-assembly was as simple as reversing the steps and torquing the action screws down to 55 in.-lbs.
Overall, we found the Savage 110 PCS to be easy to handle, adequately accurate for its intended application and, above all, quite fun to shoot. Those familiar with Savage's Model 110 rifles will have an easy transition to the use of this bolt-action pistol, and we appreciated this new platform for the added capability that its compactness provides for those with limited mobility and/or strength.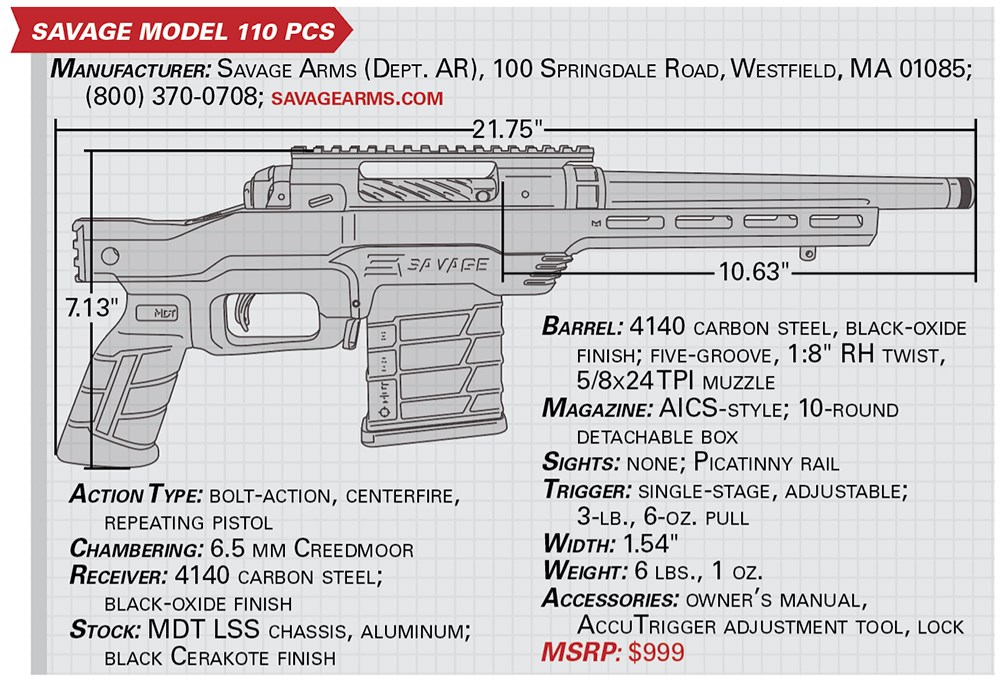 Article by AMERICAN RIFLEMAN STAFF
Don't forget to like us on Facebook and follow us on Twitter.