Review: Silencer Central Banish 22
By now you've likely heard about Silencer Central and the ease with which one can purchase a suppressor through the South Dakota-based company. Without getting into too much detail, thanks to the company's forward-thinking approach, residents of the 42 states where suppressors are legal can buy a suppressor from the company and have it delivered to their doorstep. Silencer Central will walk you through the process and file all necessary forms with the ATF and eventually FBI (the standard form 4473 is the last bit of paperwork once your NFA Form 4 is approved). The company will even send you, at a small extra charge, a fingerprinting kit to fulfill that part of the process and, once your fingerprints, photo and info are on file, you can easily make repeat purchases. How did I test the above? Well, I'm a customer. That's right, the Banish 22 reviewed here is one I purchased from Silencer Central using the same process as any other customer. And yes, my Banish 22 showed up on my doorstep.
So, now that you know Silencer Central's system works, the only excuses you have not to buy a suppressor are that you live in one of the eight states or the District of Columbia that ban cans or you have questions about the actual product. I can't help you change laws in those freedom-hating locales, but having shot my Banish 22, I can assuage any concerns about the product.
To start, this suppressor is small and extremely lightweight. Threading it onto my Ruger 22/45 made a barely perceptible difference in heft and balance of the .22 LR pistol, while attaching it to a rifle was completely unnoticeable from a weight perspective. Silencer Central achieves this via all-titanium construction, which makes the Banish 22 ultra-durable, yet weigh a mere 4.1 ounces.
As for performance, at the indoor NRA Publications range and using a variety of subsonic ammo, by far the loudest sound at 15 yards was the bullet impacting the trap. The 22/45 is a nicely accurate rimfire pistol, and my rounds impacted in the same place with or without the suppressor attached through six different loads (supersonic and subsonic) from a variety of manufacturers. The same was true using a .22 WMR Savage B22.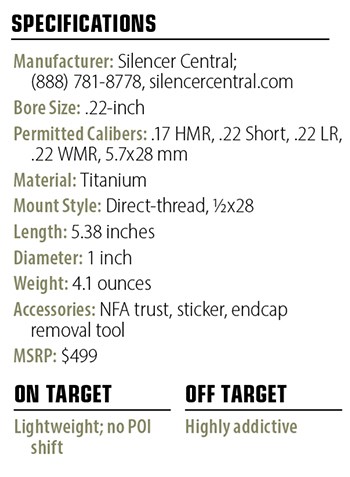 The consistent point-of-impact is a huge plus for the Banish 22, since many suppressors cause shifts in point-of-impact, sometimes significantly. A decade ago, sound reduction was the key spec promoted by suppressor manufacturers, but as it became clear that they all do a pretty good job bringing the noise down to polite levels and most people can't tell the difference between a 30 dB reduction and a 31 dB reduction, so that bit of information has receded to the irrelevance it deserves for the armed citizen. The Banish 22 brings the volume down to hearing-safe levels and is immensely quiet with subsonic ammo, but that is not nearly as important as the confidence you'll have knowing you will hit where you aim, suppressed or not.
Rimfire ammo does tend to dirty up guns and suppressors, so the Banish 22 is designed to be taken apart with minimal effort for cleaning. Simply use the included tool to remove the endcap at the business end of the can and let the self-indexing baffles fall out the front. The rear cap that contains the 1/2×28 threading to attach to your firearm's muzzle can be unscrewed by hand. Soak the baffles in some gun cleaner, wipe them down with patches or a rag, then stack them so they fit together and put the tube (which can be cleaned in a similar fashion) back over the baffle stack, screw in the ends and you're good to go back to the range. Easy-peasy, trigger squeezy.
Everything about the Banish 22 is convenient and civil. That's more than one can say about much of society. As for what might be your last excuse to not own a suppressor—cost—Silencer Central makes that easy, too. For starters, the Banish 22 is reasonably affordable at an MSRP of $499. Yes, you need to add the $200 NFA tax stamp to that cost, but Silencer Central wisely allows you to pay the total amount in interest-free installments. If you choose to pay over six months, that's about $117 per month. Since you likely will have to wait at least that long for the ATF to approve your Form 4, you won't be missing out on anything apart from perhaps one trip to a restaurant for dinner each month. That's a small sacrifice for a product you'll enjoy for a lifetime.
Article by ED FRIEDMAN
Don't forget to like us on Facebook and follow us on Twitter.