Review: Stoeger M3K 3-Gun
The Stoeger M3000 3-Gun edition has an interesting story that started with multi-gun competitor Patrick Kelley nearly a decade ago. Shortly after Stoeger released the original M3000 shotgun, Kelley purchased one, put it through its paces and documented his experience. He quickly determined that this shotgun was very reliable and worked well in spite of its lower price. Kelley, too, kept modifying and optimizing his shotgun until word got out. Stoeger Industries itself took notice, and the company's engineers worked with Kelley; the result is the subject of this review: the match-ready Stoeger M3000 3-Gun Edition shotgun.
The Stoeger M3K 3-Gun's Lock, Stock And Barrel
The Stoeger M3K 3-Gun shotgun is a 12-ga., inertia-operated, semi-automatic shotgun with an aluminum alloy receiver and a 24" barrel. It comes outfitted with black synthetic furniture and an electric-blue oversized charging handle and shell latch. The standard tubular magazine has a capacity of four, but mag extensions are easy to come by.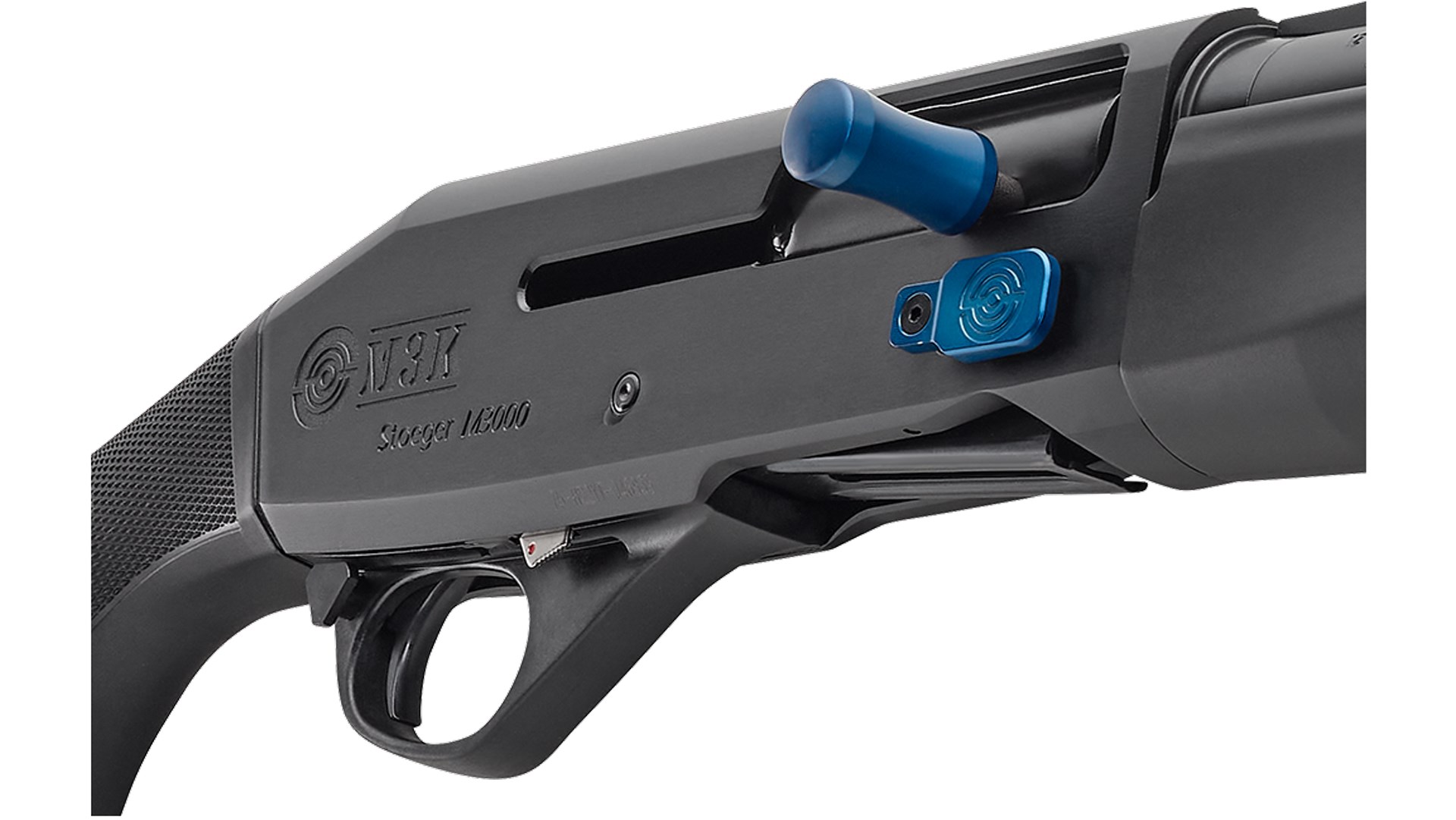 The M3K 3-Gun's 24" barrel has a 3" chamber, and its muzzle is cut and threaded for chokes. Stoeger includes three different extended chokes (cylinder, improved cylinder and modified) and a choke wrench. The barrel also includes a raised vent rib with a single red fiber-optic bead. Presumably to lower costs, the rib is smooth, not textured for glare reduction. Although no-frills, there is no slop in the barrel-to-receiver fit. The M3K 3-Gun's end cap is made of plastic and has very tactile grooves. It is snug, but not hard to remove either.
The shotgun's furniture is a basic all-black synthetic polymer set. The buttstock has a fairly long length of pull (LOP) measuring 14.375". Though the furniture is fairly plain, the wrist has checkering along with a gentle swell. In addition, the fore-end has checkering near the front, leading edge as well. The comb has a strip of a softer polymer material that cushions the shooter's face against recoil, but I didn't think it made much of an effect. I found the included recoil pad on the butt to be somewhat slippery against clothing and a little on the stiffer side—not the end of the world. Four different stock shims are included with the M3K-3G. These are useful in getting a better mount relative to the stock's comb and the barrel's bead by allowing changes to the stock-to-receiver angle.

The Stoeger M3K 3-Gun's receiver is made from an aluminum alloy and finished in a black anodized finish. The bolt does not lock into the receiver; rather it locks into a steel extension that is part of the barrel itself. Therefore, the receiver itself does not have to bear as much stress and can be made from a lighter material. The top of the receiver is not only drilled and tapped from the factory, but it also has glare-reducing serrations. Because this specific M3000 variant is inspired by the sport of 3 Gun, which involves quick shots and fast reloads, it comes with an oversized ejection port to facilitate port-loading. Similarly, the receiver's underside loading port comes enlarged in order to bi- and quad-load rounds even faster. Furthermore, the shotgun's serial number is stamped in a way to avoid tampering in case a shooter wanted to modify the already enlarged loading port. The M3K 3-Gun has a cross-bolt safety that sits behind the trigger guard. The right side of the safety bar has a large flat portion that makes it very easy for right-handed shooters to disengage when they bring the shotgun into action.
Inertia-Driven Operation
The Stoeger M3K 3-Gun's action uses an extremely reliable inertia-driven mechanism made famous by Benelli. The key to this style of semi-automatic shotgun action lies in the powerful inertia spring found in the shotgun's bolt body. After the shot is fired, the entire shotgun naturally moves rearward from recoil, but the bolt carrier group stays locked in place (think Newton's First Law of physics). While this is happening, two different forces compress the strong inertia spring found inside the bolt body. First is the rearward force of recoil acting on the entire shotgun, and second is the force generated by the inertia of the bolt body 'staying in place.' A few thousandths of a second later, when the chamber pressures drop, pent-up energy stored by the inertia spring overcomes the force of chamber pressures and the entire bolt body moves swiftly to the rear. Once this happens, the connected action bars, along with the shotgun's recoil spring, pull the entire action forward, making the action ready for the next shot. Inertia-driven actions have an excellent track record of being solidly reliable because they have few moving parts and mostly rely on the natural laws of physics to function correctly.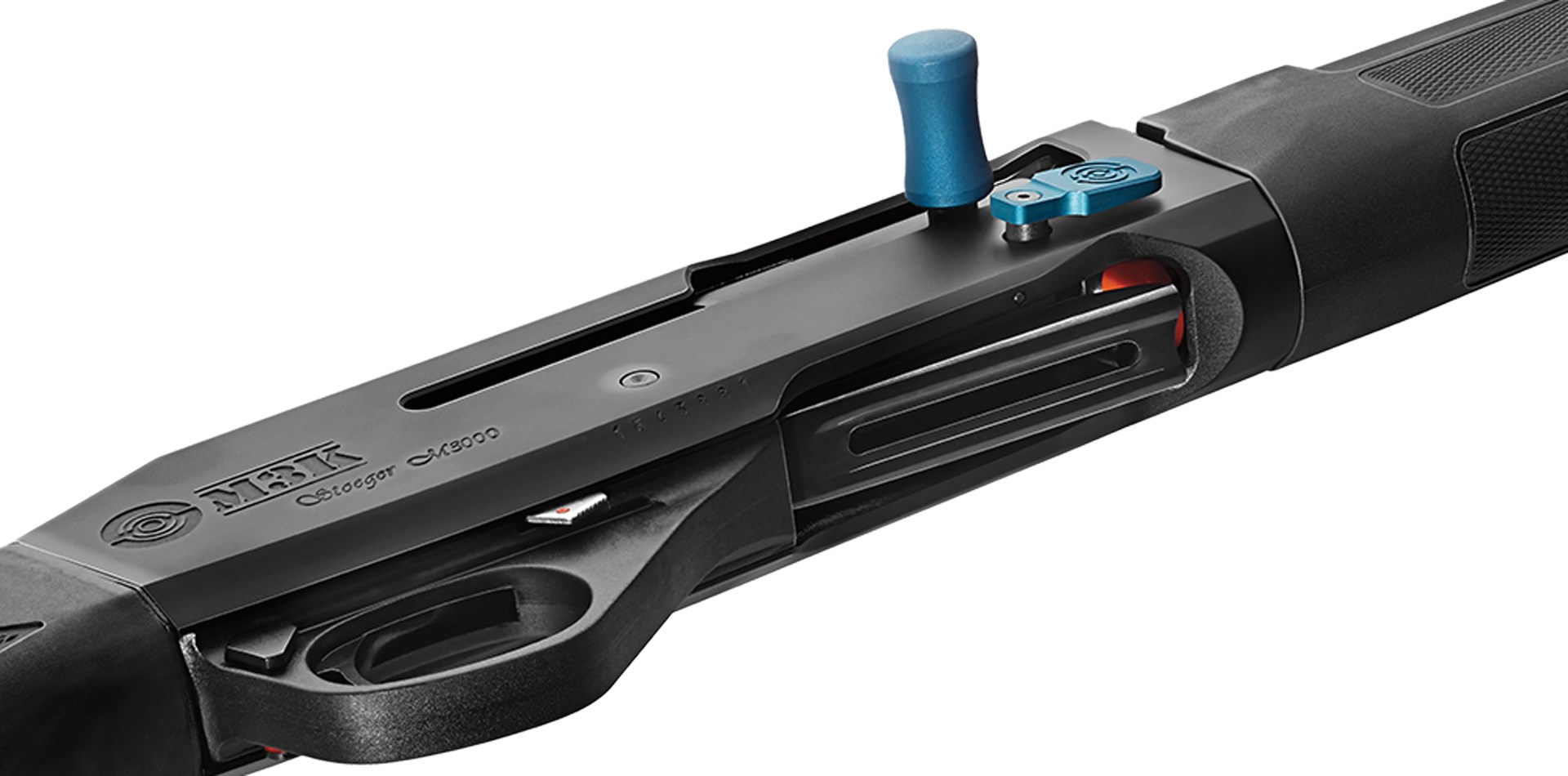 The Stoeger M3K-3G At The Range
I made two range trips and fired 310 shotshells, mostly Federal and some Fiocchi sporting loads. I fired the shotgun as-is out of the box without doing anything else to it. For the type of shooting I do, I tend to favor the improved cylinder choke—so that's what I ran the gun with during both sessions. The goal of the first trip, a grueling 200-round range session, was to put the shotgun through its paces and run it as fast as I could. Unfortunately, this happened in the Texas summer heat measured at 106° F. Suffice to say that between the ambient heat and the volume of fire, that shotgun stayed extremely hot. Even with a glove, the gun remained hot enough where it wasn't safe to hold it. The volume and intensity of fire actually made the fiber-optic barrel bead fall out (I popped it back into place) and also rattled loose the 15 mm nut that holds the stock. I had to unscrew the recoil pad and re-tighten it.
I ended up firing 190 rounds total of Federal MP12-7.5 and TG12-7.5 12-ga. No. 7.5 birdshot along with 10 Aguila 00BK (1,275 f.p.s.) loads. According to their boxes, either Federal load has a muzzle velocity of 1,200 f.p.s. The shotgun had no trouble cycling these loads, except for the very first shot (failure to extract) and either the 62nd round (failure to eject). Even though my goal for the first session was to run the gun hard, I tried to have a little fun and shot a variety of fast-shooting drills, including the Shotgun Casino Drill and some Symtac Consulting drills. You may be asking yourself, 'Why did this guy decide to do a bunch of defensive drills with a 3-Gun shotgun?' To answer: Both competitive shooting and defensive shooting boil down to making fast and accurate shots. From a pure shooting and handling perspective, a competition shotgun, such as this one, should have no trouble keeping up.
My second range trip was a little bit more relaxed: an informal 100-target trap session. The only thing I did to the shotgun in between range trips was to switch the stock's shim and tighten the stock nut. I fired 100 more shells this time, 25 rounds of Federal High Overall Competition Target Loads (HOA12HC-7.5), 25 rounds of Federal Top Gun (TG12-7.5), 25 rounds of Federal Multi Purpose (MP12-7.5), and 25 rounds of 1-oz. No. 8 Fiocchi Target Max (12SC1H8). Although my scores weren't any better or worse using more expensive shotguns, the M3K 3-Gun itself is not the limiting factor. Since trap involves a lot of single-shot port-loads, I got to exercise the shotgun's shell latch a fair amount, and it's something I really like about this gun. On similar shotguns, oversize latches can be too sensitive and sometimes get depressed after brushing up against things. I found this wasn't the case with the M3K 3-Gun. While the Fiocchi shells broke targets just fine, they were a little on the lighter side for the M3K 3-Gun's inertia-driven system. All shells fired (some even broke targets) but two hulls jammed, and the other 23 ejected but without enough energy to lock the action back. Inertia-drive guns can be ammo-sensitive, and in fairness, Stoeger recommends 1 1/8-oz., 3-dram loads as the bare minimum.
The Takeaway
I cut my teeth shooting gas-operated, Italian-made semi-autos or over-unders that cost more than twice as much as the Stoeger M3K-3G. Far from a snob, I understand that in order to meet certain price-points, gun companies have to balance things out. Until now, I hadn't fired a Stoeger or any other inertia-operated shotgun, for that matter. Overall, the M3K 3-Gun won my respect. The shotgun worked fine without getting in the way of my shooting or enjoyment thereof. I'm happy with the way the Stoeger M3K 3-Gun broke clay targets with the various sporting loads I put through it. My only real criticism is the furniture.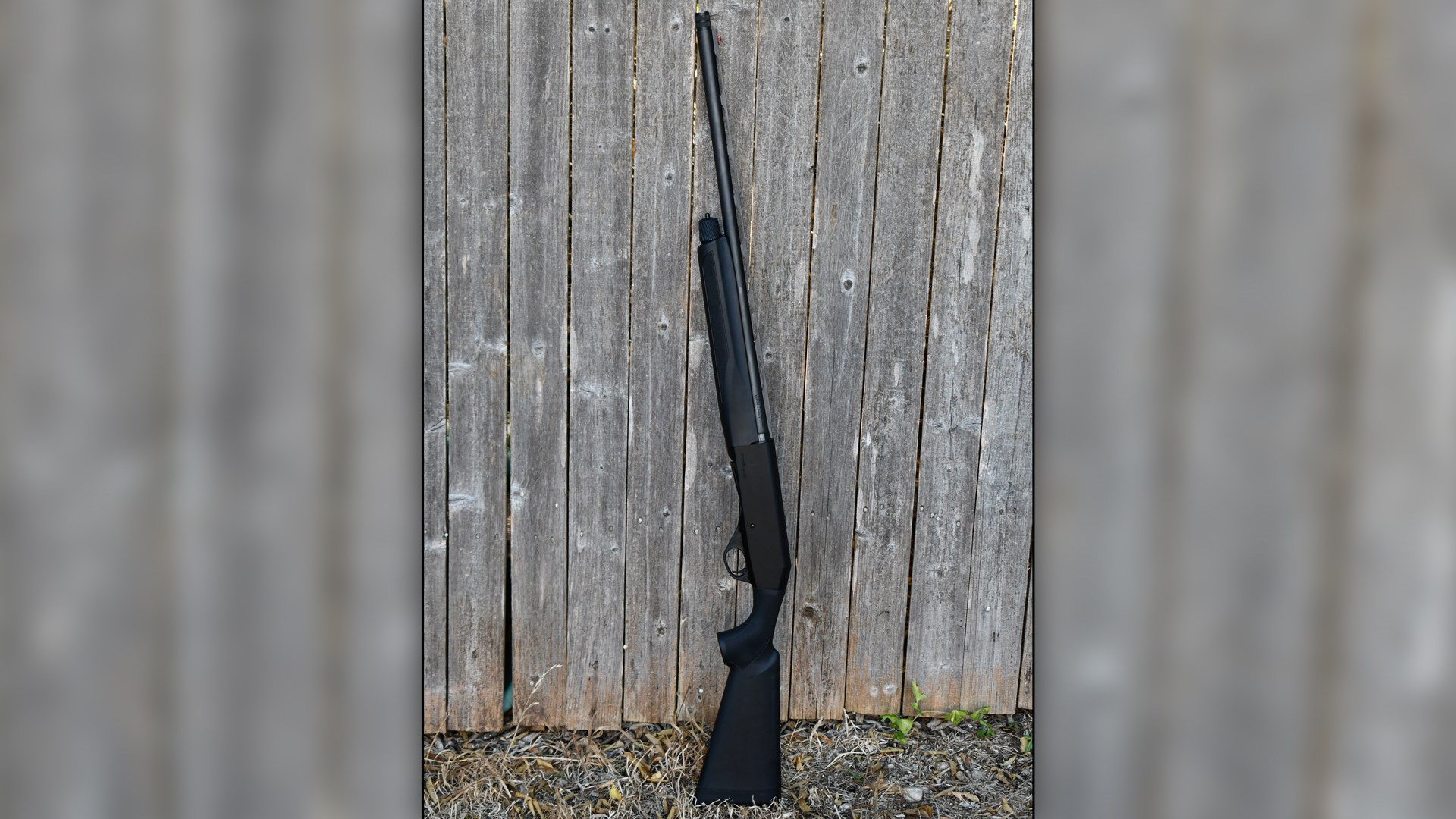 Given that the M3K 3-Gun was created around the dynamic sport of 3-Gun shooting, I think that the 14.375" LOP is too long for most. A shorter LOP of at least 13" would make the shotgun not only balance better but make it manageable for the majority of people. It would certainly improve the mounting and driving of the shotgun along with controlling its recoil. Aside from the specific LOP measurement, a basic stock-set on a budget shotgun isn't something to complain too much about. I'd rather the manufacturer keep costs down on the stock-set instead of the action, receiver or barrel.
Due to its strong reputation following its original release, the M3000 family has a robust aftermarket full of different accessories, including magazine tube extensions, followers, stocks and other miscellaneous parts. Frankly, with an MSRP of $670, and the included features and accessories, the Stoeger M3K 3-Gun objectively has a great cost-to-performance ratio. All else being equal, it can certainly give the sleeker and more expensive guns a run for their money.

Stoeger M3000 3-Gun Shotgun Specifications
Importer: Stoeger Industries
Model: (36038)
Action: inertia-operated, semi-automatic shotgun
Gauge: 12; 3" chamber
Receiver: aluminum; hardcoat anodized black, drilled and tapped
Barrel: 24" steel, threaded for chokes
Sights: ventilated rib, fiber-optic post front
Magazine: tubular; four-round capacity
Stock: black synthetic; 14.375″ LOP
Length: 47.75"
Weight: 6 lbs,, 14.4 ozs.
Accessories: owner's manual, stock shims, three choke tubes, wrench, lock
MSRP: $670
Article by PAUL FITCH
Don't forget to like us on Facebook and follow us on Twitter.